The Renovation of a City Landmark The renovation of Miremont-le-Cret in 2012 was unusual in that the project was the subject of a competition. Designed in 1953 by a local architect, Marc-Joseph Saugey, this building had long been landmarked as one of Geneva's most significant modern accomplishments. The building's design is remarkable in how it fits ...
Read more...
New Bauhaus Museum Commemorates an Anniversary 2012 COMPETITIONS Annual with Weimar Bauhaus Competition WInner Design  Image: ©Heike Hanada As projected, the Weimar Bauhaus Museum, one of two new Bauhaus museums scheduled to commemorate the 100-year anniversary of the founding of the Bauhaus in Germany, has opened its doors in Weimar. The new Bauhaus Museum in Dessau, ...
Read more...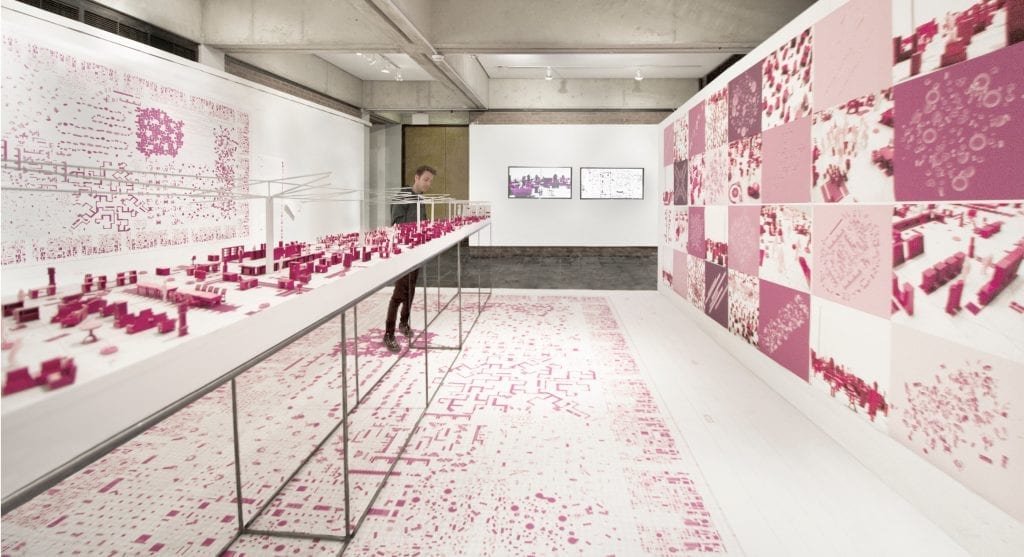 Winner: "Collective Clutter," installation view, Princeton University. (Photo: Courtesy of Lily Zhang)
When one thinks of infrastructure, it's usually about roads, rails, bridges, airports, canals, pipelines, and any- and everything about getting from one place to another. But leave it to the Steedman competition to stimulate designers to view things from a different point of view.
In the 2016/17 Steedman competition, won by Pedro Pitarch of Spain, the winner explored the theme, "Adaptation," and convinced the jury with his proposal, Disguised Metropolitanisms: Unveiling the Masquerade of Urban Domesticity. Pitarch's point of departure? "There has been a migration from the right of property to the right of access and use," argued Pedro Pitarch. "Spaces are no longer used according to their architectural program, but according to their protocols, their accessibility, and their possibilities of empowerment."
Read more...
Wining entry "Creating Spaces" by Tanmoy Dey (all images courtesy RISE) The Rise in the City Housing Competition in the African country of Lesotho presented many similarities with student competitions that have occurred over the past decades, the main link being the presence of mentors as advisers to the team(s) who were designing the entries. One ...
Read more...
Pelli Clarke Pelli Architects (PCP) in collaboration with China Southwest Architectural Design and Research Institute Corp Ltd. has prevailed over a strong field to win the competition for a Natural History Museum in Chengdu, China. The other finalists included Zaha Hadid Architects, Sutherland Hussey Harris, Nihon Sekkei, Valode & Pistre, and FUKSAS.    Although the project's ...
Read more...
Prague's LOŠBATES School Competition First prize entry © Pelletier de Fontenay / Valerio Sartori (image courtesy CCEA MOBA) Sponsored by LOŠBATES, an administrative entity established by four adjacent municipalities on the outskirts of Prague, this competition for a primary and secondary school, won by the Canadian firm, Pelletier de Fontenay with Valerio Sartori from Switzerland, drew 108 ...
Read more...
1st category prize entry by AKVS (Image courtesy STRELKA-KB, © AKVS Architecture) Of all the nations that had been part of the Soviet Bloc after World War II, only the Russian Federation itself has lagged behind most of its neighbors in the design and construction of affordable housing. During that post-Cold War period, housing construction in ...
Read more...
Winning project by Office Ou (image © Office Ou) The features of a truly international competition were quite in evidence in Prague's SMÍCHOV School search for an ideal elementary school design: the event attracted 66 entries from around the world, and the winners were a team from Canada and Poland. The sponsors went so far as ...
Read more...
  Winning entry by SYNDICATE (image © SYNDICATE, courtesy Strelka-KB) Garage Screen, a program of film screenings on contemporary art and culture, was launched in 2012 and introduces viewers to notable examples of Russian and foreign feature films, documentaries, and experimental films. Since its inception, the Garage Museum of Contemporary Art has selected and shown films and ...
Read more...
Winning design © Gottlieb Paludan Architects with Strasky, Husty and Partners The U.K. is no stranger to pedestrian bridge competitions. Both the Salford Pedestrian Bridge competition (2013) and Tintagel Castle Pedestrian Bridge (2014) were commissioned by virtue of a request for qualifications and the shortlisting process. Both were administered by the Royal Institute of British Architects ...
Read more...