Winning entry by Arquivio Architects (image © Arquivio Architects) The Process In July 2019 the Vilnius Concert Hall competition jury began its deliberations to identify a suitable design for this major performing arts project. As one might have anticipated, two of the  jurors on the seven member panel, Ole Gustavsen (Snohetta) and Andreas Cukrowicz (Nachbaur Architekten) had won ...
Read more...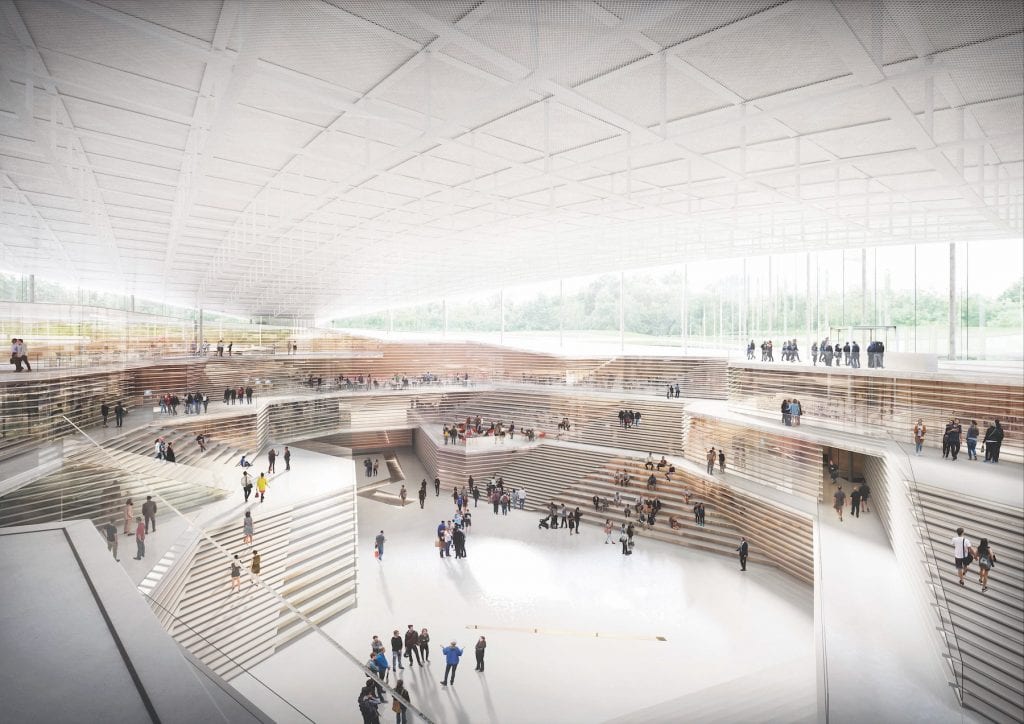 1st Prize Entry by querkraft architekten (Image © querkraft architekten)
Memorials to commemorate atrocities committed by the Nazis during World War II have taken many forms. Holocaust museums such as the United States Holocaust Memorial Museum in Washington, D.C. by Pei Cobb Freed or the Jewish Museum in Berlin by Daniel Libeskind, all endeavor to paint a broad picture, including narratives covering most of the major events and sites. Former concentration camps such as Auschwitz, Dachau, Theresienstadt and Buchenwald have been frequent tour destinations. In the case of Buchenwald, the local city of Weimar has placed pictures of "Witnesses" throughout the downtown area as a reminder of the Nazi legacy.
Read more...
DIA Plaza: Detroit's Midtown Cultural Connection Competition Aerial view  – winning entry by DSQ (image © DSQ) The Space Between Buildings Detroit's Dia Plaza competition is hardly unique in initiating a search for urbanistic solutions to a cultural cluster. Vienna, Berlin, Mesa, Fort Worth, Chicago's Millennium Park and Paris' Parc de la Villette are just a few examples of ...
Read more...
MK:U's Forward Looking Model Explored in Detail Winning entry by Hopkins Architects (© Malcolm Reading Consultants / Hopkins Architects) Milton Keynes, known simply as MK, represented one of the more significant results of the UK's "new town" programs from the 1950s and 60s. Situated almost equidistant between Oxford and Cambridge, and within easy access from London, the ...
Read more...
Winning entry by Greg Tamborino If cities in the U.S. are anticipating funding from government entities to solve a dire need for affordable housing, they should be prepared for a long wait. The national government, a traditional source of funds for such projects, has shown little if no interest in the issue, and state and local ...
Read more...
Winning entry by Hopkins Architects with Prior + Partners (© Malcolm Reading Consultants / Hopkins Architects) In an ambitious plan to facilitate hi-tech research and development, the MK:U competition was launched in January 2019 to seek a masterplan for a new university. The site of the new university at MK is located at the heart of the ...
Read more...
Reconstituting an Abandoned Rail Line  Aerial view: courtesy WNYC The Rails to Trails program, which gained momentum after the1984 Federal Land Banking Law—supported by the Rails-to-Trails Conservancy—has seen over 24,000 miles of trails established where rail lines once existed. Some sites were strictly urban, while others, sometimes over 100 miles in length, were primarily rural, while others combined ...
Read more...
Plans for the Final Expansion of Schultes' Federal Chancellery Building Aerial view with new addition at bottom of site (Image © Schultes Frank Architekten) The reunification of Germany in 1989 not only had a great impact on the lives of many Germans, especially those living in the former DDR, but together with the decision to move the nation's ...
Read more...
The Renovation of a City Landmark The renovation of Miremont-le-Cret in 2012 was unusual in that the project was the subject of a competition. Designed in 1953 by a local architect, Marc-Joseph Saugey, this building had long been landmarked as one of Geneva's most significant modern accomplishments. The building's design is remarkable in how it fits ...
Read more...
New Bauhaus Museum Commemorates an Anniversary 2012 COMPETITIONS Annual with Weimar Bauhaus Competition WInner Design  Image: ©Heike Hanada As projected, the Weimar Bauhaus Museum, one of two new Bauhaus museums scheduled to commemorate the 100-year anniversary of the founding of the Bauhaus in Germany, has opened its doors in Weimar. The new Bauhaus Museum in Dessau, ...
Read more...