SMAR Architecture Prevails in Final Round in Lithuania Image: ©SMAR Architecture Studio After several near misses in some recent high profile competitions, Aalto Museum, Guggenheim Museum, Lima Museum of Contemporary Art, SMAR Architecture Studio (Madrid/Western Australia) was rewarded with the commission for the Science Island project in Kuanas, Lithuania. Against some stiff competition from 144 ...
Read more...
The Reichstag Visitors Center in Berlin/Tiergarten Winning entry by Markus Schietsch (Image ©Markus Schietsch Architekten) If ever there was a pressing need for a facility acting as arrival feature and processing point for a world-renowned landmark structure, a Visitors Center for the Reichstag had to be at the top of the list. Because it does house the ...
Read more...
From Storied Restoration to Prime Time Destination Winning entry ©Steimle Architekten When we first included an article in COMPETITIONS about the restoration of Hannes Meyer's Berlin Trade Union School in 2007, little did we anticipate that this subject would resurface on several occasions over the years. With the initial publication of the article,* copies went out to ...
Read more...
Finetuning a Sydney Suburb's Future Winning Entry: ©James Mather Delaney (JMD Design} Competitions in Australia have become more commonplace than could have become anticipated two decades ago. It was in the early 1990s that Sydney's mayor, Frank Sartore, decided that competitions could improve on the rather mediocre architecture so prevalent in the city at that time. ...
Read more...
A Final Building Block for the Taichung Cultural Center Night view of tower ©Elizabeth de Portzamparc Everyone is well aware of the measures one encounters when entering almost any tower, residential or office, in this era of high security. We are not just talking about protecting the occupants of a residential highrise, but rather the separation ...
Read more...
Young Architects win a Restricted Competition

over High-Profile Competitors
"Today the majority of design competitions are exclusively based on prequalification, which means that only established companies that have participated in numerous building projects qualify. The competition format that was chosen for this project challenged this, and the result shows that it was entirely successful."
– Norwegian Architect Reiulf Ramstad, who together with Architect Jens Thomas Arnfred, acted as design professionals in both the Open Design Stage and the subsequent Restricted Design Competition with three from the open stage competing.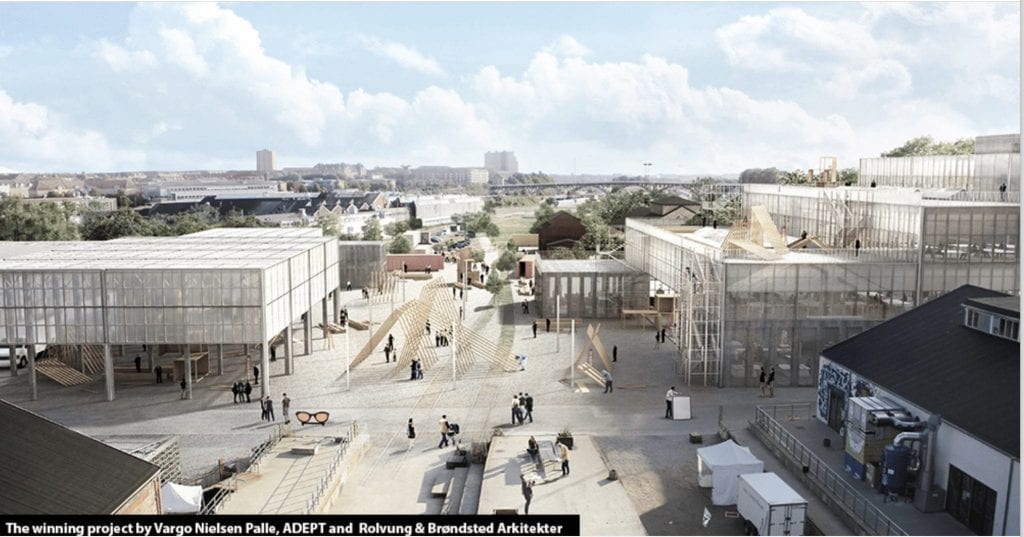 ©Vargo Nielsen & Palle/Adept
After surmounting two formidable obstacles, an open international competition with over 260 entries and a second stage limited to four other finalists—two of which were high-profile invitees*—the young Copenhagen firm of Vargo, Nielsen & Palle was declared the winner of the Aarhus School of Architecture Competition. As is often the case when a competitor from a small firm advances to a final stage, the winner teamed up with ADEPT, which had placed in the top six as an honorable mention in the open stage and Rolvung & Brøndsted Arkitekter, Tri-consult and Steensen Varming.
The Design Challenge
The site for the competition was an abandoned railyard near the Aarhus city center. As is true of a typical railroad location, the site in its entirety is linear, with a slight bulge in the center. And it is in this central location of the site, perpendicular to the tracks, that the new school of architecture is to be built.
As the first new school of architecture to be built in Denmark, the Aarhus school is to focus equally on practice as well as the visual theory. The competition brief is clear in its statement of the client's aims:
"It's about imagining a completely novel way of organizing a school of architecture, about providing the optimal physical framework for learning in an environment characterized by openness, community and knowledge sharing—in a physical space of high architectural quality."
Other priorities are the use of light, where during the winter months is at a premium, and sustainability.
For a building of this magnitude, especially in a small country where architects are held in such high regard, the building budget can only be described as modest. A total of $42M, of which $25M is for building construction, pales in comparison to the sums provided for recent new architecture school buildings elsewhere (The recent Kent State School of Architecture cost $42M). This had to be in the back of the minds of the jurors as they examined the 260 entries in the open competition. In the end, there was an open admission that money was a factor: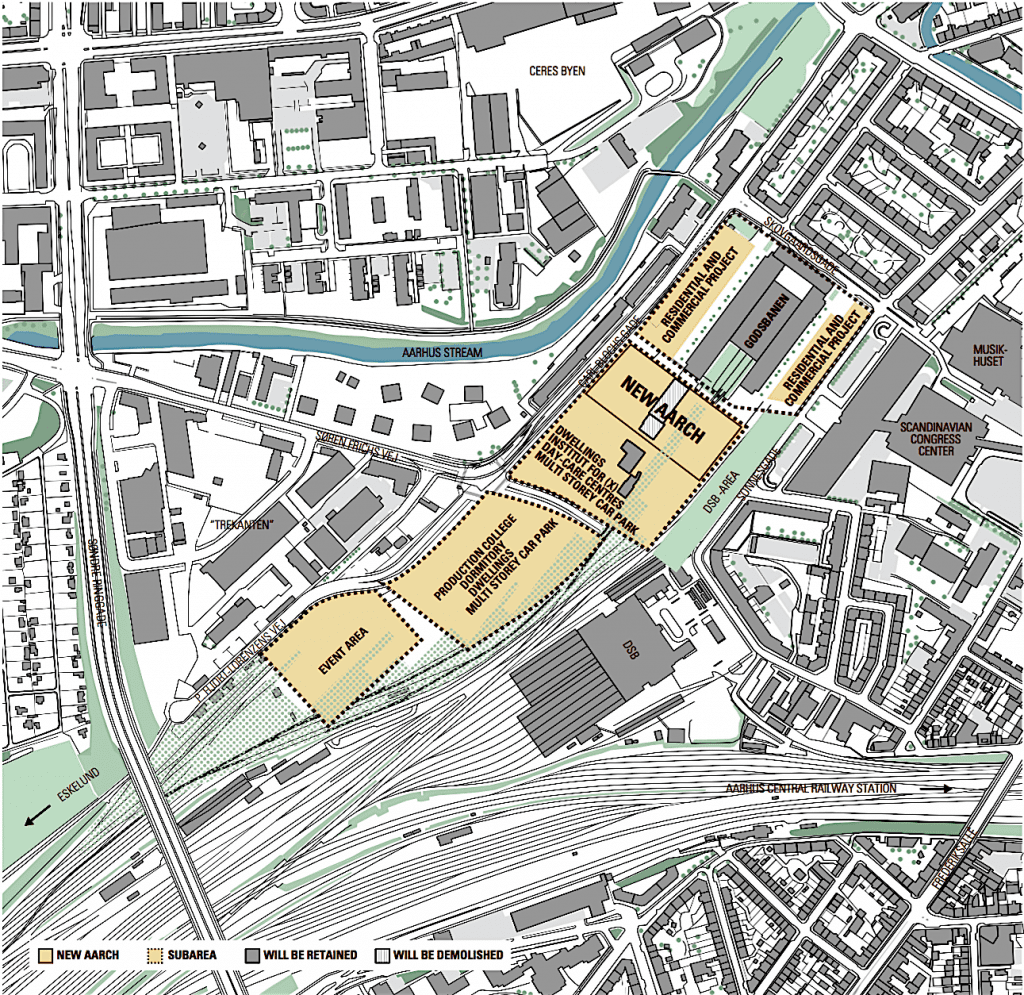 Competition Site in an abandoned railyard
Read more...
by William Morgan Winning entry ©D/R/E/A/M Collaborative / Wozny Barbar & Associates "We must look beyond current options and activate new and original ideas," declared Mayor Martin J. Walsh in announcing Boston's first-ever housing competition. "The Housing Innovation Competition, " Walsh continued, " is a chance for Boston to take its place in the forefront of ...
Read more...

Playing the China Card: The MRY Example


Chun Sen Bi An Housing, Chongqing (competition 2004; completion 2010)
COMPETITIONS: Moore Ruble Yudell (MRY) has had a reputation as an international player since the 1980s. How did you manage to become involved in China?
James O'Connor: We were first invited to take part in a (developer) competition in Beijing in 2002, the Beijing Century Center. We won, but the project was never built. The client was not that serious, and we never got paid. After that, we said that we would never enter another competition in China. But, what turned out to be a real clientele kept after us to participate in one of their projects. After turning them down several times, we finally relented. That was a competition for the Tianjin Xin-he New Town Master Plan and Housing in Tianjin—which we did win.

Chun Sen Bi An perspectives (above)

Chun Sen Bi An Housing Master Plan
COMPETITIONS: Once you have become established in China, it would seem that you almost can pick and choose between competitions and projects.
O'Connor: Right before the time of the Olympics, there were few foreign firms working there so we were interviewing clients as opposed to clients interviewing us. And every time we would go out, we would be involved with another project, or another competition. It all started in kind of a shaky way; but that's kind of how it evolved.
Read more...
Park Rendering (all images © Catherine Mossbach & Philippe Rahm) Parks have become more than leisure destinations. Cities, as clients, have insisted that parks should include more than tennis courts and swimming pools; but they should also stimulate the brain beyond what nature might have in store. Thus, the winners of the 2012 Taichung Gateway ...
Read more...
Berkshire Botanical Center House from road The front yard of one of the oldest Botanical Gardens in this country is getting a much needed arrival gateway. To provide a design solution to complement the Berkshire Botanical Garden's newly renovated and expanded Center House last spring, the BBG announced the launch of a design competition, inviting students ...
Read more...