Winning entry by Zaha Hadid Architects (image © Zaha Hadid Architects) During Soviet rule until its independence in1991, Estonia, as a Soviet Republic, gained a reputation as a Silicon Valley hi-tech region, which set the stage for its evolution as one of Europe's primary hi-tech centers today. Looking to the West instead of its ...
Read more...
RUR 2016 Development design RUR's winning 2009 design for the Taipei Pop Music Center has undergone several changes since its original competition submission in the two-stage event. Now under construction, the first piece to be realized is the main performance venue, here to be seen in the back of the above picture. Changes to the ...
Read more...
Contemporary Memorial Symbolism on the Thames Image: © Adjaye Associates & Malcolm Reading Consultants The recent U.K. Holocaust Memorial Competition in London concluded with designs from ten high-profile international firms . This began with a short-listing procedure which attracted expressions of interest from 97 international firms. In contrast to the entirely open Jewish Museum competition in ...
Read more...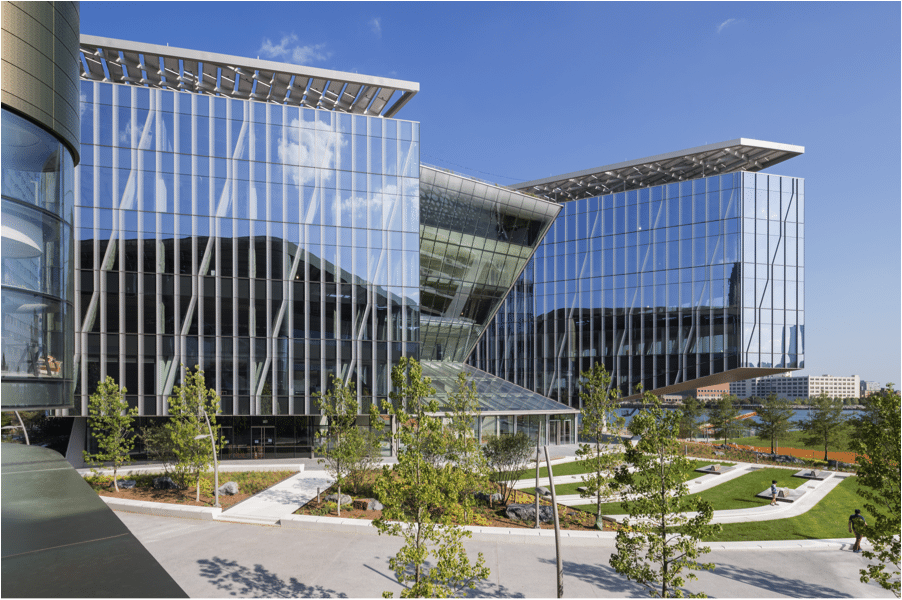 Cornell Tech's Roosevelt Island Campus Photo: ©Iwan Baan
In the early 1990s, Weiss Manfredi emerged as one of the most interesting young architecture firms in the U.S. How did this happen? Winning two important competitions in 1990/91—the Women's Military Memorial in Washington, DC, and the Olympia Fields Mitchell Park competition in a Chicago suburb—served to propel this relatively unknown pair into the national limelight. From then on, the firm began to receive invitations to participate in invited competitions, winning several high-profile competitions, which included the highly acclaimed Seattle Art Museum Olympia Sculpture Park and the more recent Kent State Center for Architecture and Environmental Design competitions.
What marked their rise was not simply their expertise in developing landscape plans to fit a specific site, or detail in retrofitting or realizing significant buildings, but recognizing that architecture does not cease to exist at the front door. As a result of their success in those early competitions, the firm has received a number of commissions, such as the University of Pennsylvania's Nanotechnology Institute and Cornell Tech's recently completed "Bridge," at their Roosevelt Island Campus. Not known for their high-rises, the firm seemed to strike just the right chord on this project. As a major piece of the Roosevelt Island campus ensemble, this building can hold its own with any of its neighbors—a tribute to the firm's versatility.
Would all of this have been possible without those winning competition efforts? It's clear that those experiences smoothed the path to career advancement…as both a learning experience and raising the firm's profile.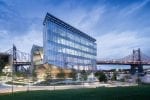 Exterior and interior views Photos: Iwan Baan
See Weiss Manfredi interview:
https://competitions.org/2016/07/interview-weiss-manfredi-architects/

Read more...
This essay was published in The Architectural Competition – Research Inquiries and Experiences, Magnus Rönn, Reza Kazemian, Jonas E. Andersson (Eds.) Axl Books Stockholm, 2010 (pp. 578-600)
Introduction
The Vietnam War, 1959-75, was the longest and most divisive in American experience. 58,000 American soldiers died, 140,000 were wounded. Vietnamese casualties were far higher. The war caused permanent transformations in American society and culture. In 1979 Jan Scruggs, a Vietnam veteran, conceived the idea of a memorial to the memory of the American dead and, by implication, the veterans who had served. His further hope was that the memorial would reconcile the war's veterans with the many Americans who had opposed the war. The memorial was to be sited in a place of honor on the Mall in Washington DC. It was to be privately funded as a citizen initiative, the federal government contributing the site. To undertake this effort a sponsor organization was created, the Vietnam Veterans Memorial Fund (VVMF), its board members including West Point and Naval Academy graduates. Legislation to authorize a memorial, guided by Senators Charles McC. Mathias Jr. and John W. Warner, was passed by the U.S. Congress in May 1980 and signed into law by President Jimmy Carter in July. All public design projects in Washington are subject to intensive scrutiny, especially memorials. Three federal agencies, responsible for approving the design in all its aspects, were closely involved throughout the effort. Discussions concerning a design competition for the memorial had begun in May. Competition planning began in July. The formal competition process was concluded ten months later, in May 1981. The 1,432 designs submitted in the competition, a then record number, were judged by an eight-person jury, all professionals representing the principal design disciplines. The competition was won by a 21-year-old student at Yale University, Maya Ying Lin. The memorial was built and dedicated in November 1982, with a statue group and flagpole addition dedicated in November 1984, the latter the result of sometimes bitter controversy regarding the basic Lin design. The memorial became and remains one of the most visited in the U.S., having become a virtual icon. Much has been written about the design and the designer, and much attention was given to the controversy. Little has been written about the competition process itself, a process based on the highest standards for conducting design competitions. This paper focuses on that process, its context and its conduct.
Personal Perspective
My experience with competitions began in architectural school, where they are integral to the architectural design studio. Following school, studying and working in Italy and Sweden, 1954-56, my interest grew. In Italy
I also became interested in contemporary memorials due to two examples related to WW II, both the products of competitions – the Ardeatine Caves near Rome and the Monument to the Deported in Milan. In Scandinavia that interest was broadened through studying the work of Gunnar Asplund, Sven Markelius, Alvar Aalto, and Arne Jacobsen – much of their work also the product of design competitions.
In 1955, on a visit to Sweden, I saw an exhibit of the competition entries for a proposed government center for Gothenburg. The winning entry was the work of Alvar Aalto. I was impressed by the simplicity and directness of Aalto's drawings. His design, in my view among his most brilliant, was code named "Curia" in reference to a building in the Roman Forum. His submission was drawn in pencil on ordinary tracing paper. It included perhaps two or three constructed perspectives and photos of a massing model. The rest of his presentation consisted of plans, elevations and sections. Although this project was never realized the memory of the exhibit and the directness of Aalto's drawings served as a guide in competitions that I later managed.
This general interest developed into the gradual realization that frequent and well-managed design competitions are a vital source for advancing creative design ideas. They are its exploratory test grounds. As important, they heighten the public's interest and elevate public expectations of design, thereby establishing a vital environment for nurturing architectural creativity.
From 1966-70 I served as the first Director of Architecture and Design Programs at the then newly established National Endowment for the Arts, an opportunity that I used to try to promote their improvement and wider use in the U.S. In doing so I undertook an extensive study of competitions, historical and recent. I solicited the experience of architects from the US and abroad regarding their competition experience. I obtained and analyzed competition codes, mostly European and Scandinavian, but also the AIA code (destined to be withdrawn for legalistic reasons). Two products of my research were the book Design Competitions (McGraw Hill 1978) and, subsequently, the Handbook of Architectural Design Competitions (American Institute of Architects, 1981).
Unlike most European and Scandinavian countries, where the conduct of design competitions has been carefully regulated, in the US it has not. Although the federal government has had a limited program for certain "high profile" public buildings in recent years, in 1980 neither by the federal government, the constituent states, nor, least of all the AIA, the professional design organization of American architects, had any established and mandatory procedure for conducting design competitions. That condition has not basically changed. Conducting design competitions in the U.S. remains voluntary, entirely dependent on the sensibilities and skills of a project sponsor and the people enlisted to assist in it.
A sponsor of the requisite sensibilities proved to be the VVMF, who contacted the AIA for professional help. Since I was chairing the AIA's committee on competitions at the time, developing the AIA Handbook, I was recommended to the VVMF as professional adviser. My first discussions with them were in May 1980. My work began in July, the same
month that full authorization for the Vietnam Veterans Memorial was procured. I worked directly with the VVMF Board and staff, but most closely with Robert Doubek, a West Point graduate and attorney.
Memorials and Competitions in Washington
Washington's monumental character is the product of its 1791 baroque city plan and its largely neoclassic public buildings. That style also originates from the late 18th century. The earliest public buildings and monuments were products of design competitions -- the U.S. Capitol, the White House, and the Washington Monument. Architect and later President Thomas Jefferson submitted seminal designs for the first two. Later works produced by design competitions include the Library of Congress, the Lincoln Memorial, and the Pan American Union. Inspired by Washington's example, many of our individual states and municipalities utilized design competitions for their public buildings. One would think, then, that design competitions would be the norm for Washington, but that has not been the case.
In Washington, unfortunately, the practice became problematical. In the 1930s a design competition for a new Smithsonian museum, the winning design authored by Eliel Saarinen, had failed. The original effort to create a memorial to President Franklin D Roosevelt (FDR) through a design competition in the late 1950s had also failed. Other then recent memorials in Washington included the WW II Iwo Jima Memorial, a memorial to Senator Robert Taft, and the John F Kennedy Memorial. None were the result of design competitions. Beyond Washington there had been several recent and successful contemporary American memorial efforts, procured through open design competition, much esteemed by the general public. One was the Battleship Arizona Memorial in Pearl
The Gateway Arch, St Louis.
Gateway Arch competition drawing.
Battleship Arizona Memorial, Pearl Harbor, Hawaii.
FDR Memorial design, Washington DC.
Harbor, designed through a competition won by a WW II Austrian refugee, Alfred Preis. One of the finest of all American twentieth century memorials is the Gateway Arch in St Louis (the Jefferson National Expansion Memorial), designed by Eero Saarinen. It was the product of a very well conducted design competition held in the late 1940s.
Apart from the inherent difficulty of creating memorials in Washington, competitions aside, an equally grave reality was that after 1975 the American public was trying to put the Vietnam War in the past, in effect to forget it. The veterans and their families could not. Thus, while the idea of a memorial to our Vietnam Veterans was most deserving, considering both the difficulty of making memorials in Washington and the critical factor of public support, there was little reason for optimism on our part.
Federal Design Approval Agencies
Three century-old Federal agencies are responsible for the approval for the design of public architecture in Washington. To create a memorial in Washington it is essential to coordinate carefully with them. The agencies are: the National Park Service (NPS), which manages public park lands and virtually all of Washington's memorials; the National Capital Planning Commission (NCPC), which approves land use and design; and the Commission of Fine Arts (CFA), which approves design. I had worked with all three. Their staffs were colleagues and friends. I knew their roles and responsibilities. Without compromising our work these agencies were involved on a working basis, mainly informational, from the inception of our effort.
Source of the Design Competition Methodology
A popular characterization of the predominant public architecture of Washington, most of it of classically inspired, is to refer to it as "beaux arts style". In France, where the Institute of Fine Arts was founded centuries ago (l'Academie des Beaux Arts), and which included a school of architecture (l'Ecole d'Architecture) the term "beaux arts style" has no meaning. They would refer to Greek or Roman neoclassic precedents. Jefferson had introduced the idea of classical architecture to the U.S., inspired by his travels in France. From the 1870s until the depression of the 1930s many of America's leading architects had studied at the Ecole. Because of the Ecole's emphasis on neoclassicism and because so much American public architecture was neoclassic, the term "beaux arts" became an identifying style, a "brand". This unfortunate misuse of the term obscures more significant aspects of the Ecole and its teaching methods.
The Ecole is remembered for its extraordinary students drawings. Normally expressed with great graphic virtuosity the drawings were, foremost, exercises in developing a student's design knowledge and facility, utilizing the most refined design palette of the western world. But Greek and Roman classicism were by no means all that they explored. Students also made detailed construction drawings. And they made designs for sites and climates far from the Mediterranean, even as far as Alaska, and so as different in architectural expression as the climates. Such exercises were far from neoclassic in motif. The Ecole was much more than a copybook of styles.
The Ecole was a school for learning how to design real and complex buildings. In the course of the nineteenth century France evolved into a Republic, and the Ecole's students
explored the possibilities for many novel types of buildings – schools, hospitals, and courthouses were typical subjects. Representative example designs accommodated many complex functions into a coherent workable form. The designs were depicted in plan, elevation, and cross section. Rarely did the students do perspective drawings. Their drawings, consisting of the three-part plan-section-elevation depiction system, had to be analyzed by the viewer for all their implications – appearance, function, structure, circulation, construction feasibility, spatial experience and hierarchy, visual emphasis, light, ventilation, etc. The artistic virtuosity demonstrated in the drawings can obscure the underlying purpose of architectural depiction in plan-section-elevation. Unlike perspective renderings, whose purpose is largely to allure, the purpose of depiction in plan-section-elevation is to inform. In order to be understood such drawings must be examined analytically, like a physician analyzing an x-ray. Thus the concomitant to this method of depiction is that it requires expert and experienced eyes to evaluate. It requires jurors of long experience and extensive expertise. In a large array of designs, as in a competition, the normal condition in the Ecole, jurors had to be capable of evaluating a design rapidly, to see the essence of an idea at a glance. Plan-section-elevation depiction also puts all design submissions, as in a competition, on an equal basis of comparison, one design with another. Thus, the cornerstone of an effective design exercise and its proper evaluation, certainly for a competition, was and remains clear and fully informative depiction on the one hand and evaluation by expert jurors on the other.
The Ecole's depiction method was disseminated world-wide, wherever competitions were held, and it persisted after the demise of the Ecole in the 1960s. It continues today. It has persisted because it is a very good idea. Not surprising, then, are Eero Saarinen's original very good idea.
Not surprising, then, are Eero Saarinen's original competition drawings for the St Louis Gateway arch —plan-section-elevation—the same technique used in the Ecole.
Construction drawing, L'Ecole d'Architecture.
Project in Alaska, l'Ecole d'Architecture.
Looking southward into the memorial site.
Looking eastward from the memorial site to the Washington Monument.
True, Saarinen included a widely published perspective, but that was an accompaniment. The St Louis compe-tition brief required the traditional and proven depiction triad.
The Memorial Site
The site for the Vietnam Veterans Memorial, chosen with the guidance of NPS, was a small and quite inconsequential western corner of Washington's central Mall, its monumental core. The selection of this site had been made by July 1980 when I was engaged as professional adviser. I concurred fully with the choice, feeling that if it were not possible to make a suitable memorial there it would not be possible to make one anywhere.
The site was a two-acre (0.8 hectare) area, a rough circle in form, 1000 feet (300 m) northeast of the Lincoln Memorial. To its east was an artificial pond called Constitution Gardens. To its south stood a row of neoclassic buildings of modest scale. The site itself was a quiet tree-lined meadow. Its special character, however, derived less from its interior, even less from what one saw looking into it, as what one saw looking out of it -- looking from it. From the site one could see, principally, a striking view of the 555 foot high (169 m) Washington Monument 0.7 miles (1,120 m) to the east. To the southwest was a view of the Lincoln Memorial. The Washington Monument vista, unobstructed by trees, was clear throughout the year. The Lincoln Memorial vista is fully clear only in winter, when it is not obscured. Lesser vistas were of the US Capitol dome and several Smithsonian Institute landmarks buildings on the Mall. But the Washington Monument and the Lincoln Memorial were the main vistas, giving the site its special value.
Competition Planning and Execution
Read more...
The Museum as Sculpture Park
by Scott Cantrell, Kansas City Star Architecture Critic
Fresh from his much-admired contemporary art museum Kiasma in Helsinki, Steven Holl has landed yet another important museum commission: an $80 million enlargemennt and renovation of the Nelson-Atkins Museum of Art in Kansas City, Missouri. The New York-based architect, whose choice was announced in July (1999), was one of six high-profile finalists picked to participate in a sketchbook competition. The others were Tadao Ando Architects and Associates, Annette Gigon/Mike Guyer, Carlos Jimenez Studio, Machado and Silvetti Associates, Inc., and Atelier Christian de Portzamparc.

Nelson-Atkins Museum of Art - Architect: Wight & Wight (1933) Photo: ©E.G. Schempf
The Nelson-Atkins museum is known especially for it collection of Asian art and furnishings. It also is developing an increasingly important collection of 20th-century, including a large group of Henry Moore's and four large "Shuttlecocks" by Claes Oldenburg and Coosje van Bruggen. The building program calls for a roughly 55 percent addition to the roughly 234,000 GSF of the museum's 66-year-old existing structure, a stern neoclassical monolith designed by the Kansas City firm of Wight & Wight. (Other Wight & Wight landmarks in Kansas City include the deco-neoclassical City Hall and Jackson County Court House downtown.)
In a way, Holl's design—with underground galleries topped by a series of seven free-form, translucent glass "lenses"—is the most conservative (entry) in that it presents the least obstruction to the 1933 building. Holl's plan calls for a new main entrance lobby off the northeast corner of the present building, to be accessible from either ground level or a new underground parking garage. New galleries will be arrayed in an underground procession down the sloping east side of the Museum's grounds. The above-ground lenses will house the entrance lobby, a cafe, an educational facility and library.
Read more...
with Stanley Collyer

Bundeskanzleramt Berlin Competition (1996); Completion (2000) Photo: courtesy Schultes Frank Architekten
COMPETITIONS: In our last conversation, we talked about the whole issue of Berlin's identity and what approach one should use in reconstructing the urban fabric between East and West—where the wall used to be.
Axel Schultes: Maybe I learned something during a recent lecture I gave in Palermo (Italy). Afterwards, some German specialists in philosophy and German thinking—brilliant people, I must say—came up to me and said, 'What you said about Berlin and what you are doing there with the Federal Chancellery (Bundeskanzleiamt), for us is what Ernst Bloch and Walter Benjamin talked about, especially when they looked at Italy and the cities in Italy. We noticed immediately in your work that (same) issue of porosity.' Both used this term: Benjamin wrote a small article on Naples, and Bloch wrote about Italy as a whole.
We always had a tendency to avoid the term, 'transparency.' Transparency is usually the use of glass to make buildings less alienating to someone outside. But for us, glass is no material to create spaces; so transparency as we see it is depths of spaces or layering. Porosity is something much more precise—what we strive for. We wanted the same effect in Friedrichstrasse (Interior Mall): it should not be this close-up thing of the Galeries Lafayette (Jean Nouvel) or Ungers, where you only have some holes in it. Porosity for us is like a sponge—to enable a building to fill up with life, to turn a private space into a public one by penetrating it with a public space. The old buildings in Berlin are examples of this, with two, three, sometimes even four interior public spaces.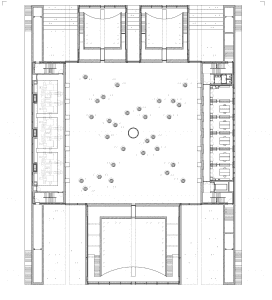 Berlin Baumschulenweg Crematory (1993)
COMPETITIONS: You are referring to the interior courtyards (Hinterhöfe)?
AS: Yes. Nothing of this sort exists anymore in Berlin. Most buildings (at the street) are flat, sometimes elegant, sometime ugly. The Galeries Lafayette, with all its glass, is as closed (to the outside) as one of Unger's sandstone buildings. It's the same issue in the construction of every building. Take, for instance, the Berlin Schloss (the palace in the center of Berlin), which was completely demolished after WWII, and which some people think should be resurrected. This has been on our mind constantly.*
It would be such a contrast to urbanism—needing to punch holes in it to get inside—open to all the people and all walks of life. I can give many examples of this, for me very northern, very restrained, very alien to everything which infuses a culture with life. All the people here like Kohlhof, Ungers, Kleihues, etc.; all have that tendency of closing. Even Libeskind—and maybe he doesn't think about it or want to have it appear in such a manner—does it with the Jewish Museum where there is no penetration. There is always this hiding, this animosity to the urban fabric. They are not interested in breaking it up.
Read more...
by Miguel Ruano

Aerial view of Prado (left); site outline (right)
In October 1993, rainwater was seen filtering down through the cracked, poorly maintained roof of the Prado museum's 18th century building, directly threatening some of the world's greatest masterpieces, including Velazquez's "Las Meninas." Alarm bells went off, both in the building and in the media, and the public learned what until then only a few insiders knew: that one of the best and most famous museums in the world had been in desperate need of repair and expansion for decades. As an emergency solution, seven architects were requested in 1994 by the Ministry of Culture to submit their own ideas for the refurbishment of the museum's roof. At the same time, the notion of a more ambitious, high-profile international competition to design an extension to the Prado began to take shape.
The competition was to be organized by the Ministry of Culture of Spain, with the technical assistance of the UIA (International Union of Architects) and UNESCO's endorsement. With government elections coming up, the politicians in charge of the problem needed to demonstrate that the Prado was a high priority.. Thus, the media was immediately informed to ensure complete and regular coverage. From the start, the competition took on the character of a political public relations affair, which in the end, would come back to haunt them.
The Rules
The Prado Competition began in earnest in February 1995, when the Museum's board of trustees approved the competition rules, which were in turn accepted by the Ministry of Culture of the ruling Socialist Party. In theory, there had been a top-level agreement on the approach to be taken to address the museum's problems between the Socialist government and the main opposition party, the Conservatives, who by then were already expected to prevail in the next election. The reason for such agreement was obvious—to make sure that the process would not be overturned for political reasons.
Subsequently, it would appear that this agreement had been on a shaky foundation from the very beginning. According to the rules, which were fraught with ambiguities and inconsistencies, the Prado was going to double its size to 40,000 m2 by the year 2000 via its expansion into three adjacent buildings. This brought about the first conflicts, as some of the owners of the buildings in question denied any association with the expansion plans. This included Spain's Catholic church, which took the Ministry to court. Madrid's City hall, already under Conservative Party control before the elections, hardly appreciated such a high-profile initiative taken by the lame-duck Socialist government—directed at the very heart of the city. Moreover, at the insistence of the Museum's Board of Trustees, a clause declaring that the "current architectural image of the main building could not be disturbed" had to be included in the rules (and it was). The original competition schedule had to be delayed two months, and last-minute, but significant, amendments had to be made to the rules, giving everyone a feeling of improvisation. The whole venture started on a note of controversy.
The Entrants
According to the organizer's estimates, 500 architects from all over the world were expected to register for the competition. Some were individually invited to enter, including Isozaki, Ando, Hollein, Wilford, Salmona, Macary, Pelli and Siza (who immediately declared he would not take part, and then was asked to become a member of the jury, to which he said no as well). Others, like Foster and Calatrava, both well-known to the Spanish general public, had already confirmed their interest, which raised everybody's expectations after their much publicized showdown at the Reichstag competition in Berlin.
Finalist - Distinction (2)
Alberto Martinez/Beatriz Matos
Madrid, Spain
Second Place in First Round (11 votes)

This low-impact proposal creates a new urban space in front of the Prado's historic building back elevation, which now acquires a new character as an urban facade. Below this platform, a new three-story underground structure houses the entrance hall, auditorium, cafeteria, library and storage areas. A transversal gap across the plaza brings natural light into the underground structure. From this, the building connects with a new adjacent structure, located on the old covent's grounds, which houses the museum's services (restoration workshops, offices, etc.) -MR


Images from competition boards ©Ministry of Education and Culture
As architects learned more about the competition's details, skepticism and even open criticism heightened—from architectural circles as well as in the media. Some internationally famous names such as Ungers or Ando decided not to register, arguing either work overload or disagreement with the competition's rules. The organizers, however, seemed to be satisfied with the fact that well-known architects like Foster, Moneo, Calatrava, Tusquets, Bohigas, Navarro, Eisenman or Benevolo had decided to enter, thus giving credibility to the initiative.
Interestingly enough, while the organization was obviously very forthcoming in disclosing names of high-profile participants, they would not supply a complete list of entrants, arguing that the competition was anonymous and, as a consequence, only overall registration statistics could be released.
Finalist - Distinction (2)
Jean-Paul Duerig and Philippe Rami
Zürich, Switzerland
Seventh place in stage 1 semi-final round (6 votes) - tied with E. Zoido

This blunt proposal attaches a new gray granite and red brick structure, 300m (1,000 feet) long, to the Prado's rear facade to house the entrance hall, exhibition halls, auditorium, cafeteria and shops. The nearby convent becomes a four-story building for the library, the restoration workshops, and the museum's services and offices, while the old building will be used exclusively for exhibitions. The whole museum complex (four existent buildings, plus the proposed structure) are linked by underground connectors. -MR
above
Aerial view of model
left and below
Images from competition boards ©Ministry of Education and Culture

Read more...

Winning entry by wHY (Image © wHY Architecture)
By winning the Ross Pavilion International competition, Los Angeles-based wHY Architecture's efforts as a competitor in several recent high-profile invited competitions has finally borne fruit. Among the seven shortlisted finalists from the 125 teams that submitted EOIs from around the world, wHY's design separated itself from the others by featuring their pavilion as an integral part of the landscape, rather than a pavilion as activities structure representing a central focal point of the site.

Winning entry by wHY (Image © wHY Architecture)
Even while concentrating on the landscape, wHY's sustainability concept revealed an interesting tactic, using one of its favorite curvilinear ideas as a principal design element. To anyone who remembered the wHY design for the Mumbai City Museum extension, this was combining architecture with landscape in their representation of a "butterfly" motif. By doing so, a garden is transformed into something almost magical, while lower key on an intellectual level. According to the jury, "The team's concept design as 'a beautiful and intensely appealing proposal that complemented, but did not compete with, the skyline of the City and the Castle.' They liked the concept of the activated community space with a democratic spirit, potentially creating a new and welcoming focus for the City's festivals while appreciating that the team's design balanced this with a strong approach to the smaller, intimate spaces within the wider Gardens." Finally, the performance function did not simply turn into a high-profile icon, but became a logical extension of the landscape.

Winning entry by wHY (Images © wHY Architecture)
The shortlisted finalists were:
• wHY, GRAS, Groves-Raines Architects, Arup, Studio Yann Kersalé, O Street, Stuco, Creative Concern, Noel Kingsbury, Atelier Ten and Lawrence Barth (Winner)

• Adjaye Associates with Morgan McDonnell, BuroHappold Engineering, Plan A Consultants, JLL, Turley, Arup, Sandy Brown, Charcoalblue, AOC Archaeology, Studio LR, FMDC, Interserve and Thomas & Adamson
• Bjarke Ingels Group (BIG) with JM Architects, WSP Parsons Brinckerhoff, GROSS.MAX., Charcoalblue, Speirs + Major, JLL, Alan Baxter and People Friendly
• Flanagan Lawrence with Gillespies, Expedition Engineering, JLL, Arup and Alan Baxter
• Page \ Park Architects, West 8 Landscape Architects and BuroHappold Engineering with Charcoalblue and Muir Smith Evans
• Reiulf Ramstad Arkitekter with GROSS.MAX., AECOM, Charcoalblue, Groves-Raines Architects and Forbes Massie Studio
• William Matthews Associates and Sou Fujimoto Architects with BuroHappold Engineering, GROSS.MAX., Purcell, Scott Hobbs Planning and Filippo Bolognese
Read more...
by Dan Madryga

Winning entry by Bjarke Ingels Group
Tirana, Albania might be the last place that many would associate with cutting edge architecture. The capital of a poor country still struggling to sweep away the lingering vestiges of the communist era, it is understandable that architecture and design have not always been a top priority. Yet in the face of the city's struggles, Tirana is striving to reclaim and reshape its image and identity, and international design competitions are playing no small role in this movement. And while Tirana has yet to be associated with contemporary architecture, the implementation of these design competitions has introduced a handful of renowned architecture firms to the city with high hopes of bolstering the international image of Albania. In 2008, MVRDV won commission for a community master plan on Tirana Lake that will herald forward thinking, ecologically minded urban development. Earlier this year, Coop Himmelb(l)au won a competition for the new Albanian Parliament Building with a design intended to symbolize the transparency and openness of democracy. Most recently, Tirana can now add BIG (Bjarke Ingels Group) of Denmark to these ranks as the winner of the New Mosque and Museum of Tirana & Religious Harmony Competition, an ambitious project aimed to further rekindle a tattered Albanian cultural identity.
The recent efforts to renew and improve the physical image of Tirana can be attributed in large part to the city's three-term mayor, Edi Rama. With his background as an artist, Rama has launched a number of initiatives over his decade in office, intent on improving the aesthetic image of Tirana. The design competition for the mosque and cultural complex can be viewed as the latest component of his "Return to Identity" project, which has gone to great lengths to remove the many unsightly and illegally constructed buildings that plague the city and help provide a clean slate for more progressive architecture and urban design.

The Mosque and Museum competition focuses on reclaiming a key religious and cultural identity that was long suppressed by communism. While Albania claims three chief religions—a Muslim majority alongside significant Orthodox Christian and Catholic communities—a strict communist regime ruthlessly banned religion. For over four decades, Albanians were under the thumb of an atheist regime where religious practitioners could face humiliation, imprisonment, and even torture and execution. The anti-religious campaign reached its zenith in the 1960s, when most Mosques and churches were demolished, and a select few with architectural significance were converted into warehouses, gymnasiums, and youth centers.

The revival of religious institutions began with the 1990 collapse of the communist regime. Yet decades of suppression took their toll, with the vestiges of Albania's religious heritage essentially reduced to rubble. While the two Christian religions have since regained centers of worship, after twenty-one years of restored religious freedom, Tirana still lacks a mosque suitable for serving the sizable Muslim population. Only one mosque still stands in the central city—the historic Et'hem Bey Mosque—certainly a potent symbol of Tirana's Islamic heritage, but particularly inadequate in size to accommodate the large numbers who would want to worship there on special occasions.
Hence emphasis in the brief concerning the size of the building: a grand mosque that can adequately serve 1000 prayers on normal days, 5000 on Fridays, and up to 10,000 during holy feasts. Supporting this mosque, the program also specifies the design of a Center of Islamic Culture that will house teaching, learning, and research facilities including a library, multipurpose hall, and seminar classrooms.


Another component of the competition program, the Museum of Tirana and Religious Harmony, moves beyond the realm of the Muslim community in an explicit gesture to bring together citizens from all faiths and backgrounds. Aside from presenting the general history of Tirana, the museum will focus on the city's religious heritage, highlighting both the turbulent moment of suppression under communism as well as the religious harmony that has since been reinstated. Educating the public about Islamic culture and promoting religious tolerance at a time when relations between religious communities are strained throughout the world is certainly a noble objective.
Underlining the importance of this project is its prominent site on Scanderbeg Square, the administrative and cultural center of Tirana where major government buildings share an expansive public space with museums and theaters. The square itself was the subject of a 2003 design competition that will eventually reclaim the urban center—at present a rather chaotic vehicular hub—as a pedestrian zone with a more human scale. Situated on triangular site adjacent to the Opera and Hotel Tirana, the Mosque and Cultural Center will be a highly visible component of Tirana's urban landscape.

left: BIG site plan; right: rendering of Scanderbeg Square to appear after redesign (image by seARCH Architects)


The two-stage, international competition was organized by the City of Tirana and the Albanian Muslim community and advised by Nevat Sayin and Artan Hysa.
Over one hundred teams—the vast majority European­—submitted qualifications for the first stage. In early March, the short-listing committee selected five teams to receive an honorarium of 45,000 Euros each to develop designs:
• Bjarke Ingels Group – Copenhagen, Denmark
• seARCH – Amsterdam, Holland
• Zaha Hadid Architects – London, UK
• Andreas Perea Ortega with NEXO – Madrid, Spain
• Architecture Studio – Paris, France
The designs were judged by a diverse European panel:
• Edi Rama – Mayor of Tirana, Albania
• Paul Boehm – architect, Cologne, Germany
• Vedran Mimica – Croatian architect; current director of the Berlage Institute
• Peter Swinnen – Partner and architect at 51N4E, Brussels
• Prof. Enzo Siviero – engineer; Professor at University IUAV, Venice
• Artan Shkreli – architect, Tirana, Albania
• Shyqyri Rreli – Muslim community representative

On 1 May 2011, the panel announced Bjarke Ingels Group (BIG) as the winner.
Read more...