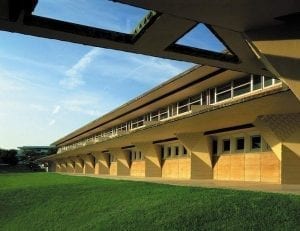 COMPETITIONS: I am presently here in London to talk to my editor about a 'how to' book we are doing on competitions.
JOHN MCASLAN: And how not to do them, I hope.
COMPETITIONS: You're familiar with one of those?
JM: We recently did one—Middlesborough Town Hall. It caused a real furor here.
COMPETITIONS: Usually the RIBA competitions are well organized.


Science Center, Florida Southern College (1996-2001)
JM: This was an open, non-RIBA competition to re-market (rebuild) the Town Hall in Middlesborough, a town which had quite a good artistic tradition. About ten years ago they commissioned Claes Oldenburg to design a sculpture. There was also a competition for a museum there—which we didn't get. And then there was the competition for the Town Hall, where we got to the last six. It was chaotic, as to what was to be submitted. There was a lot of to-ing and fro-ing, because the terms of reference weren't clear. And then there were long delays before the interviews. Finally we were asked to submit a tender(fee bid). But of the six tenders, only four arrived on time. Because of that, the two late tenderers were eliminated. I thought, 'well, you know you have to get them in on time.' But then one of the jurors walked out, because she thought it unfair that these two had been eliminated. Then it came out that they had opened the bids before the interviews took place.
We were only runners-up; but the whole thing has caused chaos because of the sloppiness with which the whole thing was organized. They should have selected the preferred team , then opened the bids.
   You asked about the RIBA competitions. We have won some and lost a some. But you can say that they are always immaculately organized—very transparent, no confusion over what is required when. If a competition is badly administered with lots of criticism,    it doesn't help at all, especially with funding.
Science Center, Florida Southern College (1996-2001)   Lab interior (left) and model (right)

COMPETITIONS: You were recently in the Fresh Kills competition in the U.S.
Read more...


Image: ©Gort Scott; courtesy MRC
St Hilda's College has selected Gort Scott to design a new £10m+ front-of-house development for its exceptional riverside site in the conclusion of the Redefining St Hilda's invited design competition, organized by Malcolm Reading Consultants. St Hilda's College was one of the original group of five women's colleges founded at Oxford at the end of the nineteenth century. Since 2008, it has selected its undergraduates and graduates without regard to gender. St Hilda's now has one of the highest proportions of international undergraduate students of any college within the University.
Read more...
An Adventure of the First Order
The Tintagel Castle Bridge Design Competition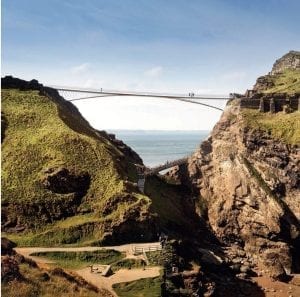 ©William Matthews Associates; courtesy MRC
Out-of-the-way places can be serious destinations, especially when they embody an object of historical significance. The medieval Tintagel Castle site is certainly one of these examples, attracting scores of visitors every year. Although only now a ruin, its history, linked to the tales of King Arthur, is certainly the tale which can be of interest to any serious English history buff. But getting to the crest of the hill cliff where it is located is only something for the hardy. The problem has been the steep ascent to the site, which could only be reached via a circuitous winding pathway. To address this issue, a new bridge in a more advantageous location was proposed to replace an existing, somewhat rickety span.
Organized by Malcolm Reading Consultants, this competition's call for expressions of interest drew 137 responses, with six firms being shortlisted for the design competition phase. At the conclusion of the adjudication process, the jury announced the team of Ney & Partners with William Matthews Associates as winners. The other finalists, without ranking, were:
Dietmar Feichtinger Architectes with Terrell
Marks Barfield Architects with Flint and Neill J&L Gibbons LLP and Mola
Niall McLaughlin Architects with Price and Myers
RFR and Jean-Francois Blassel Architecte with Engineershrw and WSP
WilkinsonEyre with Atelier One
Read more...
A Holistic Strategy for a Community Learning Environment

Winning entry by CEBRA (image © CEBRA, courtesy Strelka)
Can it be that pedagogues from all over the world will soon be traveling to the far reaches of Siberia to examine the workings of a school, which not only will be catering to average students, but also feature a live-in community offering an optimal educational environment for disadvantaged children. A competition for this 'model' school occurred in 2015, and the winning entry came from a team led by the Danish firm, CEBRA.
Read more...
Honoring the Old, In with the New
Laval University School of Architecture "Emblematic Addition" Ideas Competition
by Stanley Collyer
Addressing an addition to a centuries-old seminary building in the heart of historic Québec—designated a UNESCO World Heritage Site— would represent a unique challenge to any architect. To probe the boundaries of this scenario, the Laval University School of Architecture, celebrating the 50th anniversary of its founding, sponsored a one-stage ideas competition, open to professionals and students alike for an "emblematic addition" to the heritage building where it resides.
Read more...
by Gretchen Milliken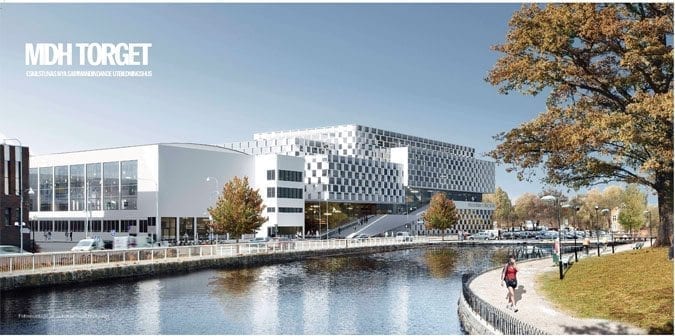 Winning entry by 3XN (image © 3XN)
The intention of the Mälardalen University competition is to evoke a holistic architectural approach to the design one of Sweden's largest universities with 12,000 students and over 900 faculty and employees. The University is well known for its strong partnerships with regional businesses and municipalities with a focused curriculum on education, health, technology and economics. Six established research departments further strengthen the University's program, the flagship being Innovation and Product Development.
Read more...
by Stanley Collyer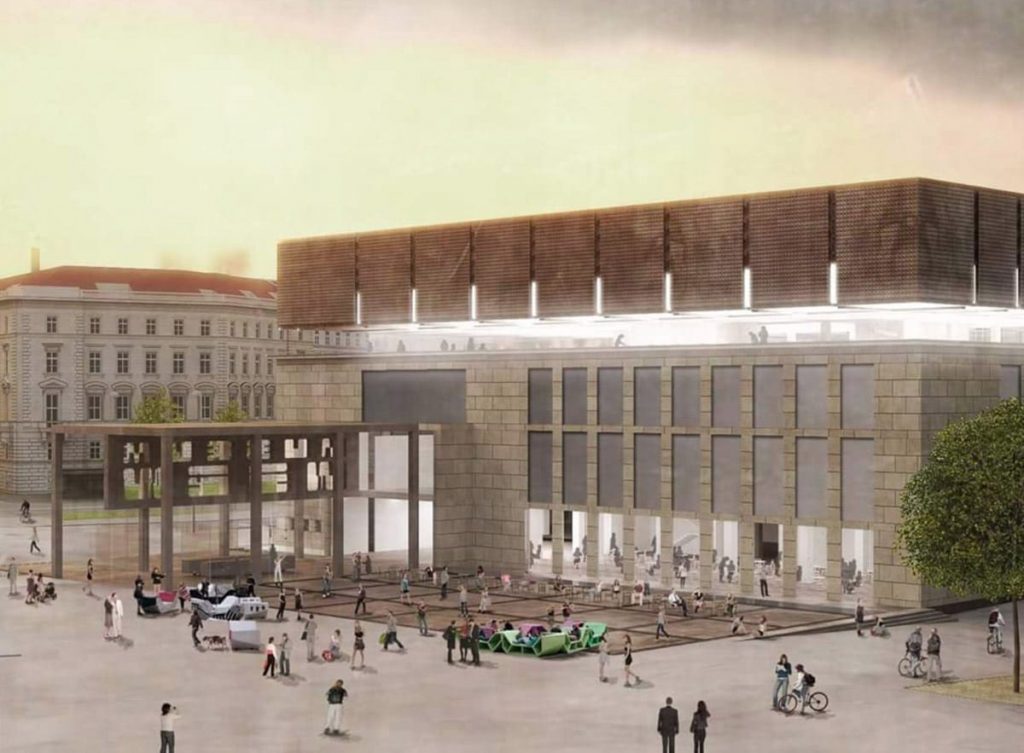 Winning entry by Winkler + Ruck Architekten
If you were to make the argument that the present Vienna Museum on Karlsplatz presents a commanding presence to the casual viewer, you would find few takers. Not only is it lower by a story or two than its immediate neighbors, the neighboring St. Charles Church (Karlskirche) on the square's south side immediately draws most of the attention of those entering the square. In other words, the church is a foreground building, and, in its present form, the Museum can only be characterized as a background building. And this all holds true, even though there certainly is no problem with the somewhat understated architecture of the existing building by Austrian architect, Oswald Haerdtl.
Read more...
Winning entry by Stewart Hollenstein Image©Stewart Hollenstein

When reaching a final decision on the winner of a design competition in Sydney, Australia, clients and jurors alike will invariably hark back to the controversy surrounding the Sydney Opera House competition. Because of the large cost overruns associated with that project, it has cast a long shadow over local projects decided by the design competition process. With this in mind, organizers of the more recent Green Square Library competition went to great lengths to address buildability and budget issues associated with the various designs. Their precautionary measures seemed to validate the selection of Stewart Hollenstein as the winner. As unconventional as that entry might have appeared to some, it not only got the green light from a bevy of cost consultants who were brought on board; the feedback from the community turned out to be very positive.
Read more...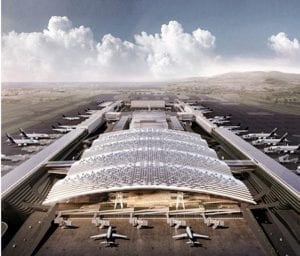 If you are flying either into or departing from Taiwan after the year 2020, you may
wish to arrange your flight so that you either arrive or leave in the evening, as it could well be an unforgettable experience. The winning design by Rogers Stirk Harbour of London for the new Terminal 3 promises an illuminating show that can match that of Curt Fentress's Denver airport.
As an international open competition, and for a project of this magnitude, it was astonishing to find that only four international firms decided to enter this contest. According to one juror, the posting of a $500,000 bond required of serious contenders was probably enough to scare off most firms. This is not to say that the final four lacked expertise in the area. The only firm from Stage 1 not shortlisted, ADPI of Paris, had numerous completed large commissions to its credit. And due to the very extensive experience of the other firms, it could be anticipated that the quality of the entries would be more than adequate.
Read more...
by Stanley Collyer
Winning proposal by Office 52 (courtesy ©Office 52)
A
lready ranked as one of the top engineering programs in the U.S., Pittsburgh's Carnegie Mellon University (CMU) is hardly resting on its laurels. Scott Hall, anew Nano‐Bio‐Energy Technologies building scheduled for completion in early 2016, will undoubtedly enhance the University's standing as a cutting edge research institution. Contrary to most curricula in the field of engineering, Nanotechnology is not based on a narrowly defined area of study; rather it is interdisciplinary in nature and can span the sciences and even reach into the arts. As a landlocked campus, a major challenge facing Carnegie Mellon is finding space for the construction of new facilities. The site chosen for Scott Hall in 2011 was at the western edge of the historic campus property, perched at the top of a neighboring ravine, Junction Hollow, and barely separated from three adjacent buildings. Although the campus master plan had already pinpointed a location for the new building, the University conducted a design competition to explore alternative solutions to a challenging site and a demanding interdisciplinary program.
Read more...