The Eisenhower Memorial: Sending Mixed Messages? by Stanley Collyer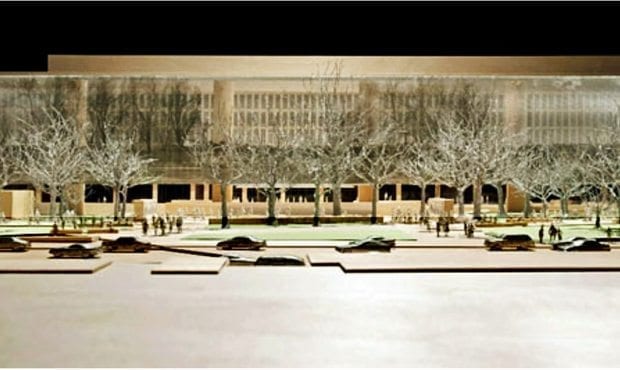 Preface
Since this article was written, several events have occurred which have changed our perception of the final design process. Frank Gehry went back to the drawing board and has modified his memorial design, eliminating some of the columns which we objected to at the edge of the site (January 2011, see above). One may only hope that the tapastry design element, which the Arts Commission still has some reservations about, can be resolved successfully.
More recently, a group called the National Civic Art Society in Washington has issued a call for another Eisenhower Memorial competition for the same site. Apparently stuck on the idea that everything in Washington near the Mall should be in the Beaux Arts traditional style, they take offense that the Gehry design does not meet their standards of what a memorial to Ike should look like. Although probably well-meaning, this group evidently would like to turn back the clock on progress in this field. They would like to erase from memory all the advancements in new materials and ideas which have surfaced and been implemented over the past century. Is it then surprising that not one architect on their board is a national name (Most of their members are laypersons). Although their competition will undoubtedly draw some entries, it should hardly be taken seriously, much less receive any attention from the press. What they are doing is adding nothing to a positive dialogue about architecture in this country—only attempting to set it back by decades.  -Ed
Frank Gehry's preferred idea for the Eisenhower Memorial was one of three proposals which the firm presented in March 2010 to the Eisenhower Memorial Commission after prevailing in the earlier selection process. Although not touted as a pure competition by the Memorial Commission, the original selection process in 2009 was typical of the General Services Administration's Excellence in Architecture program, often used to adjudicate the design process for government projects such as federal courthouses.
Read more...
Night view of the memorial tapestry from Independence Avenue, with Gehry's sketch of the Normandy cliffs. Explaining the contributions of a World War II hero and later President of the United States on a very modest site on Independence Avenue just off the Washington Mall is tantamount to asking an author to describe the life of ...
Read more...
Professional winner: Brooklyn Bridge Forest (image © Pilot Projects Design Collective) While looking for new adventures on a visit to New York City, friends suggested that I take time to walk across the Brooklyn Bridge—certainly a New York icon. For those intending to undertake this trek across the bridge for the first time, the bridge consists ...
Read more...
Image © Zaha Hadid Architects Even under Stalin, Moscow subway stations represented the crown jewels of the city's projects when it came to design. In more recent years, the emphasis placed on modern design in the city's expanding metro rail network has resulted in some major new projects, and this year's competitions for two stations was ...
Read more...
1st place entry by Dominique Perrault Architecture (image © ©Dominique Perrault Architect/Adagp China's planning priorities for their urban areas experienced a sharp turn after the post-Mao reforms took place. During the early post-WWII period, when Soviet influence in the early urbanization of China dominated, industrial development took precedence over all other issues, with heritage, conservation, residential ...
Read more...
Although one might normally assume that local firms participating in a competition might have a clear advantage over foreign competitors, this has seldom been the case: just see Sydney's Opera House, won by a Danish architect, and Toronto's City Hall, won by a Finn—as evidence that well devised competition briefs as adequate documentation can create ...
Read more...
Jensen Architects – Winning entry (Honor Award) Beginning in 2011, Architecture at Zero, a collaboration between the Pacific Gas and Electric Company (PG&E) and the California chapter of the American Institute of Architects (AIACA), was established to investigate the role architecture might play in reducing energy consumption in the built environment. Since then, every year has ...
Read more...
An Ideas Competition in Opposition to a Concrete Design Entry by TheeAe (Image © TheeAe) In early 2020, a group advocating a new approach to the design of the Los Angeles Museum of Art (LACMA)—The Citizens' Brigade to Save LACMA—organized a competition to counter an existing design by the Swiss Architect Peter Zumthor. Already commissioned by the ...
Read more...
 National Railway Museum Central Hall (U.K.) Winning entry by Feilden Fowles (image © Fielden Fowles)   If one were to search for a railway museum in the U.K., London would seem to be an obvious choice. But, as it happens, its location is in the northeastern city of York, far from the major cultural and economic centers of ...
Read more...
View to winning entry ©KDA Foundation non-profits are no strangers to good architecture. Ford Foundation's forward-looking headquarters in New York City by Roche Dinkeloo was an early example of a non-profit using architecture as a vehicle for serving to brand it as a progressive institution. In 2001 the California Endowment went one step further, staging an ...
Read more...