A Church Ruin as Reconciliation Memorial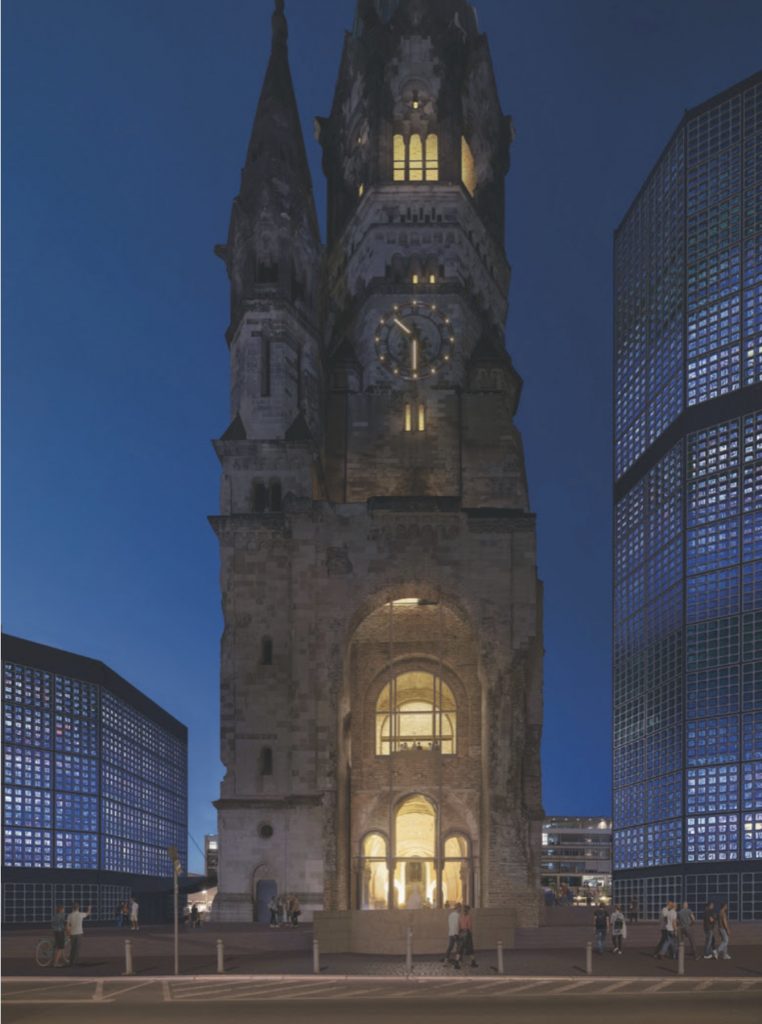 View of winning design from south ©Heninghan Peng Architects
For those tourists visiting Berlin today, the sudden approach to the ruins of a 1895 church building located on the city's downtown Breitscheidplatz would certainly arouse their curiosity. One of the few remaining relics of World War II in the city, the church has now been the subject of a competition: Redesign and renovation of the Old Tower of the Friedrich Wilhelm Memorial Church (Umgestaltung des Alten Turms der Kaiser-Wilhelm-Gedächnis-Kirche).
History
Rather than demolish the damaged tower of the church after the war, its remains were retained as a sign of the destructive nature of that catastrophic event. A 1957 competition for a modern sanctuary and bell tower—won by the Berlin architect, Egon Eiermann—served to raise the stature of the site, raising its profile as the city's major attraction with over 1.6 million visitors annually.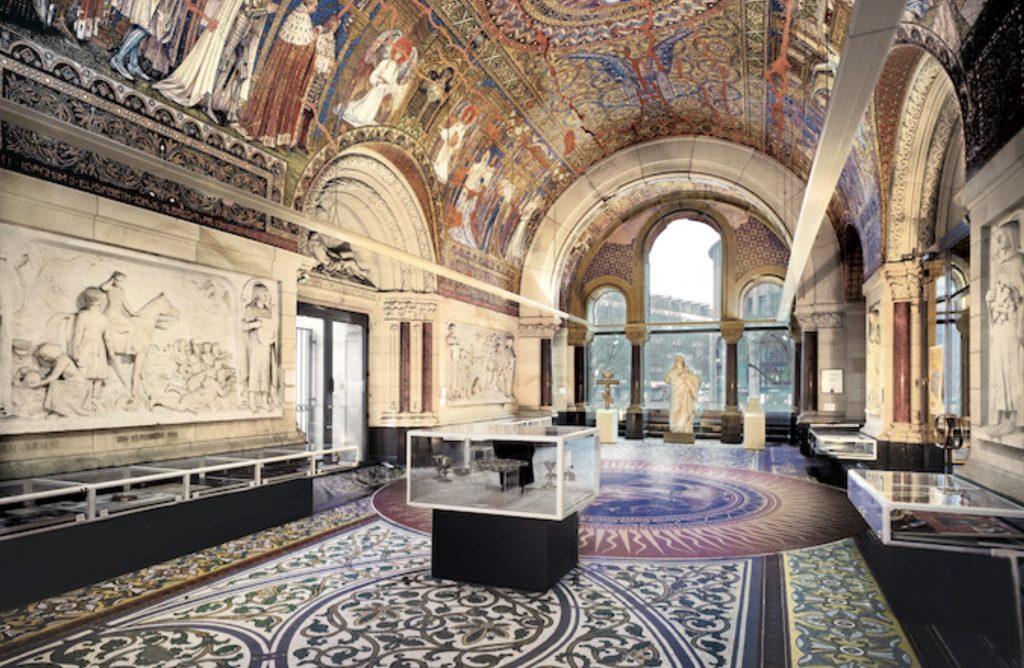 Tower Memorial Hall. Photo: Katharina Dorn/publicon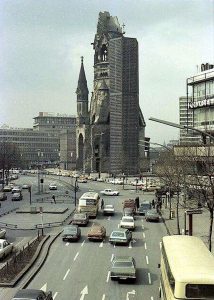 .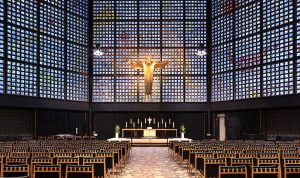 (left) New 1963 sanctuary to.rear; bell tower at front   (right) 1963 Sanctuary interior by Eierman Photo: Mila Hake

Aside from a symbol as a sign of the ravages of war, the church has also become a place of reconciliation. How the competition participants dealt with this theme was to be an important factor in the adjudication process.
   As part of this mission it was deemed necessary to expand the exhibit area from 200m2 to 500m2, and the closing of the areas presently open to the outside to the top and furnishing all of the neighboring structures that are part of the ensemble with a comprehensive lighting and heating system. 
The Competition
To address the issues of configuration improvements, exhibit design and construction, as set forth in the brief, an invited competition was staged in two phases: a shortlisting process resulting in the selection of nine firms to advance to the competition stage:
heneghan peng architects | Dublin,
with Ralph Appelbaum Associates | Berlin
Authors: Róisín Heneghan, Shih-Fu Peng/Ralph Appelbaum, Timothy Ventimiglia
Wandel Lorch Götze Wach | Frankfurt am Main
Authors: Prof. Andrea Wandel, Prof. Wolfgang Lorch, Florian Götze, Thomas Wach

Nieto Sobejano Arquitectos | Madrid/Berlin
with Studio Adrien Gardère | Paris
Authors: Enrique Sobejano, Patricia Grande Andueza, Claus Thiemann, Adrien Gardère
a+r Architekten, Stuttgart, mit Duncan McCauley, Berlin
Authors: Oliver Braun, Alexander Lange, Noel McCauley, Tom Duncan
Hoskins Planungs GmbH, Berlin, with jn jangled nerves gmbh, Stuttgart
Authors: Thomas Bernatzky, Ingo Zirngibl
pla.net architects, Wien, with Inszenierte Kommunikation Marketing, Wien
Authors: Gerhard Abel, Alexandra Hörtler
Snøhetta, Oslo, mit ART+COM, Berlin und Serge von Arx, Berlin
Authors: Peter French, Andreas Wiek, Kristin Krugmann, Jan Schmelter, Serge von Arx
Winkler+Ruck Architekten, Klagenfurt, with Ars Electronica Solutions, Linz
Authors: Roland Winkler, Markus Jandl, Elisabeth Kapeller, Michael Mondria
To adjudicate the process, the following jury was empaneled:
Voting jury members
• Prof. Dr. Dr. h.c. Aleida Assmann, Literatur- und Kulturwissenschaftlerin, Konstanz
• Detlef Daiber-Weitz, Architekt, Ausstellungsgestalter, Berlin
• Cilly Kugelmann, Historian, former Program Director und interim Director, Jewish Museum, Berlin
• Prof. Dr. h.c HG Merz, Architekt, Berlin
• Martin Reichert, Architekt, Berlin
• Prof. Matthias Sauerbruch, Architekt, Berlin, Jury Chair
• Dr. Christian von Oppen, Architekt, Stabsstellenleiter Senatsbaudirektion, Berlin
Deputy jury members
• Nick Beißengroll, Architekt, Kopenhagen
• Gunnar Green, Ausstellungsgestalter, Berlin
Four firms advanced from the initial round of anonymous judging to a final round. At the conclusion of the jury's deliberations the following ranking was revealed:
1st Prize 
heneghan peng architects | Dublin
with Ralph Appelbaum Associates | Berlin
2nd Prize
Wandel Lorch Götze Wach | Frankfurt am Main
Special Citation
Nieto Sobejano Arquitectos | Madrid/Berlin
with Studio Adrien Gardère | Paris
Participants Compensation
In the 1st phase, 5,000 euros was awarded to the shortlisted participants who submitted a verifiable work in accordance with the required performance of the 1st phase. In addition, a sum of 13,300 euros was awarded to each of the participants in the 2nd phase who submitted a
verifiable work in accordance with the required competition performance of the 2nd phase.
After the final ranking by the jury, the following prize money was awarded:
1st prize 18,000 euros
2nd prize 13,000 euros
3rd prize 9,000 euros
Conclusion
According to the client, the conversion project will make the Old Tower accessible and more interesting to experience in an entirely new way, as the exhibition area will be extended to the two upper levels of the tower, increasing the usable area from the current 200 square meters to 500 square meters. In addition, a staircase will lead up to the top of the tower. Regarding the architect's approach to the new design of the existing structure: "In addition to the general expectation of minimizing interventions in the building fabric or planning them with the greatest sensitivity, the special focus from a monument preservation point of view is on the goal of preserving the effect of the building as a ruin in its conserved form, both in an urban context of the relevant visual axes as well as from close up, and by visiting the exhibition inside."*
*Baunetz, 10/17/2023 (translation by COMPETITIONS)
The competition was organized and administered by the Berlin consulting firm, [phase eins]
For more information: https://www.phase1.de/projects_kwg_information.htm
1st Prize
heneghan peng architects | Dublin,
with Ralph Appelbaum Associates | Berlin
Authors: Róisín Heneghan, Shih-Fu Peng/Ralph Appelbaum, Timothy Ventimiglia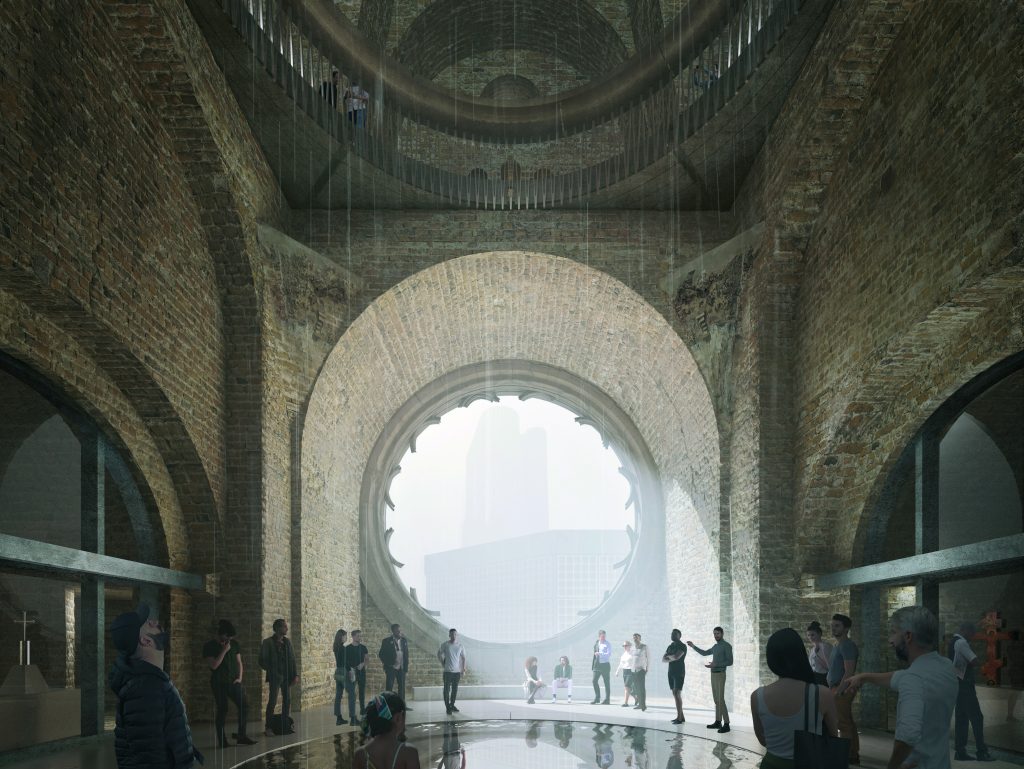 Second level with water feature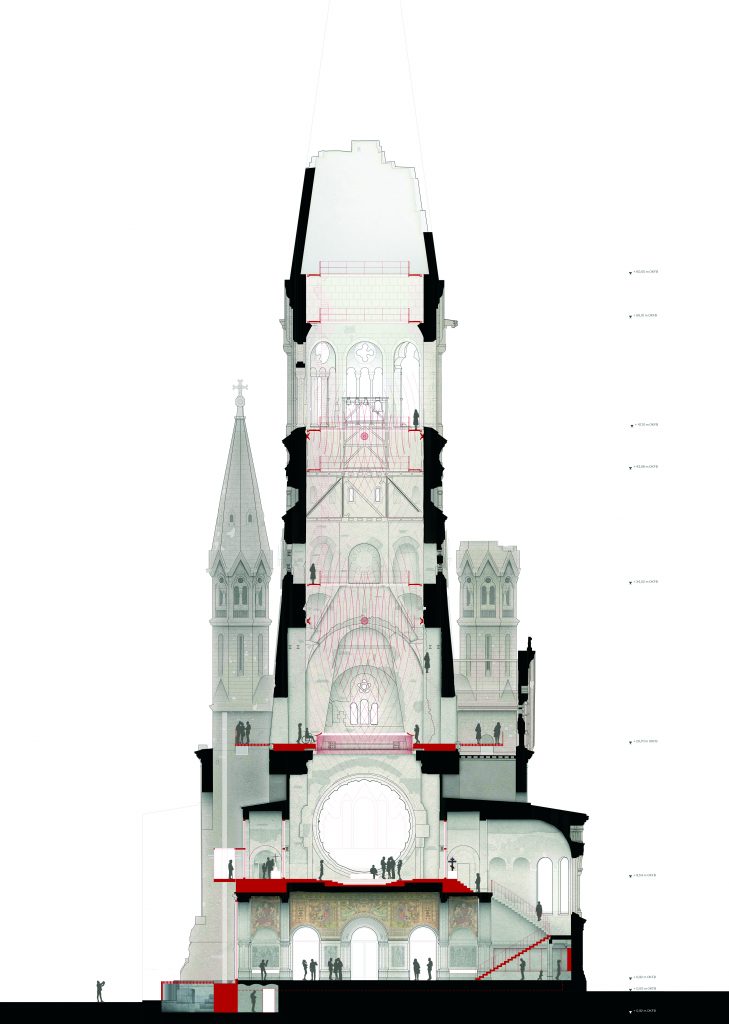 Section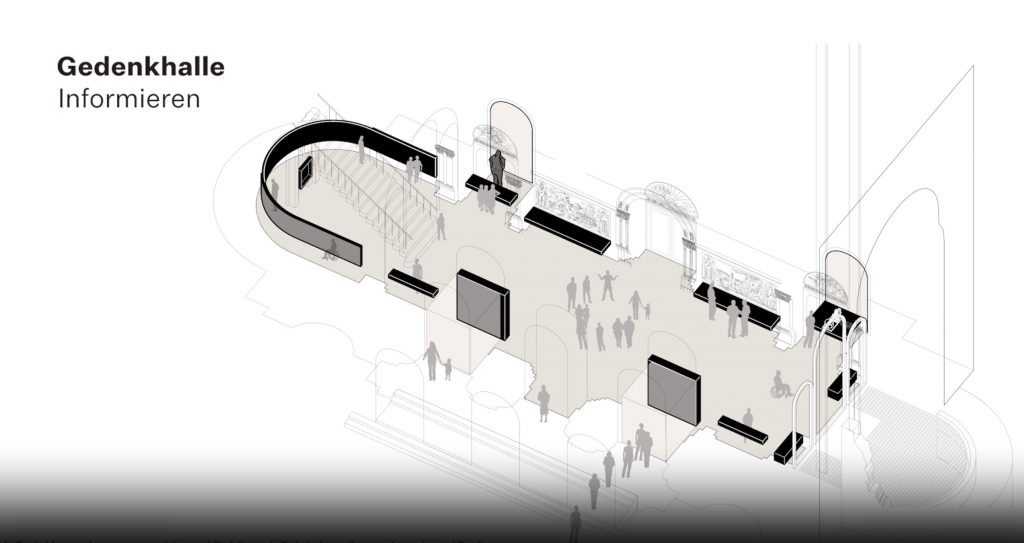 Memorial Hall – grade level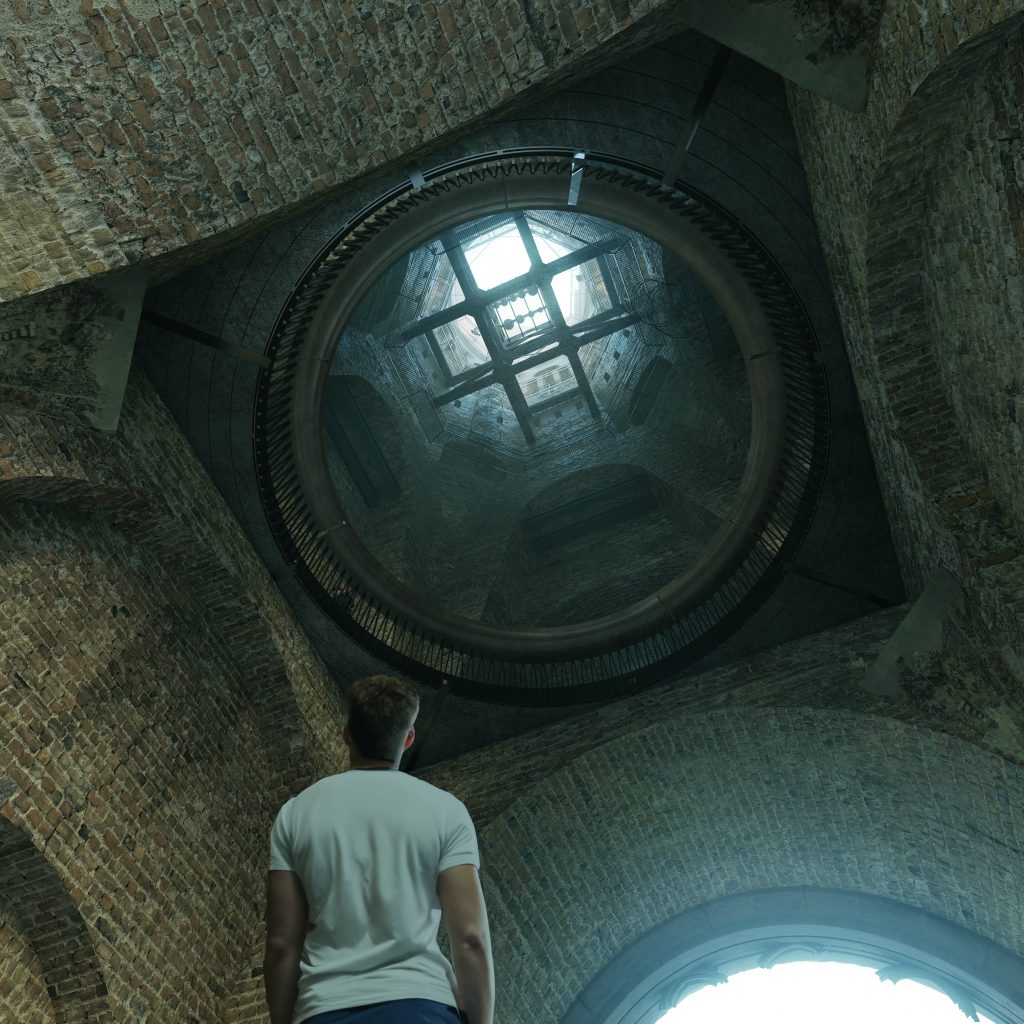 View from mezzanine to upper levels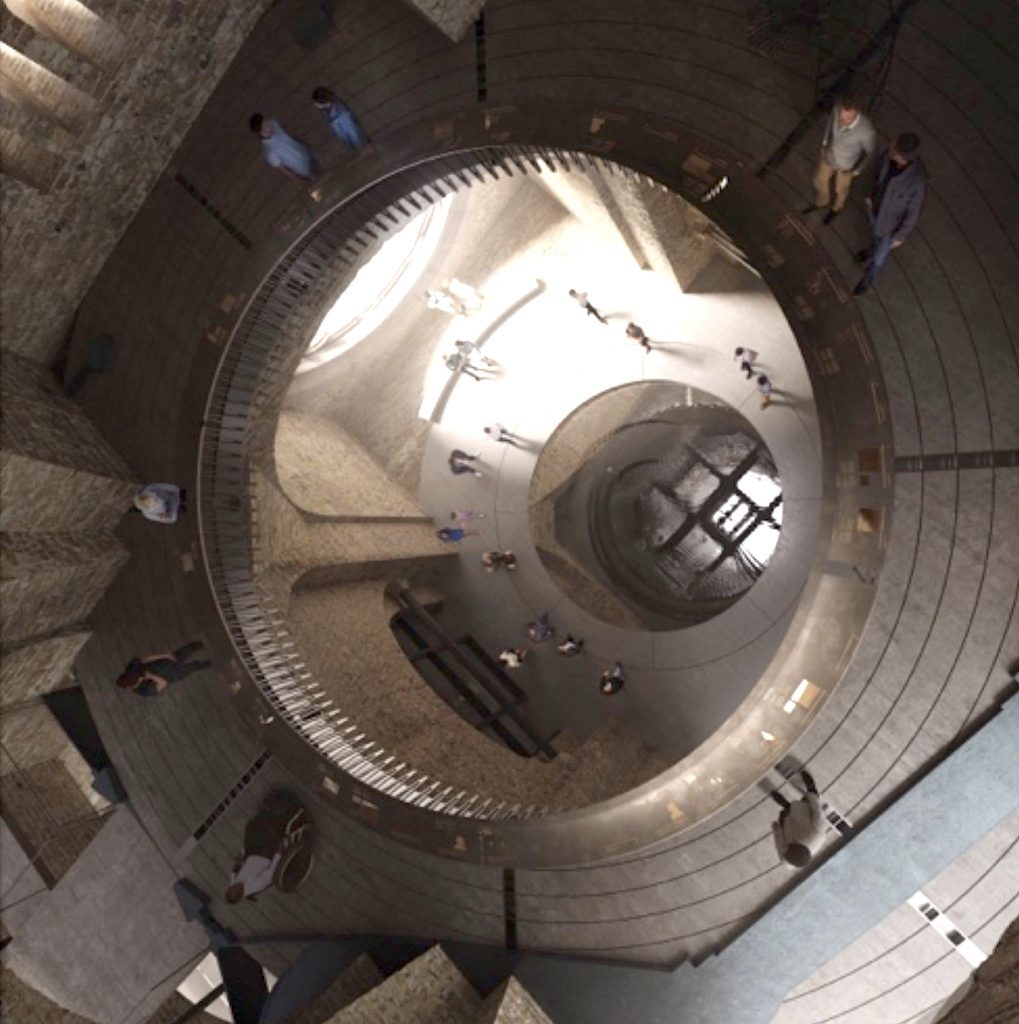 View from upper level
Unless otherwise noted above images ©heneghan Peng Architects
2nd Prize
Wandel Lorch Götze Wach | Frankfurt am Main
Authors: Prof. Andrea Wandel, Prof. Wolfgang Lorch, Florian Götze, Thomas Wach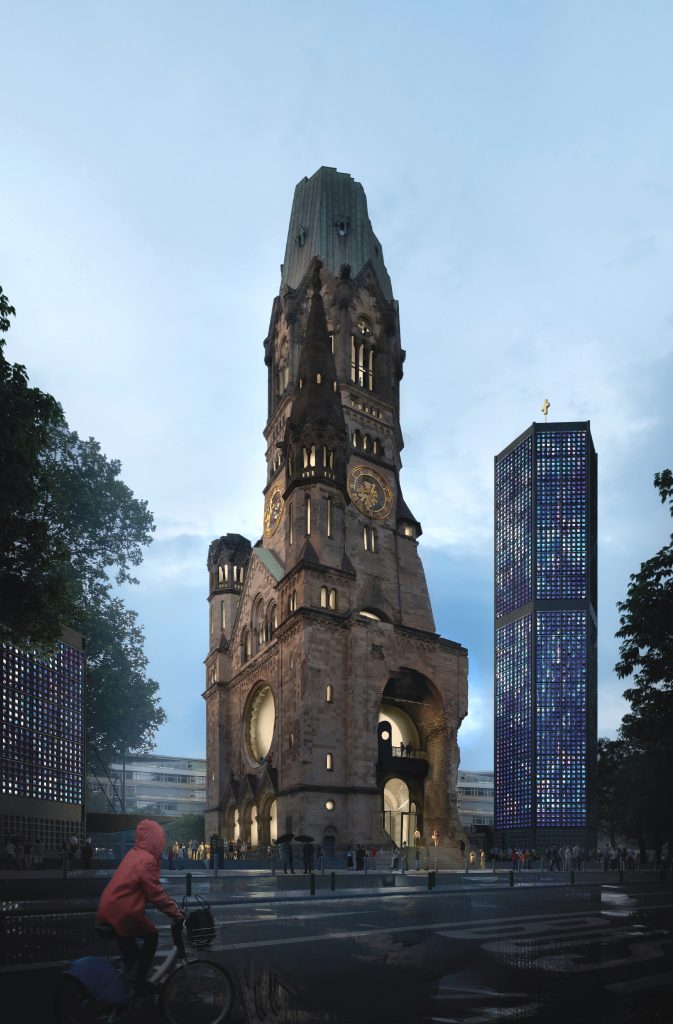 Evening view of site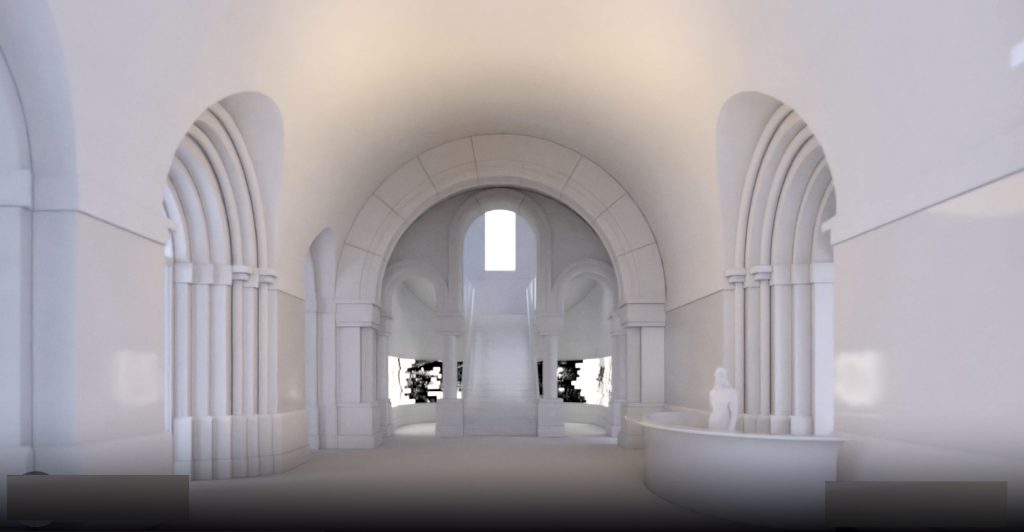 Memorial Hall model perspective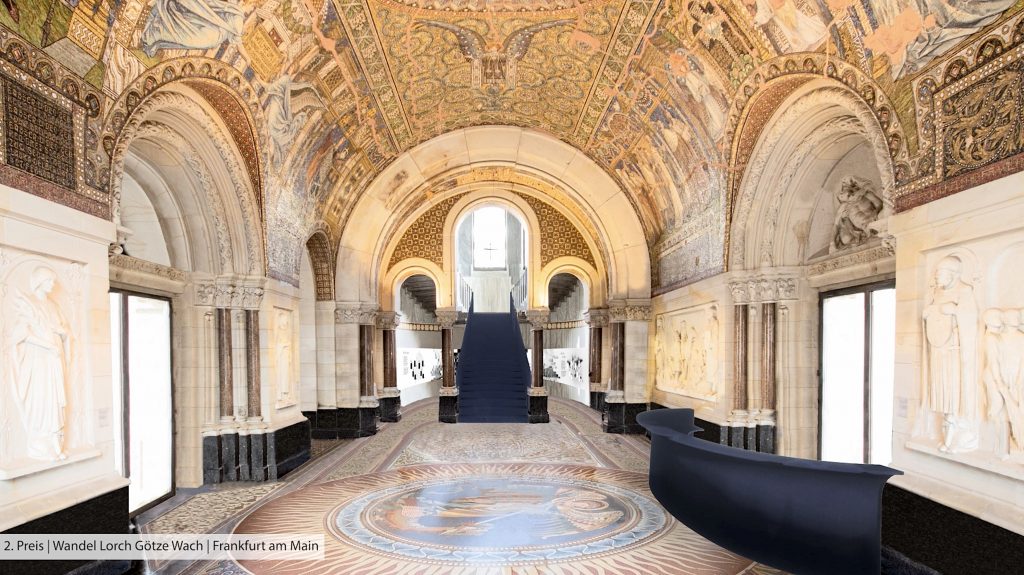 Suggested restoration to original appearance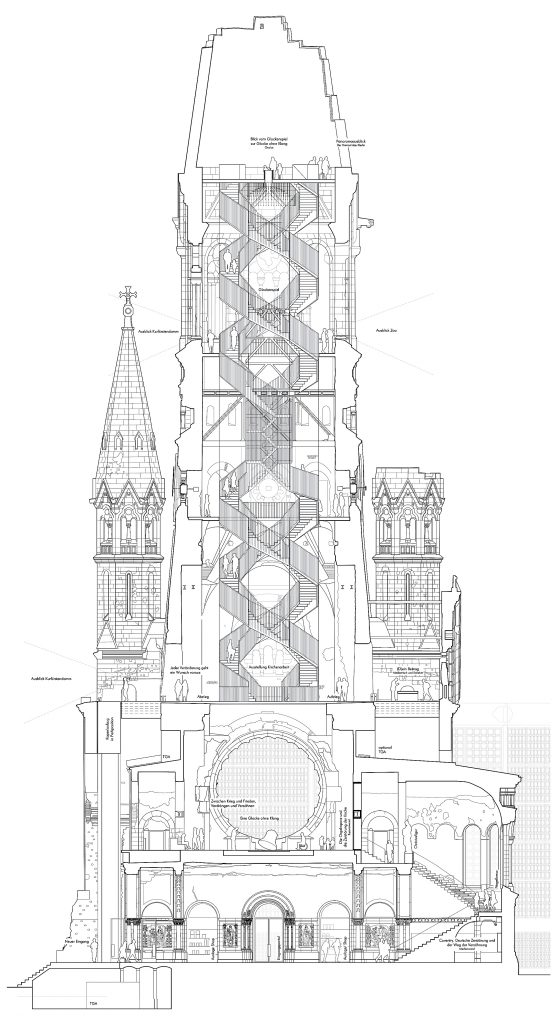 Section

Second level main exhibition area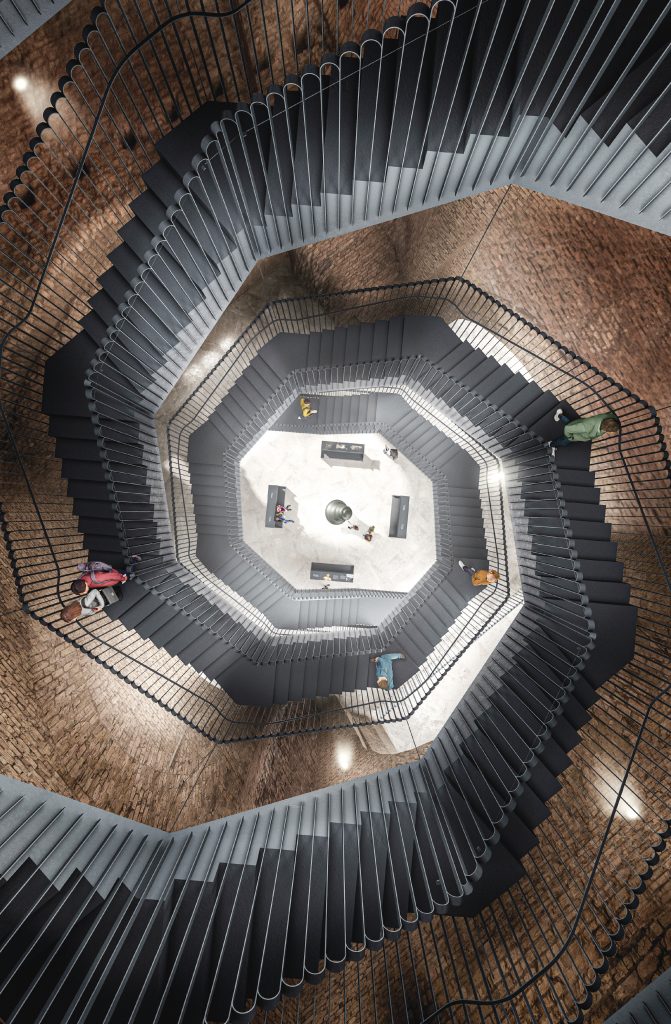 View from top level
Unless otherwise noted, above images ©Wandel Lorch Götze Wach
Special Citation
Nieto Sobejano Arquitectos | Madrid/Berlin
with Studio Adrien Gardère | Paris
Authors: Enrique Sobejano, Patricia Grande Andueza, Claus Thiemann, Adrien Gardère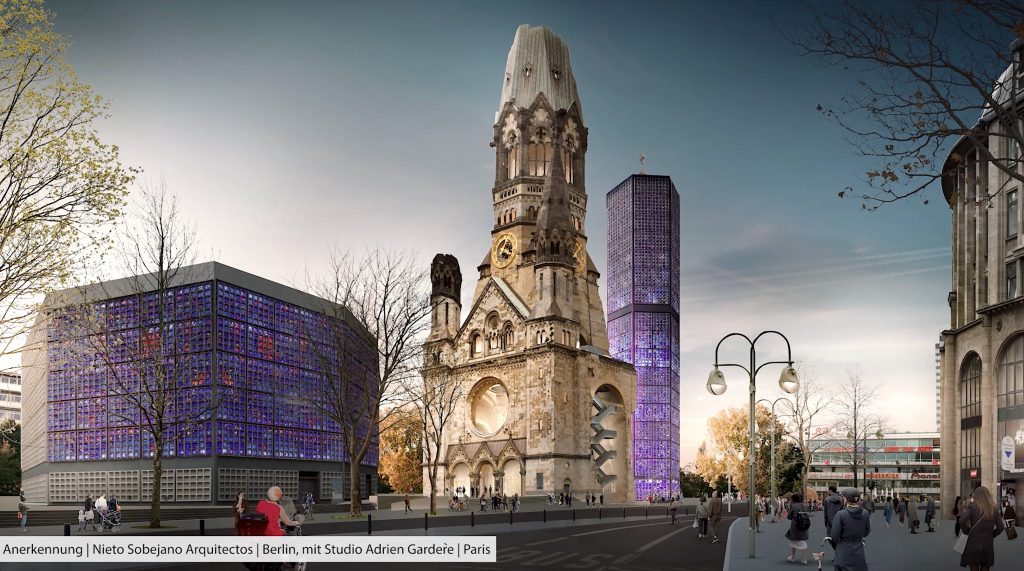 Pedestrian perspective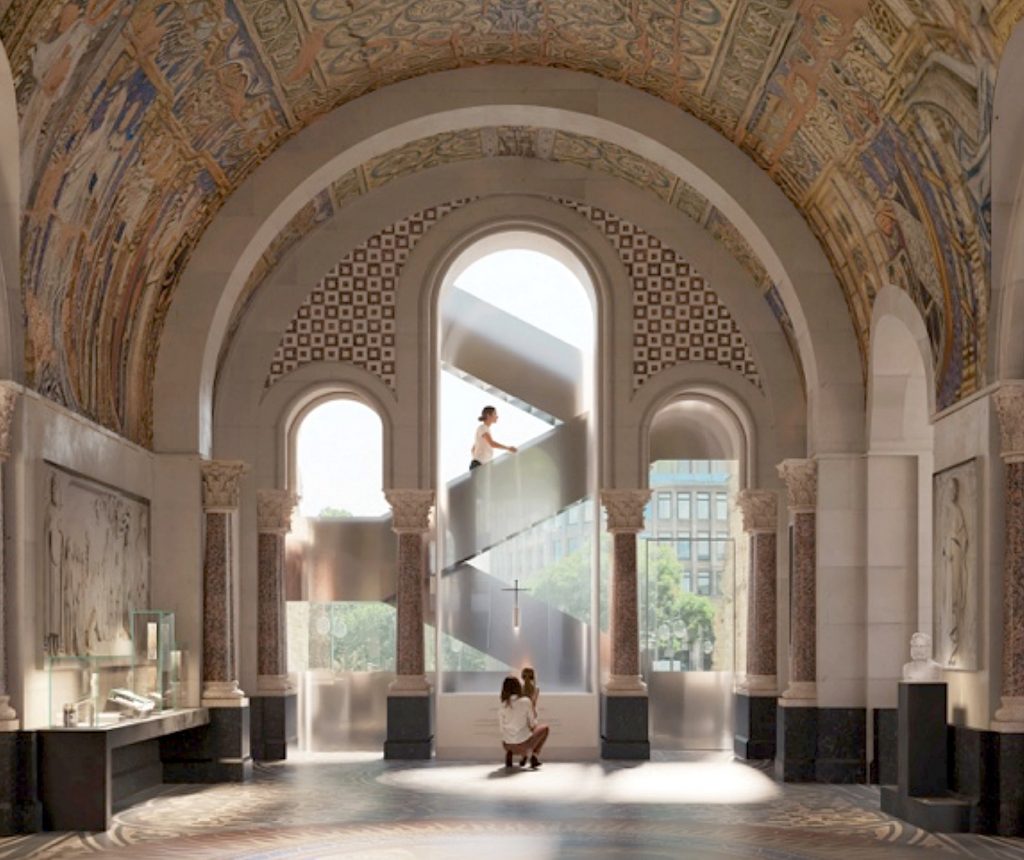 Hall with exhibits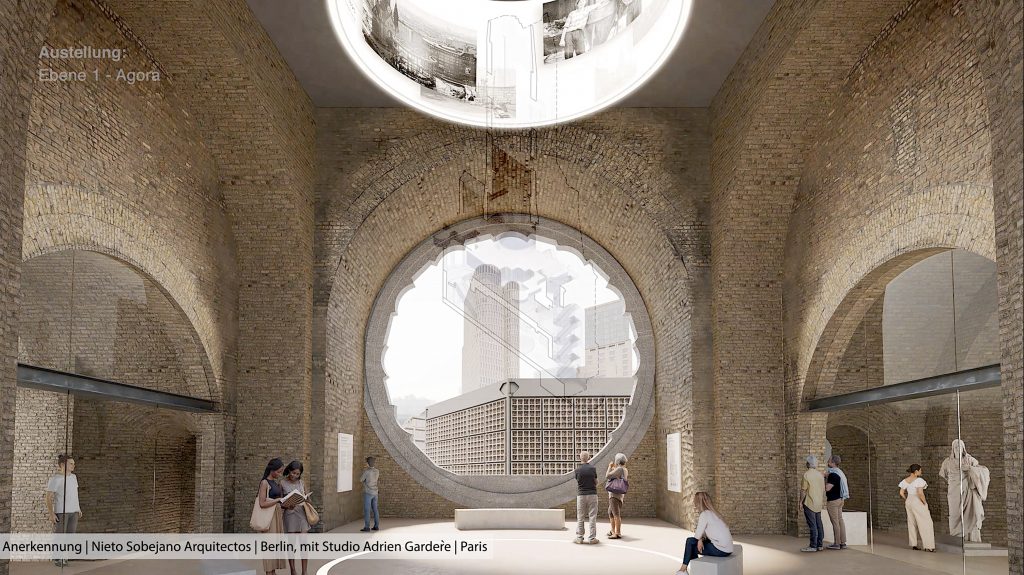 Second level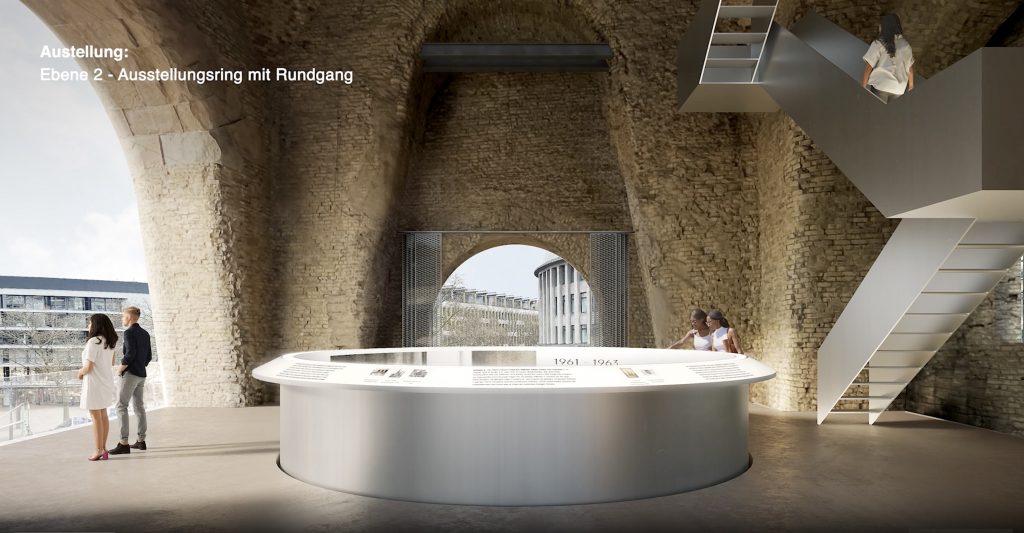 Third level with chronology exhibit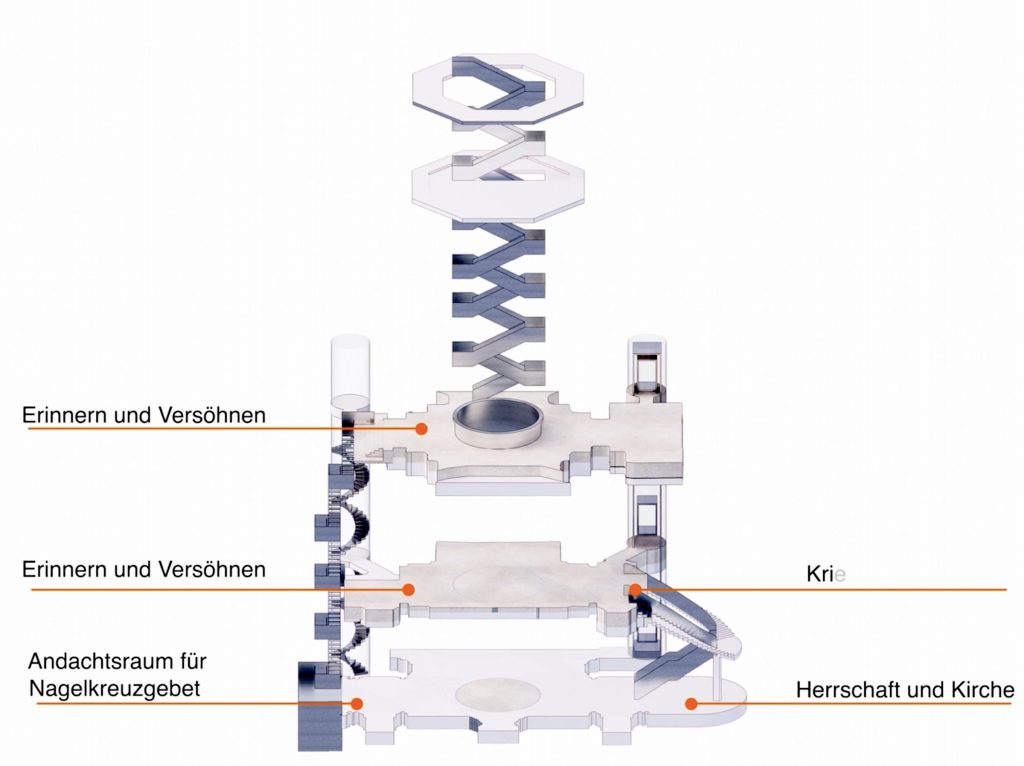 Thematic space plan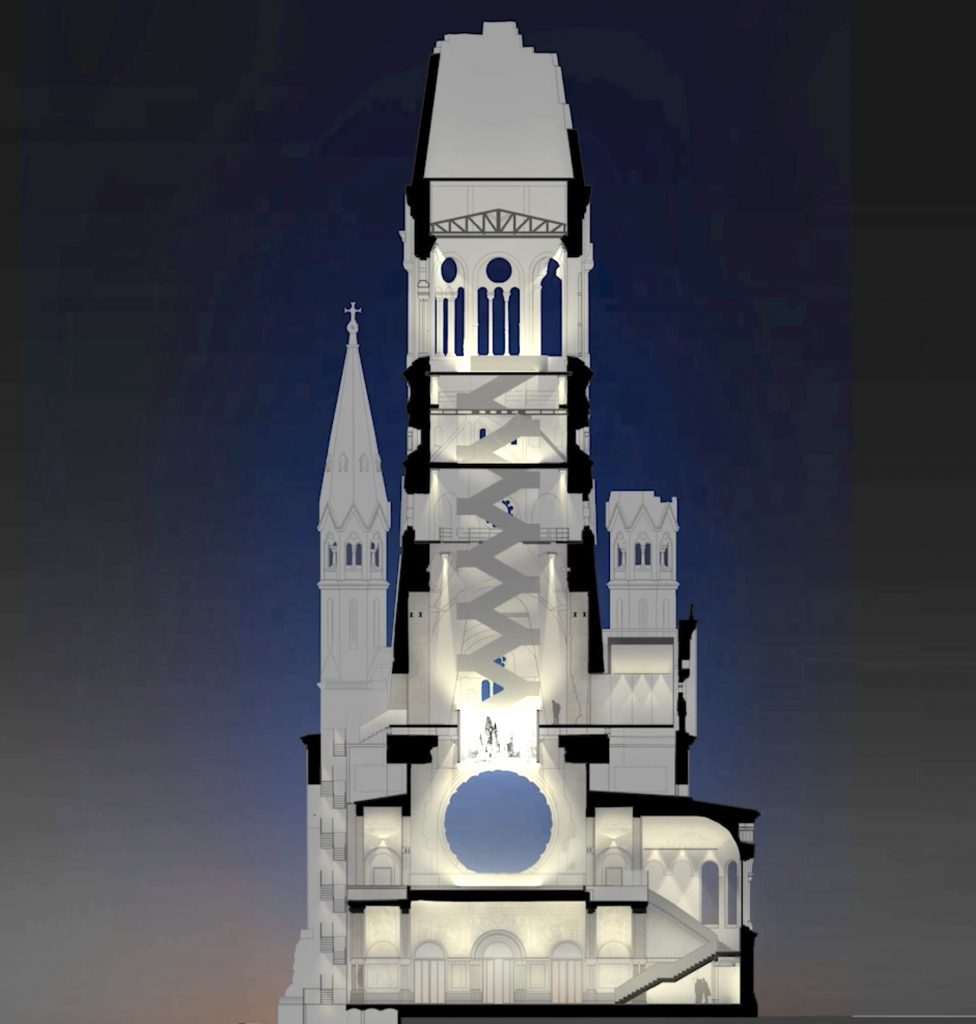 Lighting plan
Unless otherwise noted, all images ©Nieto Sobejano Arquitectos