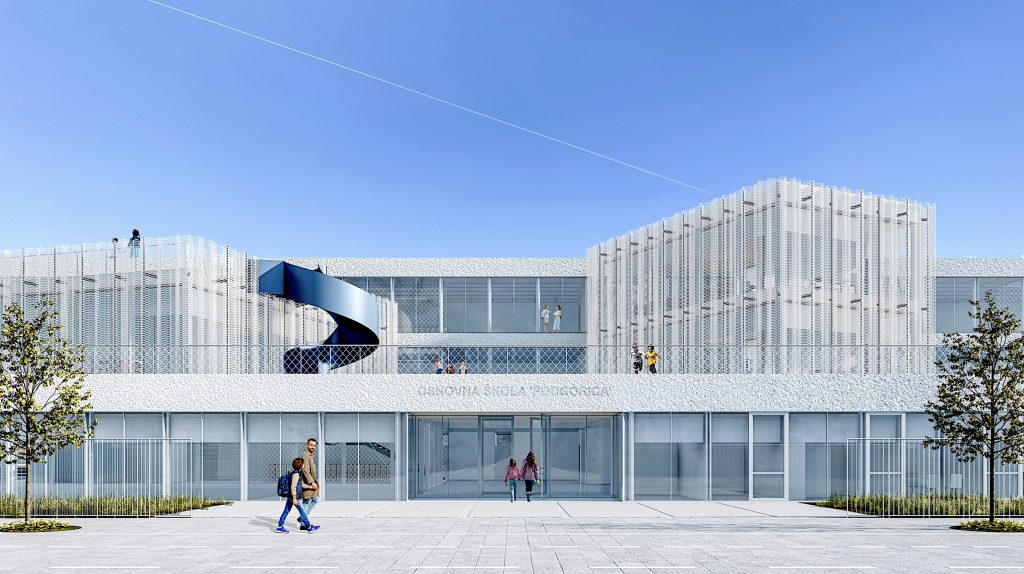 Winning entry ©Mirko Popović, Žaklina Nježić, Zoltán Schrammel
Americans became quite aware of the Montenegrin educational system during their 2016 presidential election. It was then that students interviewed by western reporters revealed to the press the nature of their their lucrative, part-time, after school jobs—creating social bots to influence the outcome of the U.S. election. Based on the content of these fake-news bots, it was quite apparent that the source of their income probably originated from a Russian oligarch.
So in the sector of language instruction, world affairs, and computer science, it would appear that the Montenegrin educational system of this Balkan nation does not lag far behind others in these areas of knowledge. With the staging of an open international competition for a school in the country's capital, Podgorica, the question arises as to the level of expertise in its architecture programs. With the announcement that the winner of the recent competition for a new school and three of the five finalists were ranked at the top of 161 entries, that question would seem to have been answered.
The competition
Sponsered by Montenegro's Ministry of Ecology, Spatial Planning and Urbanism as an international competition, it was opened to all architects registered in their country of origin. According to the announcement, "Competition entries are expected to appropriately enhance the visual identity of the block and offer an optimal functional design for the planned program contents by taking into account the existing urban values of narrower and wider location, as well as spatial-urban and architectural-construction characteristics. An innovative approach to spatial and architectural design and to the use of materials is expected, all in line with the purpose of the building."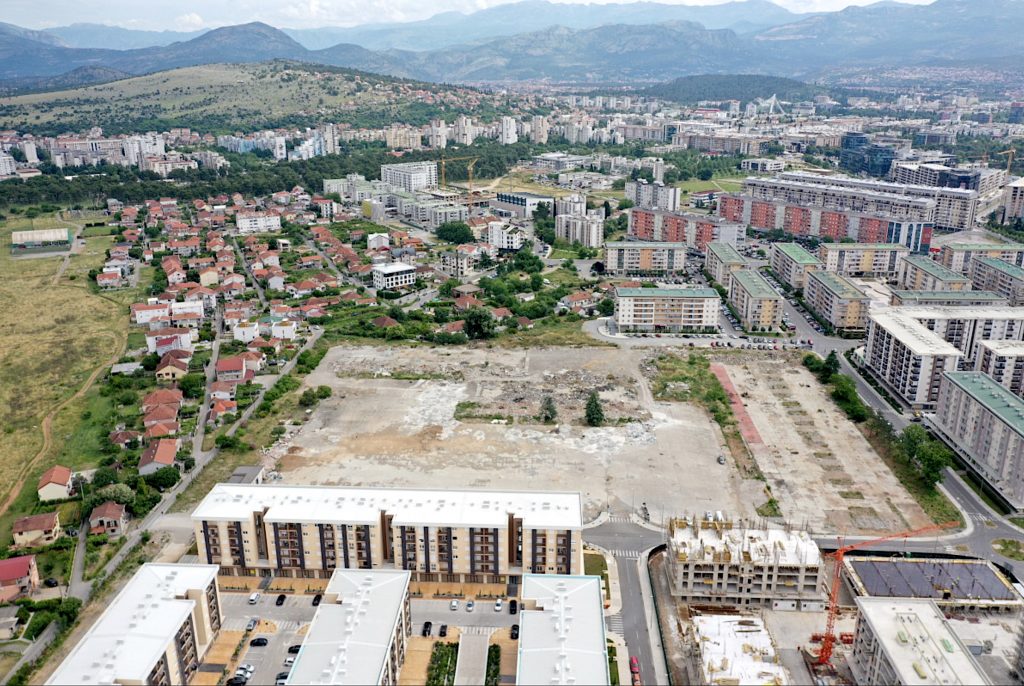 Competition school site in Podgorica
The competition was organized as a single-stage competition, to be judged anonymously.
There was no entry fee, and prize money was to be allocated as follows:
I prize – €18.000,00 
II prize – €11.000,00 
III prize – €7.000,00 
Two honorable mentions of €2.000,00 
Jury
•

Vladan Stevović, M.Arch., Chief State Architect in the Ministry of Ecology, Spatial Planning and Urbanism of Montenegro – Chairperson of the Jury;

•

Dr. Snežana Vesnić, Architect, senior lecturer at the Faculty of Architecture of the University of Belgrade – expert member;

•

Maja Velimirović Petrović, Architect, representative of the Chamber of Engineering of Montenegro – expert member;

•

Vesna Krivokapić, Civil Engineer – representative of the Ministry of Education – expert member;

•

Srđan Tadić, Architect – Belgrade, Serbia – expert member;

•

Dr Bojan Karanakov, Architect, professor at the Faculty of Architecture of the Ss. Cyril and Methodius University in Skopje, Macedonia – expert member;

• Radovan Radoman, Architect, Schluder Architekten, Vienna

 

– expert member.
Upon conclusion of the jury proceedings, the following rankings were revealed:
• First prize (€18.000,00)
Authors:
Mirko Popović, Žaklina Nježić, Zoltán Schrammel
Countries: Montenegro, Hungary
• Second prize: (€11.000,00)
Authors:
Martin Benavidez, Manuela Garcia, Stefania Casarin, Emanuel Polito, Rui Furtado, Paulo Gonçalves Silva, Raul Serafim, Carlos Almeida
Collaborators:
Facundo Rasch, Gabriela Zabala, Giovanni Pemintel, Juan Pablo Porco, Mateo Goyeneche Faya, Camila Giuffrida
Location: Cordoba, Argentina
• Third prize (€7.000,00) 
Authors:
"OOUR" DOO
Marko Stjepčević, Nemanja Milićević, Danilo Drobnjak, Ksenija Rakočević
Country: Montenegro
• Honorable mention (€2.000,00 )
Authors:
"ANDU architects" DOO
Goran Andrejin, Sonja Dubak, Haris Abdić, Bojana Ćulafić, Nikola Mandić, Jelena Živković
Country: Montenegro
• Honorable mention (2.000,00€) 
Authors: 
Carlos Di Napoli, Bernardo Luna, Martin Gonzales
Location: Santa Fe, Argentina
[eme_events order=DESC limit=100 scope=future showperiod=monthly category=1]
Exhibitions and Conferences
[eme_events showperiod=monthly category=2]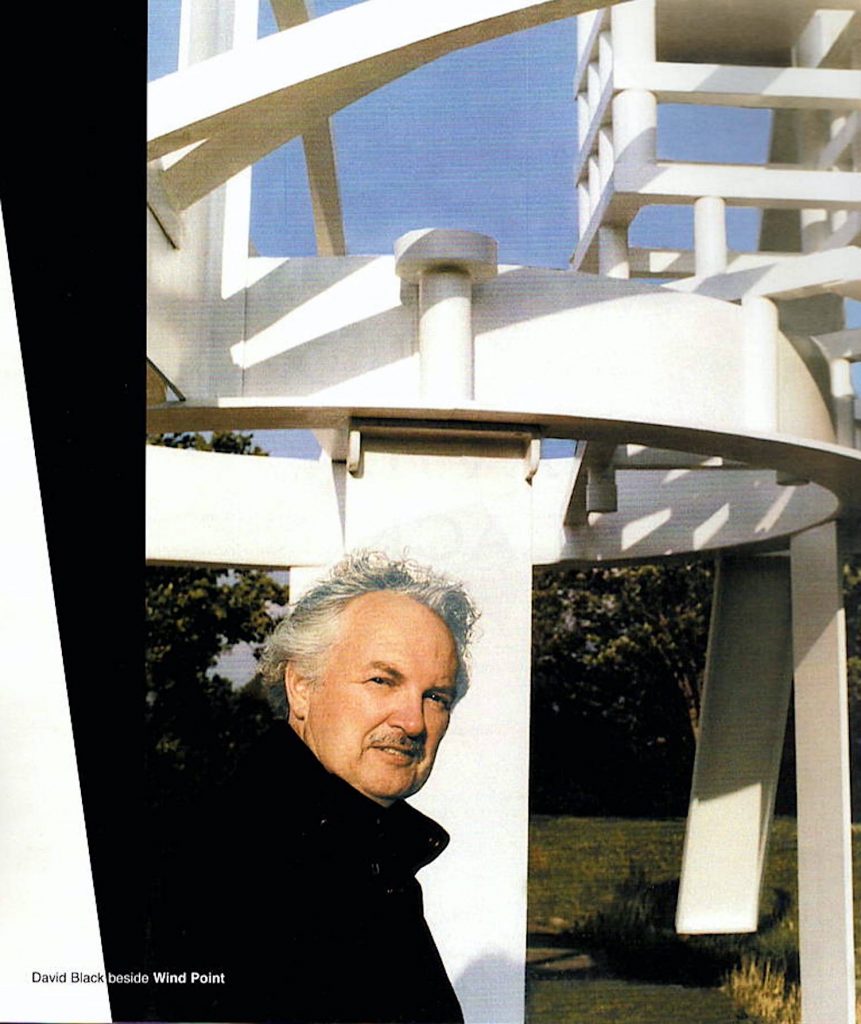 During a visit to Columbus, Ohio in 1970, I was invited to the home of a friend, Professor Michael Curran, who told me there was someone I should meet. The person he was referring to was Prof. David Black, a professor in the university's art department, who was about to travel to Berlin as a result of a D.A.A.D artist-in- residence grant. This turned out to be a long friendship, as I was often a guest at David's villa in Berlin-Dahlem, and followed his progress as an artist while in Berlin, as well as in the rest of the world after he returned home.
Growing up in Gloucester, Massachusetts, David was the valedictorian of his high school class, and began his studies to become a physicist at Wesleyan University. After his freshman year, he changed his major to art, which determined his life vocation into the future. During the Korean War, his military service saw him posted to a cultural unit as a photographer where the head of his unit was another upcoming artist, Jasper Johns. Completing his time in the military, the next step was enrolling in the visual arts program at Indiana University in Bloomington, Indiana. There he became an assistant under one of his teachers, George Rickey. This also turned out to be a longtime friendship, as Rickey, known for his kinetic sculpture, also had a studio in Berlin. Upon graduation, his first and only job in academia took him to Ohio State University.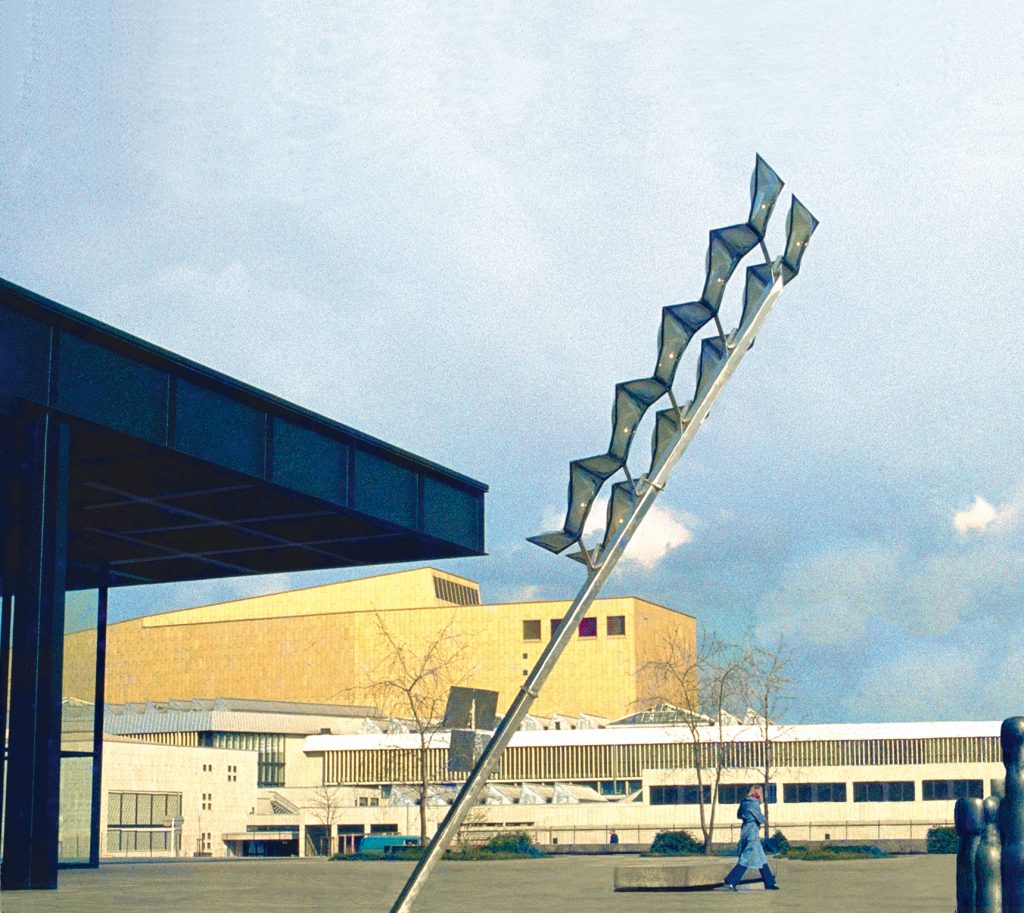 "Falls" David Black Sculpture Exhibit at the Galerie des 20 Jahrhunderts, Berlin (1975) Photo: David Black
During his early years at Ohio State, David was primarily known as a ceramicist, winning several notable prizes, where his work gained not only national, but international recognition—primarily in Japan. In Berlin, he turned to plastics, primarily Lexan polycarbonate, one of the most durable and indestructible materials for outside sculpture. His work in Berlin caught the eye of Werner Haftmann, Director of Die Neue Nationalgalerie, and resulted in the commission of a major sculpture for the museum's sculpture court, "Skypiece" (1973). Over four decades later, Skypiece was rediscovered in storage by the new Curator, refurbished, and again reinstalled in the sculpture court in the same pool, celebrating the museum's reopening after a five-year renovation.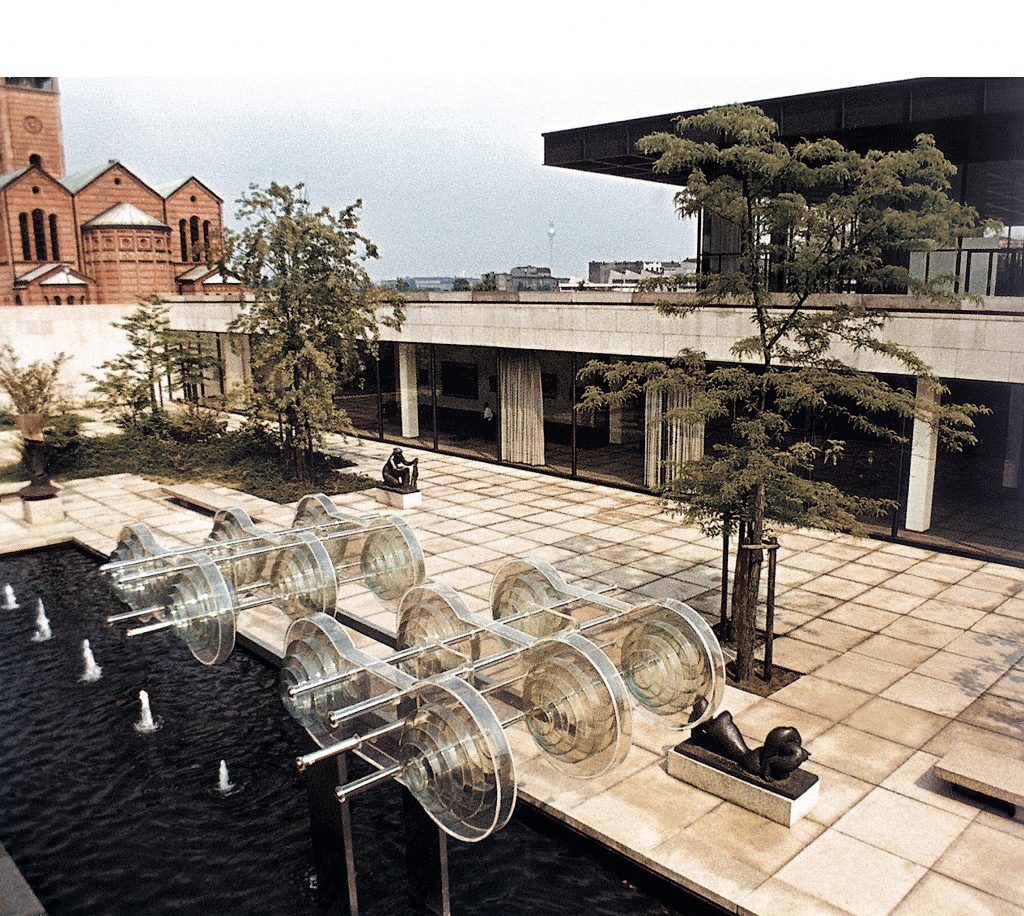 "Skypiece" Neue Nationalgalerie, Berlin (1975).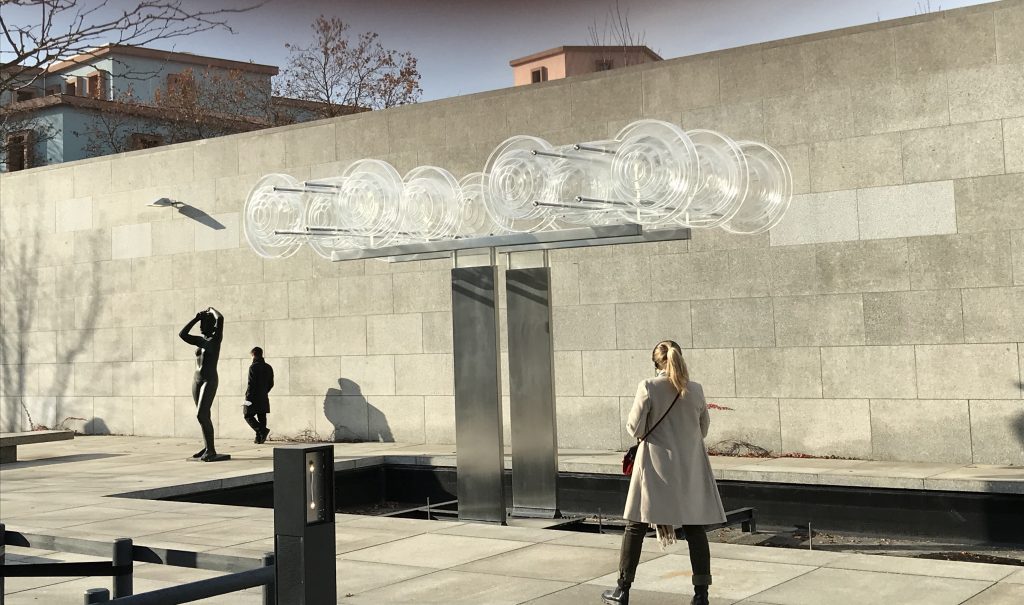 .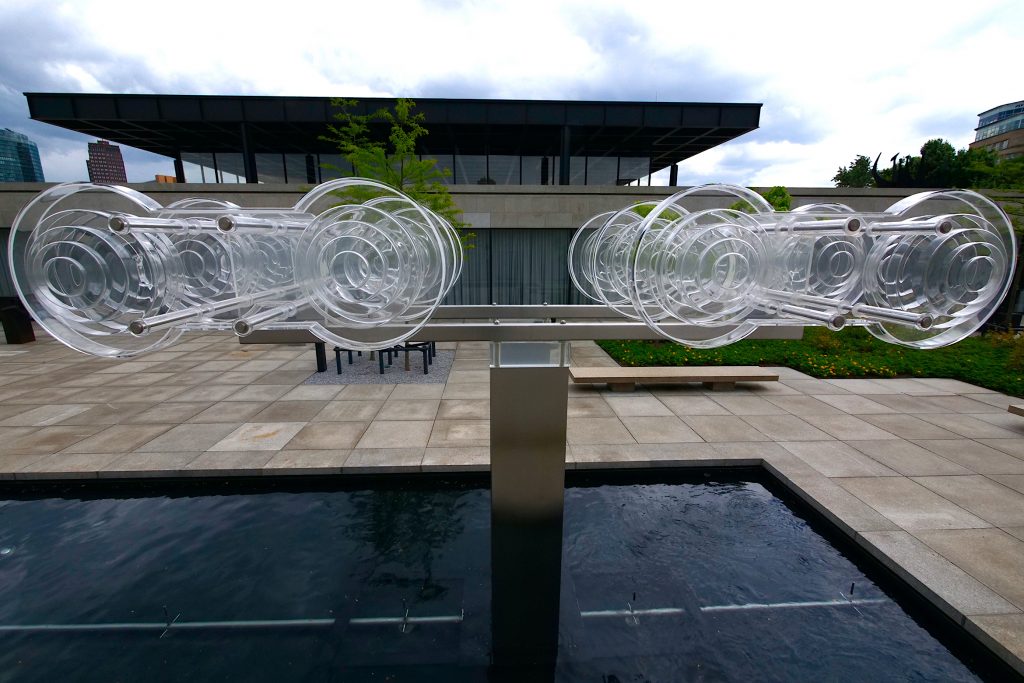 Reinstallation (2021) Photo: ©Stanley Collyer (left) ©Eric Black (right)
After several exhibits of his plastics in Germany, including a major show at the Neue Nationalgalerie, Black's return home led to a change in his use of materials—to metal, and two commissions in Columbus: "Airfold" (1981) at Columbus International Airport, and Breaker (1982) located on the Commons of Ohio State University. He started to enter competitions for outside sites requiring major artworks. An early large sculpture that won him recognition was "Wind Point," a winning entry in a major Japanese sculpture competition, the Shikanai Prize, 4th Henry Moore International Competition (1985). He went on from there to win a number of important competitions in the U.S., one of the high-profile ones being "Flyover," a Wright Brothers memorial on Main Street in Dayton, Ohio.