Siemens Healthineers Campus, Bengaluru

Aerial View of site, Rendering: ©Eller + Eller
Siemens new Healthineers campus in Bengaluru, India, is hardly a milestone in the design of major R&D facilities. Although the winning design by Eller + Eller Architekten did include the necessity to go higher that the 2- to 4-story models we often find, whether in Silicon Valley, Detroit, or in Munich, the relatively small site for such a large program did ask for that campus feel, asking the competitors to focus on the interdisciplinary factor as well as sustainability and cost.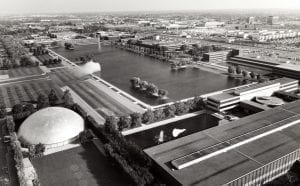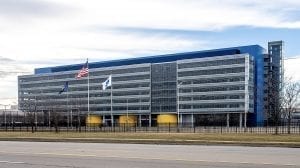 Eero Saarnin, GM Technology Center – Photo: Balthezar Korab
Beginning with Eero Saarinen's GM Technical Center in Warren, Michigan (1949-1955), Henn Architekten's BMW FIZ Future complex in Munich, Germany—also the result of a 2013 competition administered by [phase eins] consultants—and Ford's more recent plan to expand its Research & Engineering facilities on its Dearborn, Michigan campus by Snøhetta, all have one thing in common: they are essentially low- to mid-rise in plan and realization. They all take what exists at university campuses on a smaller scale, and tend to expand it exponentially (Engineering buildings at the University of Pennsylvania by Weiss Manfredi and at Carnegie Mellon by Office 52 are recent projects also focused on high-tech research.).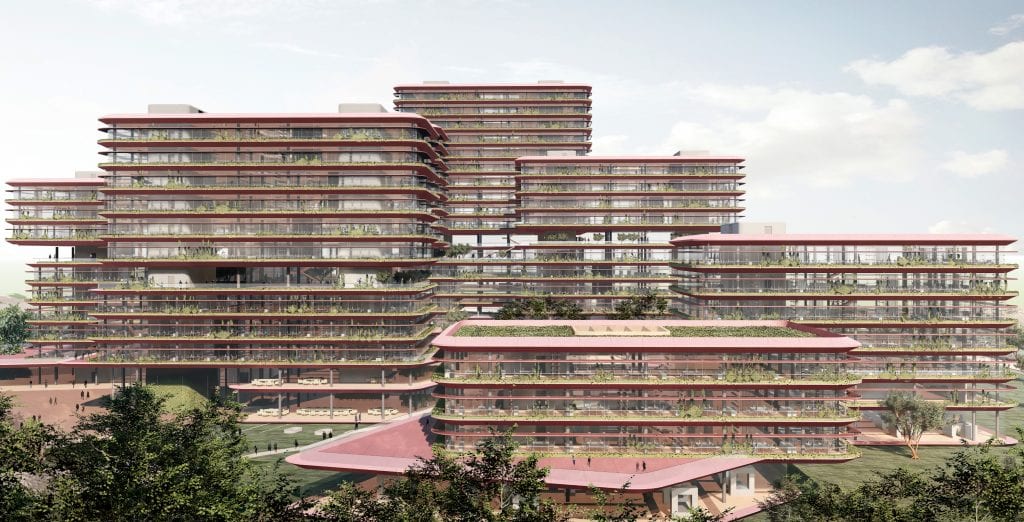 Street view, Rendering: ©Eller + Eller
The plan for Sieman's expansion of its presence in India as a leader in cutting edge healthcare technology was expressed in the competition brief:
"Siemens Healthineers is establishing a new campus in Bengaluru, India, which will combine the existing operations of the Development Centre and the Medical Imaging factory. The goal is to enable accelerated expansion of the Digital Hub, strengthen the manufacturing of entry-level products for emerging markets, and expand the entry-level portfolio."
The Competition
The initial phase of the competition for the plan of this complex consisted of a call for expressions of interest, answered by 22 firms. This was followed by an evaluation procedure, resulting in the shortlisting of six firms for the competition phase:
Eller + Eller Architekten GmbH
Düsseldorf/Berlin, Germany
Gensler Design India Pvt. Ltd
Bengalore, India
Henning Larsen Architekts A/S
Copenhagen, Denmark
Serie Architects
London, U.K./Mumbai, India
Vastu Shilpa Consultants
Ahmedabad, India
DP Architects
Singapore
The jury impaneled to adjudicate the presentations and participate in the two colloquia, the latter intended to clarify any issues which might be raised by the competition participants, consisted of:
Architectural Jurors
Prof. Ashok B. Lall, Architect, New Delhi, India

Prof. Brinda Somaya, Architect, Mumbai, India

Prof. Marina Stankovic, Architect, Berlin, Germany

Rainer Stark, Architect, Head of new construction & workplace


management, Siemens Healthineers AG, Erlangen, 

Germany

Prof. Erwin Viray, Architect, Singapore, Singapore


Deputy Architectural Juror
    • Shubhra Raje, Architect, Ahmedabad, India
General Jurors:
• Gerd Höfner, Managing Director & President,
  Siemens Healthcare Pvt. Ltd., Bengaluru, India
• Heinz Mayer, Head of Real Estate,
  Siemens Healthineers AG, Erlangen, Germany
• Manoj Prasad, Business Administration Manager,
  Siemens Healthcare Pvt. Ltd., Bengaluru, India
• Christian Horn, Head of Real Estate-Direct Countries,
  Siemens Healthineers AG, Erlangen, Germany
Here it is important to note that the second colloquium included individual appointments with all participants in which questions of the task were to be clarified on the basis of an interim presentation by the competitors. On the first day of the jury sessions, after an online forum, the above three firms were advanced to the second round, with one of the other three (04 – Serie Architects) brought back for further discussion, but then discarded.
After the final submission of the entries, the above panel, having nine votes, settled on the ranking of the three top entries as follows:
Anonymous jury ranking:
Code#          Rank 1  Rank 2   Rank 3
7003                   7          2          –      (Eller + Eller Architekten GmbH)
7001                   1          6          2      (Henning Larsen Architects A/S)
7002                   1          1          7      (DP Architects Pte Lte Ltd)
Conclusion
Although the winning Eller + Eller proposal presented a plan—low- and mid-rise in its composition, thereby covering a significant area of the relatively small site, they managed to compensate for this by arranging the structures in such a manner that the initial impression, created by a clever stacking strategy, was that of an open invitation to the public—a significant idea for any project relating to healthcare. (See below for jury reports on the individual entries)
Compensation
All six firms in the competition received €70,000 for delivering their entries. In addition, prize money was set aside for the three top-ranked firms (see below).
Benjamin Hossbach of [phase eins] served as jury recorder
1st Place – €29,000
Eller + Eller Architekten GmbH
Düsseldorf/Berlin, Germany
Author: Erasmus Eller
Employees and student collaborators
Tim Runkel, Nicole Stajer, Felix Wirth, Lars Klenner, Anne-Kathrin Schulz, Sven Pilz, Christiane Flasche, Amir Babolsari, Ines Dobosic
Consulting engineers
Arup Deutschland GmbH, Berlin, Germany, Author: Rudi Scheuermann, Employees/freelance collaborators: Stefan Marinitsch, Francesca Galeazzi, Stuart Smith, Ibrahem Alsalamh, Jessica Rodrigues and Team, Arup India
Landscape planning
Rainer Schmidt Landschaftsarchitekten GmbH, Munich, Germany, Author: Rainer Schmidt,
Employees/freelance collaborators:
Lukas Bihler, Mona Deng, Holly Hein, Rui Wang, Karolina Malecha
Renderings: moka-studio GbR, Hamburg, Germany, Author: Jean-Pierre Monclin, Sabine Monclin
Gonzales Modellbau, Berlin, Germany, Author: Gonzales Modellbau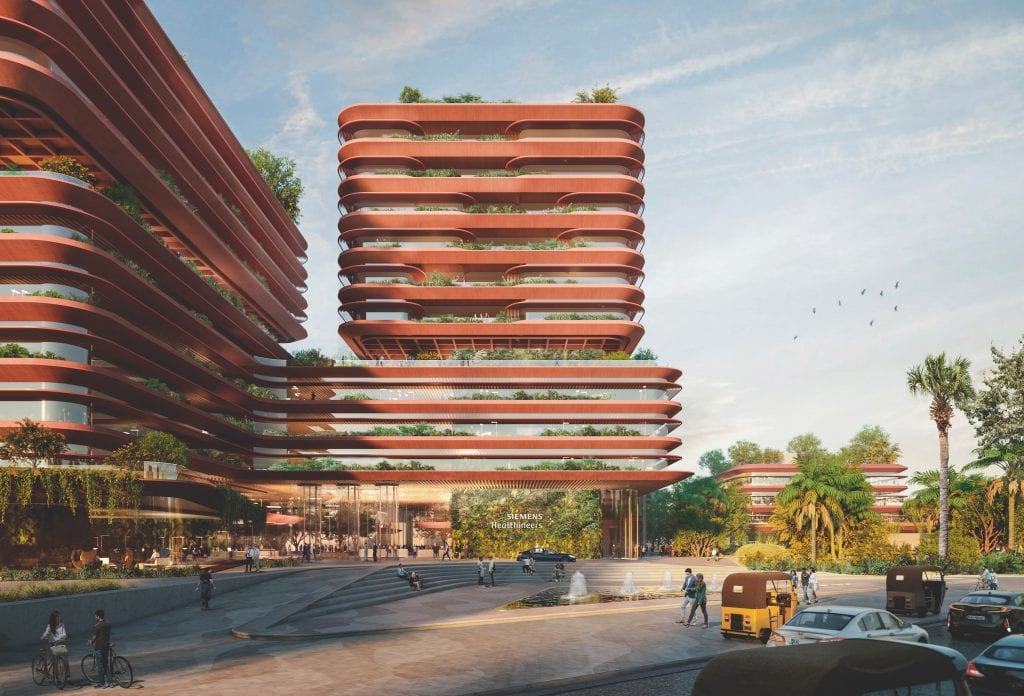 June 2022

1 June 2022 – Entries submission deadline

April 2022

13 April 2022 – Registration deadline

January 2022

11 January 2022 – Registration/Submission deadline

December 2021

18 December 2021 – Phase I Submission deadline

November 2021

19 November 2021 – Submission of Plans

October 2021

11 October 2021 – Entries submission deadline

1 October 2021 – Design submission deadline

September 2021

21 September 2021 – Submission deadline

13 September 2021 – Submission deadline

3 September 2021 – Application deadline

2 September 2021 – Registration and submission deadline

August 2021

9 August 2021 – Submission deadline

6 August 2021 – Prequalification registration deadline

July 2021

30 July 2021 – Expressions of Interest deadline

26 July 2021 – Download of documents deadline
Exhibitions and Conferences
No events
Helmut Jahn: A Life as Innovator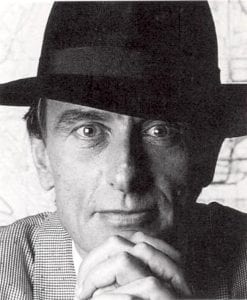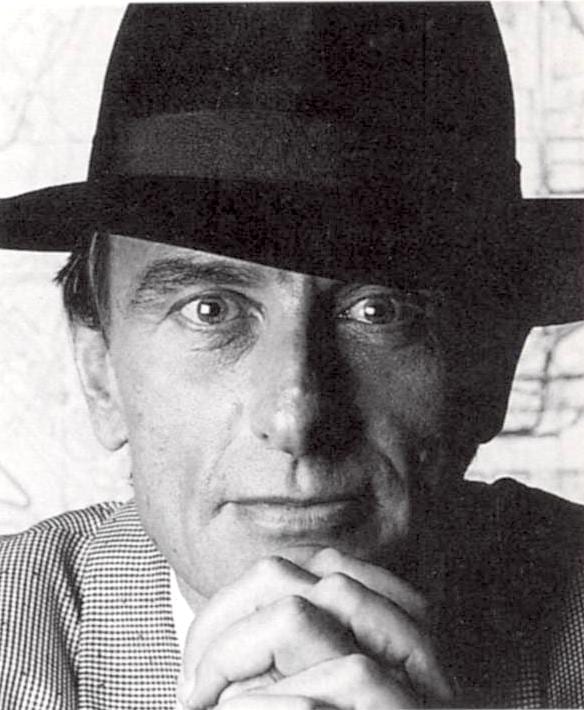 Blending Technology with Aesthetics
On May 8th of this year, the world lost one of its foremost architects in Helmut Jahn, 81, who died in St. Charles, a suburb of Chicago, his adopted home in America. Born and educated in Germany, Helmut arrived in America two years after receiving his degree in architecture from the Technical University in Munich. Arriving in the U.S. in 1966, he chose to pursue graduate studies at Mies van der Rohe's architecture program at the Illinois Institute of Technology (hereafter IIT), mentored there by Myron Goldsmith and Fazlur Kahn. Though certainly influenced during his time at IIT with their modernist attitude toward architecture, one cannot discount his years of study in Munich, which saw a run-up to the design of Munich's Olympic Games site, resulting in a novel tent-like design from a competition won by Günther Behnisch, with a subsequent assist from later Pritzker Prize winner, Frei Otto.
   After IIT, Jahn immediately went to work at C.F. Murphy & Associates in Chicago, which had just completed the Richard J. Daley Center in downtown Chicago, a structure notable for its Cor-Ten steel façade. In 1976, Jahn, together with C.F. Murphy collegue, Jim Goetsch, won the Minnesota II design competition for the Minnesota Capital Government and History Center. Although never built, as an important competition it brought national recognition to both architects. With his stature as a lead designer in the firm, Jahn became Principal, President, and CEO of C.F. Murphy in 1981.
   During his interview with COMPETITIONS in February 1994, Helmut spoke about numerous competitions he had participated in. Aside from the firms many successes in competitions, especially in Germany, there were disappointments along the way. Commenting on the Harold Washington Library competition, he stated, "The client asked for a forward-looking building and got just the opposite." Still, he suggested that had he won, "I would be spending most of my time in court."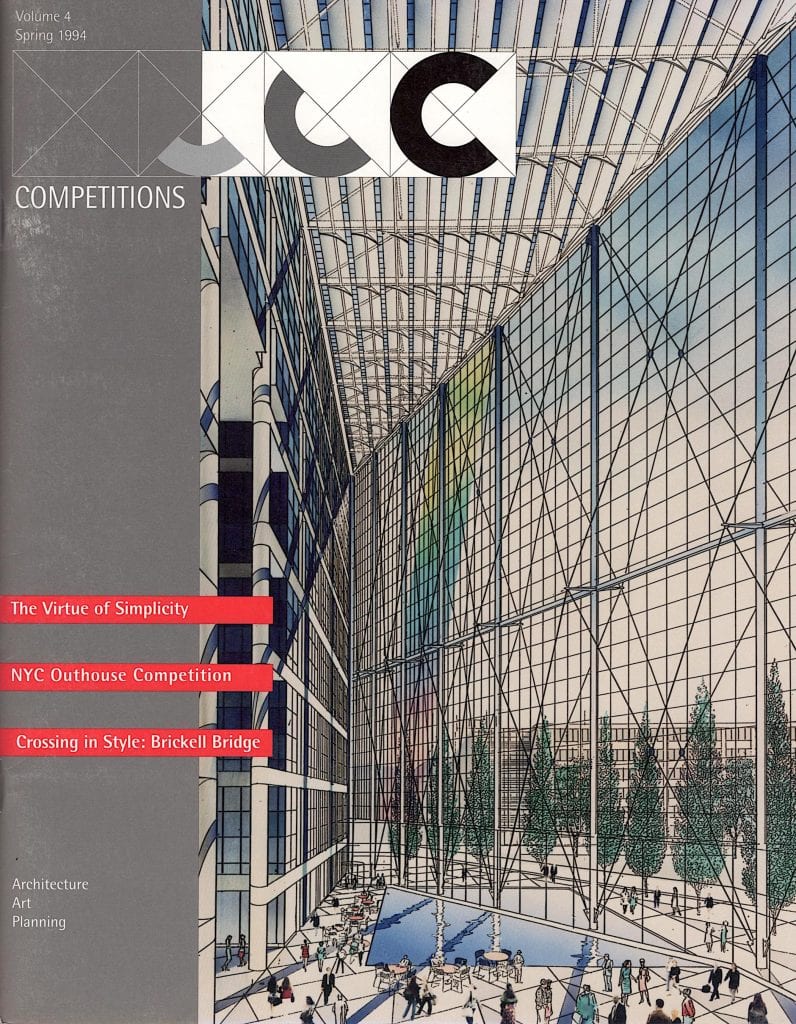 Strahlauer Platz (Berlin) winning competition entry (1993)
   Many have experienced Jahn's projects firsthand, whether it was in an airport terminal in Chicago or Thailand, passing through Chicago's James R. Thompson Center in Chicago to catch a ride on the L, or passing the time in a restaurant in Berlin's Sony Center. The latter, the result of a competition where he prevailed over five other high-profile architects, has always been one of my favorite destinations when on a visit to Berlin. There one can enjoy not only the ambience created by the giant open atrium, but admire how he solved the pedestrian-access issue to the interior with its multiple openings which served as an invitation to those curious pedestrians on the perimeter.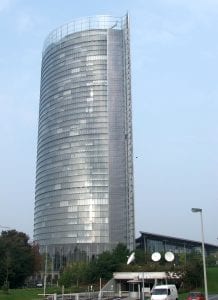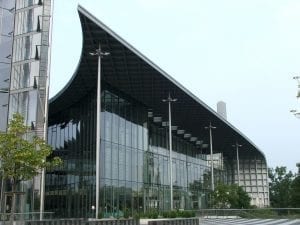 Deutsche Post Tower, Bonn, Germany  Photos: Stanley Collyer
   Another favorite has been his Post Tower in Bonn, Germany. Certainly an exception to the rule in this low-rise city, and anchoring one end of the city's downtown thoroughfare, it makes a friendly statement, for it does not present a sole, lonely object to the naked eye, but an attraction to view at close range. What makes all this possible is the addition of a Corbu-like building nestled at its side, containing a cafeteria and meeting rooms. Here Jahn has managed to capture the essence of place, both in scale and the aesthetic.
Helmut Jahn's success was also due to his choice of many of those talented experts who collaborated with him. One of the most important was Werner Sobek, possibly Germany's premier structural engineer, and one who was there to guide those advances in technology, so important in the realization of several of Jahn's most challenging projects.
We can only hope for more Helmut Jahns in the future, not only to explore the limits of what technology can do for us; but at the same time lend their designs a sense of the spiritual.
Sony Center, Berlin
Winning competition entry (1992)
Completion (2000)

Sony Center Competition model (1992)