Belfast Looks Toward an Equitable and Sustainable Housing Model Birdseye view of Mackie site ©Matthew Lloyd Architects If one were to look for a theme that is common to most affordable housing models, public access has been based primarily on income, or to be more precise, the very lack of it. Here it is no different, with ...
Read more...
Six Firms Competed to Rethink the Future of a Major Museum
Note: Our article of three weeks ago, announcing the designs of the six firms competing in this competition, apparently only reached about half of our subscribers due to a glitch in our provider's software. Therefore, we felt the need to include most of that article here to serve as background for the naming of the winner, Nieto Sobejano Arquitectos of Madrid/Berlin.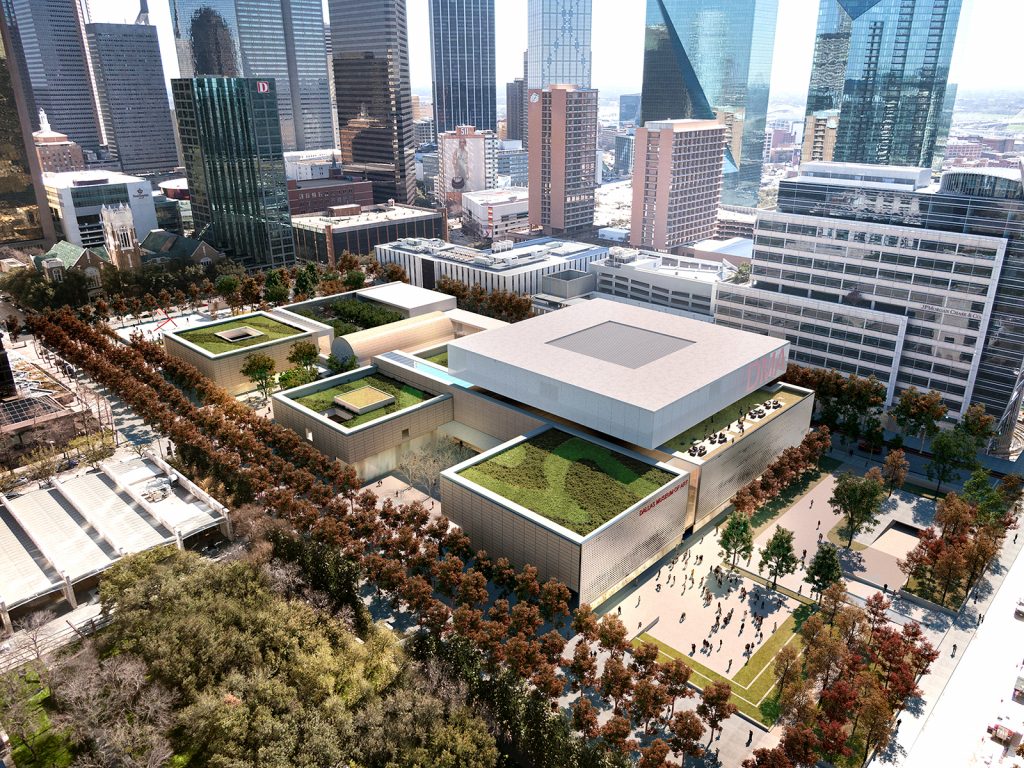 Aerial view of winning design ©Nieto Sobejano Arquitectos (courtesy Malcolm Reading Consultants)


The history of the Dallas Museum of Art's expansion has been punctuated by several moves, culminating in a new building designed by Edward Larrabee Barnes in 1984. The importance of this move to a new, somewhat desolate location in the city cannot be underestimated: it has led to the revitalization of what is now called the "Arts District," with the relocation of various arts institutions to new facilities: the opera house (Foster and Partners), Dee and Charles Wyly Performing Arts Theater (REX/OMA), Nasher Sculpture Center (Renzo Piano), and I.M. Pei's Meyerson Symphony Center being among the most significant. 


Image ©Wikimapia
As has been the case with numerous art museums, demands for more space to enable the showing of an expanding inventory. together with recognition that art is not just for the elites, has led those institutions to rethink how a museum should function in modern day society. With new high-rise buildings surrounding the present DMA, the present building, with an Indiana limestone facade, had to some "become unwelcoming, off-putting, and defensive." To address this issue, both for expansion and refurbishment of the existing DMA, the Trustees looked to a competition to bring the best ideas for the new project. This decision should be seen against the background of a local/regional context: Dallas's nearby, smaller neighbor, Fort Worth, had been at the forefront of museum design on the national and international scene when it came to museum design. Louis Kahn's Kimball Museum (1972) was a pilgrimage destination for young architects, and Tadeo Ando's Museum of Modern Art there had been the result of a competition (1997).
Read more...
Six Firms Compete to Rethink the Future of a Major Museum (The scheduled announcement of the competition winner is to occur in August. Until that time we will refrain from commenting on the merits of the individual entries. In viewing the presentation boards of the six shortlisted firms below, readers should not draw any conclusions as ...
Read more...
Login to see more (login problems? E: scollyer@competitions.org or http://competitions.org/contact/)
Read more...
Figure 1 Industrial Union Tower (1967) Rafael already made a name for himself in the late sixties as a university student in Buenos Aires. While I was a student serving as an intern in a downtown office in Buenos Aires, one of my peers came back with a story about an incident during his university exam ...
Read more...
Courtesy Malcolm Reading Consultants, ©Kengo Kuma & Associates A UNESCO World Heritage Site Again on the World Stage How does one approach a challenge when creating a design worthy of a park with a history dating back to antiquity? This was what four design teams faced when shortlisted for the design of a Visitor Center for the ...
Read more...
Chungji National Heritage Museum Competition For those unfamiliar with Korean Heritage and its symbols, the choice of the jury for a new complex to house artifacts, now located at various scattered sites, would seem to beg more information, especially when one views the designs of the non-selected finalists—all quite modern. Some of this can certainly be ...
Read more...
University of Florida's College of Design Construction and Planning's New Addition Development phase image courtesy ©Brooks + Scarpa If architects have had one complaint concerning the planning and realization of a project, it has been with planners and especially construction managers, both of whom often display a lack of knowledge about architecture. The survival of a well-conceived ...
Read more...
Houston Endowment's New Headquarters on the Bayou Southwest view Houston Endowment Headquarters – Photo Ivan Baan, courtesy Kevin Daly   Following in the footsteps of other major non-profits—The Ford Foundation and LA's California Endowment Center in particular—the Houston Endowment's new headquarters, located on a grassy knoll just above the Buffalo Bayou in the city's outskirts, has also made ...
Read more...
The Makasiiniranta South Harbor Competition     Helsinki South Harbour and Tori Quarter Suomen Ilmakuva Helsinki. Image credit/ Tietoa Finland, Janne Hirvonen   As a prelude to a competition for the design of a new Architecture and Design Museum to be located in Helsinki's South Harbor, the City of Finland staged an open competition to establish a roadmap for the ...
Read more...