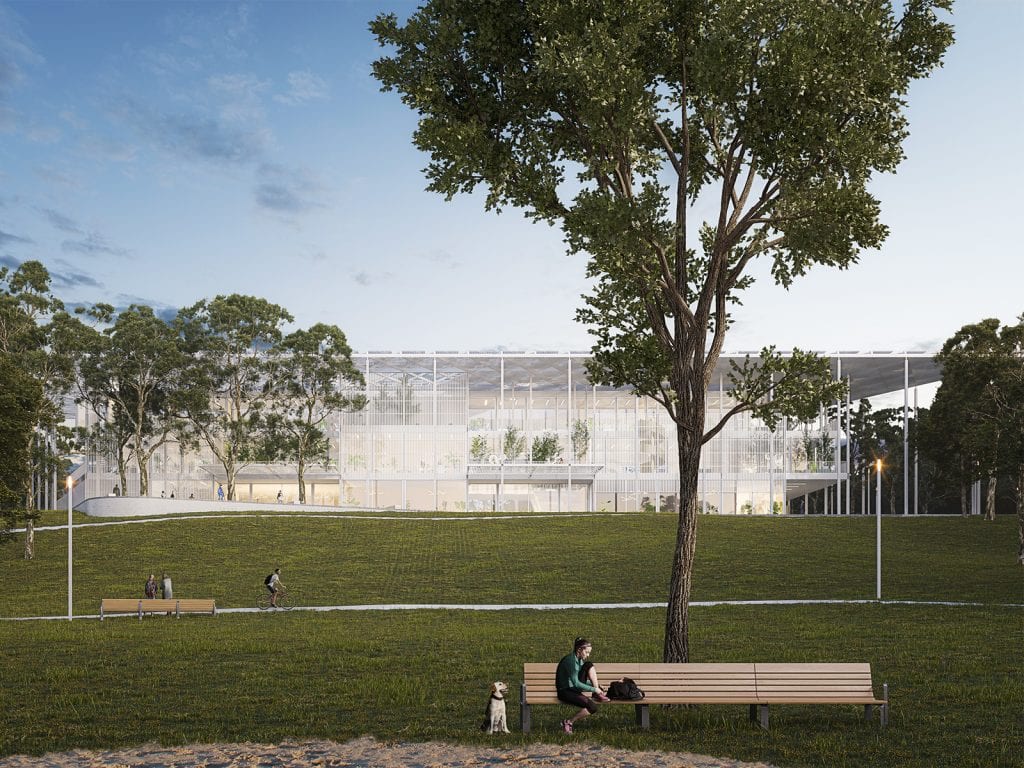 View to winning entry ©KDA
Foundation non-profits are no strangers to good architecture. Ford Foundation's forward-looking headquarters in New York City by Roche Dinkeloo was an early example of a non-profit using architecture as a vehicle for serving to brand it as a progressive institution. In 2001 the California Endowment went one step further, staging an invited competition for their new headquarters in Los Angeles.* In that case, competitors were asked to design with the mission of the Endowment in mind, which focused on healthcare. Won by the local firm, Rios Clementi Hale, and completed in 2005, the new building marked an interesting approach to the design of non-profit support facilities in California.
The Houston Endowment has now followed by also staging an invited competition for the design of a brand new facility, creating space for employees and activities now located in the business district and two other non-profits. The designated site, although not in the immediate city center, is located in a park-like setting, not far from the Buffalo Bayou and with great site lines to the city's downtown.
Established in 1937, the Houston Endowment now provides grants annually in the neighborhood of $70-75M. The recipients are wide ranging, including underserved communities, environmental issues, education, healthcare, immigration, and special emphasis on the arts. The most recent grants included aid for those most affected by the recent hurricane. As for giving any directions concerning the architectural expression of the new headquarters building, one could only assume that it might take a cue from some of the best local architecture—which apparently turned out to be the case. Years ago, the Houston arts scene received international acclaim with the addition of the Menil Foundation's new museum by Renzo Piano.
The Process
The competition was launched in February 2019 with a Request for Qualifications and attracted 121 teams comprising 343 individual firms from around the world. From those portfolios, four teams were shortlisted for a competition stage, with each team to receive $50,000 after submission of their proposals. The four teams were:
Deborah Berke Partners with DAVID RUBIN Land Collective and Atelier Ten
Kevin Daly Architects with TLS Landscape Architecture, Productora and Transsolar
Olson Kundigwith Surfacedesign, Inc.
Schaum/Shieh Architects HKS and Andrea Cochran Landscape Architecture
All of the teams, regardless of their size, were required to include a Texas-based firm as part of their team. The new building itself is to be approximately 40,000 square feet and have a construction budget of $20M.
The jury panel consisted of:
Joseph C. Dilg, Board Member, Houston Endowment

Jesse H. Jones II, Chair, Houston Endowment Board

Guy Hagstette, Vice President of Parks and Civic Projects, Kinder Foundation

Ann Stern, President and CEO, Houston Endowment

Tom Forney, President and CEO, Forney Construction

Alex Washburn, Principal, DRAW Brooklyn
Meejin Yoon, Dean of the College of Architecture, Art and Planning, Cornell University and Principal, Höweler and Yoon Architecture

Malcolm Reading, Competition Director.
There was also a technical review panel, which included:
Michelle Addington, Dean of Architecture, University of Texas

Sheryl Kolasinski, Chief Operating Officer, The Houston Zoo

Michael Kubo, Assistant Professor of Architectural History, Theory, and Criticism, University of Houston

Maria Nicanor, Executive Director, Rice Design Alliance, Rice School of Architecture.

The Selection Process
The history of the shortlisting process for many invited competitions is usually a roll out of star architects' firms. The intention here was quite different, whereby it was stipulated that emerging firms also be considered. Here the list of finalists selected for the competition phase included three firms with substantial resumes—KDA, Olson Kundig and Deborah Burke Partners—and one "emerging" practice, Schaum/Shieh of New York. Thus, there were two firms from the east coast and two from the Pacific rim with no international component. After the designs had been submitted in the final phase and interviews had taken place, the two west coast firms prevailed, whereby Kevin Daley Architects (Winner) and Olson Kundig (Honorable Mention) received the most favorable marks.
Winner
Kevin Daly Architects (KDA) with TLS Landscape Architecture, Productora and Transsolar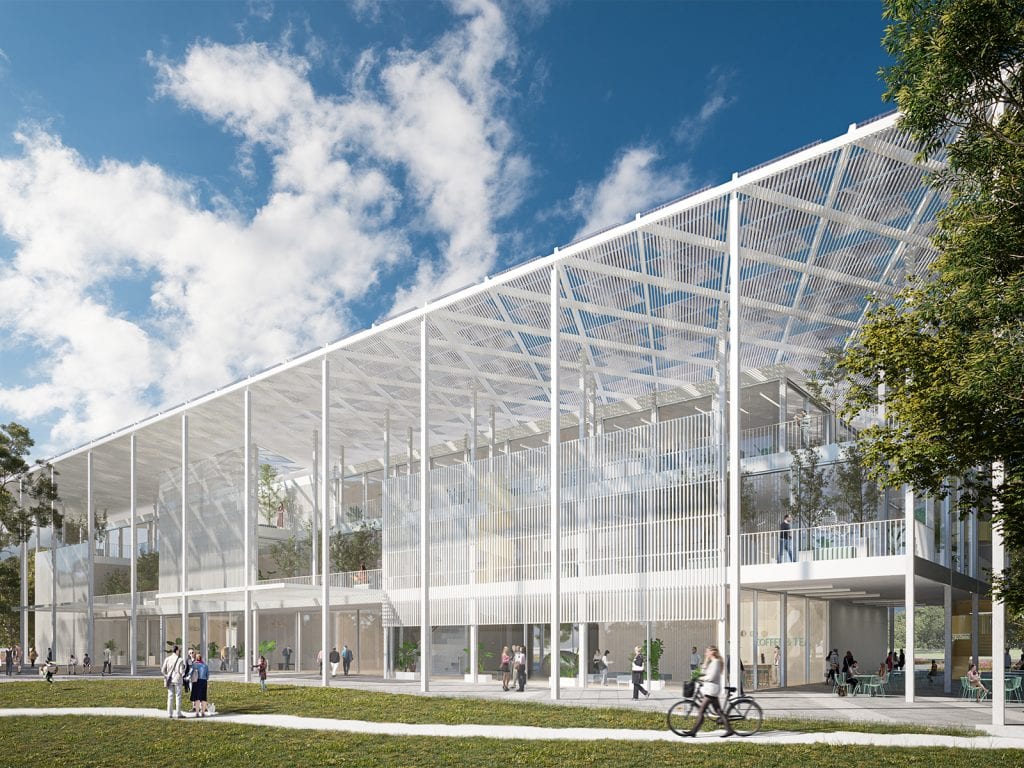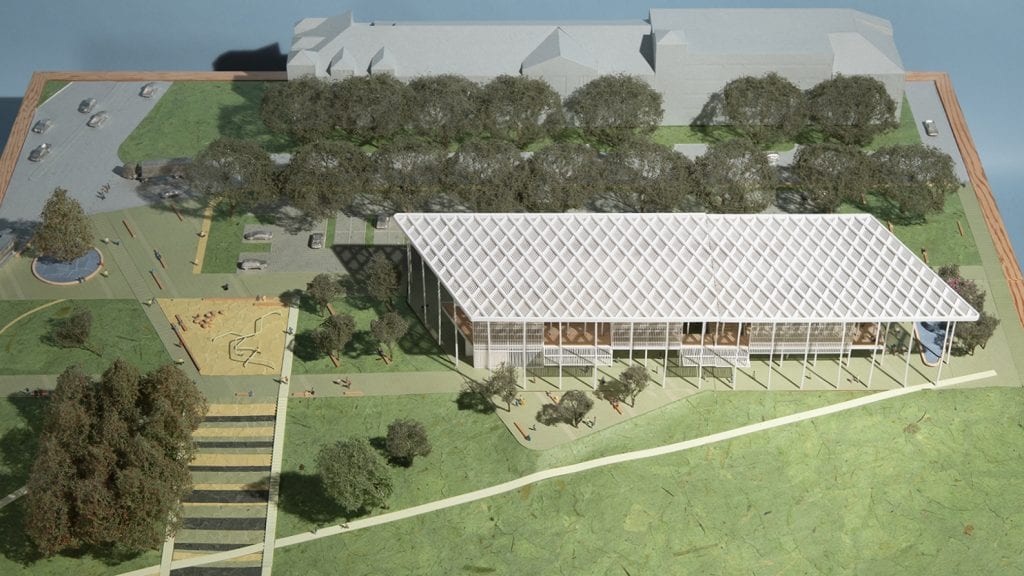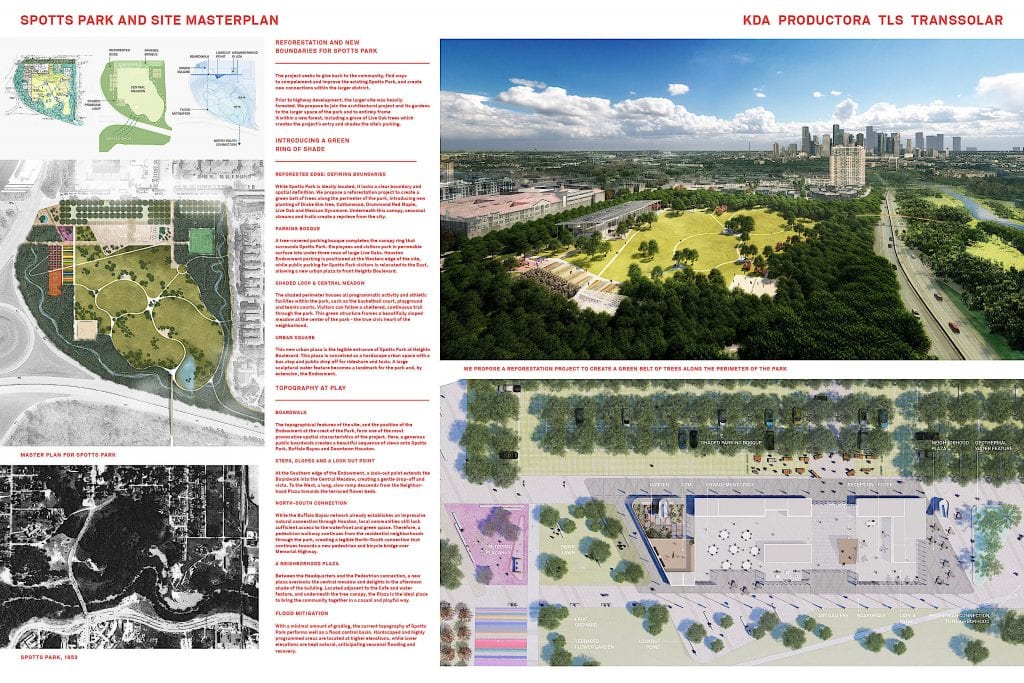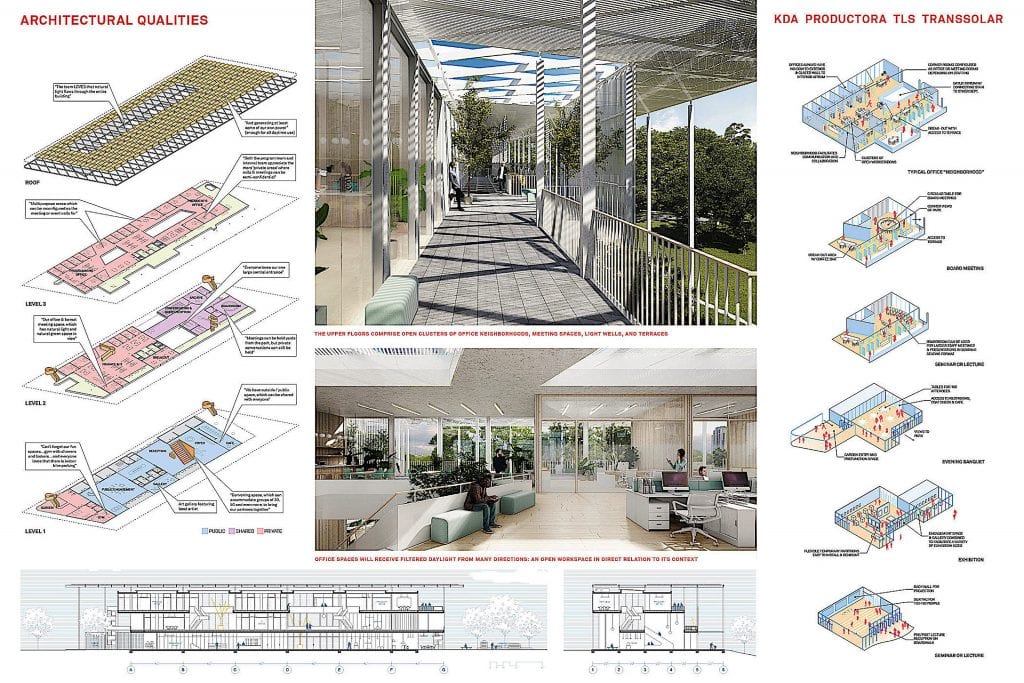 All above images ©Kevin Daly Architects
The KDA-led team's proposal discovered the appropriate approach to the design challenge. The building's architectural expression succeeded in portraying the building as a powerful backdrop to the park, announcing the Foundation as an open, welcoming institution, rather than an elitist organization. Here the landscape did not end at the front door, but was well integrated into the program as a whole. The interior left room for flexibility, as it made room for additional non-profits, strengthening links between the granter and grantee, thereby bringing deserving elements in the community closer to the source of funding. This building also spoke to some of the best architecture in Houston's recent past, most notably Renzo Piano's Menil Collection. In this case, it was taken to another level.
In addition to its recent accomplishments in large-scale projects, KDA is no stranger to competitions, having recently won a site-specific housing competition in Arkansas.** Winning this competition can only serve to validate the firm's ability to adjust its priorities regardless of building type or scale.   -Ed.
Honorable Mention
Olson Kundig Architects with SurfaceDesign, Inc.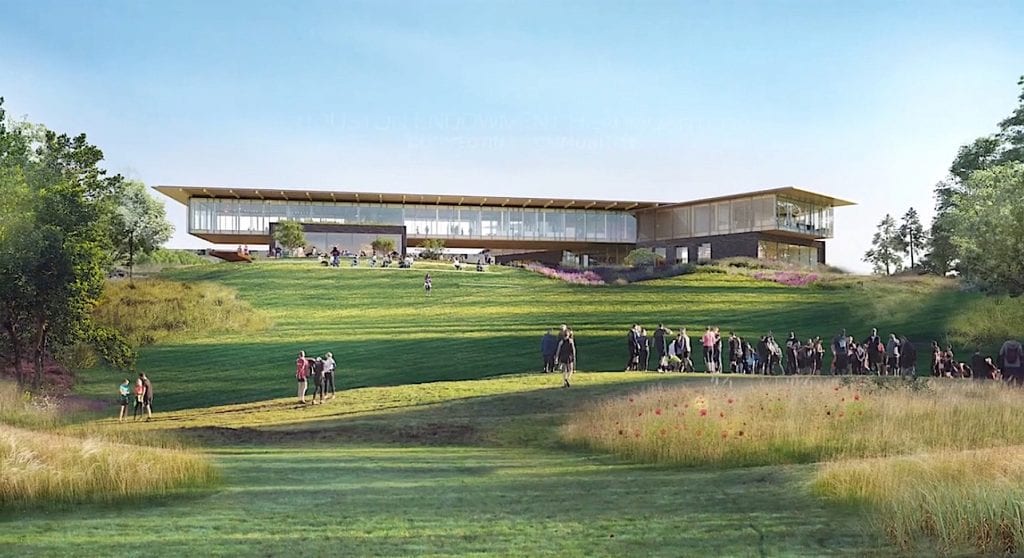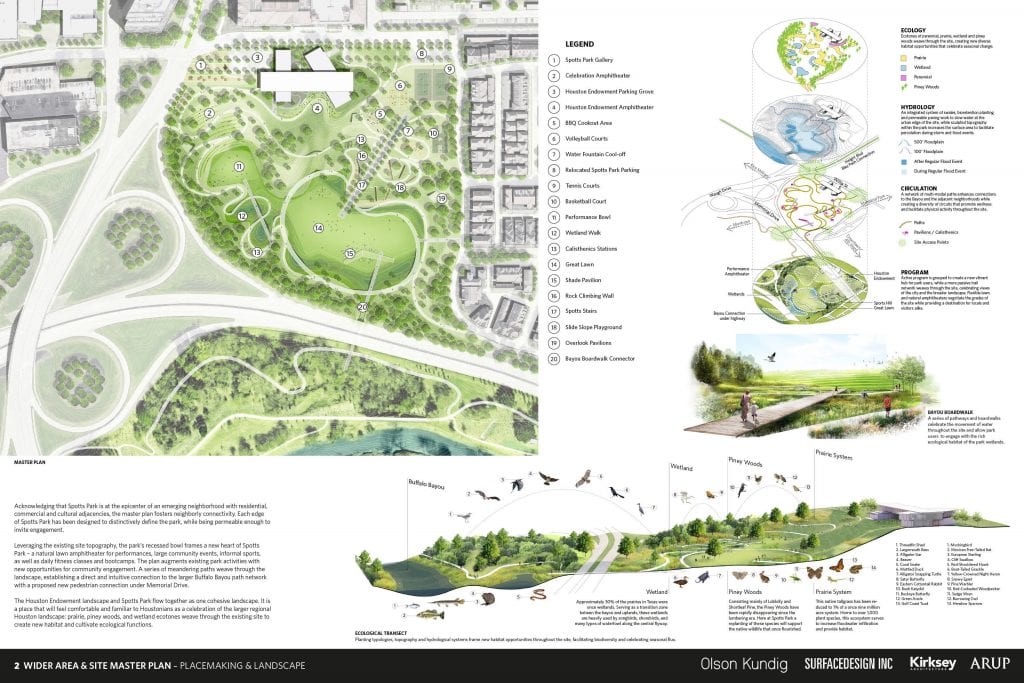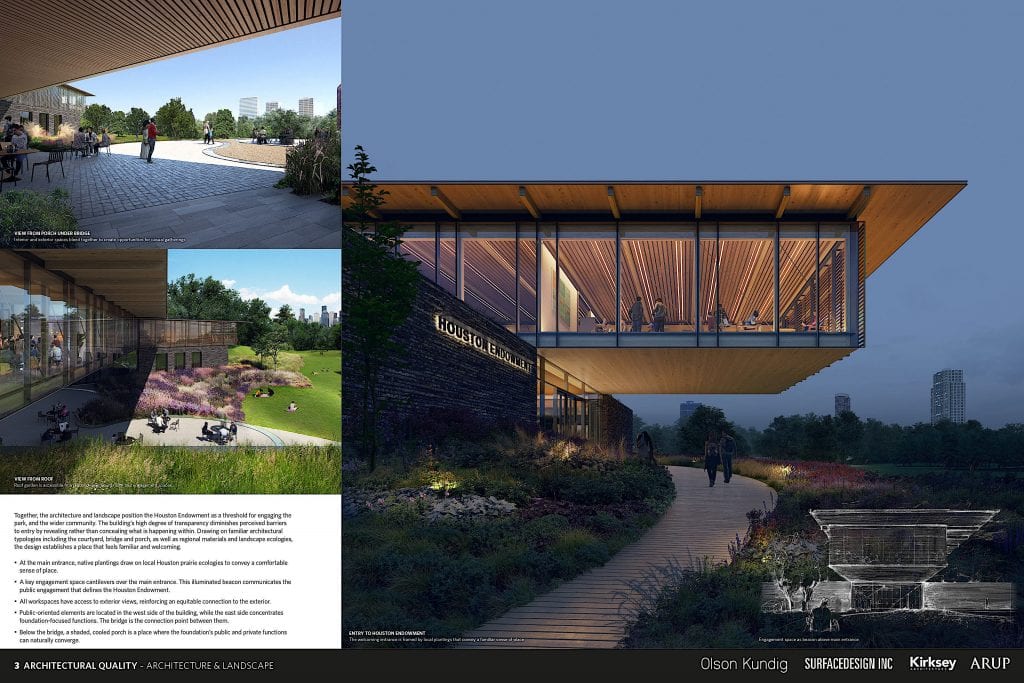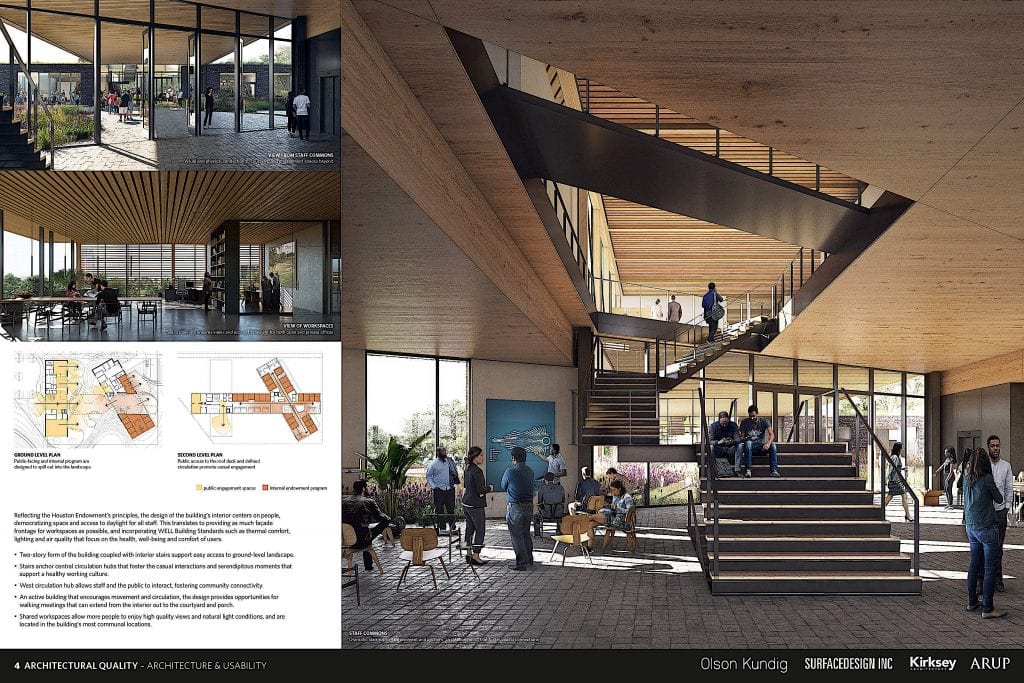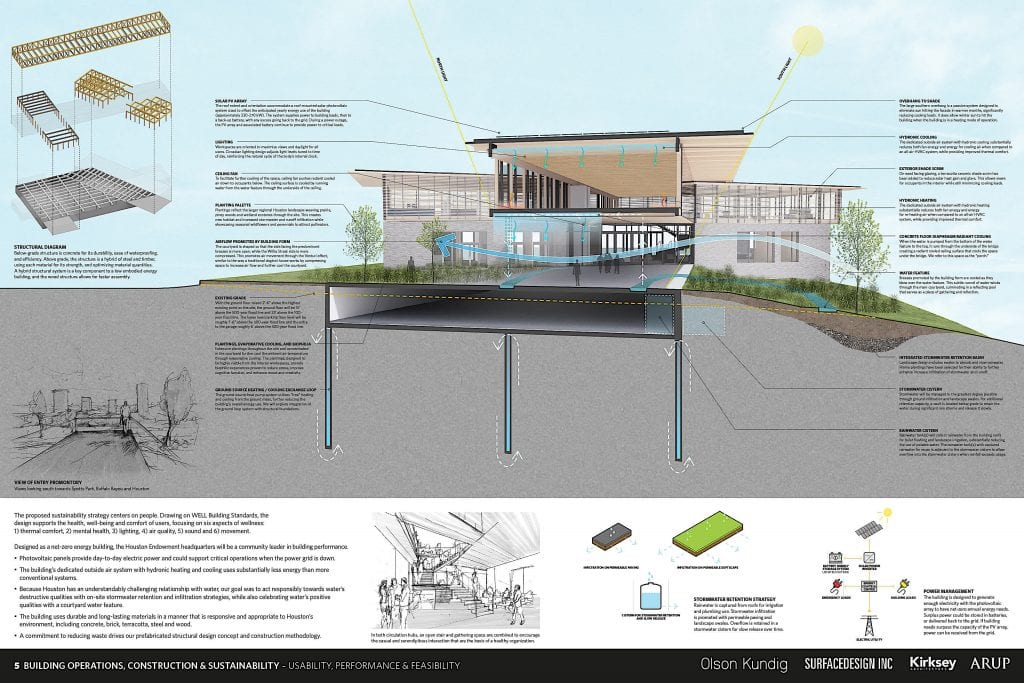 Above images ©Olson Kundig
Although one of the largest architecture firms on the west coast, Olson Kundig is also known for its designs of projects at all scales. Noted for its museums and cultural facilities, the firm's proposal for this project did not disappoint, as it was certainly under serious consideration and merited an honorable mention from the jury. Its building also spoke to the park in a very intimate manner, with stilts as a support structure that would not act as a barrier to the green space. The extensive use of wood, both on the exterior and interior, is not an everyday building material for large projects in Houston; but it did lend emphasis to the project as an ecological symbol.  -Ed
Finalist
Deborah Burke Partners with DAVID RUBIN Land Collective and Atelier Ten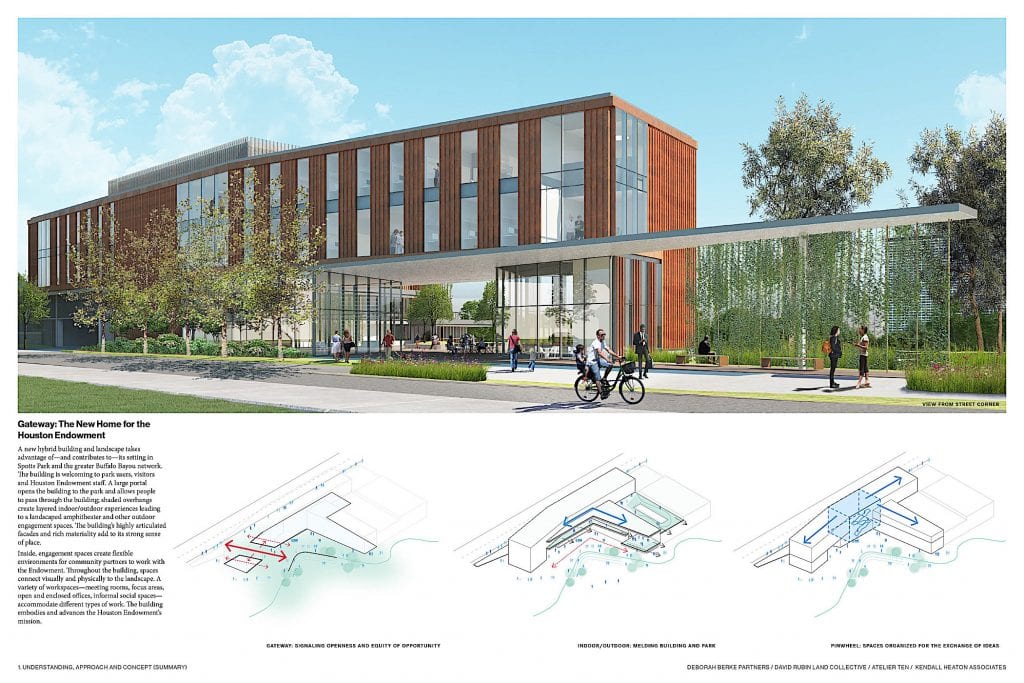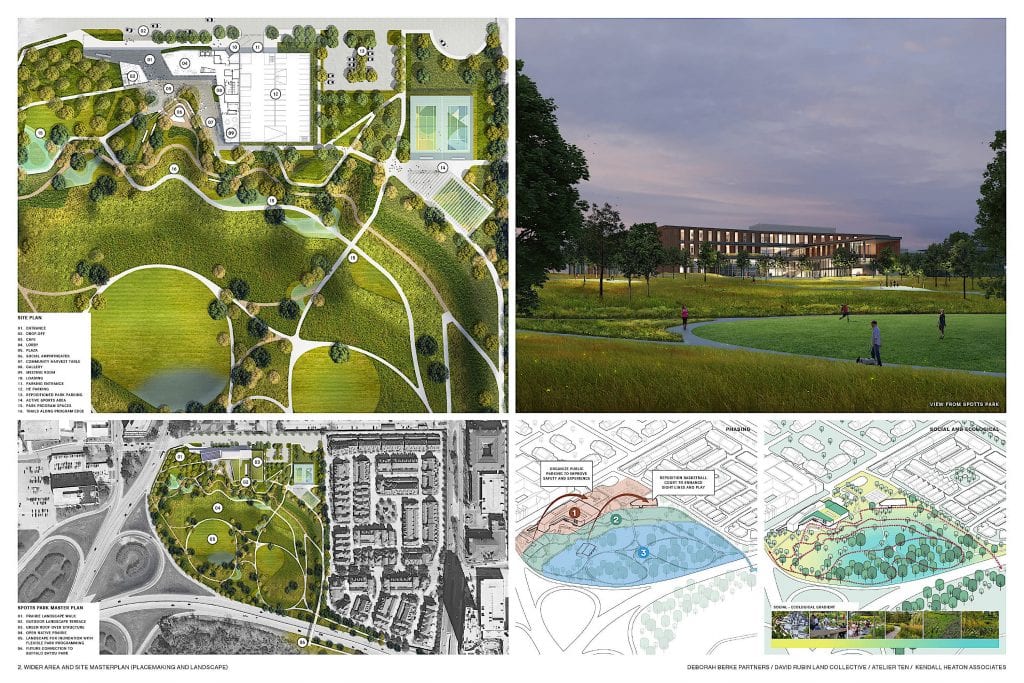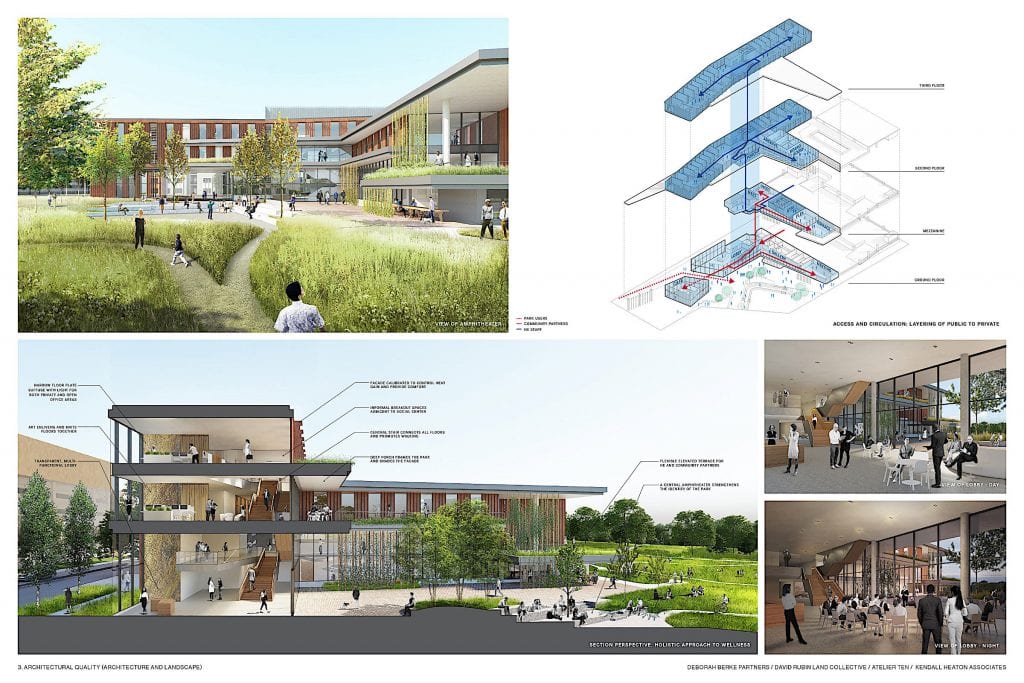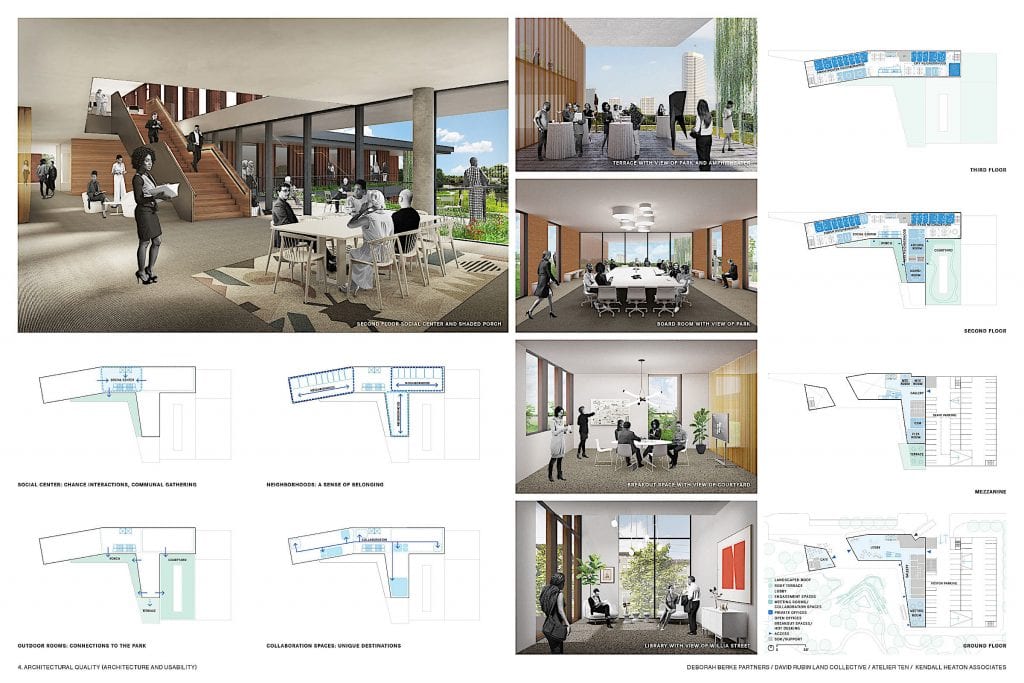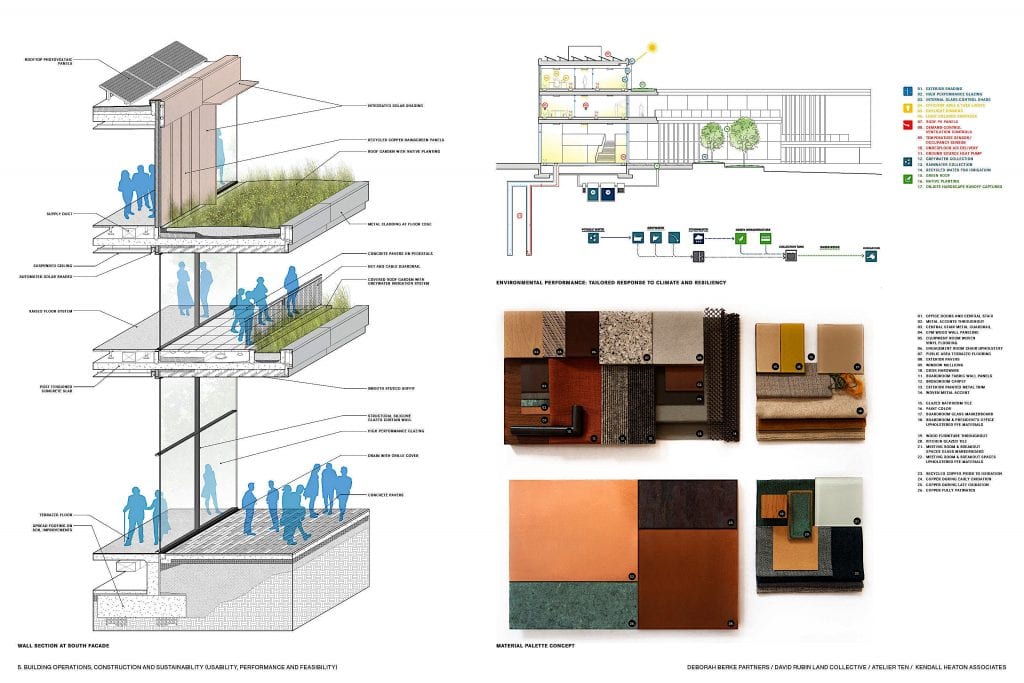 Above images ©Deborah Burke Partners
The proposal by Deborah Burke Partners focuses on the connection between indoor and outdoor spaces, and creating a welcoming environment for staff, visitors, and park users alike. This concept hinges on an entry portal – essentially a ground-floor exterior pass-through – that leads into a landscaped amphitheater and common spaces that are open to the public. Articulated facades with overhangs and terraces further connect the interior functions with the surrounding exterior context. While programmatically well considered, the proposal ultimately plays it safe with these design gestures and as a result lacks the visual dynamics of the KDA and Olson Kundig designs.  -ED
Finalist
Schaum/Shieh with HKS and Andrea Cochran Landscape Architecture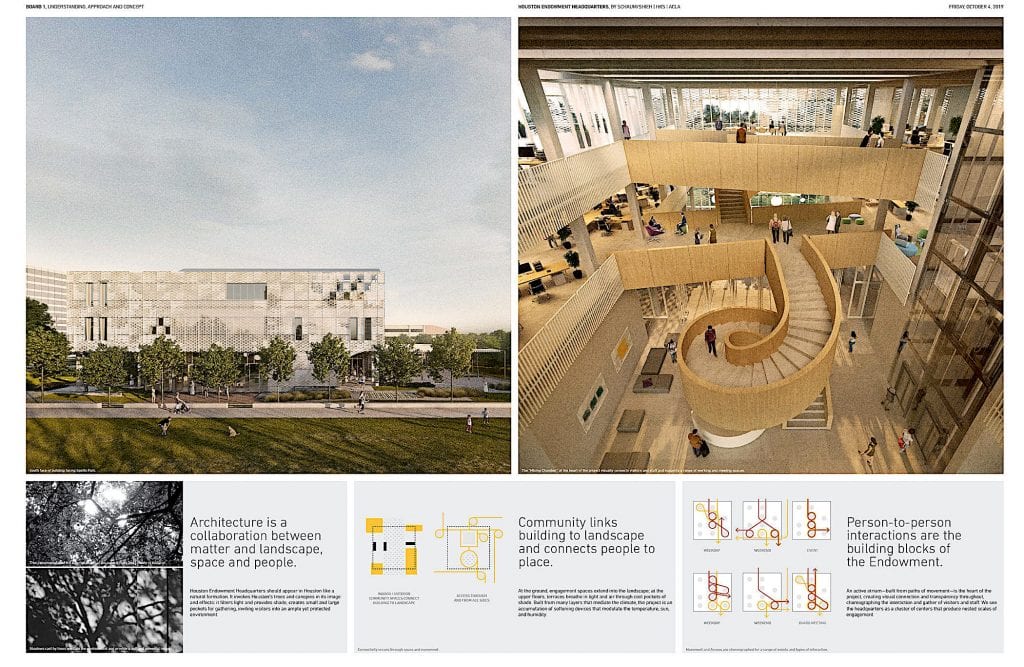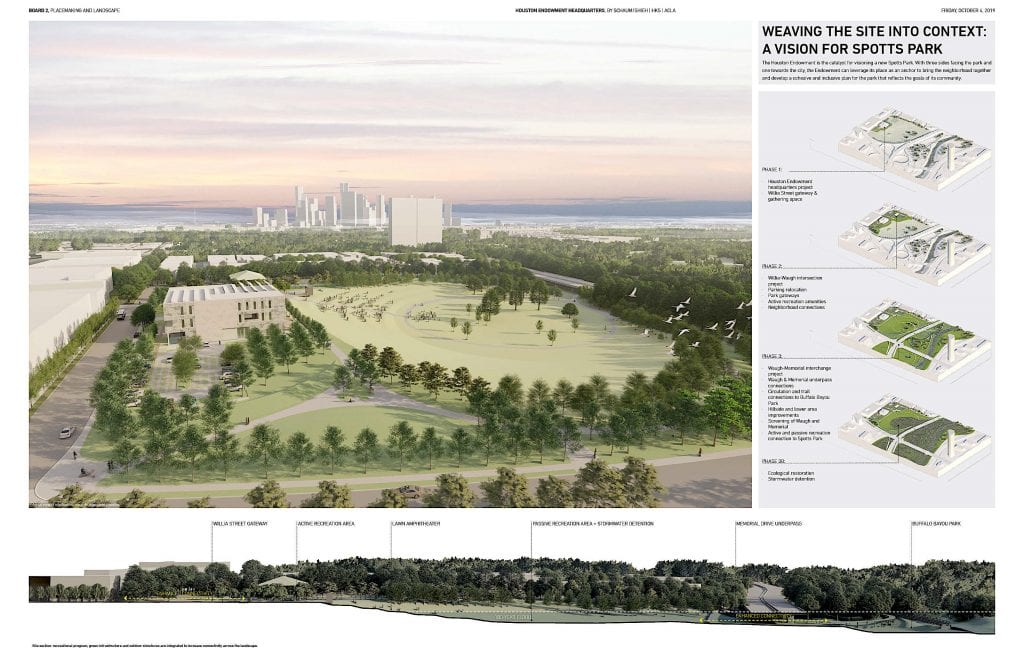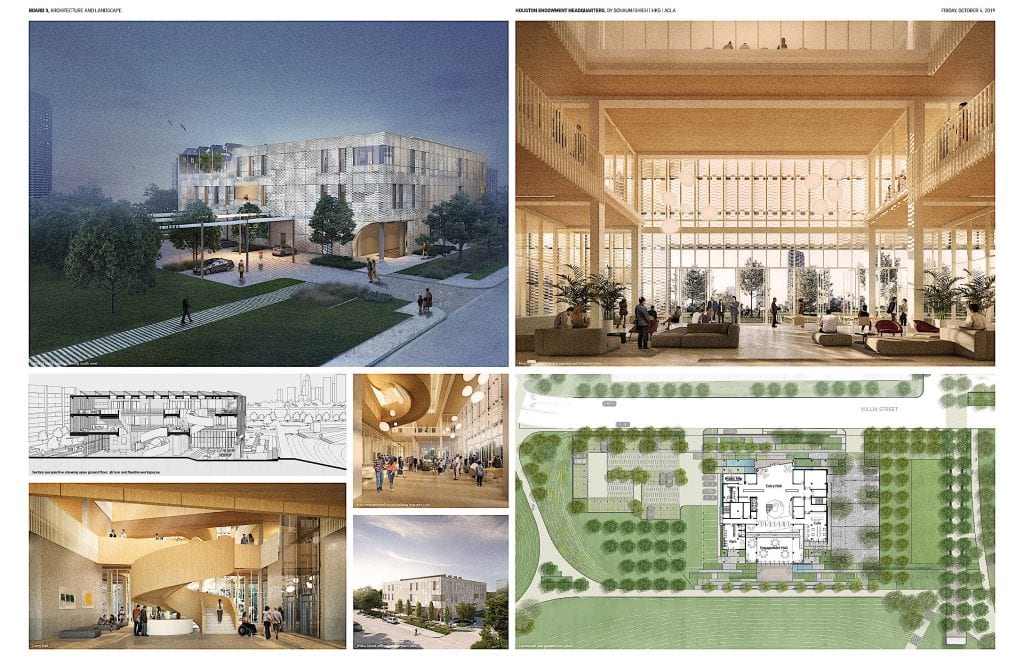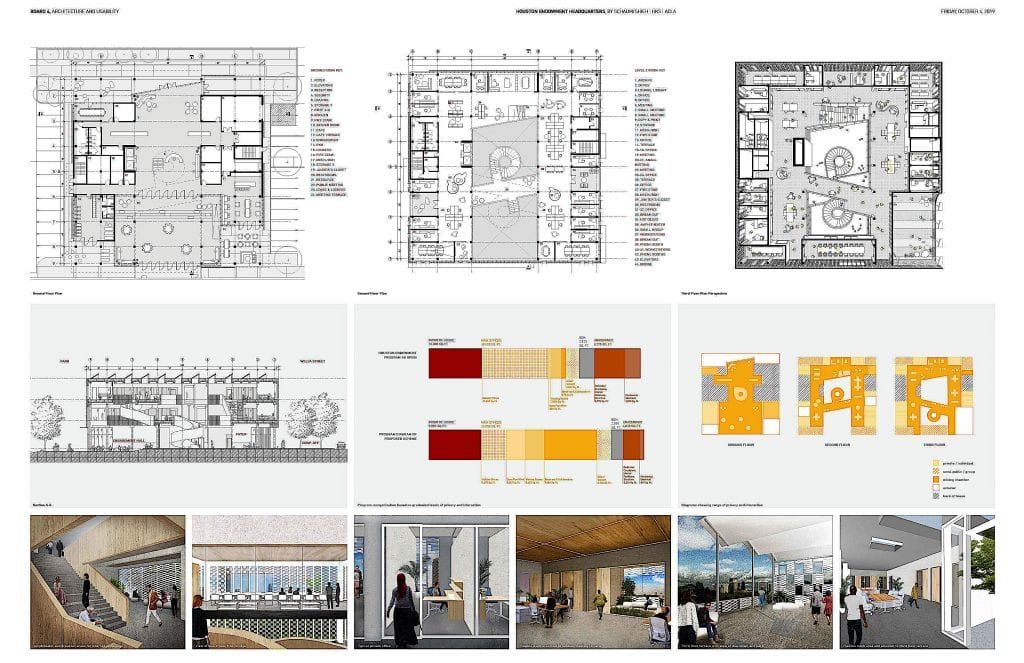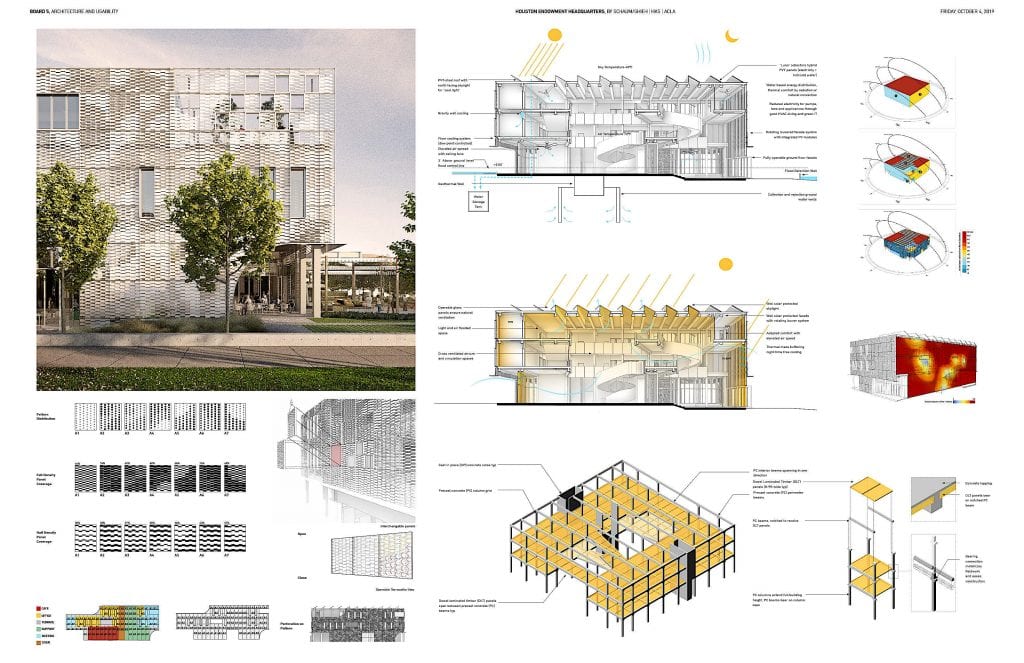 Above images ©Schaum/Shieh
Probably considered by many as the "wild card" in this competition, Schaum/Shieh focused its attention more on the function of the building itself  than as an integrating site factor. There could be no complaint about the building as a workplace model; but visually it was more a model for an urban environment, rather than for a park-like setting. Additionally, the facade seemed to be at odds with its surroundings, depending more on the infusion of light vertically from rooftop openings than from direct sunlight produced by virtue of fenestration on the facade. A reasonable building in an intercity setting, this design seemed to miss the point urbanistically  -ED
* COMPETITIONS, Volume 15, #1, pp.18-27
**2018 COMPETITIONS ANNUAL, pp. 41-43
All images were provided courtesy of Malcolm Reading Consultants, the competition's professional adviser.