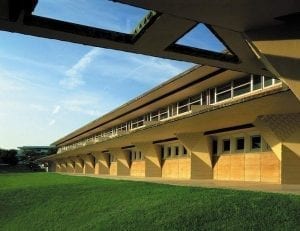 COMPETITIONS: I am presently here in London to talk to my editor about a 'how to' book we are doing on competitions.
JOHN MCASLAN: And how not to do them, I hope.
COMPETITIONS: You're familiar with one of those?
JM: We recently did one—Middlesborough Town Hall. It caused a real furor here.
COMPETITIONS: Usually the RIBA competitions are well organized.

Science Center, Florida Southern College (1996-2001)
JM: This was an open, non-RIBA competition to re-market (rebuild) the Town Hall in Middlesborough, a town which had quite a good artistic tradition. About ten years ago they commissioned Claes Oldenburg to design a sculpture. There was also a competition for a museum there—which we didn't get. And then there was the competition for the Town Hall, where we got to the last six. It was chaotic, as to what was to be submitted. There was a lot of to-ing and fro-ing, because the terms of reference weren't clear. And then there were long delays before the interviews. Finally we were asked to submit a tender(fee bid). But of the six tenders, only four arrived on time. Because of that, the two late tenderers were eliminated. I thought, 'well, you know you have to get them in on time.' But then one of the jurors walked out, because she thought it unfair that these two had been eliminated. Then it came out that they had opened the bids before the interviews took place.
We were only runners-up; but the whole thing has caused chaos because of the sloppiness with which the whole thing was organized. They should have selected the preferred team , then opened the bids.
You asked about the RIBA competitions. We have won some and lost a some. But you can say that they are always immaculately organized—very transparent, no confusion over what is required when. If a competition is badly administered with lots of criticism, it doesn't help at all, especially with funding.
Science Center, Florida Southern College (1996-2001) Lab interior (left) and model (right)

COMPETITIONS: You were recently in the Fresh Kills competition in the U.S.