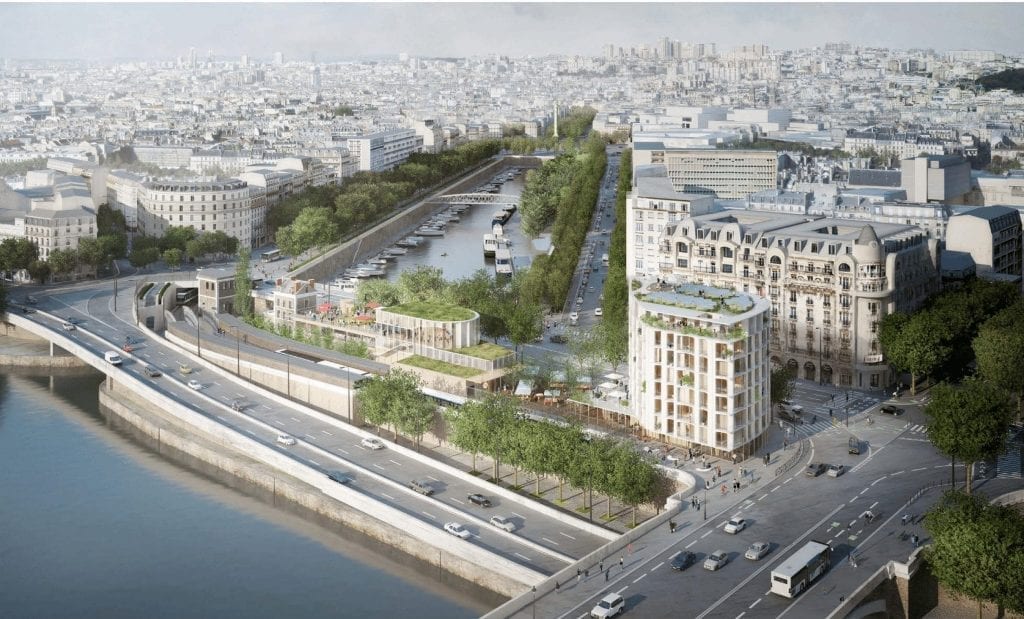 View of site from south Rendering ©SO-IL
In Paris, it's no longer just about Grands Projets. Lately, the French have become more focused on areas bordering the Seine River, and how to turn them into more attractive destinations for locals and visitors alike. The most recent projet, and the subject of a competition, was Place Mazas, located on the Right Bank of the Seine in the 12th District. Partially because of the bordering highway's proximity to the river, the site is underused and hardly regarded as a high profile destination.
   Now that may all change. The competition, won by the New York-based firm, SO-IL, has conceived a plan, which will create a series of park areas and structures relating to the current needs of the community. Sustainability is almost always on the front burner in these competitions, and this was no exception. SO-IL's plan for the site's only major building is a seven-story structure made primarily of wood. Although situated all by itself at the end of a street—bordering on the Seine—its shape and size serve to address the composition of the streetscape in a very logical, spatial manner. According to the intent of the winner, "This volume includes a housing program in co-living typology, with several interior and exterior shared spaces for the residents as well as a public restaurant on the ground floor."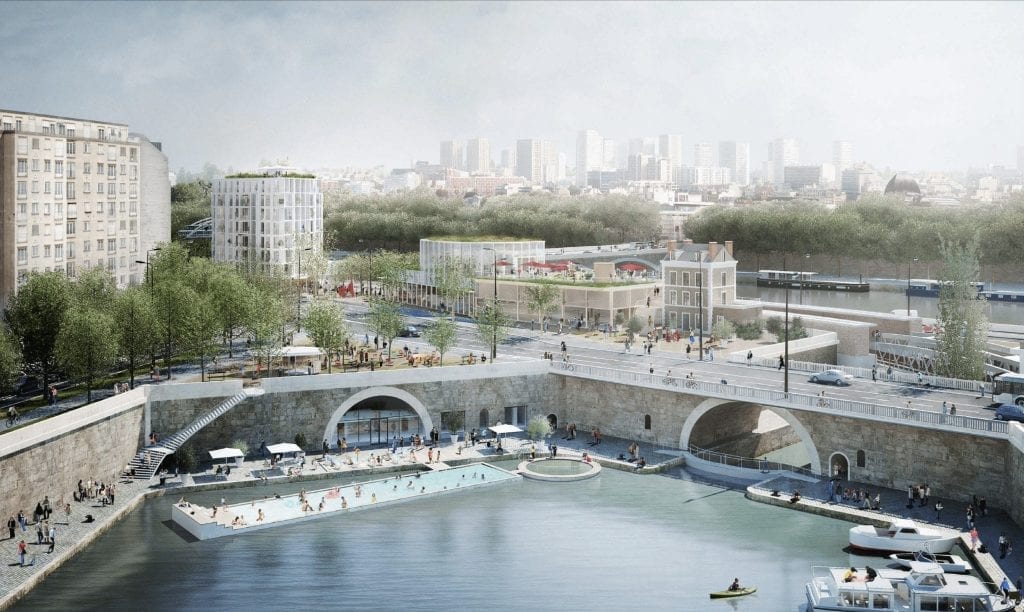 Arsenal Basin  Rendering ©SO-IL
   The rest of the site is devoted to "public activities," opening up views to the Seine River and includes a repurposed 1905 lockhouse and a "temporary pavilion" hosting facilities like public co-working spaces, a fabricaion lab, an event room and a terrace offering views on the Arsenal Basin, the river, and the surrounding city, "as well as a facility for homeless care already established on site." Labeling the pavilion as a "temporary" structure is based on the assumption that neighborhoods are always evolving, and that future changes could be in store.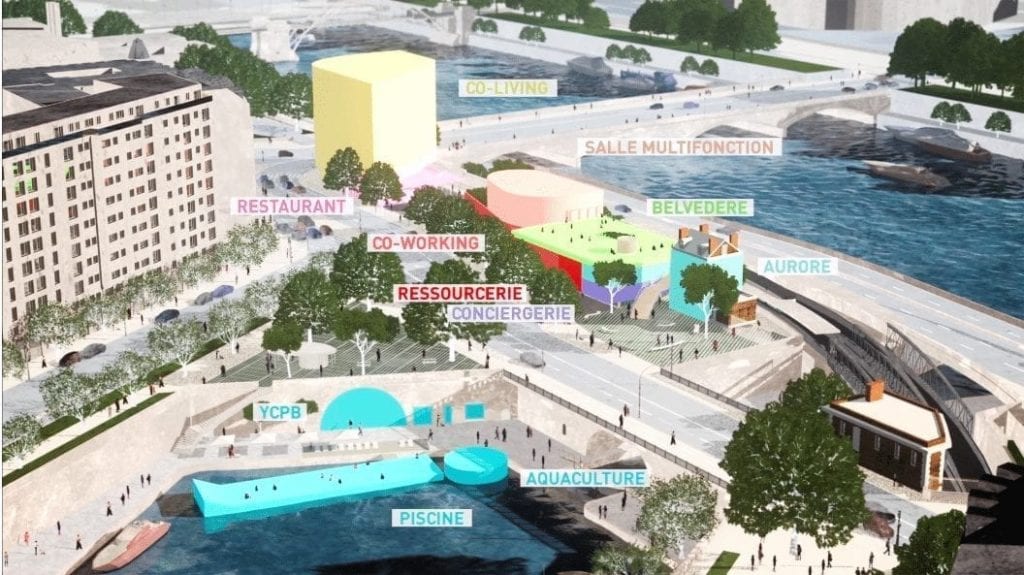 Activities diagram
That SO-IL won this competition only supports the notion of architecture's global nature in today's world. Although based in New York, this isn't the first competition that SO-IL has won in Europe, and it will probably not be the last. The firm's most high-profile project in the U.S. to date has been the Jan Shrem and Maria Manetti Shrem Museum of Art at the University of California, Davis. Completed in 2016, this competition was covered by us in our 2013 COMPETIITONS Annual. The global nature filters down to the principals of the firm itself, who all have foreign roots: Florian Idenburg (Netherlands), Jing Liu (China), and Ilias Papageorgiou (Greece).
The finalists were chosen based on a shortlisting process after an RfQ was issued:


Project name                                   Developer                                      Designer

Les Plateaux de Seine                    Studio Andrew Todd Ltd.               Studio Andrew Todd
HdeuxO, habiter entre deux eaux   NACARAT                                      NP2F
L'Atelier de l'Arsenal                        REI Développement Immobilier    SO-IL
                                                                                                               Laisné & Roussel
                                                                                                               Atelier Georges
ON/OFF                                           NOVAXIA                                       Coldefy & Associés
                                                                                                               BASE

Axonometric diagram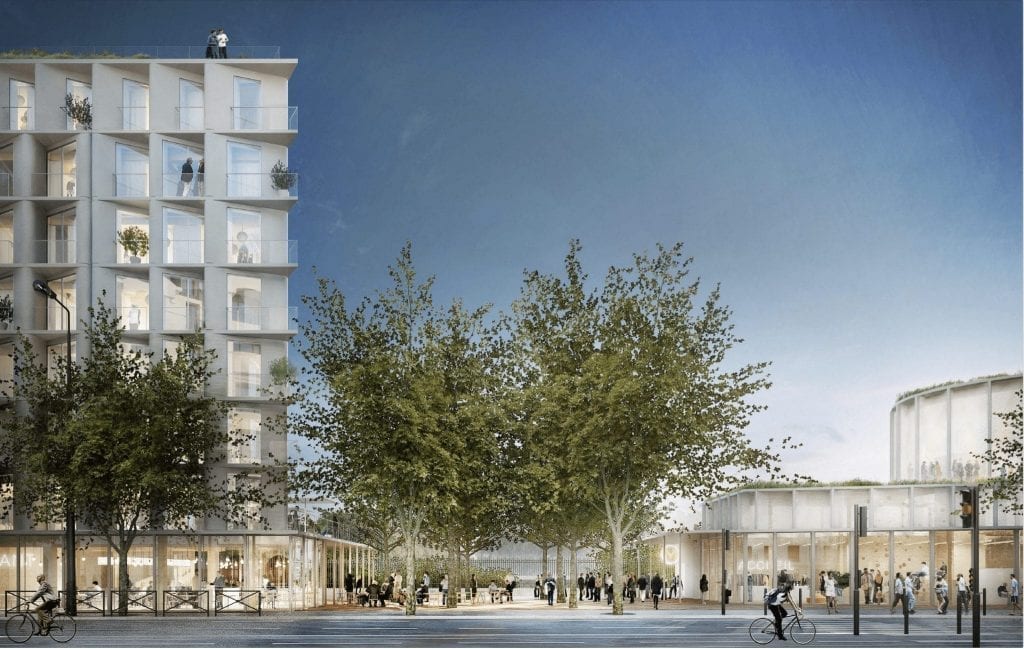 New housing (left) and plaza  Rendering ©SO-IL