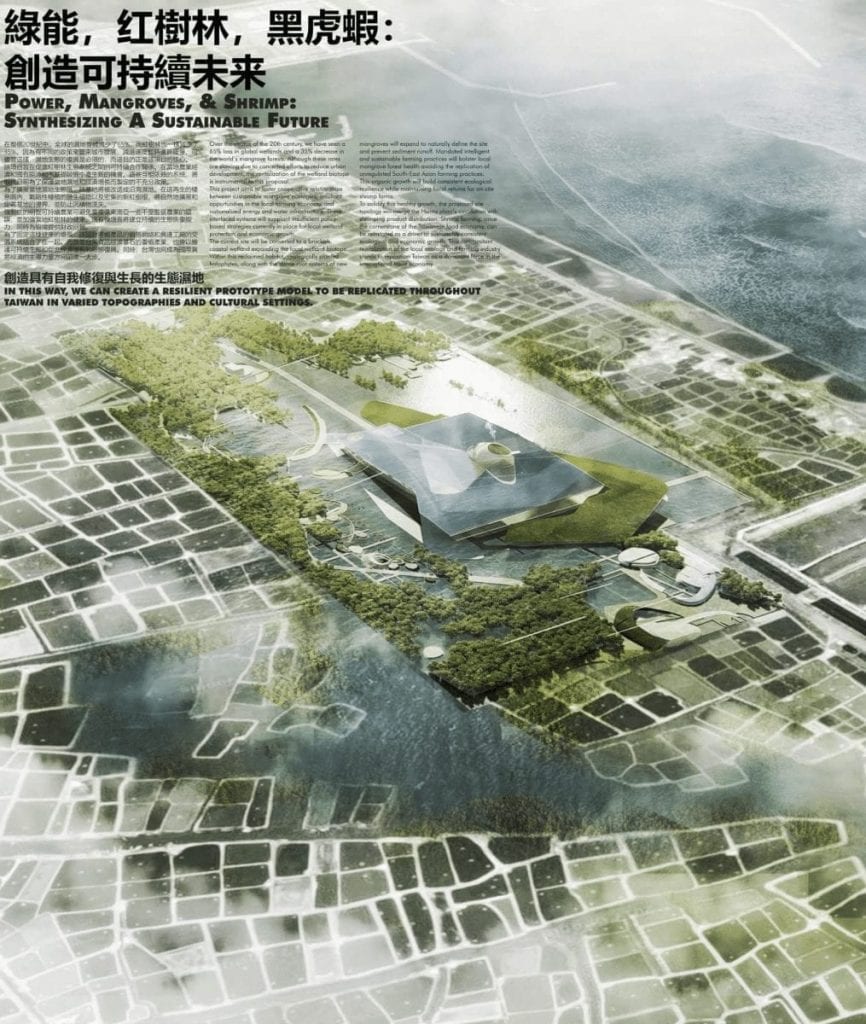 Winning entry by Morphosis (image ©Morphosis)

Whether it was the establishment of a shrimp industry, general water and flood abatement, or a site for bird migration, the Hsinta Ecological Power Plant competition produced a plethora of interesting approaches to mitigate the negative effects normally associated with the introduction of a power plant. With one possible exception, each of the five finalists in this international, two-stage competition showed an extensive amount of research to support their design strategies and the underlying sustainability features.
It was announced from the start that the Taiwan Power Company(TPC) was interested in gathering information that could be used, not only in connection with this project, but others which could soon be on the drawing board. This was an integral part of the Taiwan Power Company's "2025 nuclear-Free Home" policy, by which "changes are to be made to the current distribution of electricity generation, including boosting the percentage of green energy and gas combined cycle generation."
As for the design of the power plant unit itself: "The building form and landscape design of a power plant must also take into consideration the spatial and functional needs of a power generating facility, which tend to hinder innovation. In the planning of Hsinta Ecological Power Plant as a brand-new facility, TPC hopes to introduce innovative design and ideas and attract reputable design teams around the world while establishing a green corporate image."
In short, what the competition brief is suggesting is a facility that is not only more friendly to the environment, but also becomes a building block in the city fabric that no longer might be regarded as a necessary evil, but seen as a positive addition to the community, open to public interaction.
The jury regarded the winning Morphosis proposal as the strongest in this light. The firm's idea that this site could productively be turned into an area for shrimp farming elicited one juror's response that none of the other finalists had recognized the viability of the site as an economic engine in such strong terms.
Although many of the more recent competitions for major projects in Taiwan have been of the invited type, opening up an important competition like this to international participation certainly brought more attention to the project. The administration of the competition by consultant, Barry Cheng, who has overseen numerous open, international competitions in Taiwan, was exemplary, in that the full set of juror's comments about each of the finalists was released (see below). We might only wish that all competitions were as transparent as this one was.

The competition jury, truly international in nature, consisted of the following:
• Chinghwa Chang, Architect, Taiwan
• Marcos Cruz, Architect, U.K.
• Sungkyun Kim, Architect, Korea
• Shuchang Kang, Architect, Taiwan
• Chungtwn Kuo, Architect, Taiwan
• Monica Kuo, Architect, Taiwan
• Charles Waldheim, Architect, U.S.
Note: With the exception of Chungtwn Kuo, who studied in Japan, all of the above have at least one degree in architecture or teaching experience at an American university. For further information on the jury: http://www.ecopp.com.tw/jury.html
In the final rankings of the five finalists, the top two were from the U.S., a third place went to a local Taiwanese firm, and the two merit awards were shared by firms from Portugal and the U.S.
First Prize (US$ 130,000)
Morphosis Architects/Thom Mayne
Los Angeles, California
Jury comments:
Aquaculture like shrimp farming in coexistence with the power plant puts the wastewater to good use to creating a secondary product for TPC, while bringing it closer to the nearby farmers. The form also addresses the needs of the power plant. –Juror A
1. This scheme actively combines TPC's energy business with aquaculture, not only giving new possibilities to the company's energy business but also helps integrate the area with production/ecology into a more forward-looking park.
2. It would be ideal if the original ecology and landscape in the southern precinct of the area can be preserved with minimal artificial facilities. –Juror B
The overall concept to integrate the power plant with the local aquaculture and natural context into a productive landscape is daring and future-thinking. This results in an extremely compelling project that challenges the current dissociation between ecological, commercial and energy focused interests. The project is very thought-provoking and contemporary in its approach, whilst being extremely well designed. An impressive scheme! –Juror C
1. Thorough considerations of real operations.
2. Forward-looking socio-economical considerations for the fish farming community, including suggesting shrimp farming to help drive the local economy and industry.
3. The statement on the local ecological fabric is forward-looking and conducive to development, and a productive landscape has been proposed. -Juror D
Strongest idea for integrating plant with productive landscape; clean and beautiful architectural idea; strongest relationship between building and landscape idea; argues for relationship between power and ecology. –Juror E
1. The project demonstrates pragmatism and expertise arising from technical know-how and capability in energy-related projects.
2. The proposed network of green spaces and built/intervened eco-landscape is less forward-looking but pragmatic considering Taiwan's current development and relationships with the communities and NGOs, providing a vision for regional development and new possibility in developing local industries and economy.     -Juror F
Second Prize (US$ 66,000)
Leers Weinzapfel Associates/Andrea Leers & Jane Weinzapfel
Ground, Inc/ Shauna Gillies Smith
Boston, Massachusetts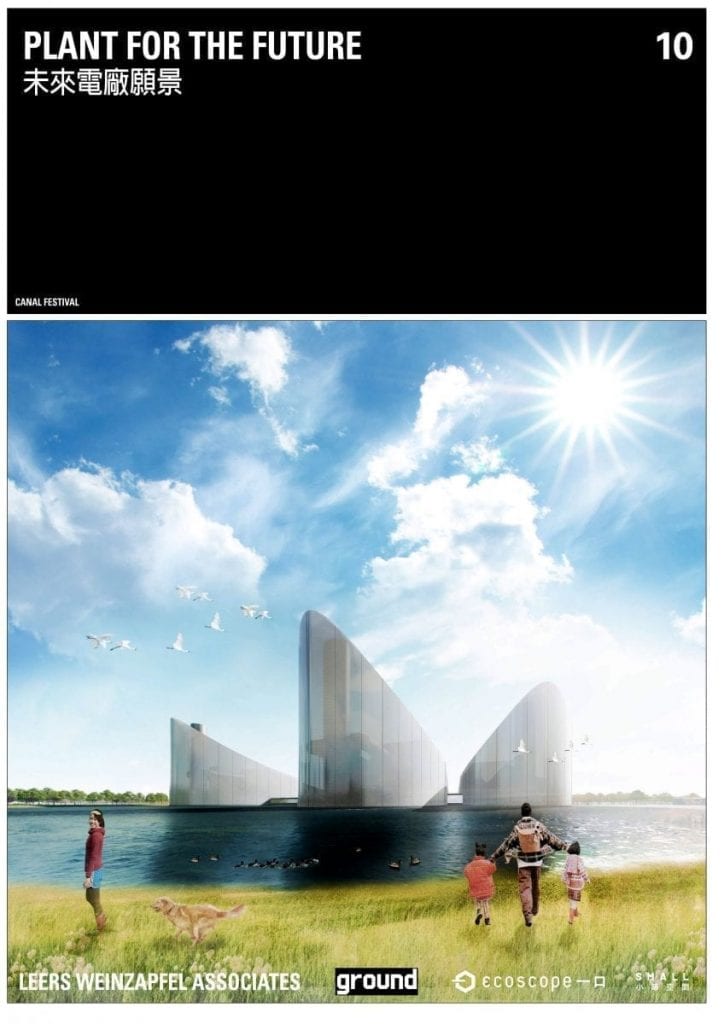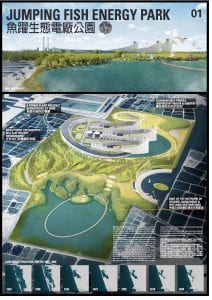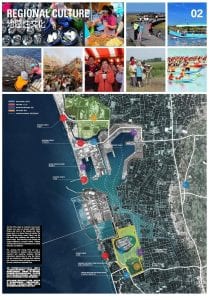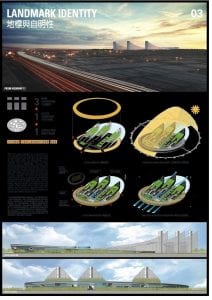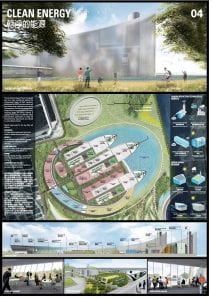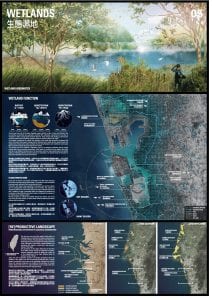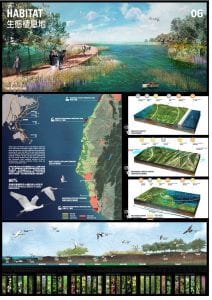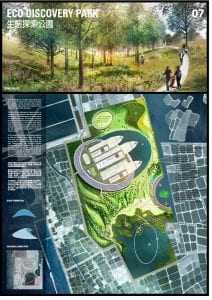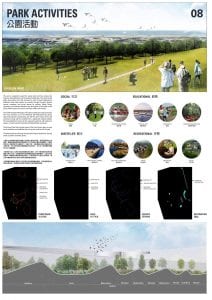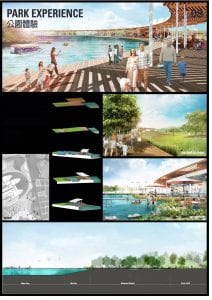 Images © Leers Weinzapfel Associates
Jury comments:
The form and approaches are concrete and feasible, but fall short of creating revolutionary impact on the status quo of TPC's existing power plant operations. –Juror A
1. With comprehensive and innovative planning, this scheme turns energy facilities into an anchoring landscape, not only responding to the security and functional needs of the power plant itself, but also aggressively addressing and creating a landscaped park encompassing an eco-system, disaster prevention system and enriched lifestyle.
2. This scheme would better inform the future of TPC by taking one step further to give more attention to the ecological and productive systems in order to introduce more positive intervention in the relationship between TPC and the area. –Juror B
The project is thoughtful and very well resolved, creating a powerful image for the future power plant. But the approach of establishing a large 'urban' park that surrounds the power station area lacks a more innovative solution. It turns the area too much into a recreational site without allowing the visitors to engage with the power plant. Overall, a very good scheme! –Juror C
1. The project demonstrates pragmatism and expertise arising from technical know-how and capability in energy-related projects.
2. The proposed network of green spaces and built/intervened eco-landscape is less forward-looking but pragmatic considering Taiwan's current development and relationships with the communities and NGOs, providing a vision for regional development and new possibility in developing local industries and economy. –Juror D
Very practical, and realizable; clear idea about park; image/iconic view of plant is very clear; social and recreational benefit to community. –Juror E
The proposed landscapes are closely related to local ecology. The proposal is neither sustainable nor feasible. –Juror F
Marine Environment and Engineering Institute, National Sun Yat-sen University/Shiau Yun Lu
Dept. of Biological Sciences, National Sun Yat-sen University
Kaohsiung, Taiwan

Jury comments:
In-depth research that thoroughly addresses the realistic ecological issues, but does not put forth a clear proposal for the future. –Juror A
1. This scheme is impressive in its thorough integration of ecological landscape, local environment and energy into a complete and sophisticated eco-system.
2. A better integration of the building forms and site layout with ecology and landscape, where architecture also becomes a component in the eco-system, would help better address TPC's important future-facing role. –Juror B
This is a very thoughtful project where lots of in-depth scientific research has driven the main concept to minimize the impact of the power plant whilst enlarging the newly restored natural landscape. But there is probably an excessive conservationist approach in place with an area that has gone through lots of transformation, without integrating sufficiently local communities. Overall, a very good scheme! –Juror C
1. Clear discourse on ecology and conservation, providing an articulate and rigorous scientific foundation.
2. A compact footprint for the power plant demonstrates a humble stance that advocates constrained development.
3. The built wetland in this scheme is highly idealistic but also challenging in its future management and sustainability. -Juror D
Weakest landscape idea; naive idea about nature; compact footprint of plant leaves most area for landscape; lack of coherent relationship between plant design and landscape. –Juror E
This concept is very reasonable ecologically. The solar panels can become bird nests. We have to consider the maintenance of the panels from bird waste. -Juror F
Ressano Garcia Arquitectos/Pedro Ressano Garcia
Joao Figueiredo
Lisbon, Portugal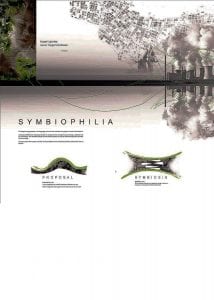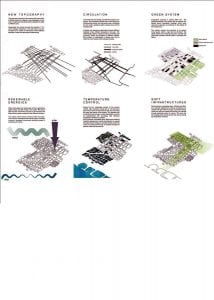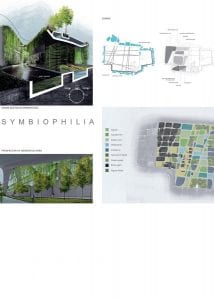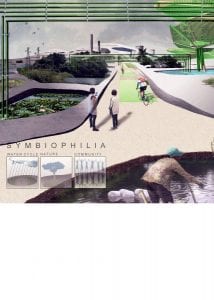 Images © Ressano Garcia Arquitectos
Jury comments:
Good system integration, but the proposal for the future remains at feasibility stage without concrete details. –Juror A
1. This scheme integrates TPC's current advanced technologies and building functions in a comprehensive way, shaping a future landscape encompassing both renewable energy and eco-construction.
2. Better integration of the conceptual gridstructure with the local landscape and cultural potential would make for a very visionary scheme. –Juror B
The attempt to bring in the surrounding aqua-cultural grid is very interesting. It suggests a new semi-industrial and natural landscape for Taiwan Power that works as a living laboratory to research new forms of energy production which include the local ecology. But the project is over-scaled and the grid structurally rather inflexible, creating levels of redundancy over the power plant. Overall, a very provocative and forward-thinking scheme! -Juror C
1. A path toward experimentalism and scientific research has been proposed for TPC for its future feasibility and integrated application in renewable energy.
2. A somewhat pragmatic strategy using a strong grid-based landscape to drive the site plan. However, the integration of surrounding energy technologies is future-looking and possibly a new forward for TPC. –Juror D
Lack of fit between idea and site strategy; naive understanding of scale; interesting idea about technology. –Juror E
The concepts are good for future high-tech farming. But there is no relationship with the natural surroundings. -Juror F
Sung Goo Yang, Ether Ship
Hongren Lee
New York, NY/Korea
Jury Comments:
This is a beautiful scheme, but lacking in consideration for the environment and ecology. –Juror A
1. This is a landscape scheme rich with cultural sophistication and artistic nuances. A multi-level roof and play on light and shadow applying photovoltaic technology enriches TPC's power plant with vitality.
2. This scheme would be even more successful with more proactive ideas in terms of ecology. –Juror B
The idea of a grand roof is powerful and fascinating. There are strong atmospheric and spatial qualities in this scheme. However, there is a sense that such grand gesture ignores, to some extent, the surrounding landscape and ecology, without suggesting any new vision for the natural site. Good project though! -Juror C
1. A design of artistry, aesthetics and creativity; imaginative in the use of color and light; but less successful in its relationship with real operations, future organizational management and feasibility.
2. Lacking relationship with local ecology and cultural fabric. –Juror D
Very strong architectural idea, poetic and beautiful. Clear relationship of public with plant; little relationship to theecology or landscape. –Juror E
The concept is very romantic, but it did not consider the ecosystem of the site. -Juror F