The Museum as Sculpture Park
by Scott Cantrell, Kansas City Star Architecture Critic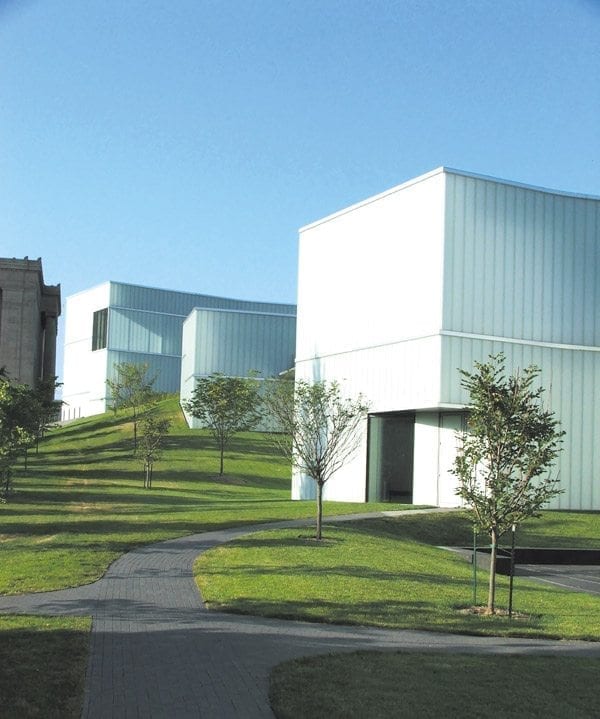 View of Nelson-Atkins Museum (2007); competition (1999)  Photo: ©Stanley Collyer 
Fresh from his much-admired contemporary art museum Kiasma in Helsinki, Steven Holl has landed yet another important museum commission: an $80 million enlargemennt and renovation of the Nelson-Atkins Museum of Art in Kansas City, Missouri. The New York-based architect, whose choice was announced in July (1999), was one of six high-profile finalists picked to participate in a sketchbook competition. The others were Tadao Ando Architects and Associates, Annette Gigon/Mike Guyer, Carlos Jimenez Studio, Machado and Silvetti Associates, Inc., and Atelier Christian de Portzamparc.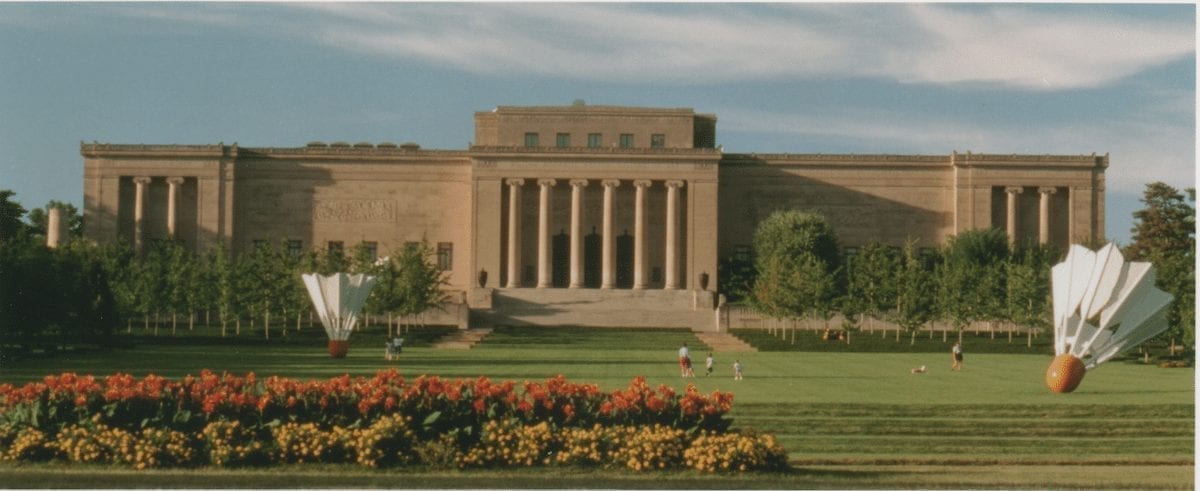 Nelson-Atkins Museum of Art – Architect: Wight & Wight (1933) Photo: ©E.G. Schempf
The Nelson-Atkins museum is known especially for it collection of Asian art and furnishings. It also is developing an increasingly important collection of 20th-century, including a large group of Henry Moore's and four large "Shuttlecocks" by Claes Oldenburg and Coosje van Bruggen. The building program calls for a roughly 55 percent addition to the roughly 234,000 GSF of the museum's 66-year-old existing structure, a stern neoclassical monolith designed by the Kansas City firm of Wight & Wight. (Other Wight & Wight landmarks in Kansas City include the deco-neoclassical City Hall and Jackson County Court House downtown.)
In a way, Holl's design—with underground galleries topped by a series of seven free-form, translucent glass "lenses"—is the most conservative (entry) in that it presents the least obstruction to the 1933 building. Holl's plan calls for a new main entrance lobby  off the northeast corner of the present building, to be accessible from either ground level or a new underground parking garage. New galleries will be arrayed in an underground procession down the sloping east side of the Museum's grounds. The above-ground lenses will house the entrance lobby, a cafe, an educational facility and library.
John Gaunt, dean of the School of Architecture and Urban Design at the University of Kansas, and a member of the museum's architect selection committee, likened Holl's procession of above-ground lenses to "jewelry flung down the slope." To be sheathed in translucent, textured glass, and interleaved with sculptures , turf and trees, they should exert a striking totemic presence, particularly when lighted at night. Inside, light-diffusing shapes will conceal a "green" heating and air-conditioning system, using natural convection, being designed in collaboration with the engineering firm of Ove Arup.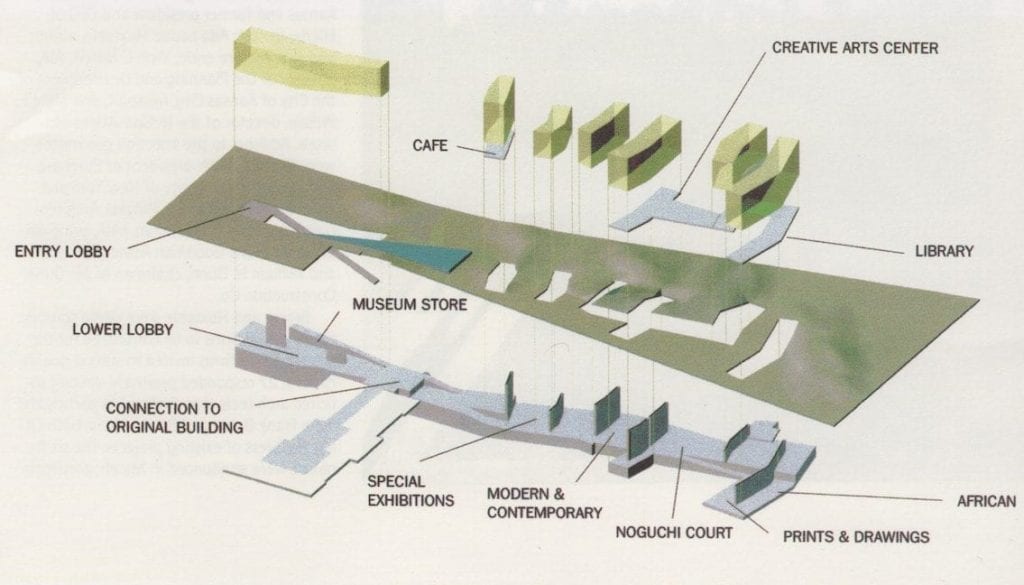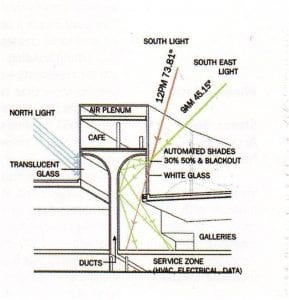 John Gaunt, dean of the School of Architecture and Urban Design at the University of Kansas, and a member of the museum's architect selection committee, likened Holl's procession of above-ground lenses to "jewelry flung down the slope." 
– Jury Comment
All above images are from the original presentation: courtesy Steven Holl Architects (top to bottom)
-Aerial view from east
-Aerial view from west
-View to lobby addition
-Exploded axonometric diagram
-Section from east with new lobby at right
-Section diagram

Steven Holl interview: https://competitions.org/2016/05/steven-holl/
"We Saw the potential here of really merging landscape art and architecture," Holl said, "with an openness and a look toward the future. The challenge we saw was not really as an addition to the existing building, but as a kind of new building that really connects everything in a new way."
Even the underground parking garage has been sensitively designed with skylights from underneath a large, off-center reflecting pool to be created on the north side of the existing building. Less happily, the Holl scheme represents a dead-end stretch of galleries more than two blocks long. Circulation issues also are raised by its connection to the 1933 building at one corner.
In a city not known for high-profile architecture, the list of finalists for the Nelson-Atkins expansion must have been the starriest ever assembled. What was surprising was that three of the six firms came up with nothing more imaginative than big boxes (Machado and Silvetti offered two designs, one of which was a variation on a box) obscuring all or most of the existing structure's north side, now it main entrance. (The north facade is virtually identical to the one on the south; but an addition on the south would interrupt an expansive, landscaped lawn much beloved by Kansas Citians. The installation on the lawn of the Oldenburg-Bruggen "Shuttlecocks" remains controversial.)
Ando proposed a glass shoe box, almost as massive as—and completely obliterating the north side of—the 1933 building. The Gigon/Guyer proposal was as wide as Ando's, but less deep and more removed from the older building. It was to be sheathed in glass with an embedded metal netting to give a shimmering effect. The Jimenez shoe box was similar in size to the Gigon/Guyer, but snuggled up to—and connected with—the existing structure.
Finalist
Tadao Ando Architects, Tokyo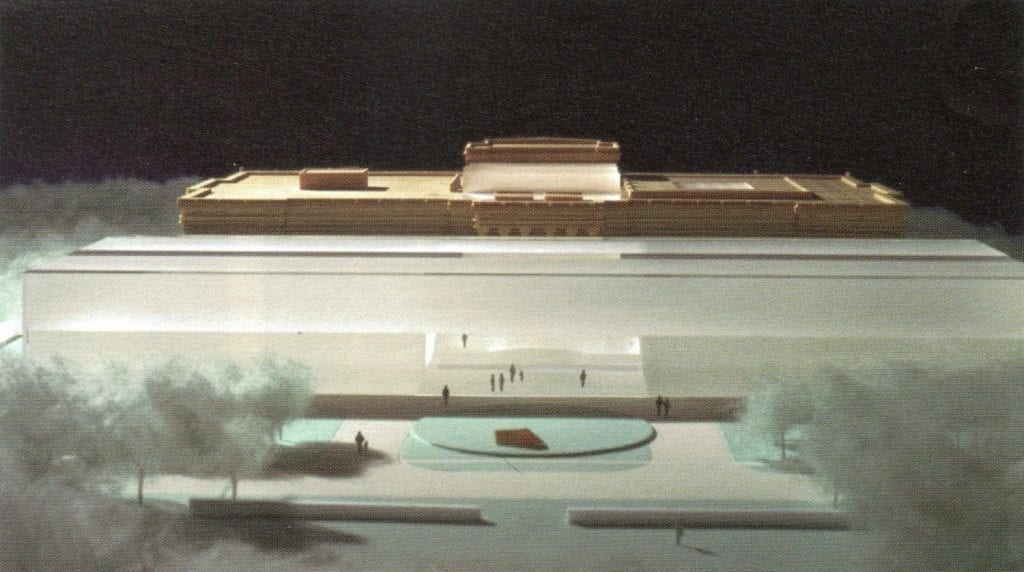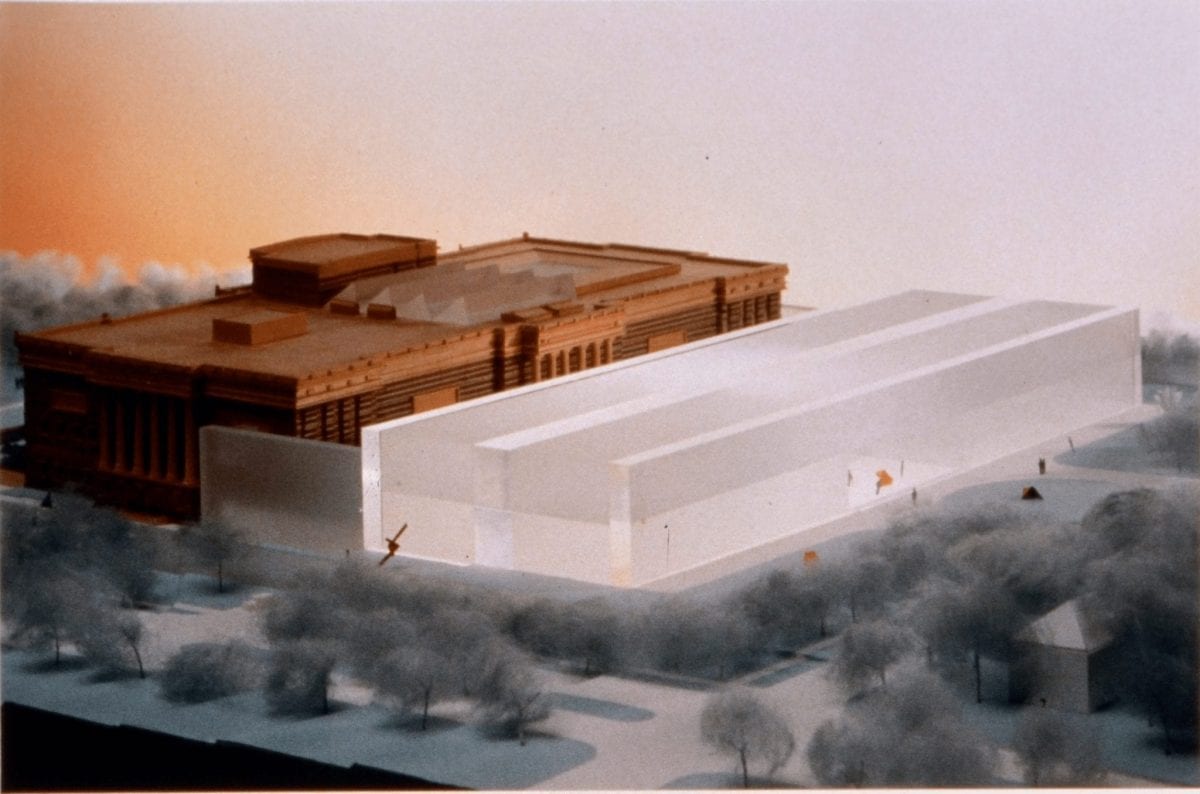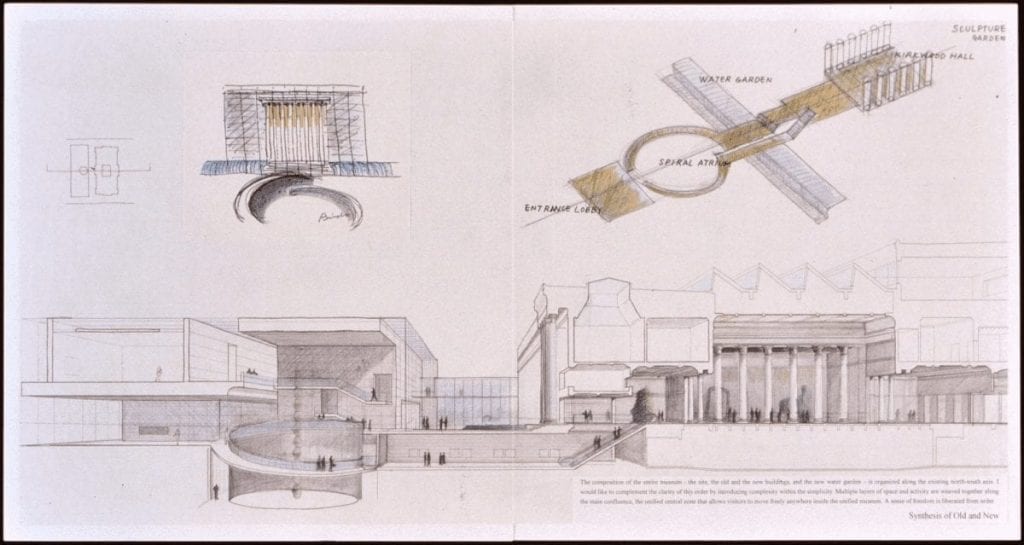 Images: ©Tadao Ando – courtesy Nelson-Atkins Museum of Art
Machado and Silvetti submitted two ideas, one being a square, rather than rectangular, box, clearing the colonnaded wings of the neoclassical building. But inside, their plan was enlivened with varied-shaped galleries and an asymmetrical atrium. They also proposed a scheme not unlike Holl's, in that it suggested the placement of 'things' in a semicircle-like configuration in the park, with the largest structure being the new gallery. This idea had the advantage of being in closer proximity to the main building, thus reducing the length of the trip of the visitor through the various elements of the new addition. As suggested in the final comments in their presentation book, it became clear to Jorge Silvetti that he considered this latter plan to be the more desirable of their two proposals.
Finalist
Machado and Silvetti, Boston (First of two options)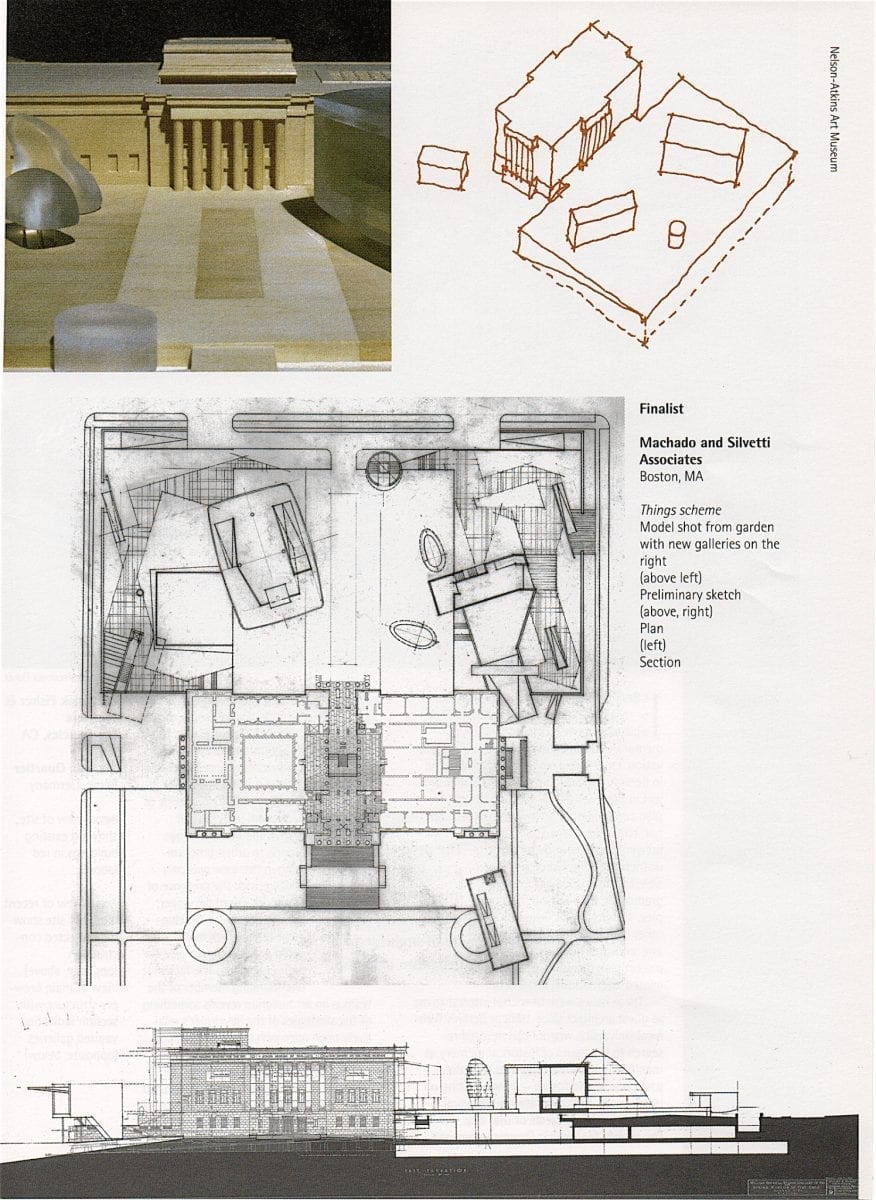 xx
Machado and Silvetti, Boston (Second of two options)
Next to Holl's, the most inventive plan was Portzamparc's, with a long,  narrow steel-and-glass corridor emerging from the existing central protico; five irregularly-shaped galleries would be extruded at the corridor's sides, two on one side, three on the other, over a large reflecting pool. Portzamparc's design, similar to the Holl design and Machado and Silvetti's second scheme, represented a more compact version of 'objects' in the park. Although the Holl plan was said to be the unanimous choice of the museum's architect selection committee, the Portzamparc scheme  was reported to be the second choice.
Finalist
Atelier Christian de Portzamparc, Paris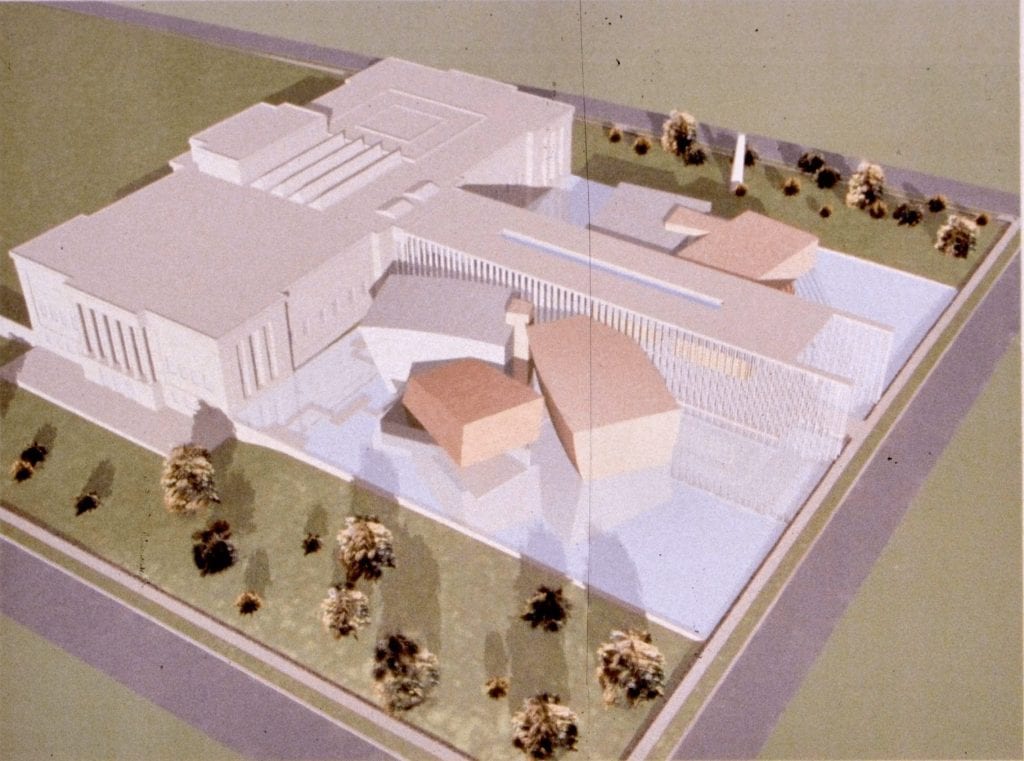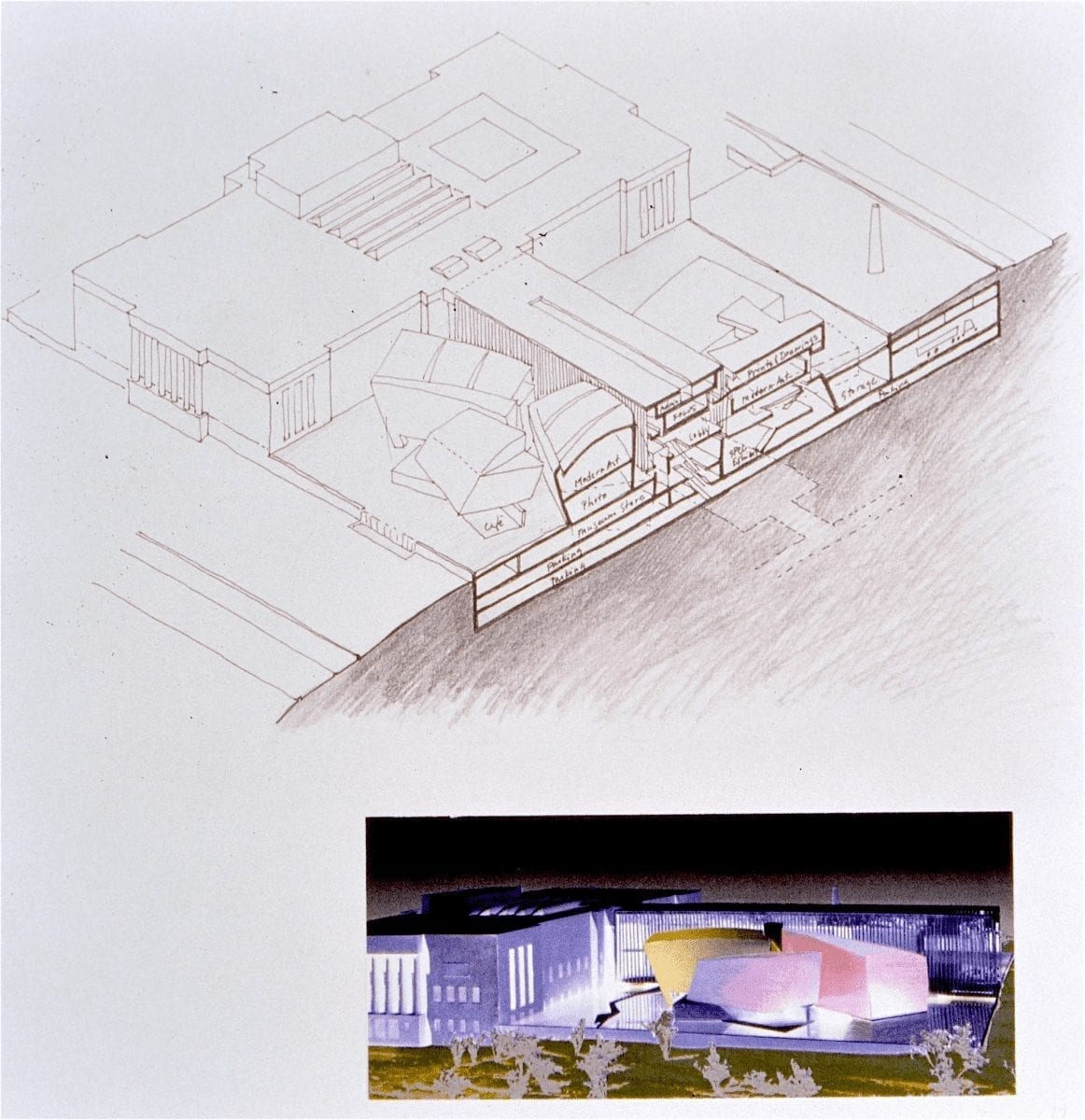 Images: ©Atelier Christian de Portzamparc
Finalist
Annette Gigon/Mike Guyer Architekten, Zürich, Switzerland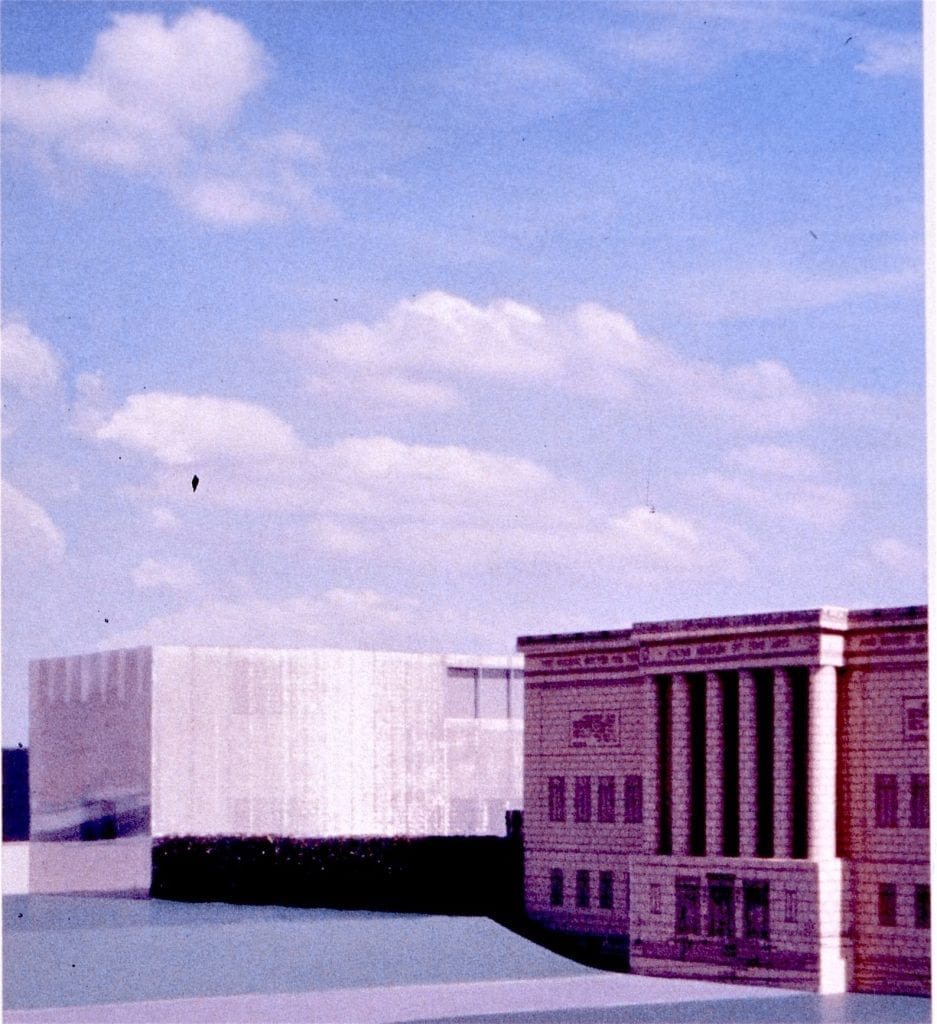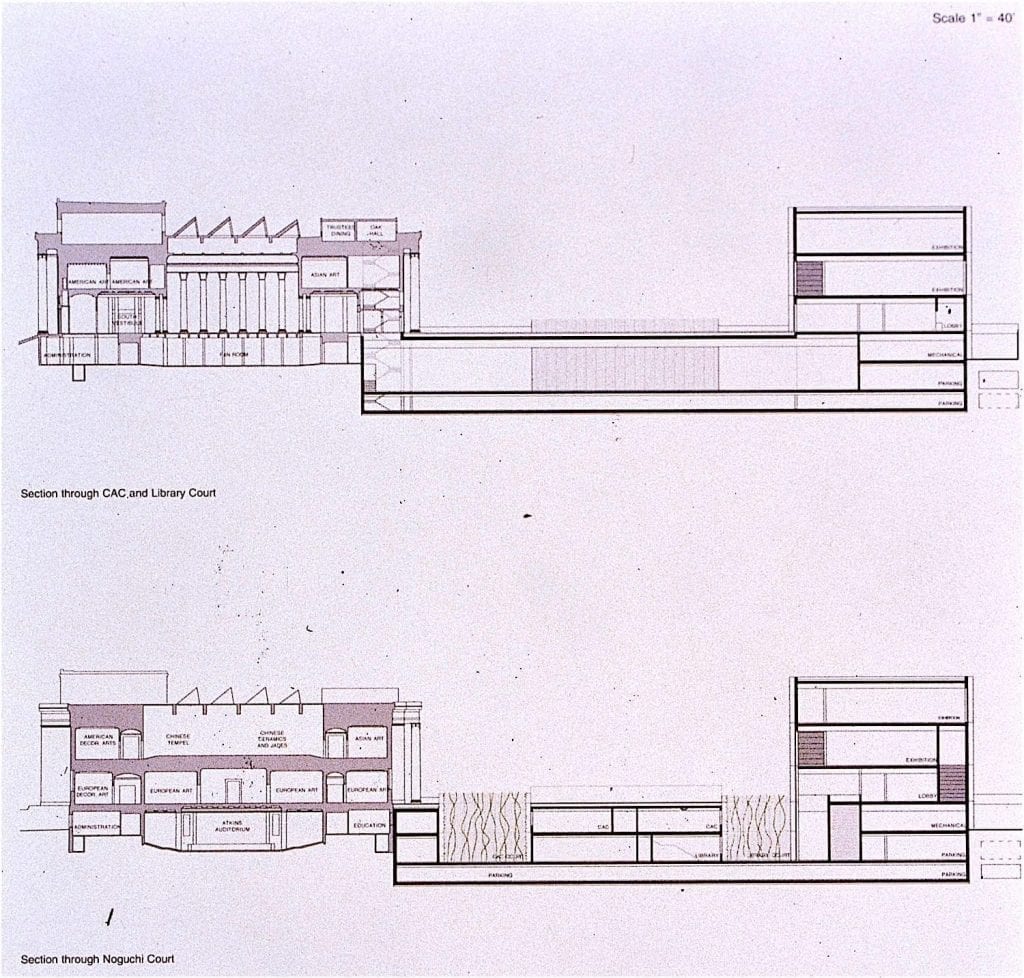 Images: ©Annette Gigon/Mike Guyer Architekten
The selection committee was chaired by Donald J. Hall, Hon AIA, senior trustee of the Nelson-Atkins Museum and chairman of Hallmark Cards, Inc. Other members were Henry W. Block, trustee of the museum, chair of the building committee, and chairman of H&R Block, Inc.; J. Carter Brown, Hon FAIA, director emeritus of the National Gallery of Art, chairman of the U.S. Commission on Fine Arts, and chairman of the Pritzker Architecture Prize; Arthur S. Brisbane, president and publisher of The Kansas City Star; Kathleen Collins, president of the Kansas City Art Institute; John C. Gaunt, FAIA, dean of the School of Architecture and Urban Design of the University of Kansas and former president and CEO of Ellerbe Becket; Ada Louise Huxtable, author and architecture critic; Vicki L. Noteis, AIA, director of Planning and Development of the City of Kansas City, Missouri; and Marc Fl Wilson, director of the Nelson-Atkins Museum. Advisors to the selection committee were Bill Lacy, FAIA, president of Purchase College, State University of New York and executive director of the Pritzker Architecture Prize; Cary C. Goodman, FAIA, principal of Gould Evans Goodman Associates, LLC; and William H. Dunn, chairman of J.E. Dunn Construction Co.
Brown and Huxtable were prime sources for names of firms to be considered for the project. Of 35 firms invited to submit qualifications, 27 responded positively. Among solicited architects that declined to participate were Frank Gehry and Renzo piano, both citing the press of existing projects. The six finalists were announced in march: principals from five firms, and Julie Howard representing Portzamparc, came to Kansas City in April to examine the existing building and setting. They returned in June to present their proposals to the architect selection committee, which announced the choice of Holl in early July. Following the selection, images from the competition were placed on display at the museum, with notebooks for visitors to record their reactions.
Finalist
Carlos Jimenez Studio, Houston, Texas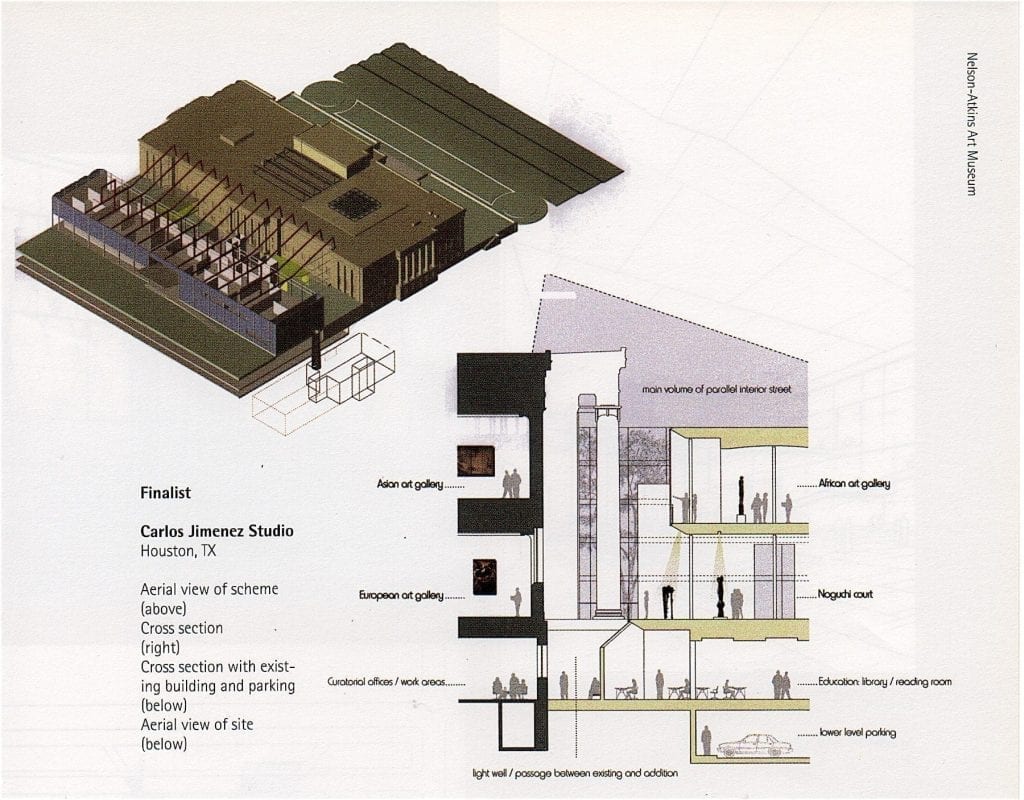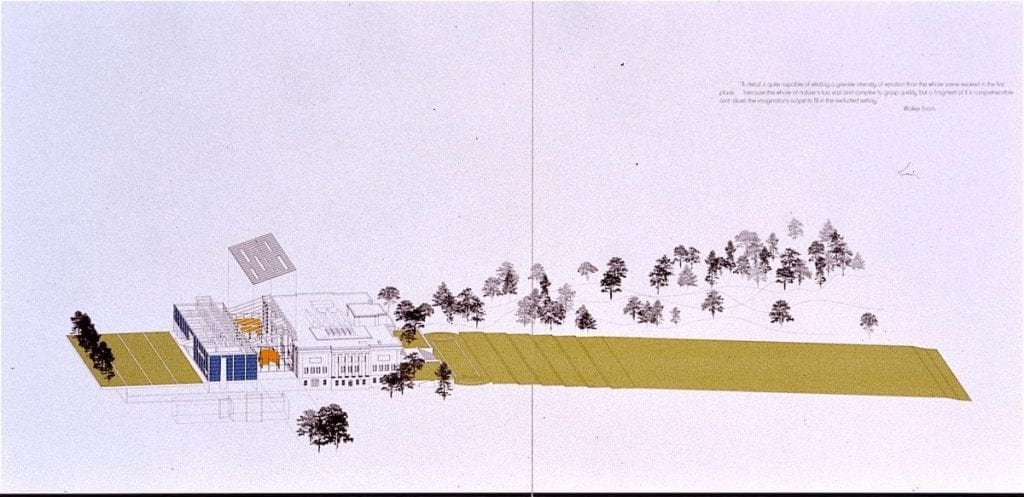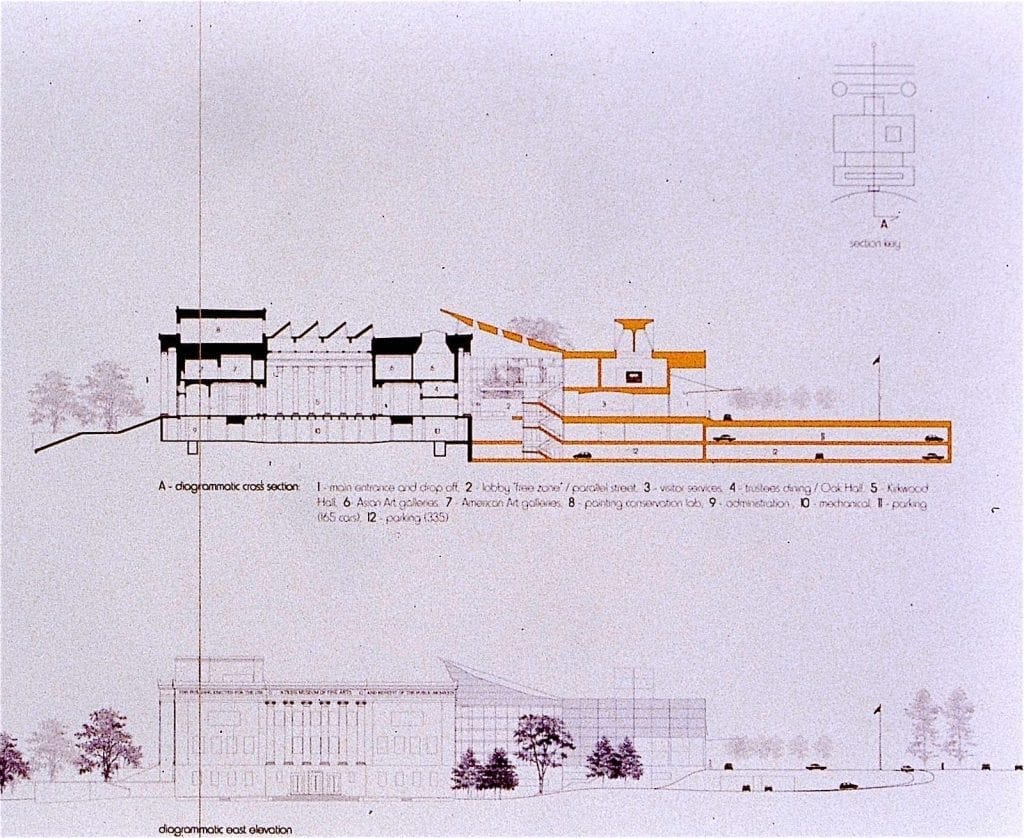 Images:©Carlos Jimenez Studio
Construction documents are expected to be completed by February, 2001. Construction is slated to begin in spring 2001 with completion in 2004. The Kansas City firm of Berkebile Nelson Immenschuh McDowell (BNIM) has been selected as the architect of record with Lacy & Co. as program manager and J.E. Dunn Construction Co. as general conractor.
Scott Cantrell writes about architecture for the Kansas City Star.