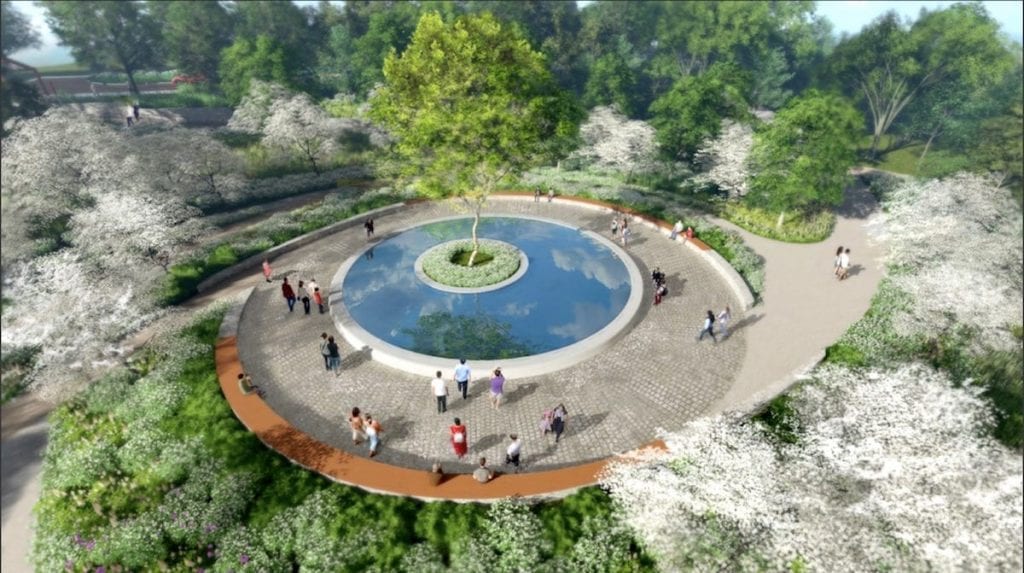 Winning entry (image ©SWA Group)
Commemorating the deaths of 26 victims of a well-publicized school shooting is no small chore. But because of the tragic events at its elementary school in 2012, the village of Sandy Hook has achieved national prominence as a symbol of the gun violence afflicting the nation. Although it is almost impossible to bring closure to such an event, the community did determine that the establishment of a memorial would at least be a positive step in that direction. To arrive at such an important issue as a design for the memorial, it was determined that an international design competition was a logical path to follow.
Although this was not a competition for a large structure, interest was understandably high in the design community, with the result that 189 international submissions were received from around the world. For subjects such as this, a single symbolic structure was hardly the answer. The closest any of the three second-stage finalists came to employing this approach was SWA, the winner, who located a tree of life at the very center of the focal point of their submission—a large pond. But there was more to their design than that. Instead of locating the main event near the parking lot, they created a substantial journey along a pathway crossing two water features with pedestrian bridges, before arriving at the center of a large circular plan. Then one realizes that this was not just about the memorial itself, but fulfilling a larger purpose with an attractive park for walkers and joggers, an additional purpose added to those of contemplation and paying homage.
The two other finalists chose different approaches. A team composed of Teri Kwant (AIGE NAI), Joan MacLeod (ASLA) and Julia McFadden (AIA) with Alex Felson (ASLA) had a circular plan, but with various theme stages along the way before arriving at the main destination, the Memorial Grove. One of the stations, "the breathing field," consisted of a large floral area within a circular walkway, somehow reminiscent of Tolstoy's impressive burial marker in Yasnaya Polyana, a small mound only adorned with flowers. This was a design clearly focused on the mind and senses.
The final finalist, Justin Arleo from Arizona, concentrated his commemorative design on a bosque of trees, arranged in a very linear fashion, like what might have been imagined by landscape architect, Dan Kiley. Here, the processional was located in a covered wooded area. In a departure from the other finalists, access to this memorial site was directly available from the parking area.
Winner
SWA Group, led by Ben Waldo and Daniel Affleck with SWA/Balsley, Jim
Garland, AIA of Fluidity and Sherwood Design Engineers.
San Francisco/New York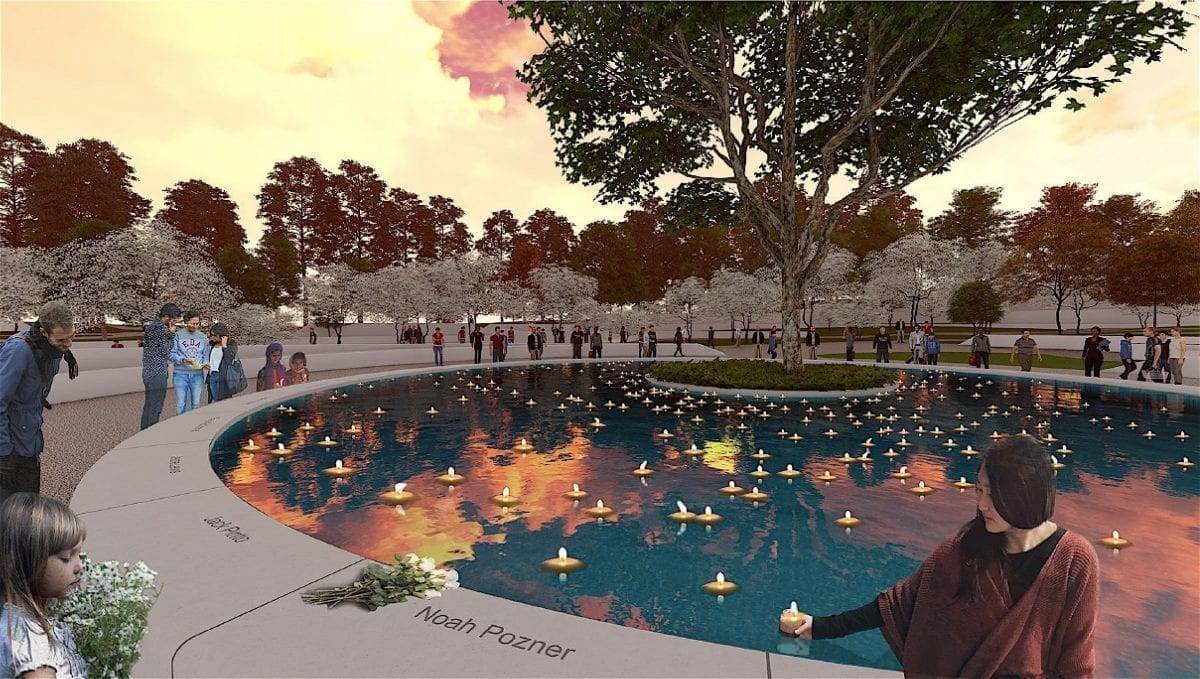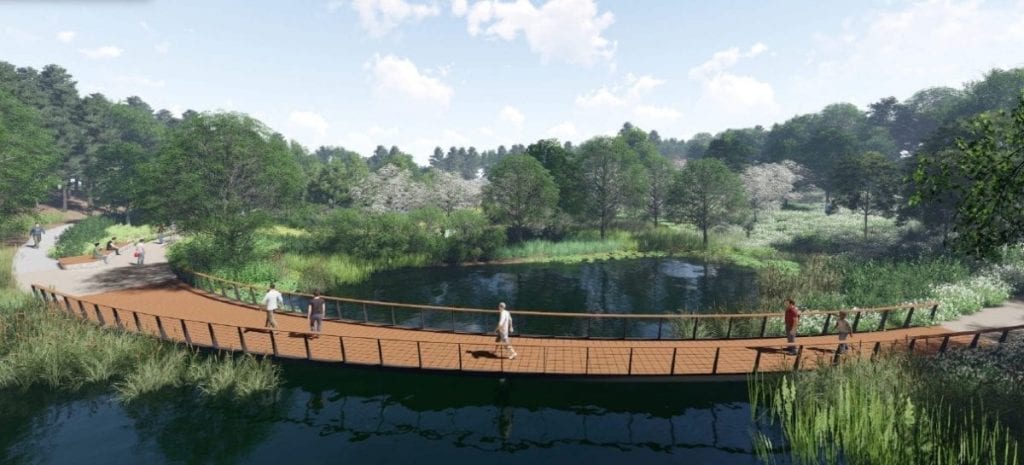 Finalist
Kwant (AIGE NAI), Joan MacLeod (ASLA) and Julia McFadden (AIA) with Alex Felson (ASLA)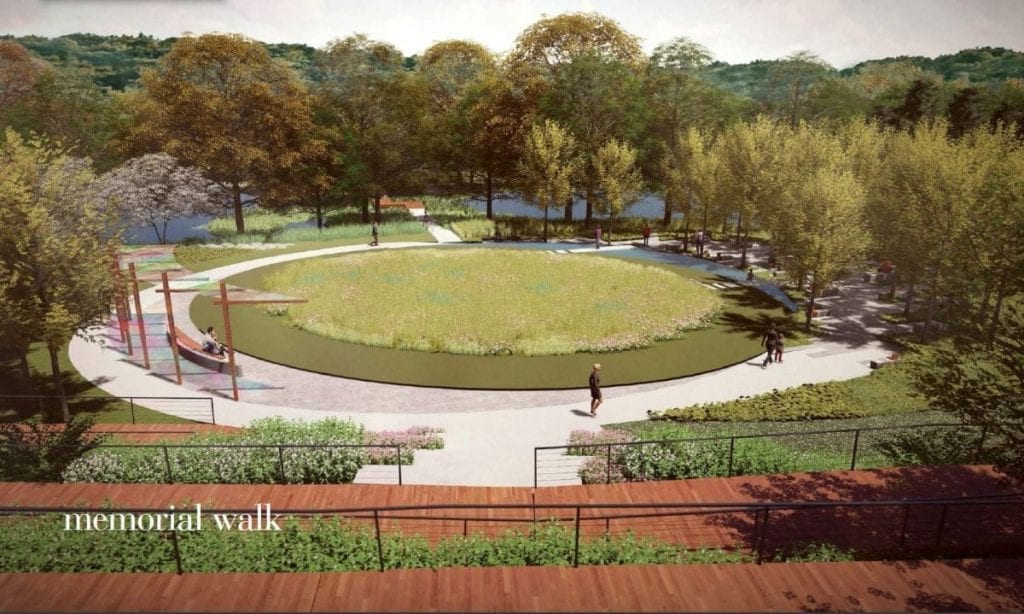 Finalist
Arleo Design Studio (Justin Arleo)
Phoenix, Arizona