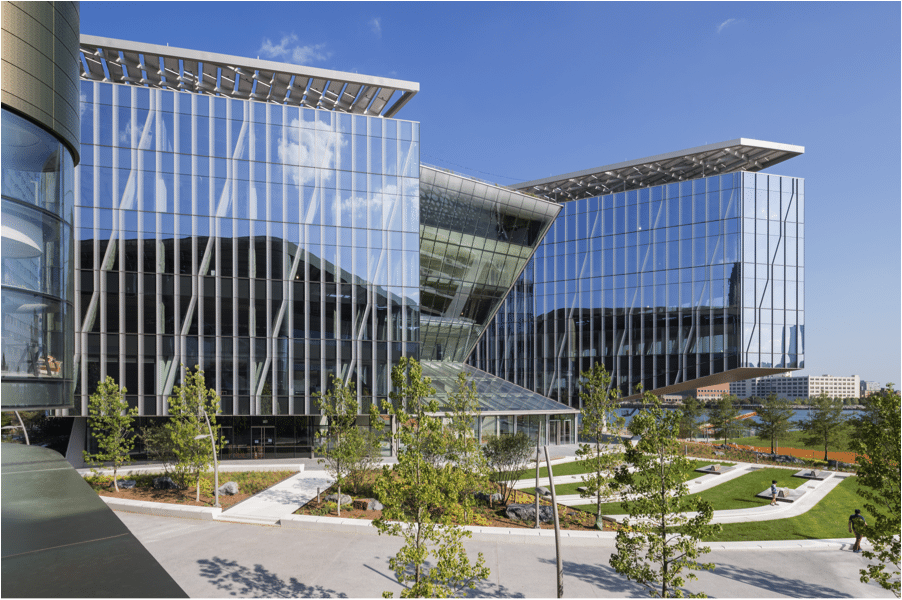 Cornell Tech's Roosevelt Island Campus Photo: ©Iwan Baan
In the early 1990s, Weiss Manfredi emerged as one of the most interesting young architecture firms in the U.S. How did this happen? Winning two important competitions in 1990/91—the Women's Military Memorial in Washington, DC, and the Olympia Fields Mitchell Park competition in a Chicago suburb—served to propel this relatively unknown pair into the national limelight. From then on, the firm began to receive invitations to participate in invited competitions, winning several high-profile competitions, which included the highly acclaimed Seattle Art Museum Olympia Sculpture Park and the more recent Kent State Center for Architecture and Environmental Design competitions.
What marked their rise was not simply their expertise in developing landscape plans to fit a specific site, or detail in retrofitting or realizing significant buildings, but recognizing that architecture does not cease to exist at the front door. As a result of their success in those early competitions, the firm has received a number of commissions, such as the University of Pennsylvania's Nanotechnology Institute and Cornell Tech's recently completed "Bridge," at their Roosevelt Island Campus. Not known for their high-rises, the firm seemed to strike just the right chord on this project. As a major piece of the Roosevelt Island campus ensemble, this building can hold its own with any of its neighbors—a tribute to the firm's versatility.
Would all of this have been possible without those winning competition efforts? It's clear that those experiences smoothed the path to career advancement…as both a learning experience and raising the firm's profile.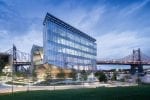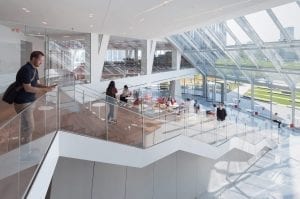 Exterior and interior views  Photos: Iwan Baan
See Weiss Manfredi interview:
https://competitions.org/2016/07/interview-weiss-manfredi-architects/