Contemporary Memorial Symbolism on the Thames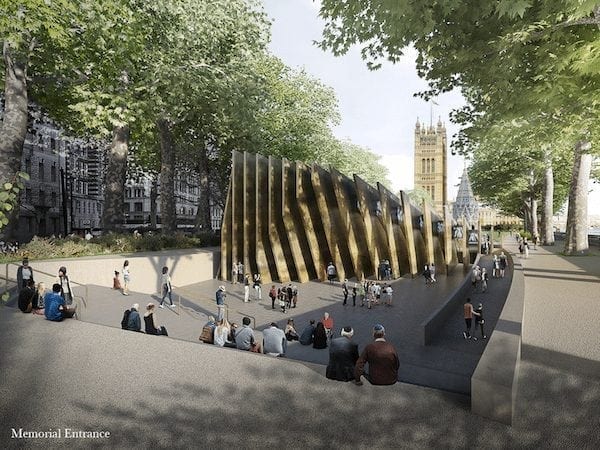 Image: © Adjaye Associates & Malcolm Reading Consultants
The recent U.K. Holocaust Memorial Competition in London concluded with designs from ten high-profile international firms . This began with a short-listing procedure which attracted expressions of interest from 97 international firms. In contrast to the entirely open Jewish Museum competition in Berlin, which was won by Daniel Libeskind, there would be no Libeskind suprise here—though he was included in this shortlist—as most of the contenders  were in the possession of long, impressive resumés, a required precondition for being part of this select circle.
To adjudicate the selection process, the jury consisted of a number of bureaucrats and only two architects. Malcolm Reading Consultants was the competition's professional adviser and also a jury member. Its panel members were:
Sir Peter Bazalgette (Jury Chair) 
Chair, United Kingdom Holocaust Memorial Foundation and Chair, ITV Board 



Charlotte Cohen 
Prime Minister's Holocaust Commission – Youth Commissioner 



Samantha Cohen CVO 
Assistant Private Secretary to The Queen 



The Lord Daniel Finkelstein OBE 
Journalist 



Alice M. Greenwald 
President and CEO of National September 11 Memorial and Museum 



Ben Helfgott MBE 
Holocaust Survivor, Honorary President, '45 Aid Society and President, Holocaust Memorial Day Trust 



Rt Hon Sajid Javid MP 
Secretary of State for Communities and Local Government 



Natasha Kaplinsky 
Broadcaster 



Rt Hon Sadiq Khan 
Mayor of London 



Chief Rabbi Ephraim Mirvis 
Chief Rabbi of the United Kingdom 



Dame Julia Peyton-Jones DBE 
Former Director of the Serpentine Galleries 



Paul Williams OBE 
Director, Stanton Williams Architects 



Sarah Weir OBE 
CEO of Design Council 



Malcolm Reading 
Competition Director and Advisor to the Jury
The Competition Challenge
Since the competition site was smack in the heart of London's central core—immediately across from the Parliament building—and, because of the presence of two other memorials at opposite ends of the designated area, it was restricted to the middle of an exposed triangular site. So you had to take the other memorials into consideration, make some sort of identifying design statement to the outside world, and create at least a sense of spatial seclusion.
Based on the given limitations of the site, and that this was a memorial, not a museum, all of the competitors chose to lead visitors to an underground experience, rather than make a significant statement above grade. The design by Foster + Partners, with entry and exit the only visible exposed elements above-grade, went farthest in pursuing that strategy; whereas the Anish Kapoor/Zaha Hadid massive cinder-like feature was imposing as a commanding element on the site. Situated somewhere in-between was the proposal by the David Adjaye/Ron Arad team: their above-ground panels made a strong statement as an arrival feature, but also managed to carry that thought below grade in exponential fashion. With all this it was well integrated into the landscape, facing the entrance away from Parliament and the central area of the site.

Winning Proposal

Adjaye Associates (U.K.) / Ron Arad Architects (USA)
with Gustafson Porter + Bowman, Plan A and DHA Designs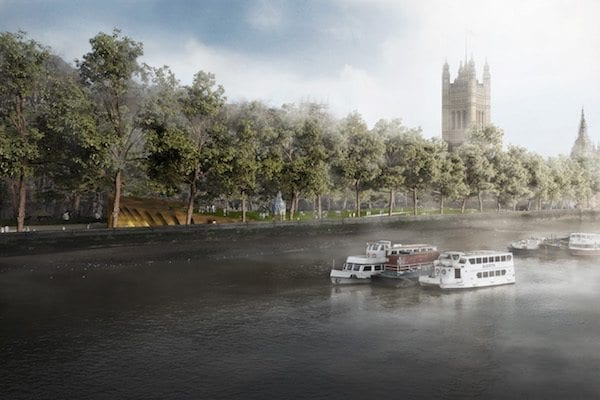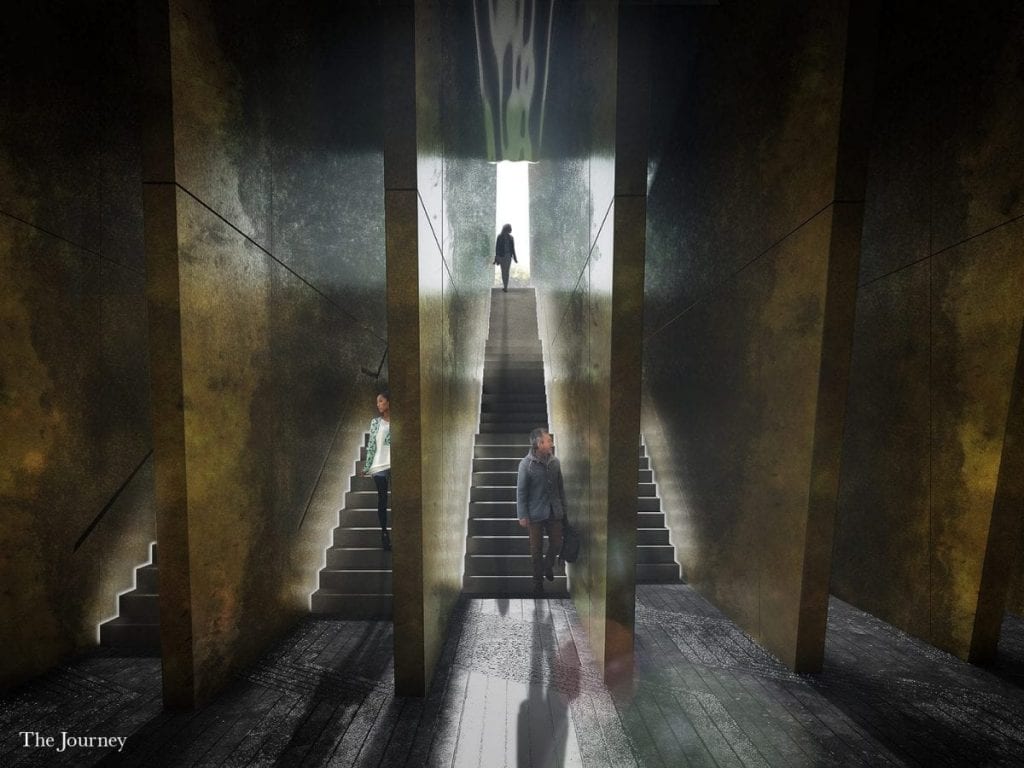 Images: © Adjaye Associates & Malcolm Reading Consultants
It is seldom that new architecture exists in a total vacuum; and this is no exception. The winning design by the David Adjaye/Ron Arad team has the fingerprints of Ron Arad all over it. His winning design for the 9/11 Memorial competition in New York borrows indirectly from Maya Lin's Vietnam Veterans Memorial in Washington (below); and he has employed basic elements from other memorials, especially in the use of sightlines (bottom images). It is probably no coincidence that Maya Lin was a member of the New York 9/11 competition jury that ultimately led to the realization of the Ron Arad entry. -Ed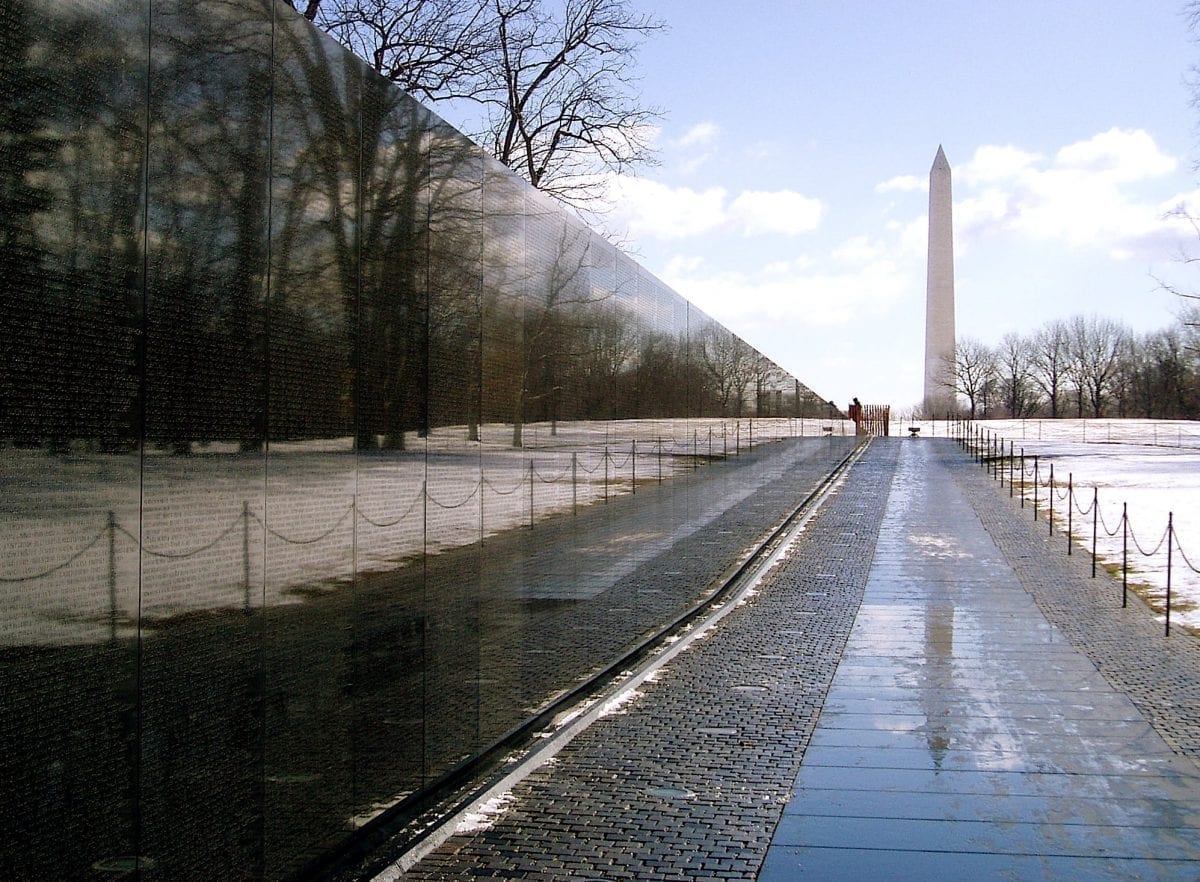 Vietnam Veterans Memorial  Photo: Paul Spreiregen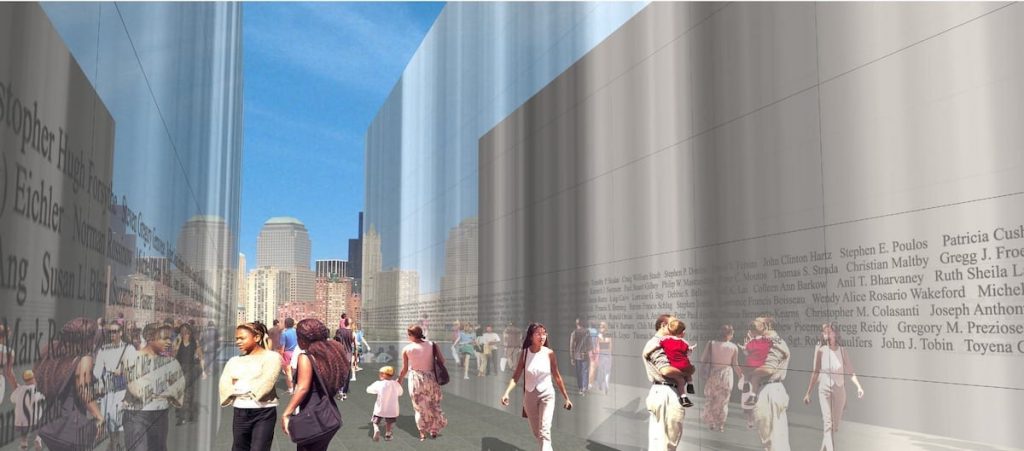 New Jersey 9/11 Memorial  Images courtesy Frederic Schwartz Architects
Honorable Mention
heneghan peng architects (Ireland)
with Gustafson Porter + Bowman, Event, Sven Anderson, Bartenbach, Arup, Bruce Mau Design,
BuroHappold, Mamou-Mani, Turner & Townsend, PFB, Andrew Ingham & Associates and LMNB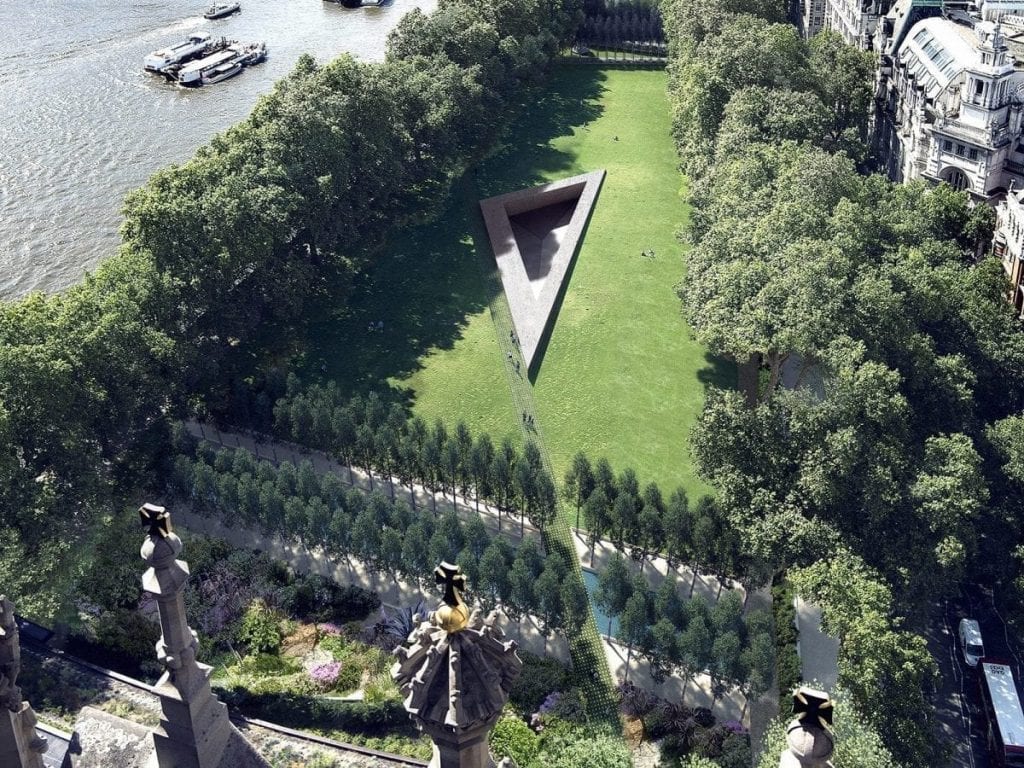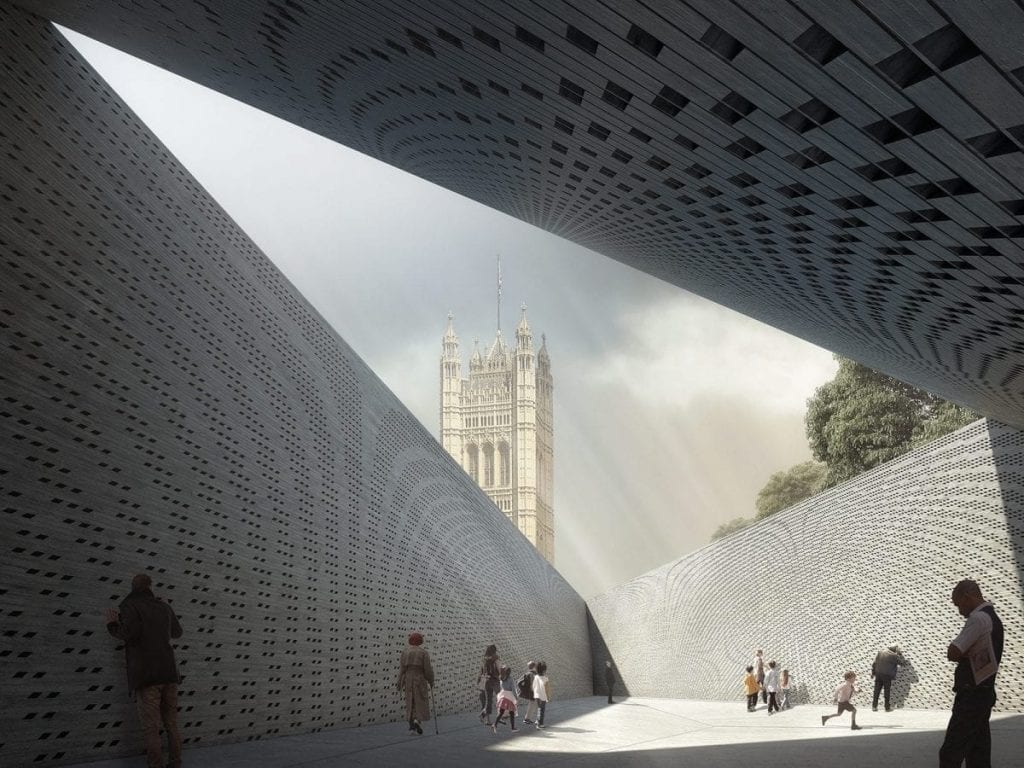 Images: © heneghan peng architects & Malcolm Reading Consultants
heneghan peng architects' inverted triangle, although interesting from above, does serve a function, in that it provides a sightline, creating a path from the perimeter to the memorial. The use of a massive brick facade, perforated by light, is a subtle, but arresting strategy—designed to stimulate the mind of the visitor? Here we are talking about numbers, and the thought behind this design seems to have found a mechanism to suggest the sheer numbers of victims.  -Ed

Finalist
Allied Works (US)
with Robert Montgomery, The Olin Studio, Ralph Appelbaum Associates, Allied Info Works,
Arup, Curl la Tourelle Head Architecture, PFB Construction ManagementServices Ltd, BuroHappold
and Nathaniel Lichfield & Partners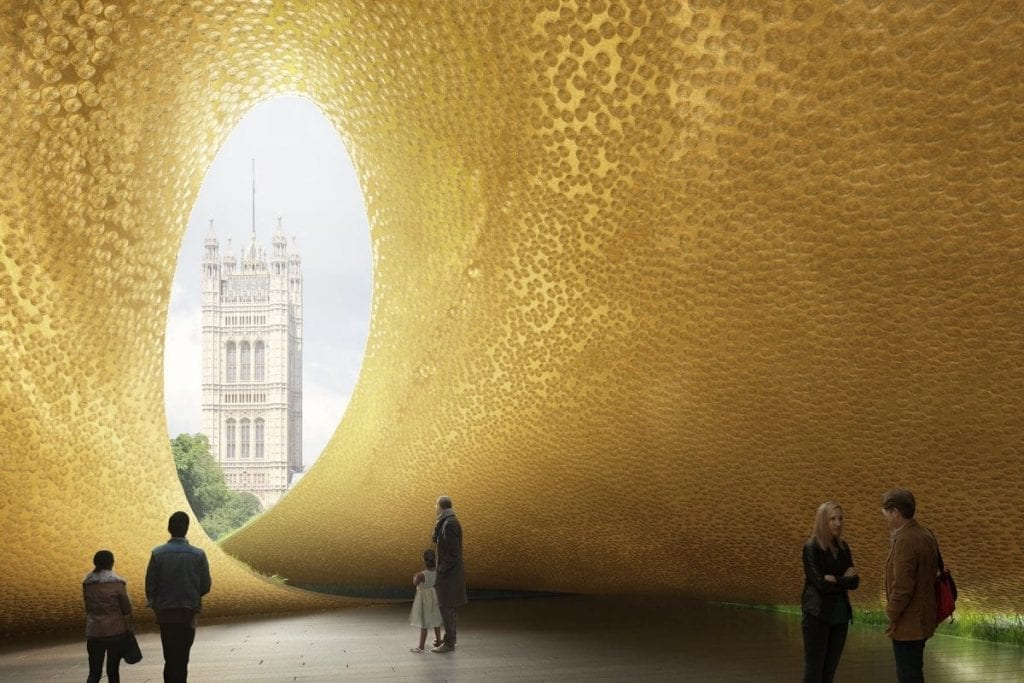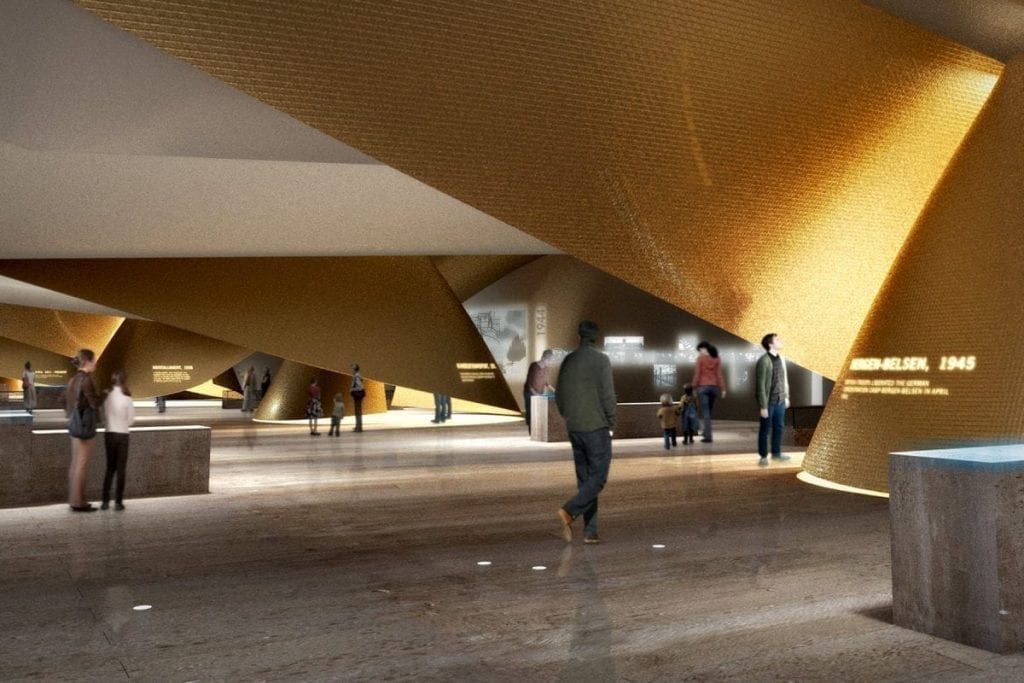 Images: © Allied Works Architecture & Malcolm Reading Consultants

Allied Works proposed a solution was very much about landscape,—and a seemingly low profile. There was little external symbolism which might reveal exactly what kind of operation a person might anticipate. As was the case with the Foster plan, signage would have to be a high priority for the project. The opening toward a view of Parliament might raise the question as to the U.K.'s immigration policy toward Jews during the 1930s and the postwar period.  -Ed
Finalist
Anish Kapoor and Zaha Hadid Architects (UK)
with Sophie Walker Studio, Arup Lighting, Event London, Lord Cultural Resources, Max Fordham,
Michael Hadi Associates, Gardiner & Theobald, Whybrow, Access=Design and Goddard Consulting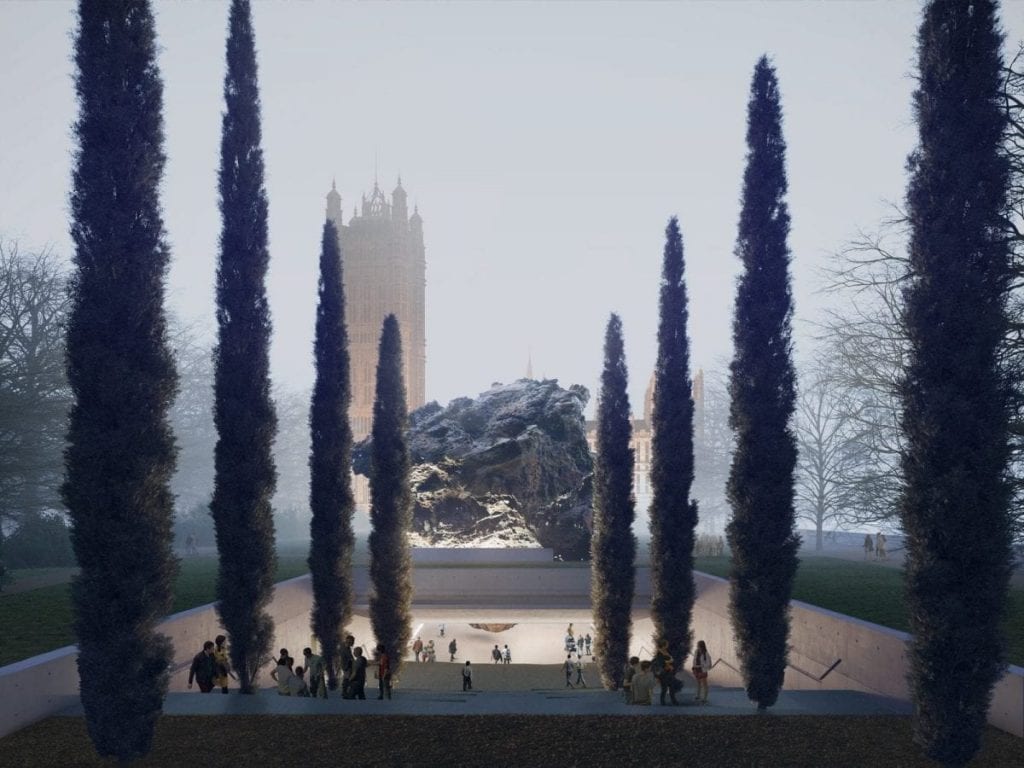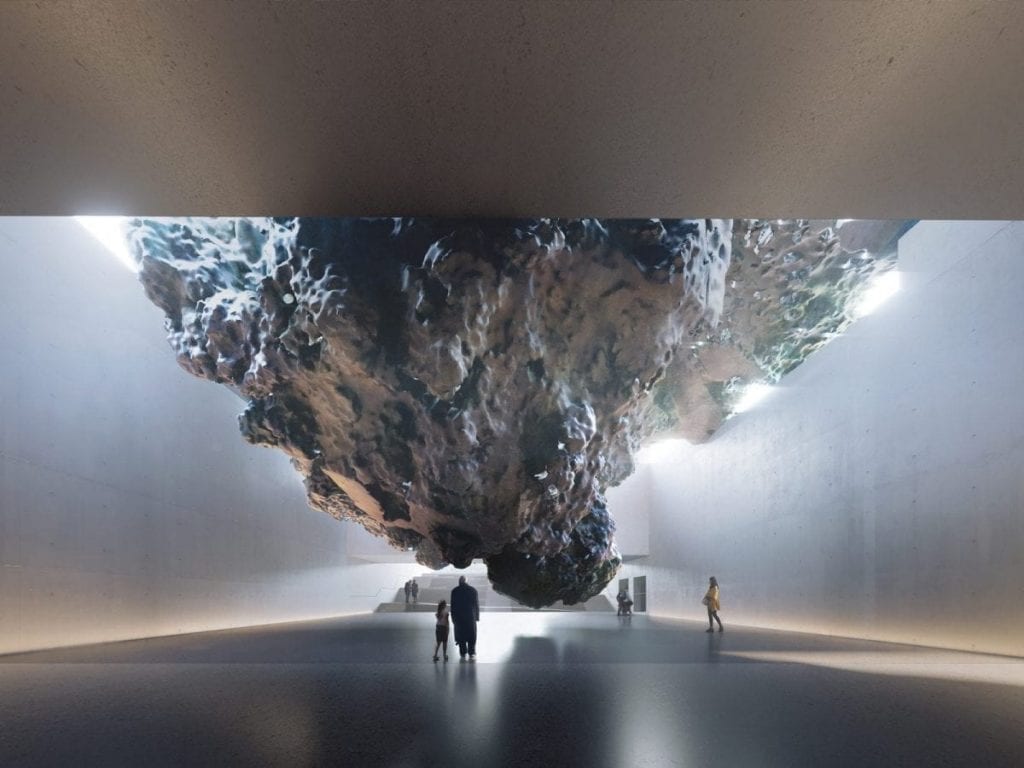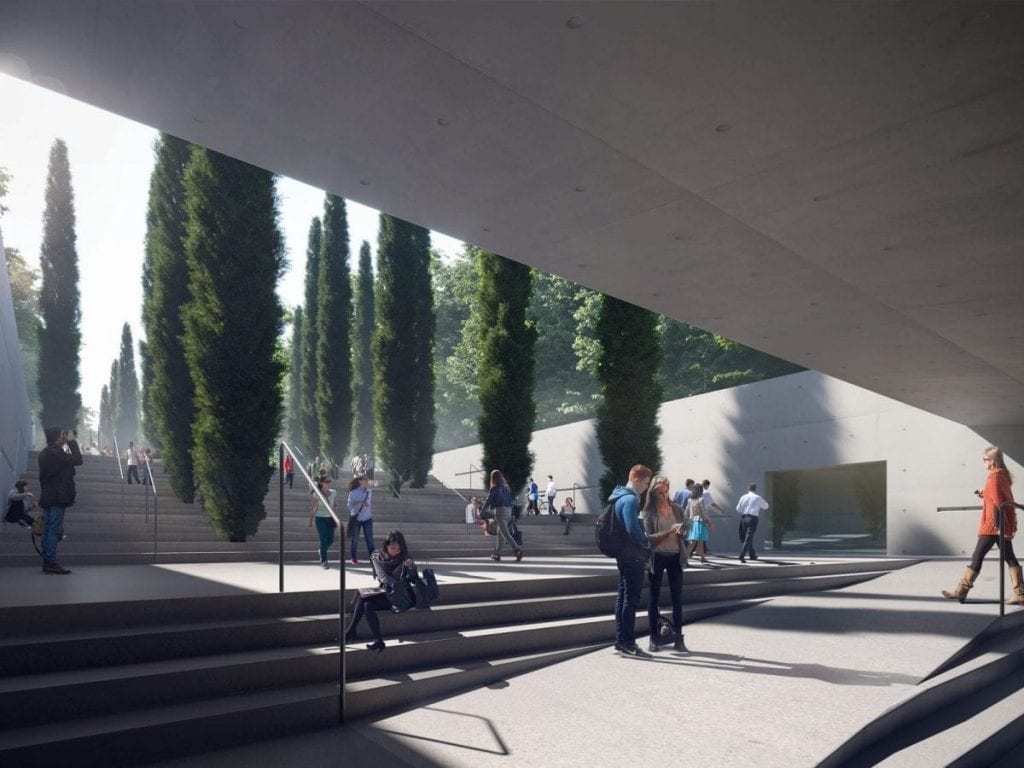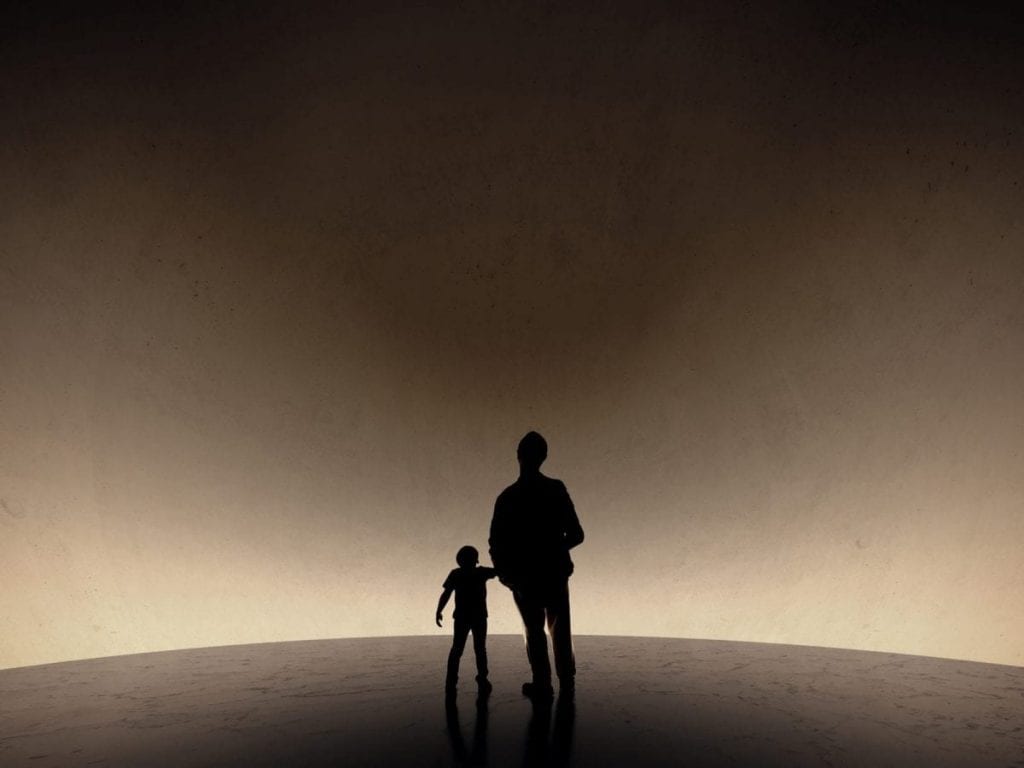 Images: © Anish Kapoor and Zaha Hadid Architects & Malcolm Reading Consultants
For those who are familiar with Anish Kapoor, this proposal could not have come as a big surprise. Kapoor has mastered the art of creating big sculptural works, which are not only conversation pieces and big crowd pleasers, but objects that can mean different things to different people. In this case, his giant cinder could be interpreted in various ways—from a meteor to the raw matter of life itself. It could be that this powerful statement was too much for a jury that wanted to focus more on the obvious message, rather than an overwhelming symbol. -Ed
Finalist
Caruso St John Architects (UK), Marcus Taylor and Rachel Whiteread
with Vogt Landscape Architects, Arup Lighting and David Bonnett Associates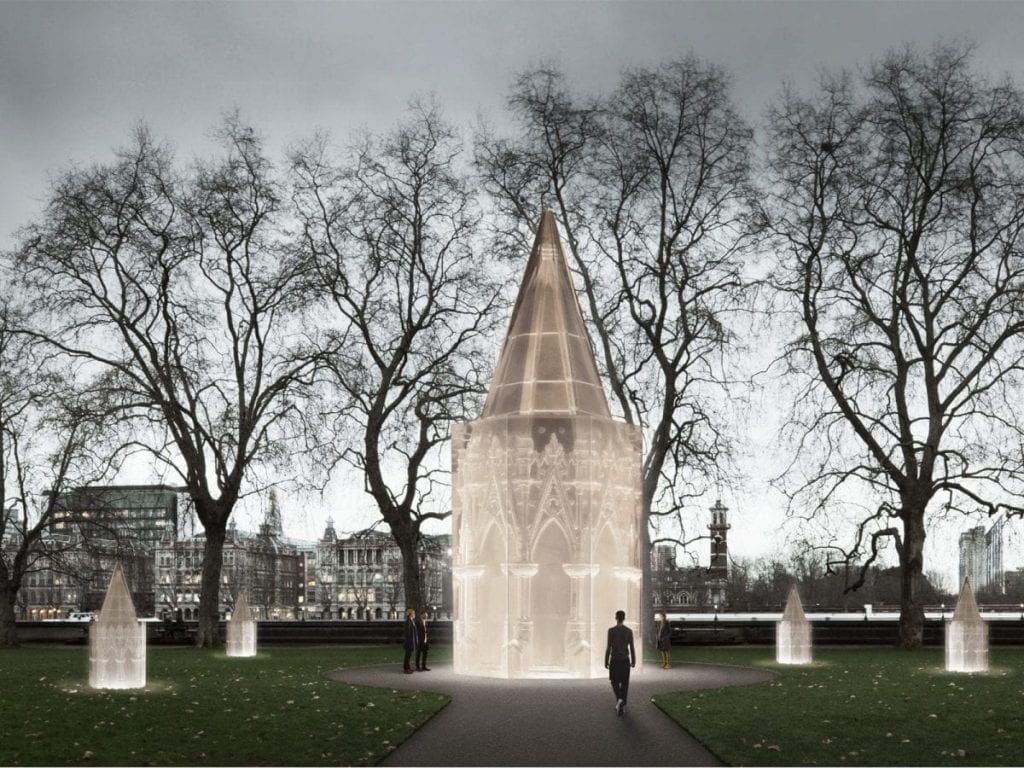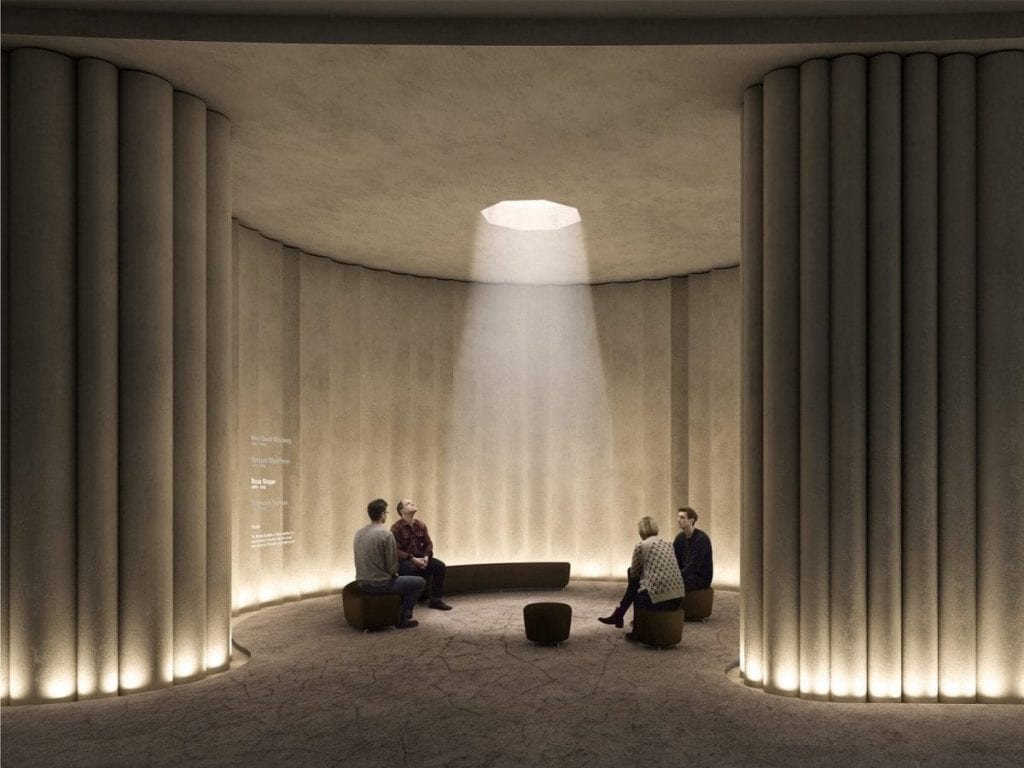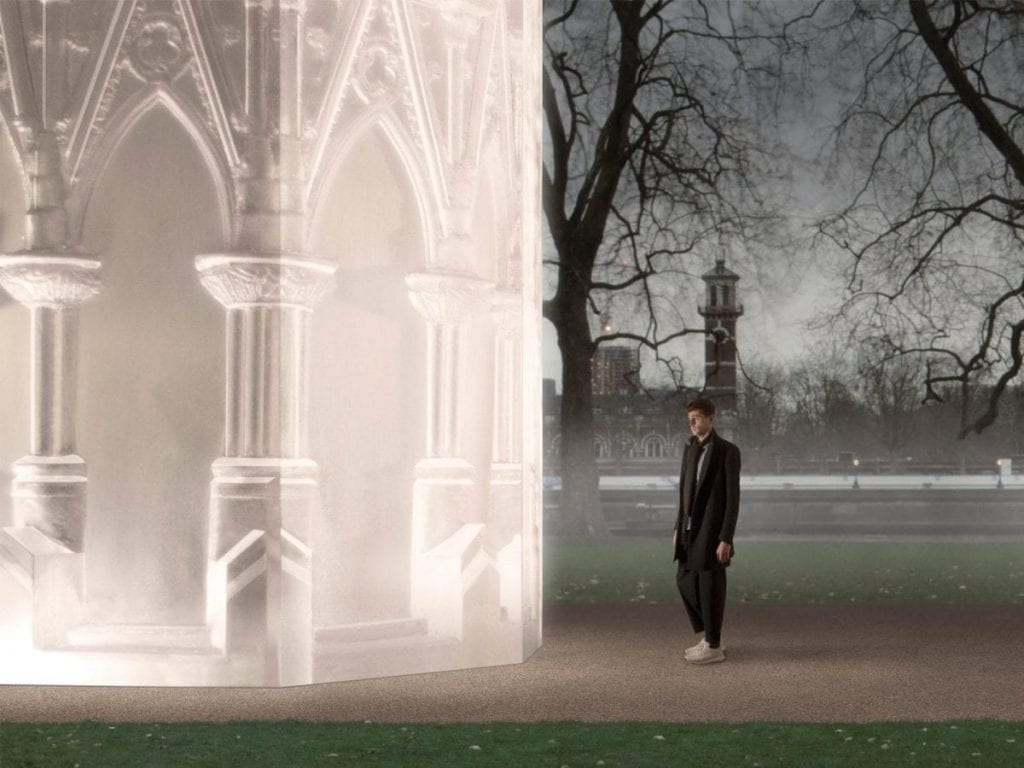 Images: © Caruso St John Architects, Marcus Taylor and Rachel Whiteread & Malcolm Reading Consultants
One of the most curious proposals was that by Caruso St John, not only because of its neo-gothic appearance, but also due to its almost Disneyesque character. Yes, the little elves are the above grade source of the lightwells; but was the Gothic supposed to relate to Parliament across the street? One might also wonder about a Jew's reaction to neo-gothic architecture. -Ed
Finalist
Diamond Schmitt Architects (Canada)
with Ralph Appelbaum Associates, Martha Schwartz Partners and Arup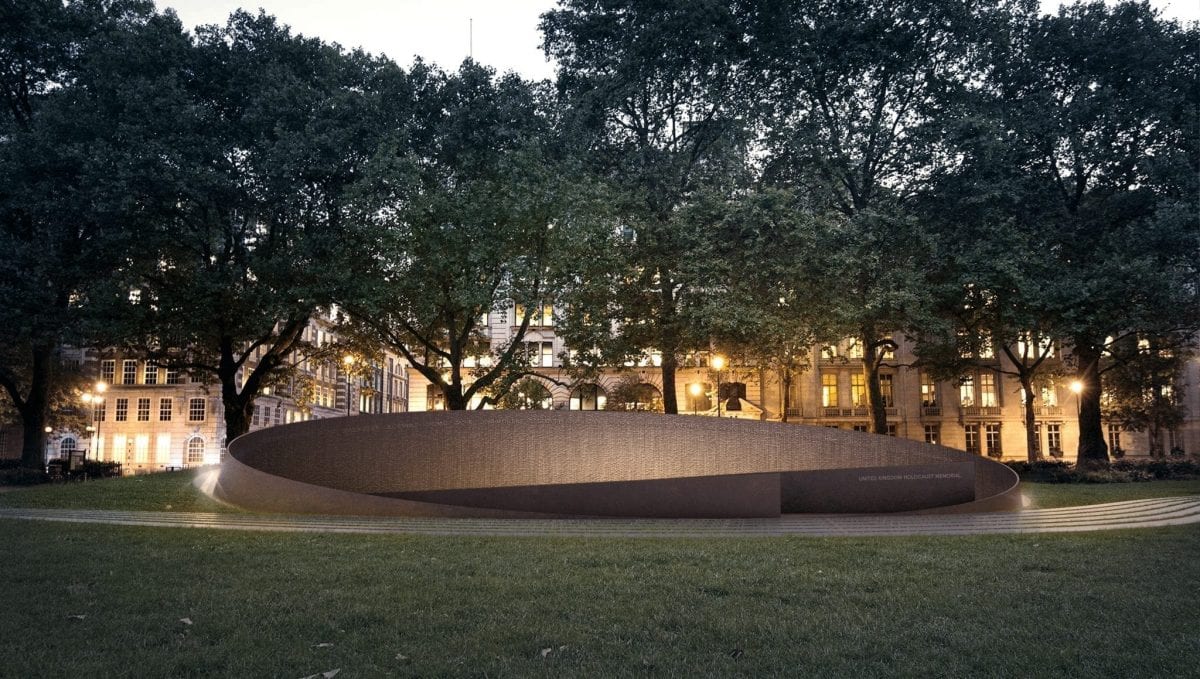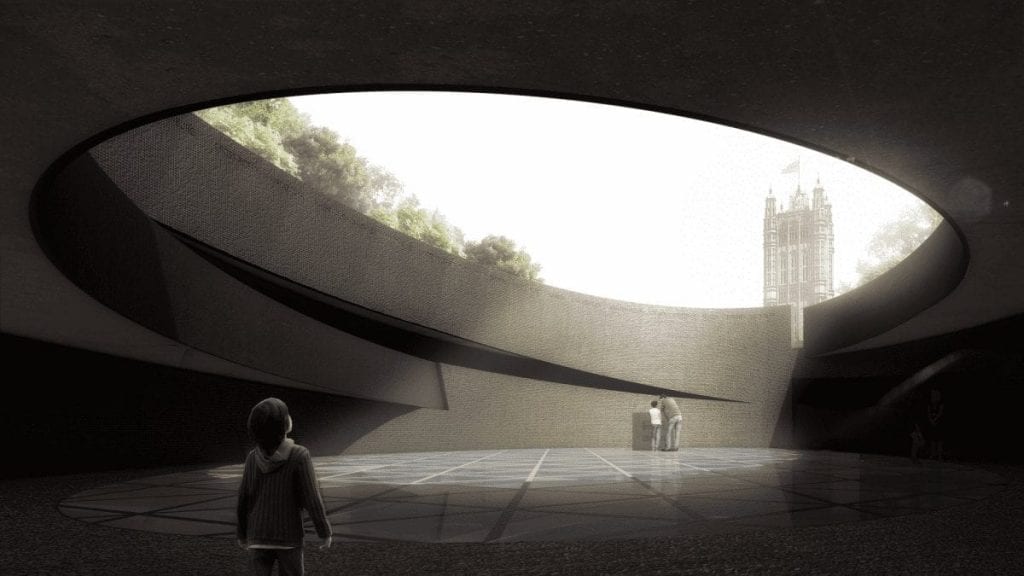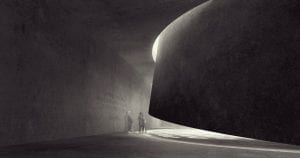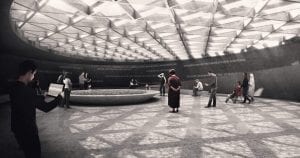 Images: © Diamond Schmitt Architects & Malcolm Reading Consultants
The Diamond Schmitt, Applebaum, Martha Schwartz team presented a strong resume in architecture, museum exhibition design and landscape expertise. But the logically designed pathways could not overcome the relatively weak above-grade symbolism of the end product. One could imagine that this design might have been a stronger end-solution contender in an extended design development phase.  -Ed
Finalist
Foster + Partners (UK) and Michal Rovner (UK/Oslo)
with Simon Schama, Avner Shalev, Local Projects, Samantha Heywood,
David Bonnett Associates, Tillotson Design Associates and Whybrow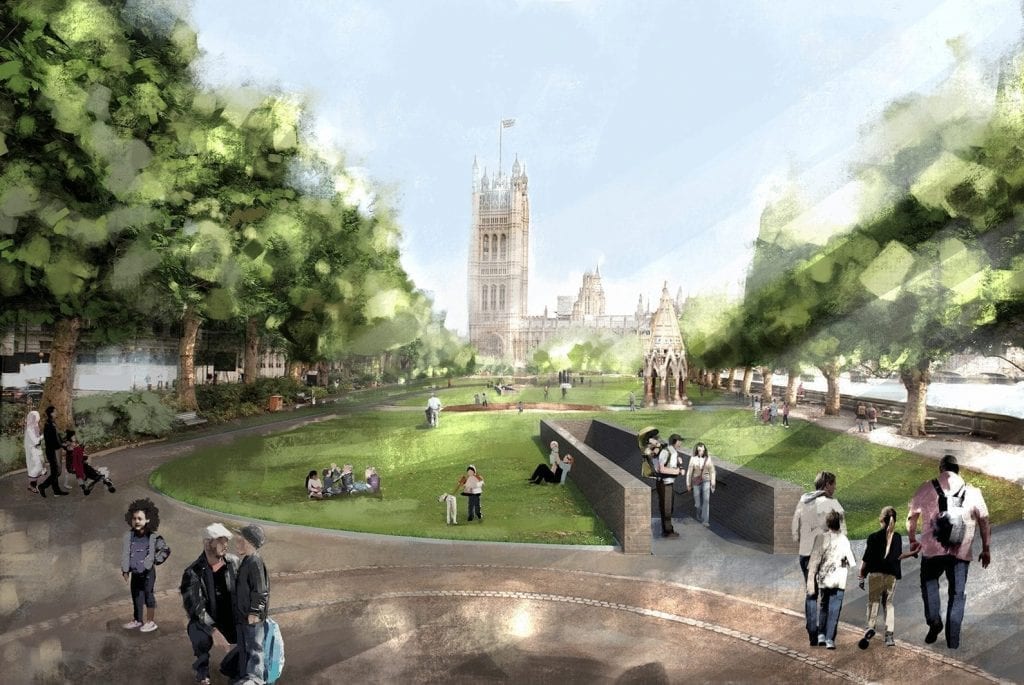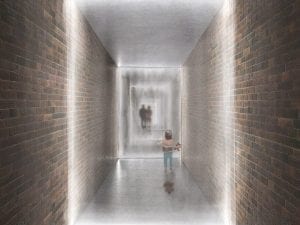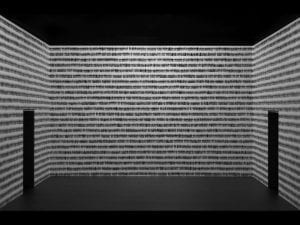 Images: © Foster + Partners and Michal Rovner & Malcolm Reading Consultants
Foster + Partners' linear design, with only a very minimal entrance and exit presence above-grade, is certainly viable for most sites as an exhibit idea; but here it seemed to be a somewhat predictable formula for such an emotional topic.  -Ed
Finalist
John McAslan + Partners (UK) and MASS Design Group
with Lily Jencks Studio, Local Projects and Arup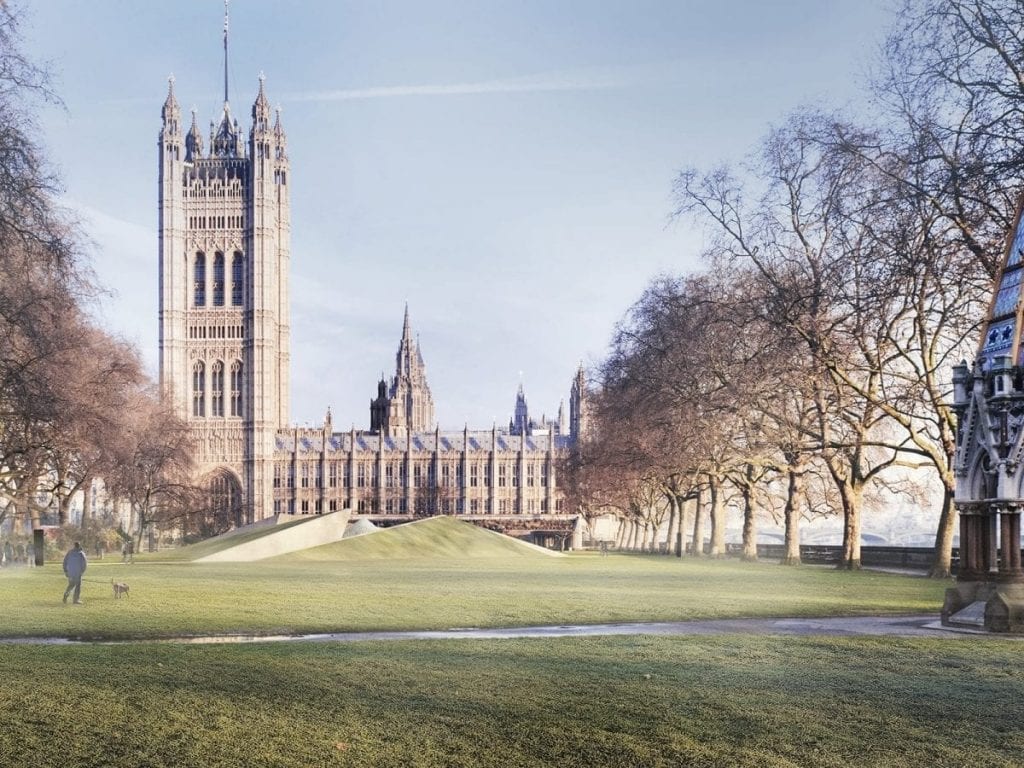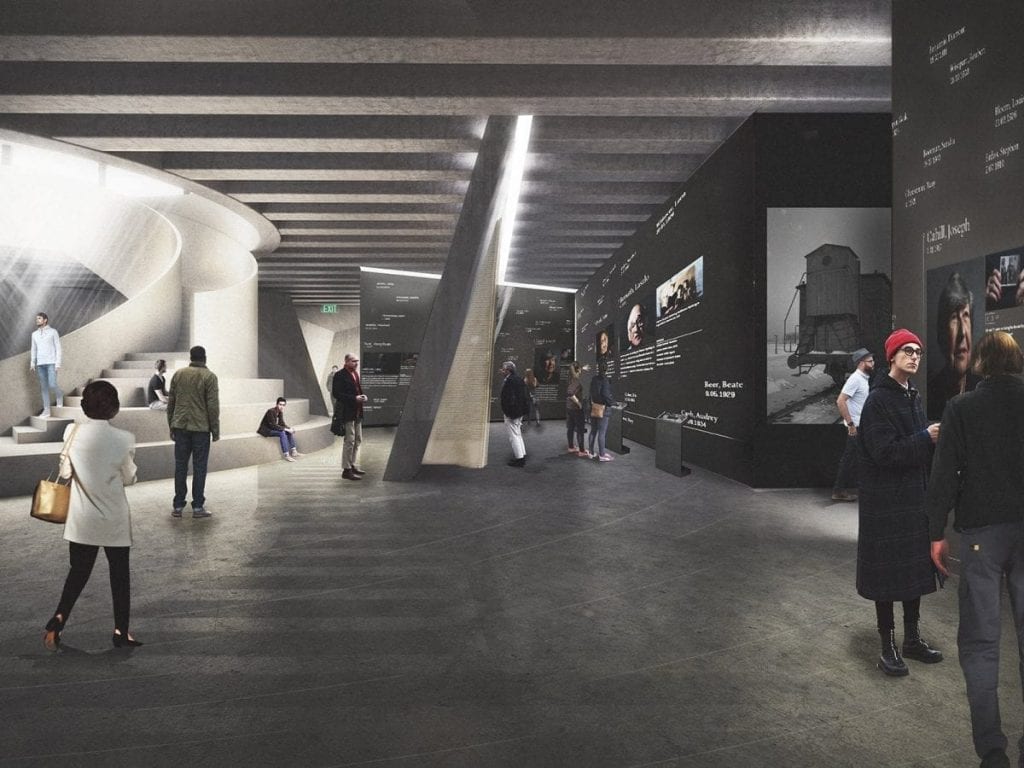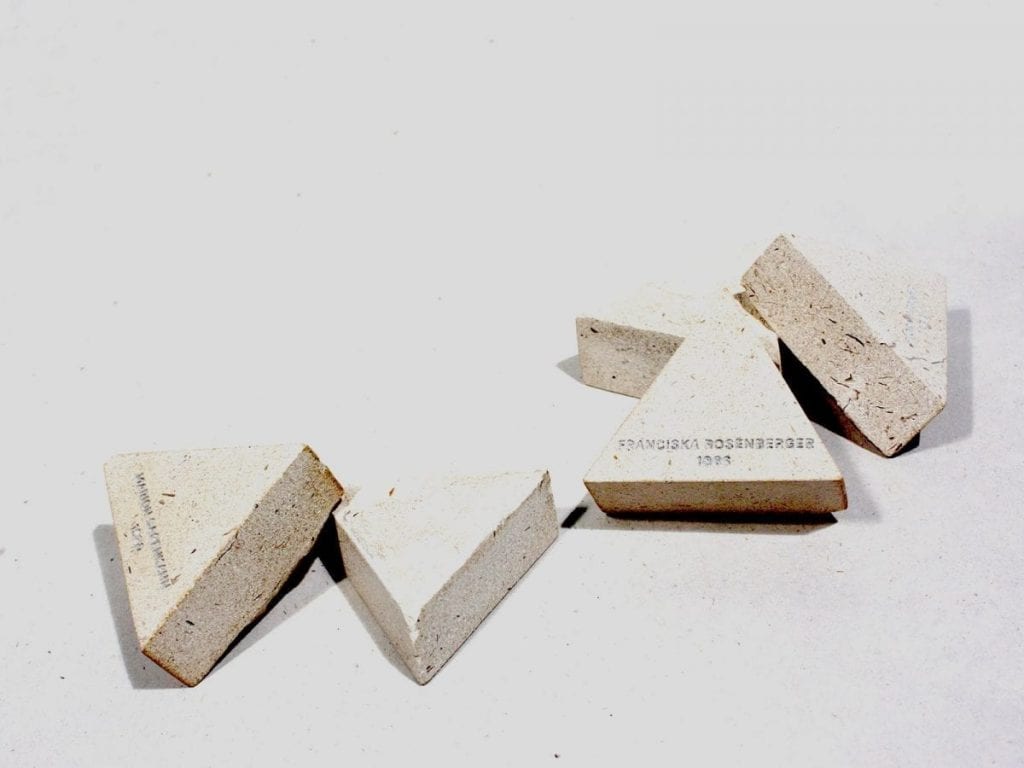 Images: © John McAslan + Partners and MASS Design Group & Malcolm Reading Consultants
John McAslan and MASS Design Group opted for a system of triangular slabs as an introduction to a lower level exhibit area. Although a stong entrance program with the cleavage in a mound was well conceived, the below-grade experience—regardless of its strong educational component—seemed to fall short as an area for contemplation. -Ed
Finalist
Lahdelma & Mahlamäki Architects (Finland) and David Morley Architects (UK)
with Ralph Appelbaum Associates, Hemgård Landscape Design, Barbara Kirshenblatt-Gimblett, Dani Karavan and A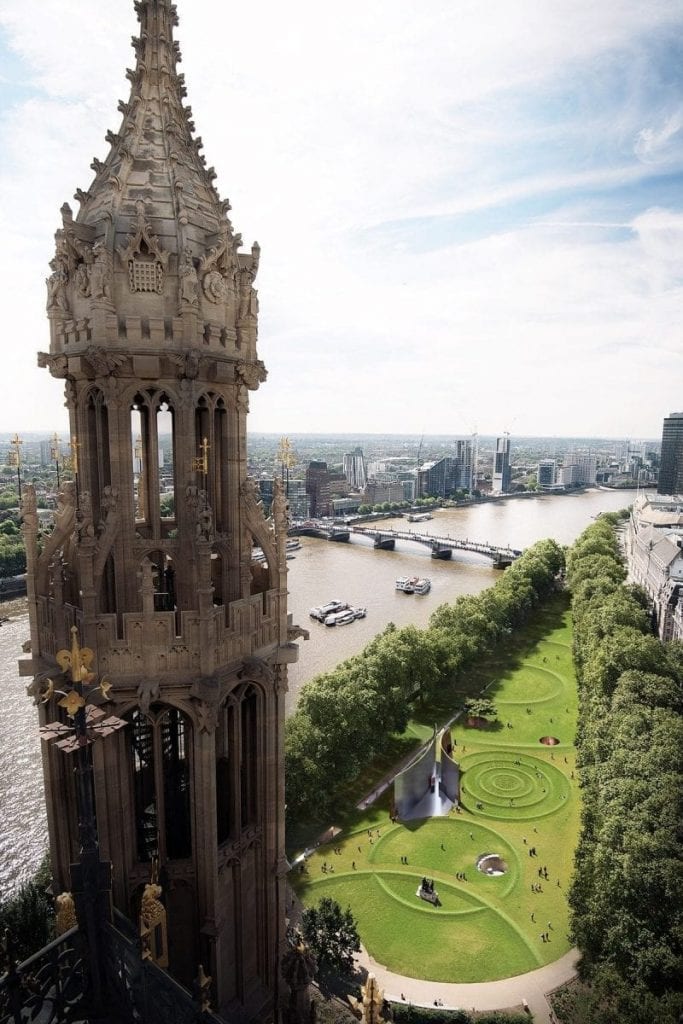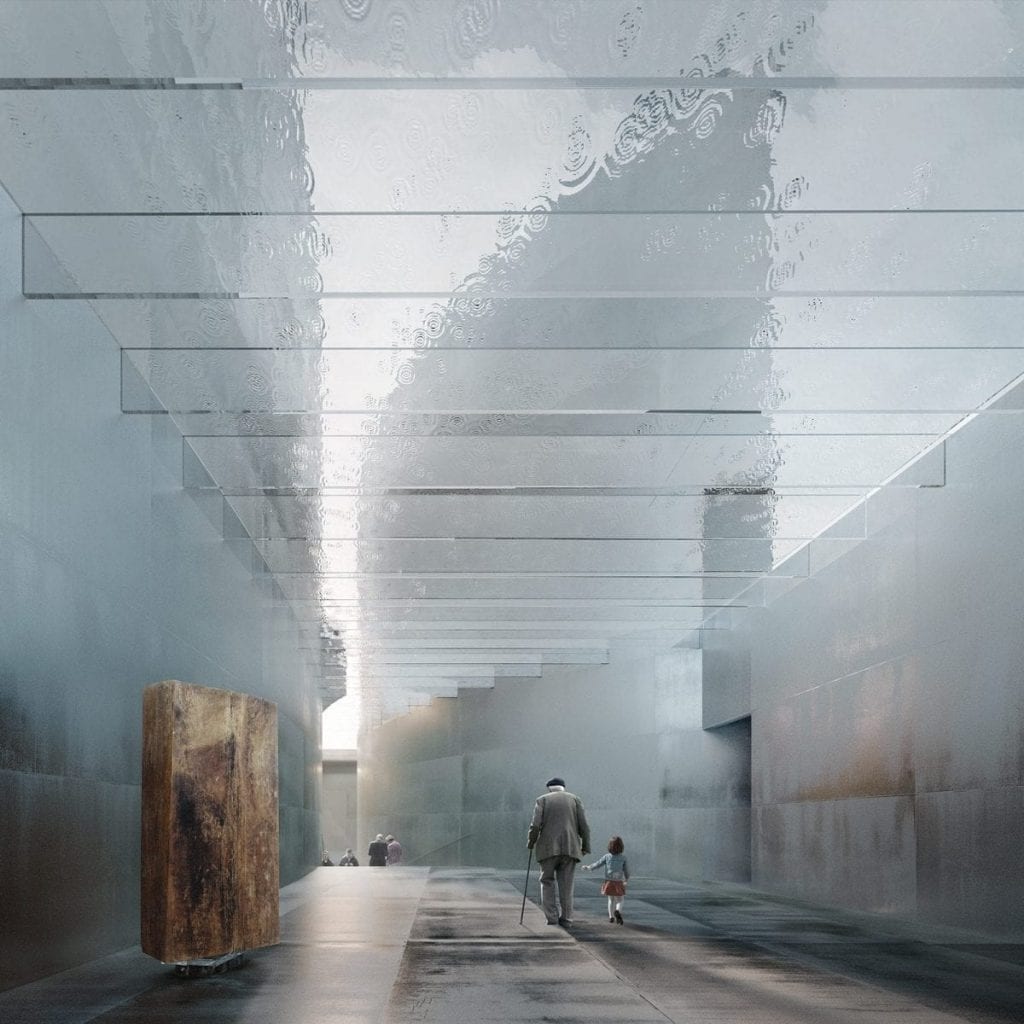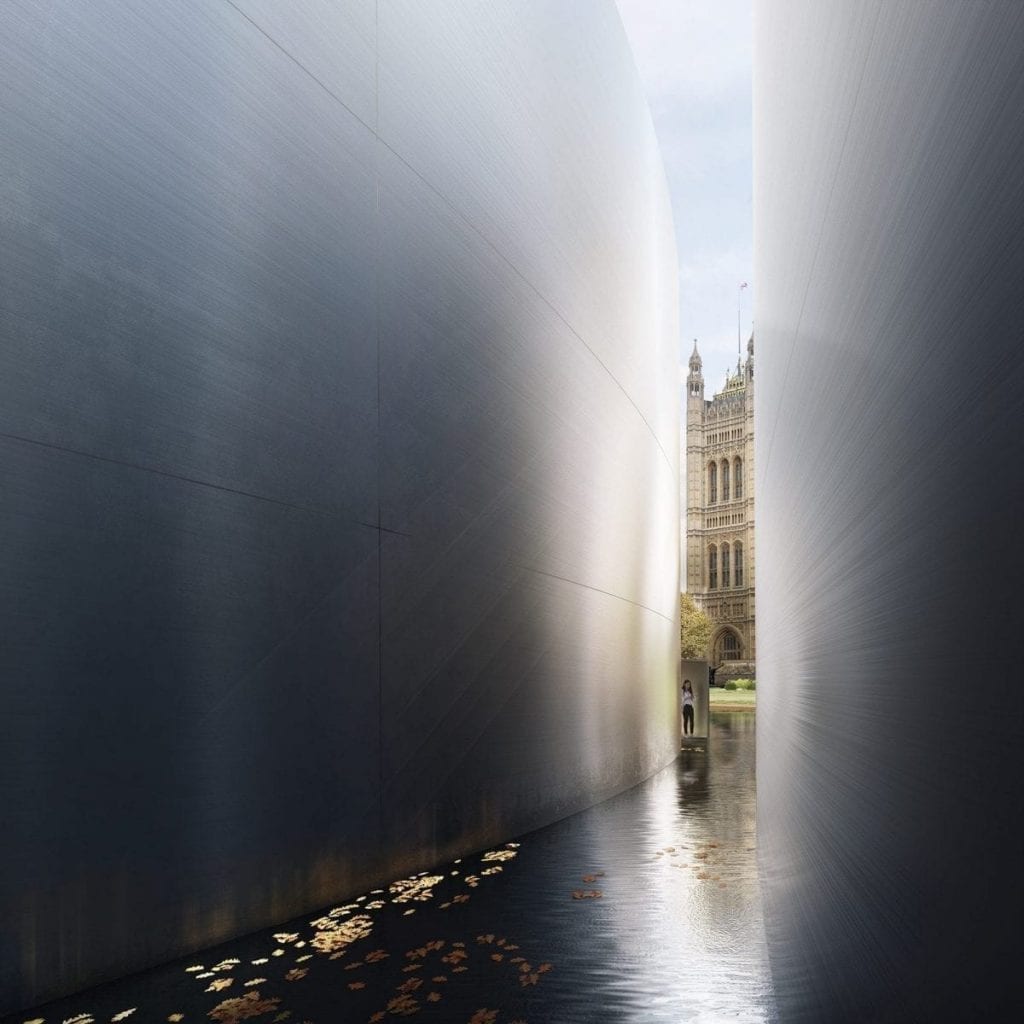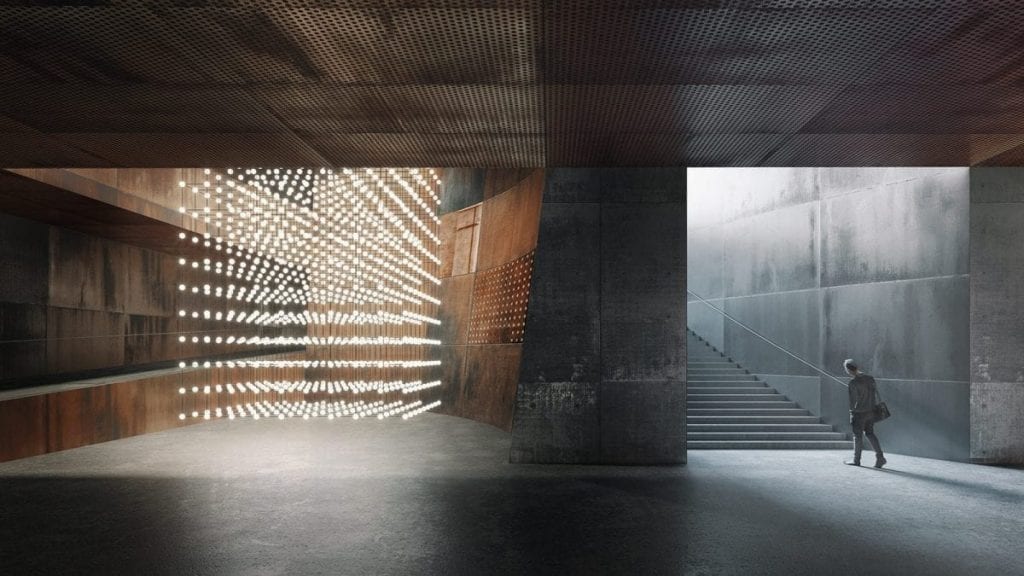 Images: © Lahdelma & Mahlamäki Architects and David Morley Architects & Malcolm Reading Consultants
If there is an example of overthinking a design, the Lahdelma & Mahlamäki and David Morley entry is probably it. The two giant parallel panels are strong, attractive features.  But one wonders at the rather confusing landscape concept and pretty distinct separation of the subterranean display area from the highly visible panels. Locating the latter at the edge of the site may have been a good idea; but the project's lack of cohesiveness certainly detracts from its stronger elements.  -Ed

Finalist
Studio Libeskind (US) and Haptic Architects
with Martha Schwartz Partners, BuroHappold,
Lord Cultural Resources, Alan Baxter, Garbers & James and James E. Young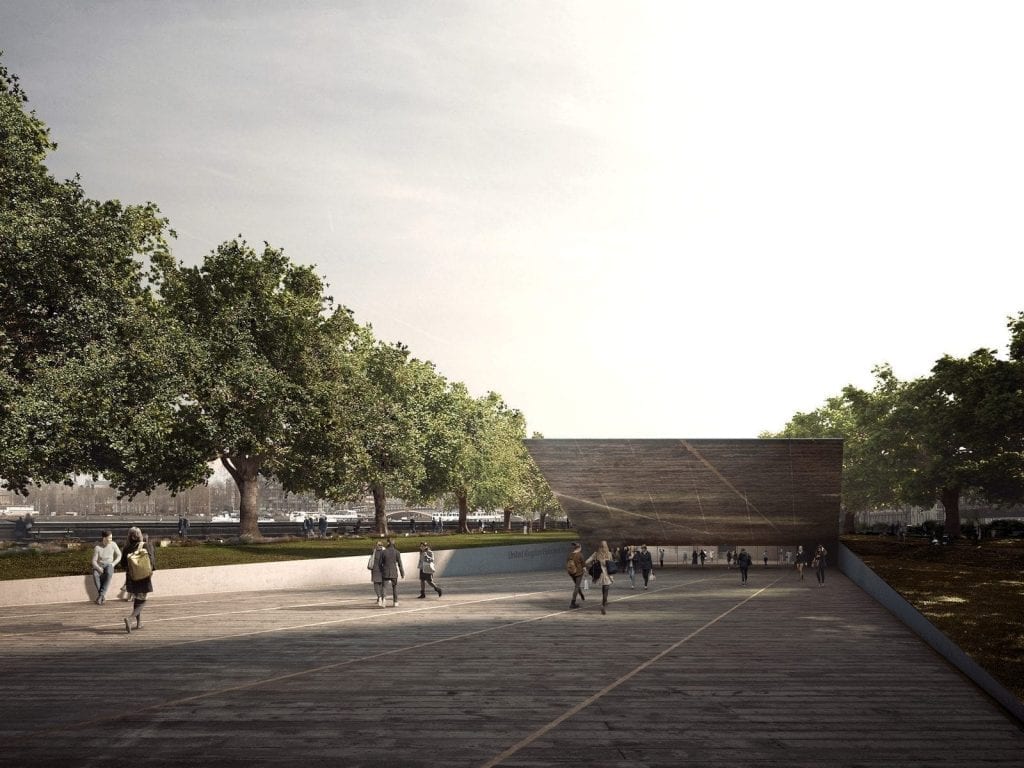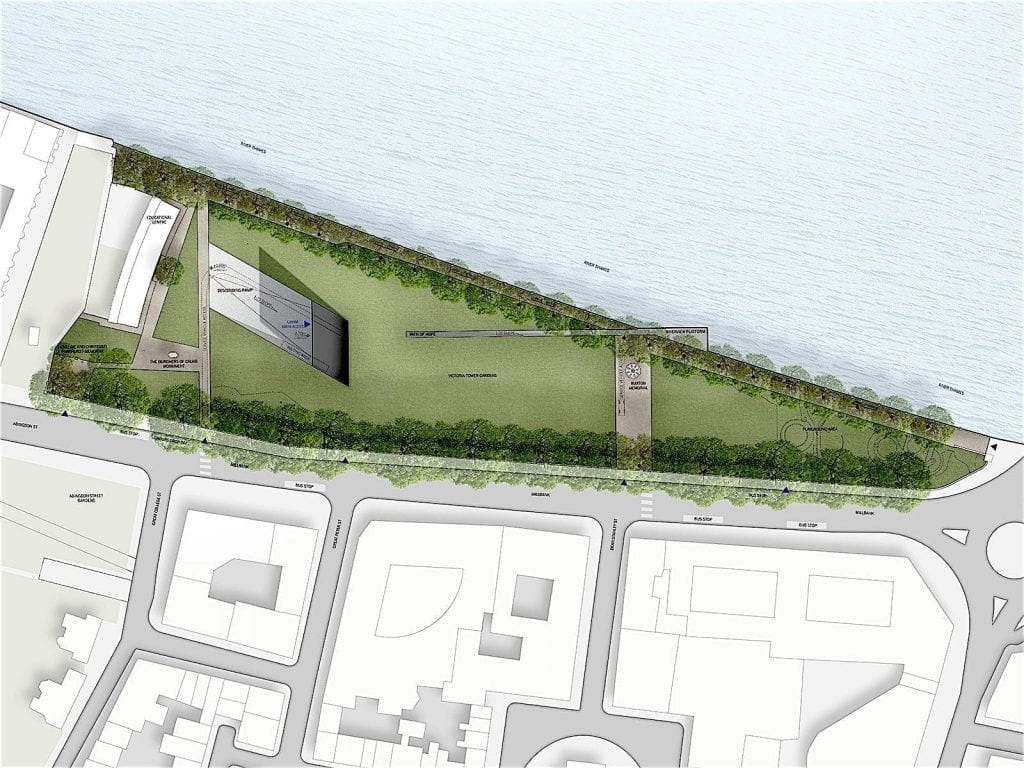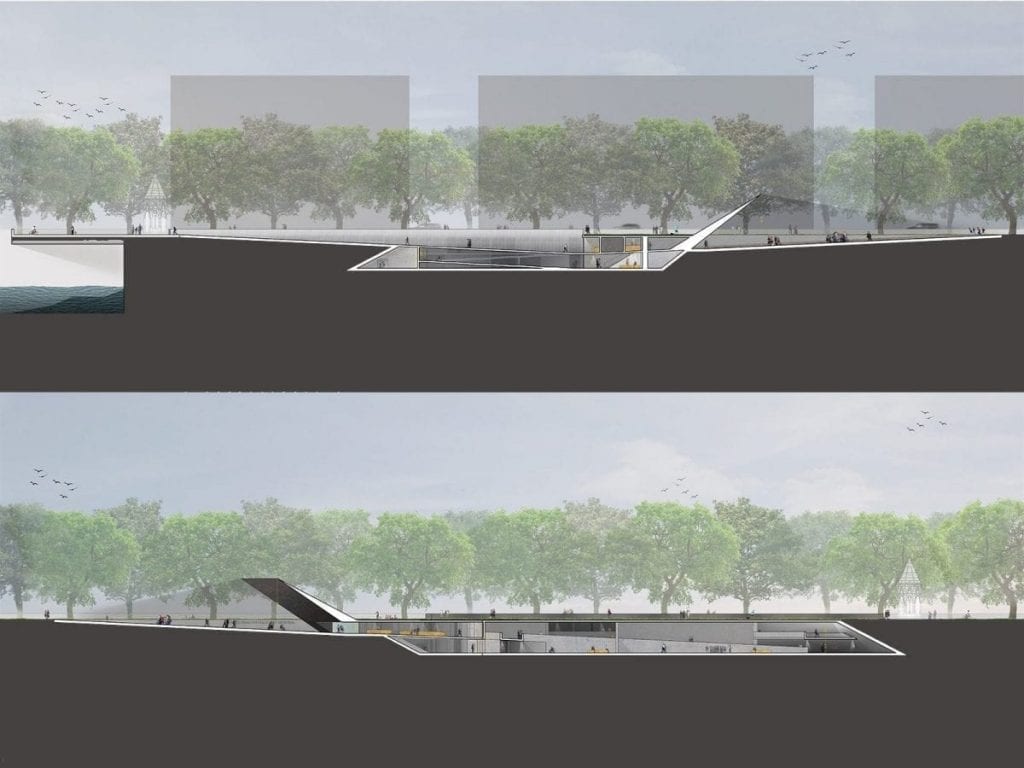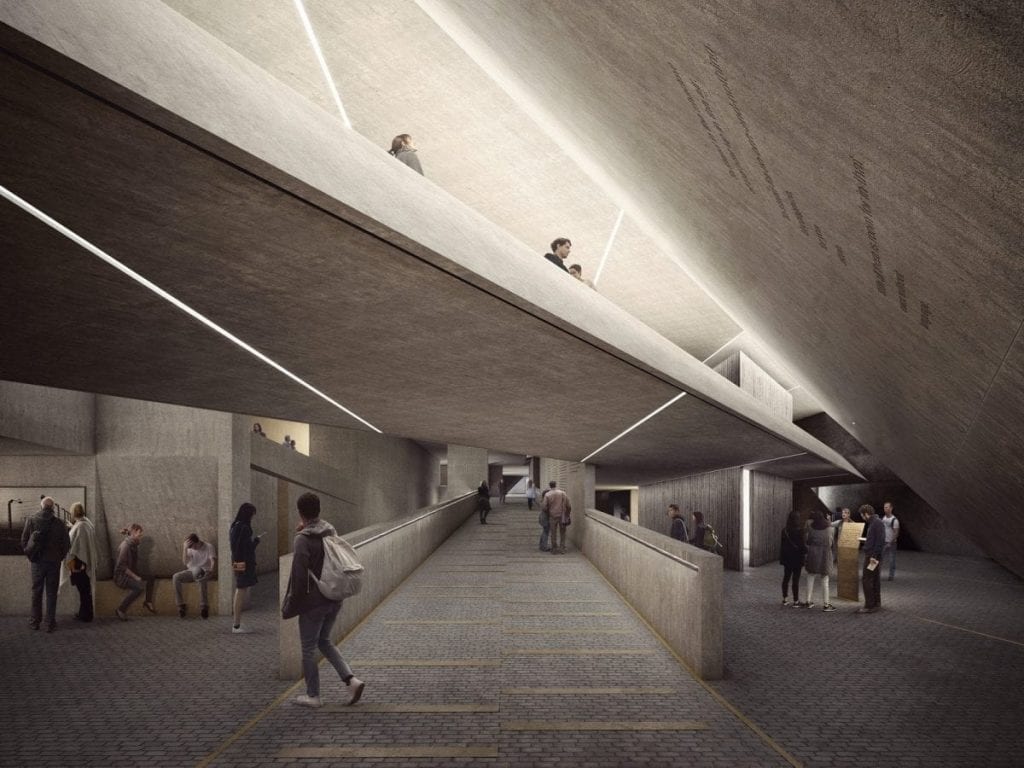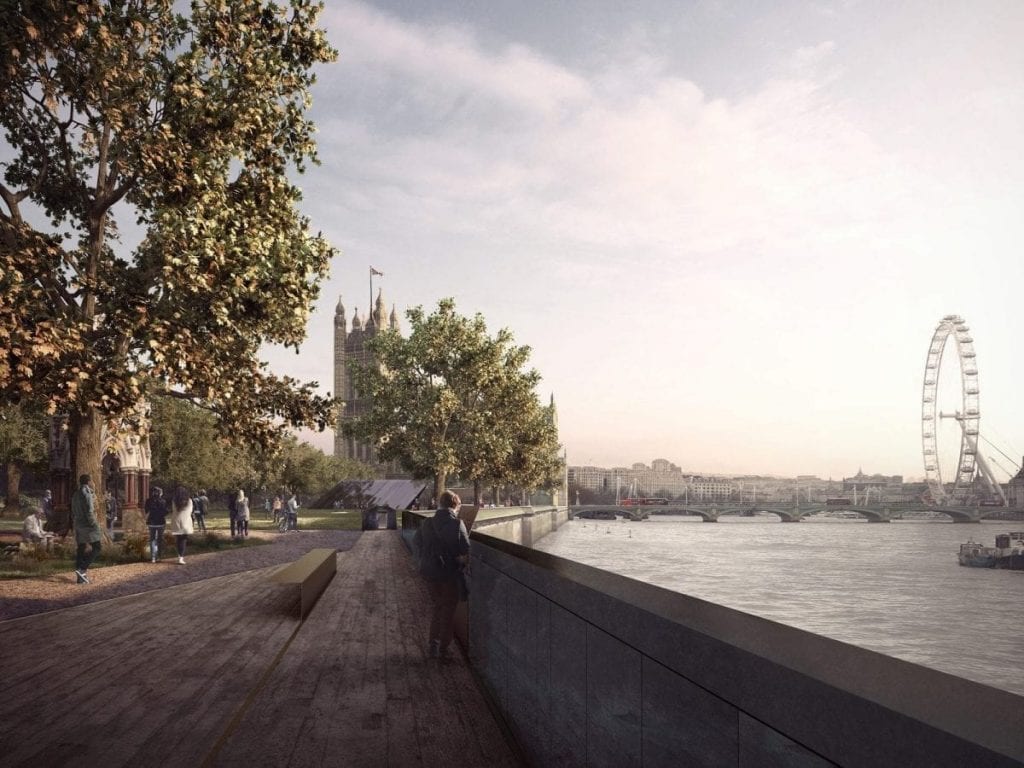 Images: © Studio Libeskind and Haptic Architects & Malcolm Reading Consultants
Studio Libeskind and Haptic Architects' main entrance to the memorial suggested a simple processional; but once inside, it was anything but that. There was that familiar zig-zag pathway, common to many Libeskind memorial projects. Although much of the memorial was underground, the path to the entrance, and a "pathway of hope" leading to river's edge, occupied a larger portion of the site than was the case with the other competitors. Libeskind may have learned a lesson from his Jewish Museum in Berlin, separating the "educational" component from the "memorial" structure, thus relieving the latter from visual overload. -Ed