©mecanoo
This competition was based on a tender process, whereby international firms were asked to collaborate with local licensed firms in Taiwan. This resulted in 17 tenders being accepted, with seven of the 17 firms participating finalists being locally-based. The ranking of the finalists was as follows:
1st Place – MAYU architects + mecanoo (Netherlands)*
2nd Place – Bio-architecture Formosana (Taiwan)
3rd Place – Kris Yao I Artech (Taiwan)
4th Place – Cosmos Architects & Interior Designers + MARC MIMRAM INGEUIERIE S.A. (France)
5th Place – J.J. Pan and Partners, Architects and Planners (Taiwan)
Honorable Mentions
Leching Chiang Architects + Sou Fujimoto Architects (Japan)
Ricky Liu & Associates (Taiwan)
O-Lab + Aedas Limited (Hong Kong branch)
*Underlined firms indicate design architecture office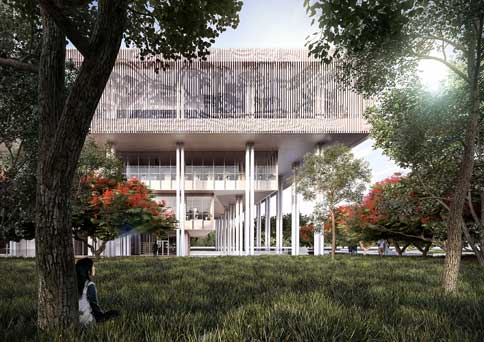 ©mecanoo
The 35,000-square-meter building is also designed to include a 13,000-square-meter extension. It is expected to complete at the end of 2018.