"World Cultural Center" – World Trade Center Innovative Masterplan – Runnerup, Ground Zero, NY, 2003
By THINK Team: Shigeru Ban, Frederic Schwartz, Ken Smith, Rafael Vinoly
COMPETITIONS: When did you know that you wanted to become an architect?
Frederic Schwartz: I grew up just a couple of towns over from Levittown. When anybody got a washing machine or refrigerator, I would scour the neighborhood for the boxes and bring them home with the help of my dad. I would make things out of them, like tunnels or big buildings. Where I grew up, they were always building houses in the neighborhood, and I was always watching this construction. When I went to Berkeley, I had my first course with Joe Escherick as my professor, who was such a great teacher. He was the only architect I knew who won both the gold Medal for Firm of the Year and the teaching award. We remained very close through the rest of my career. In fact his wife gave me his shirt when he passed away. So when I was a freshman in college, I was already sure I wanted to become an architect. It wasn't just Escherick, there were all these other great teachers, i.e., Roger Montgomery, J. B. Jackson, Richard Bender, Russ Ellis, and Marc Treib at Berkeley, and Jerzy Soltan at Harvard. This was already called the College of Environmental Design in the 60s; so you automatically approached architecture and urbanism recognizing those parameters. I agreed with their philosophy: the school was very much about the relationship of landscape to building.
COMPETITIONS: You have participated in many competitions, some entirely on your own—here I am thinking about the memorial competitions you have won more recently—and others where you were a team member. Santa Fe is an example of the latter. But early on you collaborated with Robert Venturi on two competitions here in New York City. From those, the Whitehall Ferry Terminal has been built. How do you decide with whom you may wish to collaborate?
FS: We are actually talking to some different firms about collaborating on a Toronto Waterfront urban design competition. I was asked there, how do you collaborate, why or why not, etc. Going back to Berkeley and Venturi Scott-Brown…at least at Berkeley you were taught, particularly from Escherick, Charles Moore and Donlyn Lyndon that architecture is a collaborative effort. It involves not only collaboration with other architectects, but also with landscape architects and artists. For example, Santa Fe ("Railyard Remake in Santa Fe, COMPETITIONS, Vol 12, #3) was a great collaboration where there were specifically architectural, landscape, and art components. What made that collaboration so fruitful is that we dropped all the titles: 'I'm the artist, I'm the architect, landscape architect.' When you bring in the different disciplines and different opinions, you get a much richer project, but also you are able to critique each other in a certain way. There is no set formula. Right now we are doing one in Patterson, New Jersey—The Patterson, New Jersey Masterplan—where we have two landscape architects, engineers, we have the second largest waterfall east of the Mississippi—it's an amazing place, where Edison really started electricity. That collaboration, whether the participants are young, old, or experienced, all sit at the table and throw out ideas. The masterplan projects are like that, whereas the architecture ones—we have been doing that lately in San Francisco with HCD Architecture—are slightly different.
   Real collaboration is about two different disciplines. For instance, George Hargreaves(landscape architecture) is downstairs, and we worked with him on this and on Singapore, also with Arup. Those roles are more defined. When it gets into two architects collaborating, where you have a good dialogue and respect for each other's work and trust each other, it can make the work better than if it is one person.
Singapore Harbor Master Plan, Singapore (2004) – Frederic Schwartz Architects & Hargreaves Associates
The best recent example is the difference between the "Think Team," where we were three architects, three engineers, and Ken Smith, versus Studio Libeskind. Can one person think that they have all the ability and knowledge to do not only to lay their hands on the masterplan, but do all the buildings, too? That is a complete misunderstanding of what That is a collaboration where we all made each other work better; we all respected each other; we all brought different things to the table, drew on certain philosophies that triggered the "Think" project—I brought my knowledge of New York and urbanism; Rafael brought all his brilliance. That had a certain chemistry that produced a work that would have been impossible for any one of us to do (on our own).  Chemistry, trust, criticism happened in a collaboration in 1992 with Robert Venturi, Denise Scott-Brown and Steve Izenour. We did four competitions, one after the other—the Paris Civic Center in California, the Bronx Police Academy, the Staten Island Ferry Terminal which we won, and the Toulouse (France) project.  Most competitions I do on my own; but I feel that two heads are better than one. But the masterplanning ones, and those on the other side of the world require people locally who understand the culture and the architecture. When we went to Shanghai, I got a crash course on Chinese architecture and Chinese landscape—driving me around different cities, and there is no way I could have understood Shanghai without working with somebody from Shanghai. It's impossible to come in and just wave the wand. The landscape was what influenced our entry to the World Expo—based a lot on Chinese gardens and Chinese landscape paintings, how buildings are situated in the landscape, and making it green and possibly even more dense.
Shanghai World 2010 Expo Master Plan, Shanghai, China (2004) – Frederic Schwartz Architects/Robert A.M. Stern/Southwest University of China
COMPETITIONS: In China you wonder how a traditional low-rise society can adjust to the city high-rises?
FS: In a New York Times magazine article, a feature on China mentioned that this was the largest mass migration—from rural areas to cities—which had ever taken place.
Shanghai World 2010 Expo Master Plan, Shanghai, China (2004) – Frederic Schwartz Architects/Robert A.M. Stern/Southwest University of China
COMPETITIONS: Occasionally, a program can force the designer to organize a building in a way that might not be in the best interest of the user. I'm thinking of Whitehall Ferry Terminal, where the best view of the city is from the second level, where the departing passengers entering the building end up having their backs to the view. The view is to the Statue of Liberty on one side and the Brooklyn Bridge on the other. Was there any discussion about that?

FS: For 100 years, the old terminal basically had no view within that box. Everybody who goes comes back. Going to Staten Island you go up to the second level. Coming from Staten Island to the city, then you come along the east and west entry corridors, and then you have those views—Brooklyn Bridge, Governors Island, etc. The whole idea was that the walls of the building were the city.
Staten Island Ferry Terminal, New York, NY (Competition 1993-2005), Schwartz Architects with Venturi, Scott Brown
COMPETITIONS: One of your Ground Zero schemes had everything perched on a raised platform—similar to Citroyen Parc in Paris. Did that by any chance serve as a model for that concept?
FS: That design was the most popular one by the public. They (the client) only released that information after the competition. They had hand and internet voting, and when they compiled all the results, that one turned out to be the most popular—the "Sky Park." That scheme ramped up at a slope that was ADA compatible until you were ten stories in the sky, and all the programs—commercial and cultural—went underneath. You still had this grid running through it; so it was basically doubling of space. You had 16 acres of open space, less the space for the memorial which would have worked for Michael Arad. Over time you could develop the buildings around it. The grid would remain intact, and you had elevated park space, special places where you could view the river, etc. When I lecture around the world, people really understand that.
   The best example is still the Citroyen Parc, which is also a model for the High Line here in New York. The "Sky Park" took it to an extreme. We also did one, which we didn't present, where it levitated thirty stories up—the program is like a pancake. You would come up in giant elevators. It is so high up that the land under it appears to be open. Alsop did that building in Toronto which levitates; but this one would levitate over sixteen acres.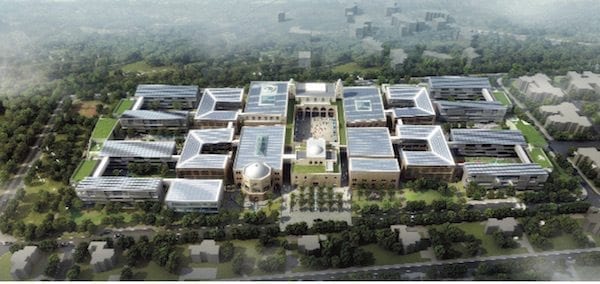 Nairobi Al Jamea Campus Competition Winning Entry (2013-
2017)
FOXFowle Architects and Frederic Schwartz Architects (New York),
Andropogon Associates Landscape Architecture

COMPETITIONS: It takes time(and money) to do a competition. Architects in large firms have controllers looking over their shoulders when it comes to deciding whether or not to do a competition. You do a lot of them. How do you decide whether or not to enter?


FS: I am asked that question quite often. I have a quick explanation: yes, you spend money to lose money. If you are watching the ticker, it's hard to do these things. I follow a strategy: if you start too early, you lose your momentum and also a lot of money. I like to think about it for a while, then do it more like a charrette. Since the turn of the century, we usually have one in the office all the time. I do them because I feel it levels the playing field with firms that have controllers. I can compete for something big against somebody like SOM in a competition. I can't compete against them in an interview process, because I'm not even going to get invited to the interview. I have gone up against SOM a few times in competitions and won, and my first job was at SOM.  I'm able to do these large projects where I otherwise would not be considered—especially in America.
   In Europe it's a different situation, where all the public projects are competitions. The first competition in New York City in 100 years was the Staten Island Ferry Terminal. The last one was McKim Meade and White's Municipal Building. I select a competition based on whether or not it is a design I usully would not have the opportunity to do. It also gives the young people in the firm a chance to work on interesting, and bigger things.
"

Empty Sky" – New Jersey September 11th Memorial, Liberty State Park, New Jersey – Competition (2004-06); Completion (2011) with Jessica Jamroz Courtesy Frederic Schwartz Architects




COMPETITIONS: Do you approach a competition like any other project in the office? How do you organize the office for a competition?


FS: It's a volunteer system, where I ask 'who wants to work on it.' We have a very international office, about fifty percent from the outside—people from China, Germany, Denmark, etc. We put different people on different projects for different reasons. The kind of people I hire know when they come here that we are always going to do competitions, and they are interested in that. It's part of the DNA of the office. You have to balance it with the work load, because it's extra work. There are a couple here who work mostly on competitions. There is Jessica Jamroz,  who is now running the New Jersey 9/11 Memorials – to be dedicated on September 11th. Both are collaborations with Arup, and it would have been impossible to do that without them.
   There is great euphoria when you win—except zero on the 9/11 competition. There was nothing to really celebrate there. When you compete, you have to be prepared to lose. Some of them are just heart-breaking because you feel that everyone didn't play by the rules, or what was the jury thinking?
Pike County (PA) Public Library Competition winner 2007 (unbuilt)
COMPETITIONS: I understand that the Westchester project was on hold because of fabrication costs. How was that resolved?


FS: It was resolved by the brilliance of the fabricators and engineers in our office. We found a company that makes high-tech airplanes and stainless steel medical equipment, i.e., MRIs. For them to do this was just like regular work. It was like this: 'Just give us the computer program, with the task of using half the the total weight of the stainless steel. When they figured out how to do that, the bids from the initial price dropped in half. By the time it is announced, the Federal Government will have announced an appropriation of half a million dollars.
"The Rising" – Westchester September 11th Memorial, Westchester, New York

COMPETITIONS: Many clients are curious as to whether or not a competition raises the quality of the project. From an architect's standpoint, does it make any difference whether or not it is open or invited?

FS: There is a big difference between an open competition and an invited competition. With a competition, I am looking at a chance to expand our horizon and rethink the problem.  One kind of disappointing one comes to mind—the San Diego Ball Park Competition. I liked the way it was set up, whereby in the interim, we met with some of the people who were making the decisions. Unfortunately, you're not always seeing the jury; so your client leads you down a certain path and says, 'That's great;' but then the jury can decide differently. We did something here that was extremely daring with Rafael Viñoly, "the wave." All the other schemes were pretty conventional. It was hard to tell one from another. I think they all played it safe for the developer.
   As for the question of whether or not a competition raises the design bar, I think that the very nature of the competition idea should open up the playing field.
"The Wave" – San Diego Ballpark Master Plan, San Diego, CA – Frederic Schwartz/Rafael Vinoly
COMPETITIONS: Are we placing too much emphasis on "signature" buildings? Should every young architect strive to be identified with a signature?


FS: I think not. It's more important to do signature architecture than have signature architects. With signature architects, you know it's that person's building, almost wherever it goes, whereas a signature building is more specific to necessity. For instance, New York City needed the Chrysler building, the Empire State building, the World Trade Center, the Brooklyn Bridge, and Central Park. The collection of all of these memories makes our city what it is. I can't really think of a signature building in Atlanta or Philadelphia. I don't equate the Empire State or Chrysler buildings with a signature architect, although I know who designed them. Signature architects inspire young people to become architects. 
   The Shanghai project might have been a signature building; but it wouldn't have been like, 'I'm a signature architect. Already the Westchester memorial is being written about as the most important architecture in Westchester. And it's not even architecture. I take great pride in what they mean. Seventy-five percent of those people (in Westchester County) don't have a grave they can visit from 9/11. They don't want to go to Ground Zero, they want something closer to home. So it acts as a de facto grave, because it is a gathering place for their loved ones. This design came more out of Escherick and Berkeley rather than Harvard, where each problem is faced anew. It's non-judgemental architecture.
Shanghai World 2010 Expo Master Plan, Shanghai, China (2004)
"Kalahari" – Harlem, New York (2004) – Frederic Schwartz Architects & GF55 Architects & Studio JTA