Philharmonic after 2020 fire 
Sponsor: Government of Moldova Ministry of Culture
Type: Open, International, RfQ
Eligibility: Registered Architects/Landscape architects
(Applicants should be able to show expertise in preservation)
Language: English
Fees: none
Timetable:
February 2023 – Submission deadline (Registration now underway)
Jury: The international jury will be made up of architects, musicians and specialists in the field of acoustics.
History:
The first information about the building of the Philharmonic dates back to 1912. The building was firstly intended as a place for theatrical and circus performances. The construction was completed in 1913. The building endured several interventions throughout the exploitation period. In the period between 1920-1930 it was also assigned the function of a cinema, exhibition and polyvalent space.
During the years 1957-1968, extensive works were carried out to rehabilitate the Philharmonic building. A new block with three levels and a partial basement was annexed to the existing block, as well as the semi-polygonal colonnade at the main entrance. The project was carried out by the architect Valentin Voițehovski within the Design Institute "Moldghiprostroi" (actual Urban project). 
(The Philharmonic has been closed since the fire in 2020. Thus, the need for a major renovation and updating of the structure(s).)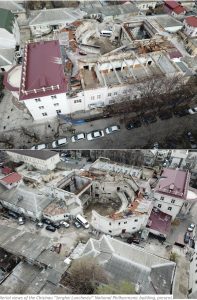 Aerial showing fire damage 
Design challenge:
The main purpose of the competition is to design the architectural concept for the building of the Chisinau "Serghei Lunchevici" National Philharmonic Hall, with a footprint of about 2500 m2, which will meet the country's need for a modern building for acoustic concerts. The concept will present an architectural design of exceptional quality, contributing to the further development of the city's image.
The design should pay great attention to using culture and the musical arts in order to stimulate a sense of shared experience. It is expected to be able to integrate the national cultural activity and attract both the public and local and international artists.
The participants are asked to develop a concept that will include parts of the existing building, taking into account the need for their rehabilitation.
The concept should:
• Create a building of exceptional value, which will be the main host of acoustic concerts, with the aim of raising public awareness towards acoustic music and musical arts in general;
• Provide a favorable environment for musical creation;
• Ensure that the access and the course of the edifice will be equal for everyone, including people with special needs.
For more information and to register:
https://rising.philharmonic.md/wp-content/uploads/2022/09/taskbook.pdf