National Library of Korea Data Preservation Center Competition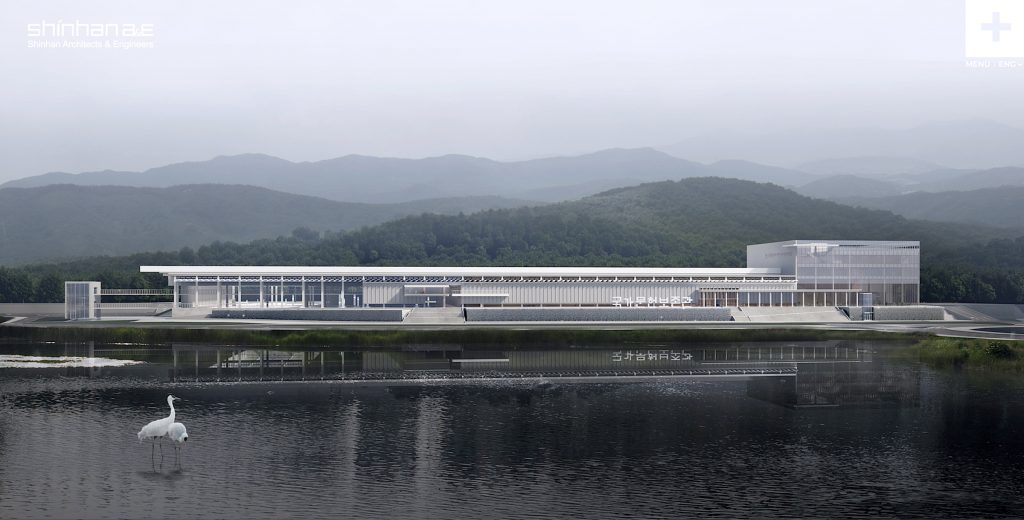 Winning entry – Timeless Corridor' of Shinhan Architects & Engineers Co., Ltd. (principal, Kim Sanghoon) and D&B architecture design group (principal, Cho Doyeun)
Retrofitting existing buildings is nothing new. The abandonment of old factory structures, especially in the northeast of the U.S., has been occurring at a rapid pace ever since those businesses ceased to be profitable in the face of foreign competition. However, in North America, retrofitting those structures has seldom been the subject of a design competition. In Korea, the recent plethora of design competitions for all types of projects has also included several for providing a new life for abandoned buildings.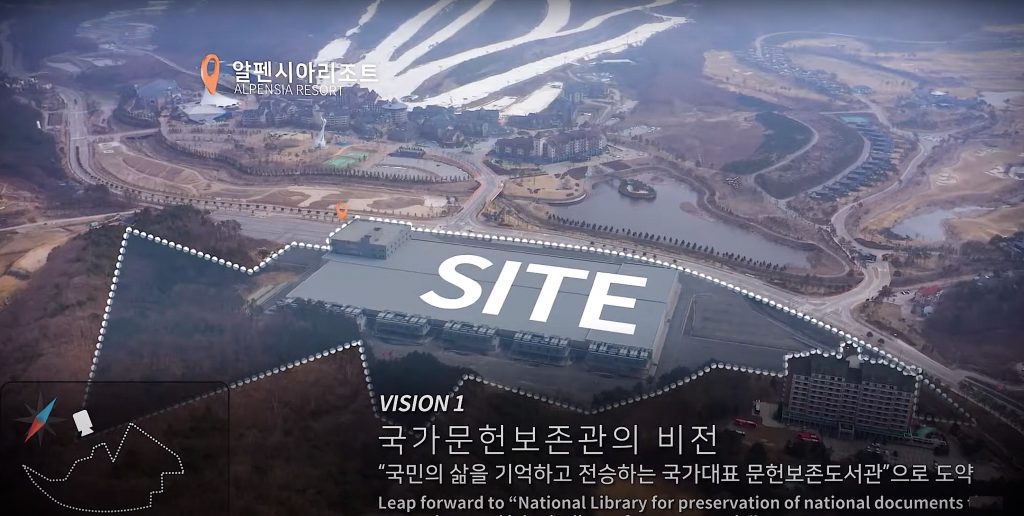 Such a solution was chosen for the expansion the Korea's National Library archives. Faced with the prospect of the lack of storage capacity, a new Data Preservation Center is to be built in Pheongchang to address this looming issue. The site is the "utilization and remodeling of the currently neglected International Broadcasting Center (IBC) of the 2018 PyeongChang Winter Olympics. and to secure long-term reliable preservation space and permanent preservation of national documents by establishing a preservation environment for various media and a high-tech restoration system. Here it should be noted that the primary part of the structure targeted for occupation is the four-story IBC section of the structure, the larger sprawling remaining part more resembling a compartmentalized warehouse-type layout.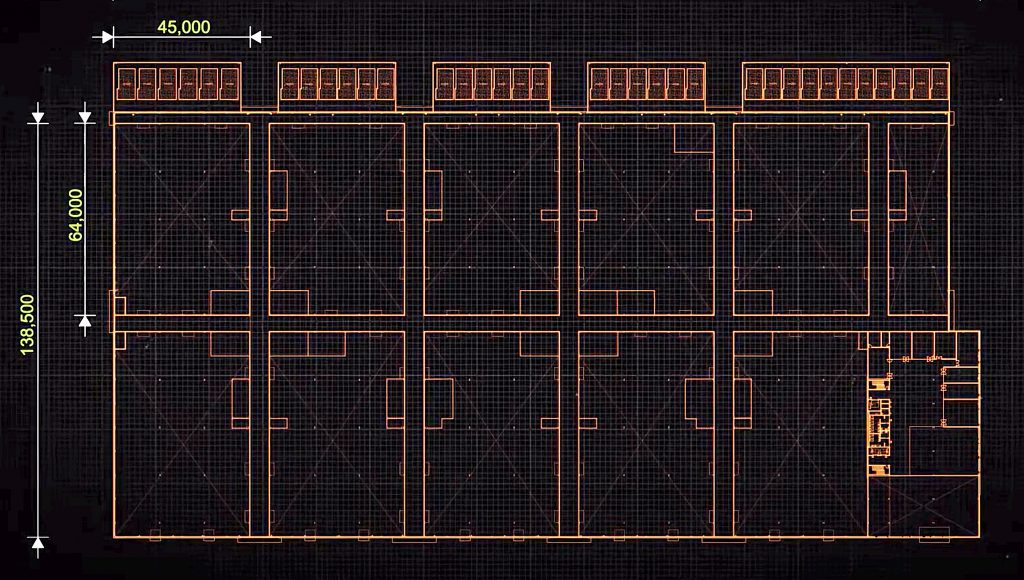 The Competition
Although this was an open, international competition, certain limitations for participation were established—most important being the requirement that all participants already have established their own architecture practice. This would have eliminated a large number of young (and older) architects, who were employed, but not a owner or principal in an established firm. And if you were not located in Korea, it would be necessary to seek a partnership with a Korean firm.
The evaluation criteria, as listed by the organizers, were as follows:
Evaluation Criteria
Items

Details

Site

• Land use and planning

• Convenience of using facilities and spaces

• Appropriate circulation of pedestrian and vehicle

• Suitable design of landscape and outdoor space

Spatial design

• Appropriate planning of preservation, management, office, and amenities

• Innovative planning of specialized spaces for reading, experience, and exhibition

• Efficient connection and utilization of indoor and outdoor spaces

• Economically feasible planning considering future expansion

Landscape and harmony with surroundings

• Harmony with surrounding natural scenery of Pyeongchang tourist area

• Excellence in the elevation design plan

• Appropriate planning of color and materials

Technical planning

• Rational approach of remodeling

• Rational and feasible construction cost for maintaining and changing the existing structure

• Excellent eco-friendly design techniques

• Appropriate planning for Zero Energy Certification and Green Building Certification

• Preservation environment maintenance by media and excellent security and disaster prevention technology
In their statement regarding their approach to the selection process, it was clear to the jury that the nature of a remodeling project results in a number of limitations, the not least of which is budget:
"The evaluation of the design proposals of Korea's first National Data Preservation Center weighed heavily on both competition entrants and the jury committee. All submissions presented their own unique design concepts that challenged the limited situation of remodeling, and it took a lot of time for evaluation. In general, they are sharing the idea of moving an archive rather than an idle facility, and we selected beautiful works focusing on the main issues of openness, functional work flow, symbolic design, and consideration of limited budget."
The jury panel members were:
• Kim Sung Min, Vice-President of EGA ACM group
• Kim Jin Wook, Professor, Seoul National University of Science and Technology
• Kim Hye Lim, CEO of Hyunshin Architects & Engineers
• Woo Eui Jung, CEO of METAA Architects & Associates
• Daniel Valle, Professor, Chung-Ang University (Reserve)
• Kim Myoung Sun, Professor, Sun Moon University
Based on the narrow criteria for evaluating the competition entries, the jury settled on the final ranking:
1st place (selected by the jurors to receive the rights to design the project from Concept through Construction)
Shinhan Architects Co., Ltd. Sang-Hoon Kim
Kyunghwan Lee DNB – Partners Architects Office
2nd place – 50M KRW (approx. $45,000)
Hyunjoon Min Architects Office MPIAT Koh Young-sun TPL Architects Co., Ltd.
3rd Place – 30M KRW (approx. $27,000)


Gihan Kim Junglim Architects & Engineers Co., Ltd.

Honorable Mention (1) – 10M KRW (approx. $9,000)


Daewon Kim, POSCO A&C Architects
Changhoon Shin Unsaeng-dong Architects Co., Ltd.

Honorable Mention (2) – 10M KRW (approx. $9,000)

Rolando Torres AIDIA STUDIO




with

Joo-Seok Ko Architects Co., Ltd.
Architectural Workshop Architects Office
Park Soo-Jeong Architectural Workshop
1st Place Winner (Timeless Corridor)
Sang-Hoon Kim, Shinhan Architects Co., Ltd.
Kyunghwan Lee DNB – Partners Architects Office

 
Addressing the role of preservation in the subject of National Data Preservation Center the most faithfully, this proposal is also regarded to be in line with the purpose of remodeling. The restrained facade design and concise circulation system are expected to work efficiently in terms of operation after construction. But the bold proposal of front water space may require an alternative due to the environmental characteristics of long winter.  -Jury Remarks
2nd Place Winner (Colonnade for Knowledge)
Hyunjoon Min Architects Office MPIAT
Koh Young-sun TPL Architects Co., Ltd.
 
This is a high-quality work that competed with the first-prize winner until the final stage. Its mature architectural philosophy for the living space environment that articulates over 200-meter long facade and draws natural light into the segmented hallway seems excellent. Whether the panel system used as exterior finishing is appropriate for a project that requires symbolism still remains an issue to be discussed.  -Jury Remarks
 
Considering the extension of Data Preservation Center by stage, this design suggests very impressive space planning by placing ASRS, interesting function of the program at the center. However, in a situation where PHASE 2 is not confirmed yet, the spatial connection lacking the access to public to staff leaves to be desired.  -Jury Remarks
Honorable mention (Horizontal Layered Archive)
Daewon Kim, POSCO A&C Architects
Changhoon Shin Unsaeng-dong Architects Co., Ltd.

 
It presents an outstanding idea of classifying and rearranging functions horizontally with in-between green spaces, and providing an eco-friendly office environment to visitors and staffs, but the limited budget remains to be considered as its creative and dynamic space proposal requires a new structural system. -Jury Remarks
 
Honorable mention (Pyeongchang Knowledge Hub)


Rolando Torres AIDIA STUDIO




with

Joo-Seok Ko Architects Co., Ltd.
Architectural Workshop Architects Office
Park Soo-Jeong Architectural Workshop




 
This attractive proposal suggests an architectural solution that harmonizes with nature. The circulation of the public that flows flexibly around the main entrance of the lower floor creates a special sense of space with the gently curved exterior wall. But the functionality of library space and monotonous front space was disappointing

 



Commentaries on the International Competition for National Library of Korea Data Preservation Center, Pyeongchang




Chairman of the Jury – Kim, Jin-wook

 

Editors note: One wonders if the jury may have erroneously guessed that the above entry by AIDIA Studio actually was the work of the Zaha Hadid firm. Stylistically, this could well have been the case
Unless otherwise noted, all images: Copyright 2021. nlpc-compe.org all rights reserved
Official website: