Blending Technology with Aesthetics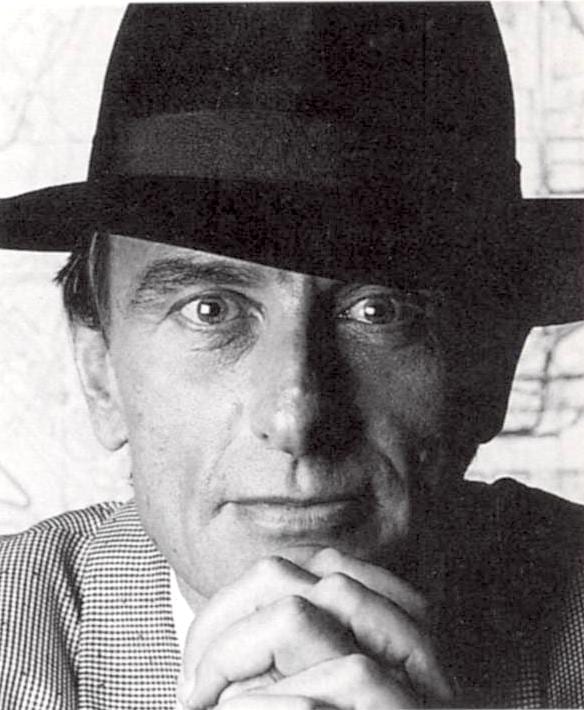 On May 8th of this year, the world lost one of its foremost architects in Helmut Jahn, 81, who died in St. Charles, a suburb of Chicago, his adopted home in America. Born and educated in Germany, he received his first degree in architecture from the Technical University in Munich. After spending two years at a local firm, he arrived in Chicago in 1966 to pursue a graduate degree at Mies van der Rohe's architecture program at the Illinois Institute of Technology (hereafter IIT). Two of his most important mentors there were Myron Goldsmith and Fazlur Kahn. Though certainly influenced during his time at IIT by their modernist attitude toward architecture, one cannot discount his years of study in Munich, which saw a run-up to the design of Munich's Olympic Games site, resulting in a novel tent-like design from a competition won by Günther Behnisch, with a subsequent assist from later Pritzker Prize winner, Frei Otto.
   After IIT, Jahn immediately went to work at C.F. Murphy & Associates in Chicago, which had just completed the Richard J. Daley Center in downtown Chicago, a structure notable for its Cor-Ten steel façade. In 1976, Jahn, together with C.F. Murphy colleague, Jim Goettsch, won the Minnesota II design competition for the Minnesota Capital Government and History Center. Although never built, as an important competition it brought national recognition to both architects. With his stature as a lead designer in the firm, Jahn became Principal, President, and CEO of C.F. Murphy in 1981.
   During his interview with COMPETITIONS in February 1994, Helmut spoke about numerous competitions he had participated in. Aside from the firms many successes in competitions, especially in Germany, there were disappointments along the way. Commenting on the Harold Washington Library competition, he stated, "The client asked for a forward-looking building and got just the opposite." Still, he suggested that had he won, "I would be spending most of my time in court."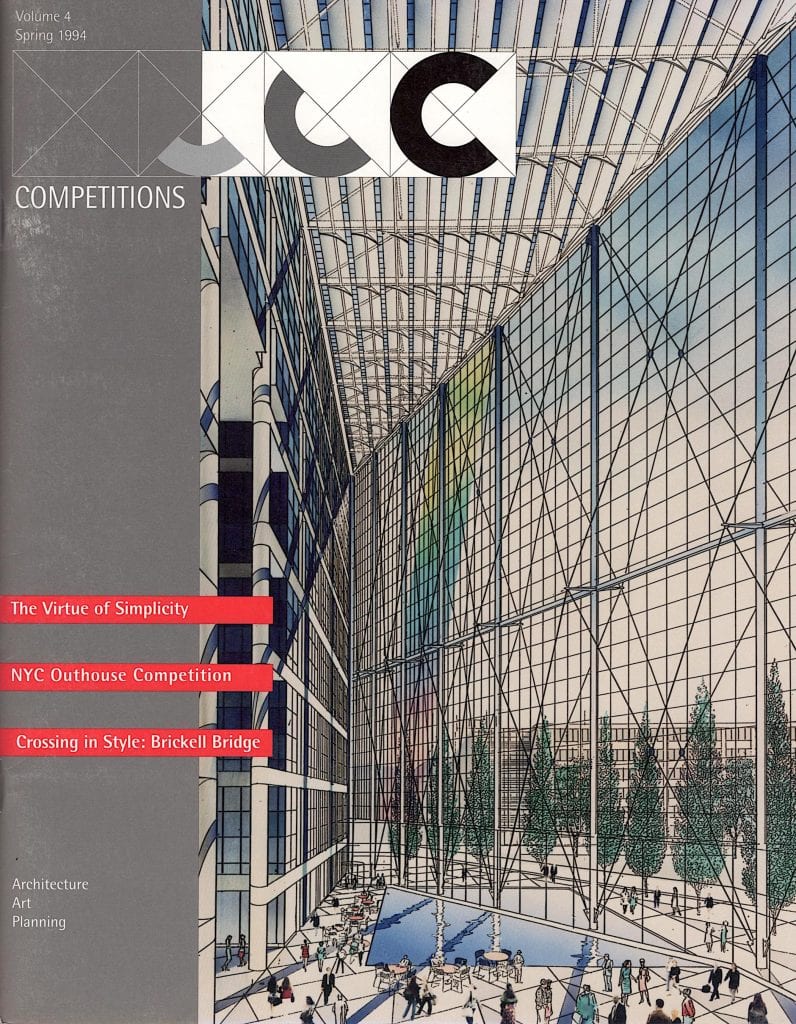 Strahlauer Platz (Berlin) winning competition entry (1993)
   Many have experienced Jahn's projects firsthand, whether it was in an airport terminal in Chicago or Thailand, passing through Chicago's James R. Thompson Center to catch a ride on the L, or passing the time in a restaurant in Berlin's Sony Center. The latter, the result of a competition where he prevailed over five other high-profile architects, has always been one of my favorite destinations when on a visit to Germany's capital. There one can enjoy not only the ambience created by the giant open atrium, but admire how he solved the pedestrian-access issue to the interior with its multiple openings which served as an invitation to those curious pedestrians on the perimeter.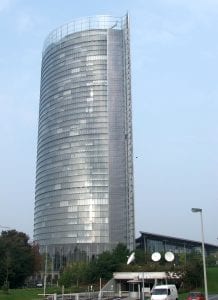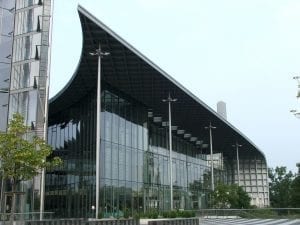 Deutsche Post Tower, Bonn, Germany  Photos: Stanley Collyer
   Another favorite has been his  Deutsche Post Tower in Bonn, Germany (above). Certainly an exception to the rule in this low-rise city, and anchoring one end of the city's downtown thoroughfare, it makes a commanding, but friendly statement, for it does not present a sole, lonely object to the naked eye, but an attraction to view at close range. What makes all this possible is the addition of a Corbu-like building nestled at its side, containing a cafeteria and meeting rooms. Here Jahn has managed to capture the essence of place, both in scale and the aesthetic.
Helmut Jahn's success was also due to his choice of many of those talented experts who collaborated with him. One of the most important was Werner Sobek, possibly Germany's premier structural engineer, and one who was there to guide those advances in technology, so important in the realization of several of Jahn's most challenging projects.
We can only hope for more Helmut Jahns in the future, not only to explore the limits of what technology can do for us; but at the same time lend their designs a sense of the spiritual.
Sony Center, Berlin
Winning competition entry (1992)
Completion (2000)

Sony Center Competition model (1992)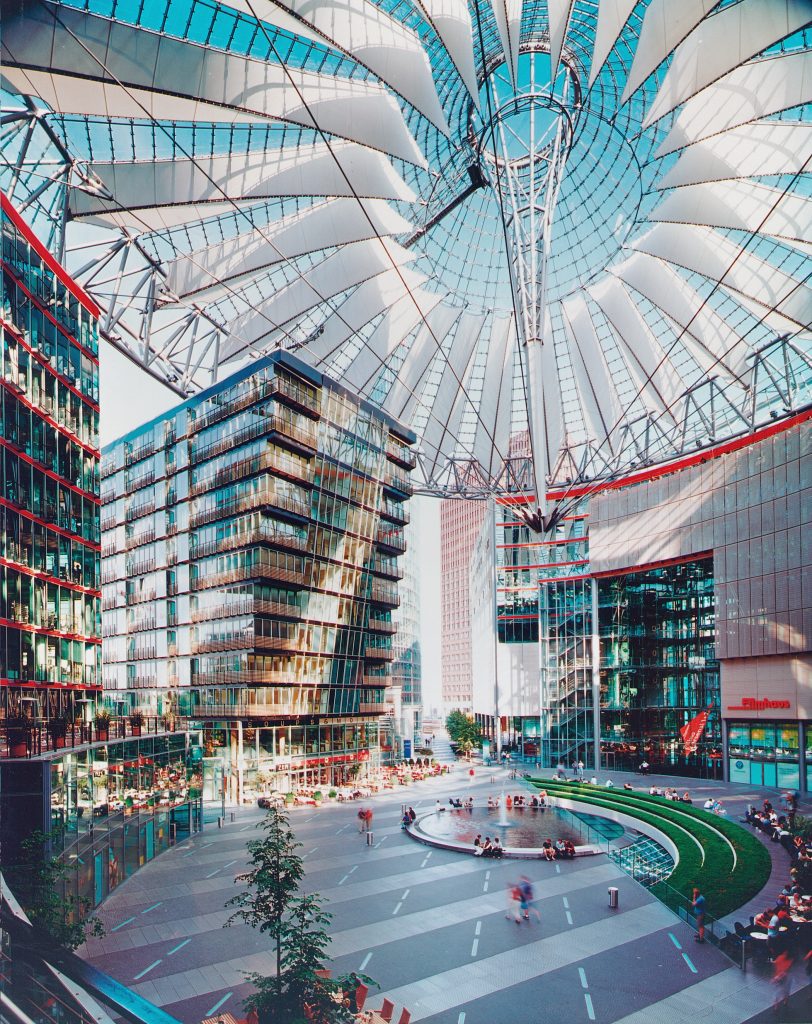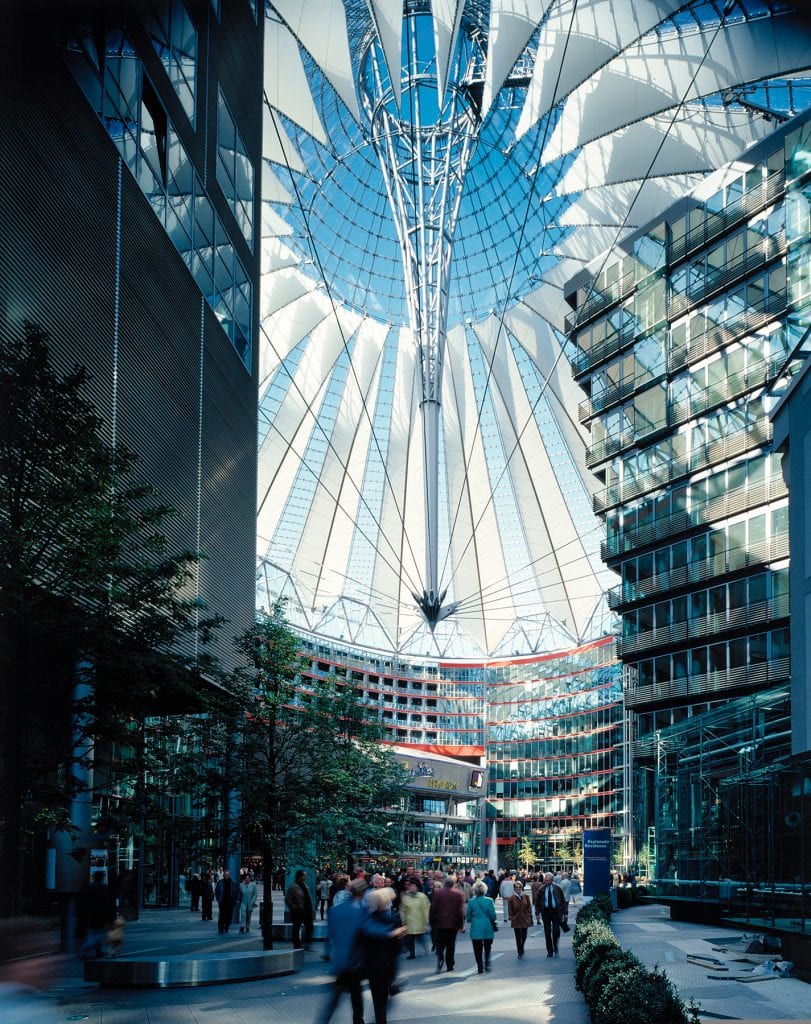 View to interior from one of the several entrances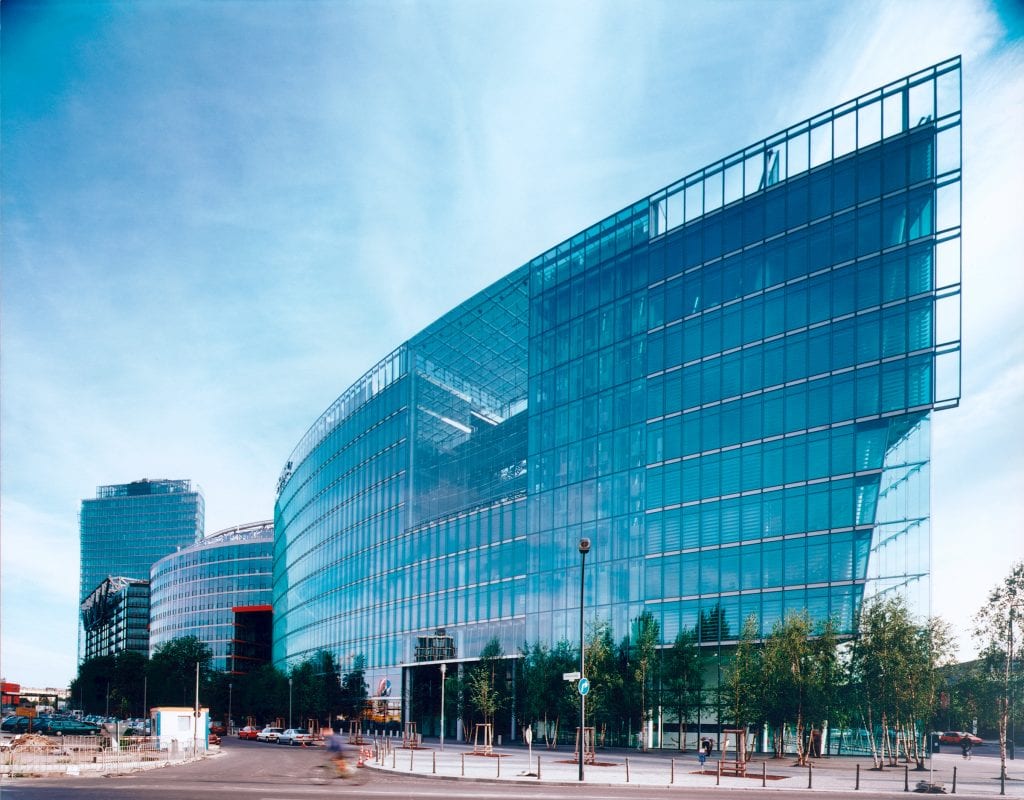 View showing four of the seven buildings of the Center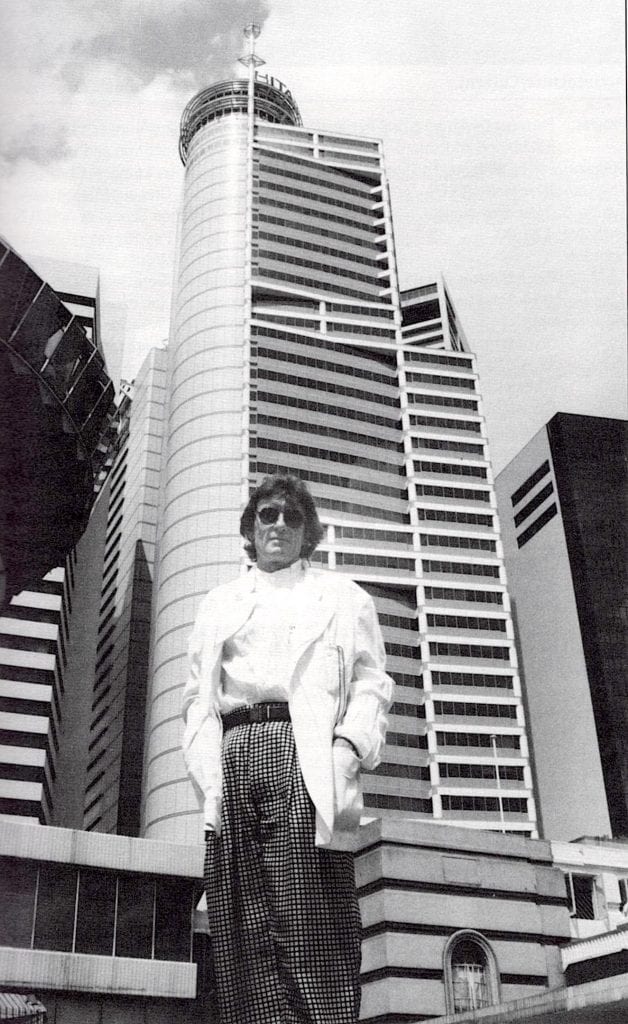 Helmut Jahn in front of Hitachi Building in Singapore (above)
Unless otherwise noted, all images courtesy Helmut Jahn