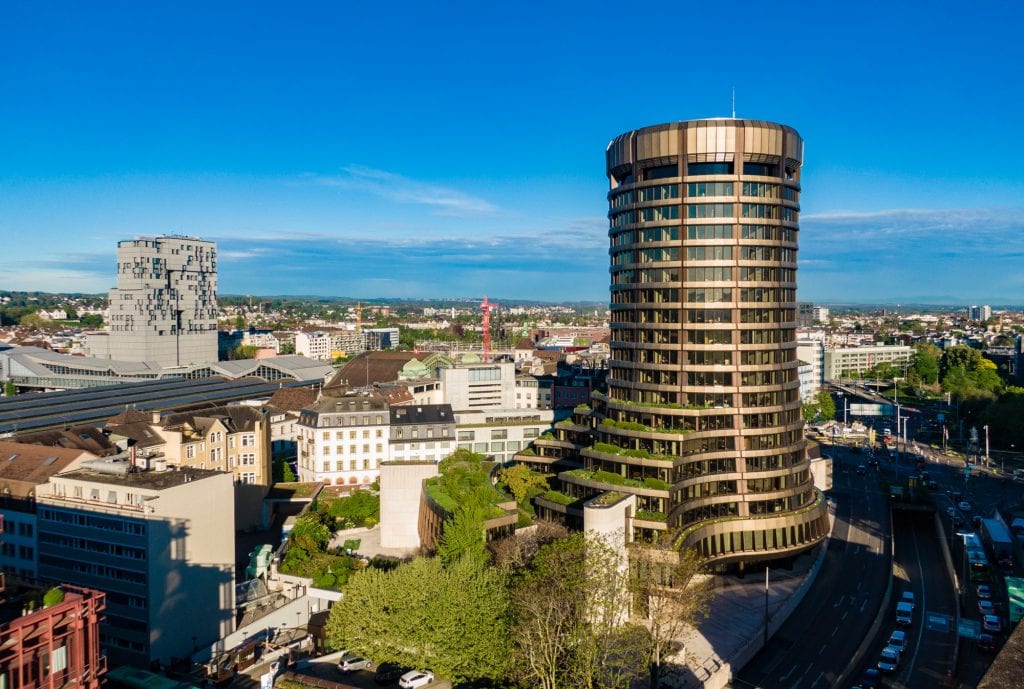 Aerial view of BIS site
Client: Bank for International Settlements (BIS)
Location: Basel, Switzerland
Type: International, Invited with RfQ
Eligibility: Foreign and domestic architecture firms
Language: English
Fees: None
Timetable:
21 June 2021 – Competition launch
26 July 2021 – Deadline for Questions
6 August 2021 – Prequalification registration deadline
14 September 2021 – Notice of results of prequalification
18/19 January 2022 – Intermediate presentation
24/25 May 2022 – Final presentation
July 2022 – Announcement of results
Awards:
80,000 CHF for each participant who submitted a valid project study and made all presentations
Jury:
• Sacha Menz (chairperson) – architect based in Zurich and professor at ETH Zurich
(Swiss Federal Institute of Technology)
Beat Aeberhard – Head of Urban Development and Architecture of the Canton of Basel-Stadt

Christophe Girot – landscape architect based in Zurich and professor at ETH Zurich

Louisa Hutton – architect based in Berlin and former lecturer/visiting professor at Architectural Association in London and Harvard Graduate School of Design in Cambridge, Massachusetts

Vittorio Lampugnani – architect based in Milan and professor emeritus at ETH Zurich

Débora Mesa Molina – architect based in Madrid and Boston and lecturer at the School of Architecture of the Georgia Institute of Technology in Atlanta
Design Challenge:
The Bank for International Settlements, situated in the heart of Basel and in the centre of Europe, acts as a regular forum for meetings of its constituency of central bankers, financial regulators and supervisory authorities. Over the last decades, the BIS has extended its presence in Basel as its activities have grown. This expansion has been accommodated over the last decades through the acquisition of premises in close proximity to the Tower.
   The current facilities are concentrated in two major locations in Basel, the Tower site and the site of the Botta building. With the exception of the Tower building, the buildings on the Tower site are aging and inefficient or cannot be used at all, requiring the Bank to rebuild at some stage. Therefore, to ensure sufficient flexibility to meet demands over the coming decades, the Bank is looking to modernise its current facilities to support new ways of working and bring all its Basel-based staff into one location to foster collaboration.
The project study will consider two different phases with the main focus on the first stage in the development of the future building extension, the "New Development". The BIS envisages a possible further building extension at a later stage, the "Second-stage Development".
   The masterplan, which was approved in 2015, enables the BIS to realize on the site around and including the existing Tower building an overall of 68,000 m² gross floor area (BGF) above ground in order to consolidate the entire BIS staff from all facilities in Basel in one place.
   Within both the constraints regarding the extension of the facilities and the implementation of the new masterplan in two stages, the BIS has initiated this project study in order to seek the most suitable project for the future home of the BIS in Basel.
Documents download link:
www.bis-campus.org 
Contact person:
new.development@bis.org