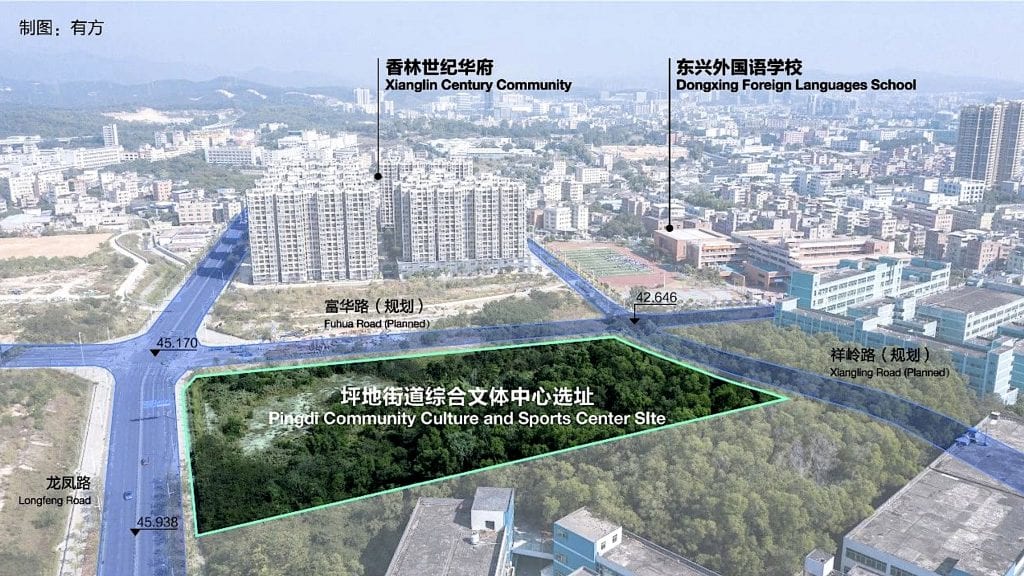 Sponsor: City of Shenzhen
Type: International, RfQ, two-stage
Eligibility: International consortiums must include a Chinese co-designer on their team
Languages: English and Chinese
Fee: none
Process:
Sponsor will identify seven (7) teams from the RfQ process. After the design competition phase, three of the teams will be shortlisted for final presentations.
Compensation:
Winner – Contract for the project
2nd Places (2) – RMB500,000 (approx. US$76,000)
4th & 5th places – RMB200,000 each (approx. US$30,000)
6th & 7th places – RMB100,000 each (approx. US$15,000)
Design Challenge:
Pingdi Community Culture and Sports Center, located close to the International Low Carbon City, is a comprehensive culture and sports center in the district and an important supporting cultural project of International Low Carbon City. The project will be mainly operated for public benefits as free facilities. After completion, it will provide necessary places for activities such as cultural events, reading, artistic performances, sports competitions, fitness and so on. The architectural design shall be people-oriented, focus on practicality, comfort, ecology, authenticity and rationality, as well as building a symbolic public building image in the neighborhood.
Major programming can be divided into cultural center, library, art center (including theatre), sports center (including games hall, training hall and National Physical Fitness Monitoring Center), and is equipped with management and supporting facilities (sports shops, convenience stores, restaurants, etc.), underground garage, as well as overhead space and outdoor sports fields.
Competition website: