Design the Future of Fly Ranch
Commentary

For anyone who recalls the Black Mountain project in North Carolina from the late 1930s and mid-1940s, the Lagi 2020 Fly Ranch project in many respects is almost a carbon copy of that famous progressive initiative. Besides Walter Gropius, the Black Mountain project, which focused on the arts, had its close connection to the German Bauhaus. Besides Gropius and Marcel Breuer, who drew up plans for the construction of new buildings there (never built), Bauhaus artists such as Josef and Anni Albers and Xanti Schawinsky were teaching there. As a result, the social content of the Black Mountain project lent more than local prominence to the project.
The Lagi 2020 Fly Ranch project is a serious of competitions sponsored with the intent of raising public awareness about the environment and measures to preserve it, focusing on demonstration projects that deal in large part with energy regeneration. Because of the importance placed on the role of art in sending a strong message as to how this can be accomplished, the Lagi project in this sense does bear a resemblance to Black Mountain. Unfortunately, WWII interrupted fundraising for the construction of buildings by Gropius and Breuer, thus ending any high-profile outcome for the college. It will be interesting to see how the Fly Ranch project progresses, although located in a much less inviting environment than the location of the Black Mountain program in the mountains of North Carolina near Asheville.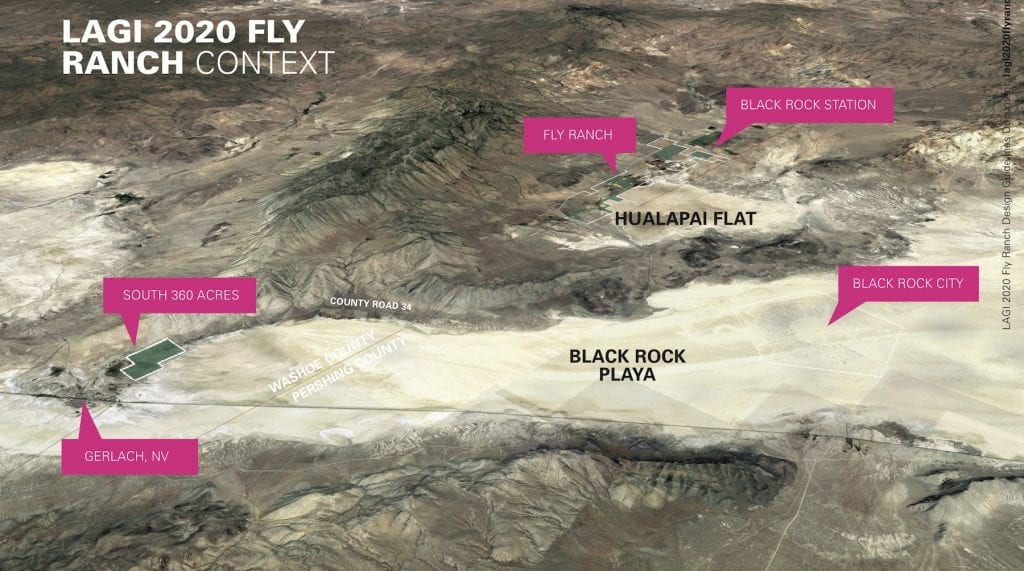 View of the Lagi 2020 site ©Lagi 2020
Sponsors: Land Art Generator initiative/Burning Man Project

Type: open, one-stage

Location: Black Rock, Nevada

Fee: none

Language: English

Timeline: 

31 October 2020 – Design submissions deadline 

Awards: $150,000 set aside as stipends for implementation of 10 winning designs

History

Black Rock City is the oldest and largest Burning Man gathering in the world. Each August, Black Rock City is briefly home to 70,000 people in northern Nevada gathering to celebrate Burning Man. The gathering has been built in roughly the same spot every year but one since 1990. In 1997, Black Rock City moved to Fly Ranch, a 3,800 acre property just north of the normal event site.
For twenty years after that event, people imagined building a permanent home for Burning Man's temporary community at Fly Ranch. In 2016, Burning Man Project—the non-profit that organizes the city—became the steward of Fly Ranch.
As is, Fly Ranch is an agricultural site where the only residents are 150 cows. Over the past few years, passionate people have organized nature walks, hosted small camping trips, built art, and tested temporary infrastructure. To scale the site, more infrastructure will be needed. Everyone could bring generators, bottled water, prepared food, tents, and dispose of our waste off-site. This is how most gatherings occur. But there is a different approach, where people live in service to nature and give more to the land than they take from it.
The Land Art Generator Initiative's design challenge, LAGI 2020 Fly Ranch, aims to move Fly Ranch in that type of regenerative direction. The project invites people to propose and build infrastructure at Fly Ranch while supporting the goals in Burning Man's environmental roadmap
Selection criteria:

• Adherence to the Design Brief;
• The integration of the work into the surrounding environment and landscape;
• The sensitivity of the work to the environment, and to local, and regional ecosystems;
• The utility of the support system(s) for Fly Ranch provided by the work (energy, water, shelter, food, and/or zero-waste). Please note, you do not need to tackle all five systems with your design;
• The way in which the work addresses visitors to Fly Ranch;
• The embodied energy required to construct the work;
• The originality and social relevance of the concept.
For more information, and to enter:
 landartgenerator.org/lagi2020/LAGI2020-DesignGuidelines.pdf