The North West Arkansas Housing Competitions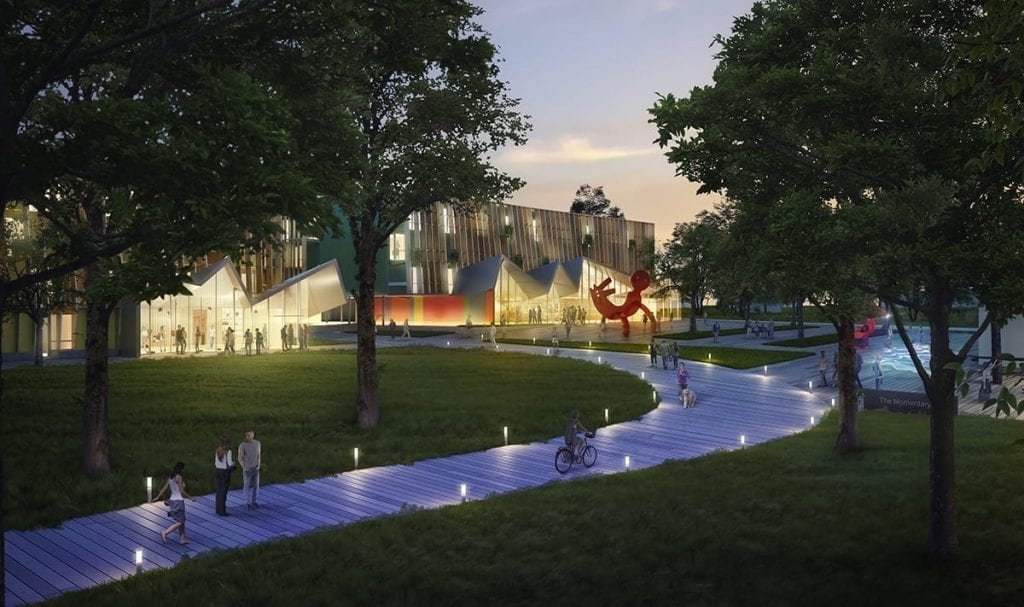 Site 2 Winner: ©Kevin Daly Architects
Focusing on the lack of affordable housing in the region for residents and newcomers at all levels of income, the Fay Jones School of Architecture and Design at the University of Arkansas launched the Housing Northwest Arkansas initiative. Intended to be much more than a theoretical exercise, it began with an advanced design studio and a regional symposium and culminated with a design competition for five sites in neighboring Bentonville. The entire program was supported by a $250,000 grant from the Walton Family Foundation, whereby $100,000 of the grant was earmarked for prizes and compensation for the 25 firms that participated in the competition.
The competition was invited, with invitations sent out to 100 firms that had shown some level of proficiency in the housing sector. Of the 25 selected to compete, five each were assigned to the different sites, with a winner at each of the sites receiving a $10,000 award. According to the organizers, the selection for each site was based on the following system: "Competitors were divided into 5 groups so that each group included a similar geographic representation. For example, we had 5 international firms, so each was assigned to a separate group. Each of the 5 groups had a similar representation of competitors from the east coast, west coast, and interior states, and one international competitor. Then each group was randomly assigned to a site."
With the exception of one site, all of the sites were contiguous when expansion was included. The linear Third Street site was bisected by a through street, indicating an entirely different approach to the design challenge from the other four sites.
Since the zoning codes for all downtown Bentonville were pretty restrictive, the guidelines, including height, ware relaxed considerably. As always in such competitions, cost was to be a factor, and off-site production of pre-cast panels, etc. was always a safe bet. Creativity was expected, and monotony frowned upon.
The challenge of organizing a competition of this magnitude, which included 25 teams for five different sites, fell to the Chicago-based consulting firm of Jones/Kroloff. With wide-ranging experience in the administration of competitions on municipal, private and the government levels, the firm was a logical choice to carry out the administration of such an unusual task.
The competition jury included several household names:
• Anne Fougeron FAIA, San Francisco, (Jury Chair)
• Jeanne Gang FAIA, Studio Gang, Chicago
• Marlon Blackwell FAIA, Fayetteville
• Brenda Anderson, Northwest Arkansas Downtown Revitalization Fund
• The Honorable Shaun Donovan, Former U.S. Secretary of Housing and Urban Development
The design competition winners were:
• Digsau, Philadelphia, Pennsylvania
• Kevin Daly Architects, Los Angeles
• 5468796 Architecture, Winnipeg, Canada
• Merge Architects Inc., Boston.
Works Progress Architecture of Portland, Oregon, received an overall commendation from the jury. PAU Studio of New York City received a jury commendation for their urban design approach to their particular site, while Bucholz McEvoy Architects of Dublin, Ireland, received a jury commendation for architecture and originality, in particular for their unit planning.
Site 1 Winner
Digsau, Philadelphia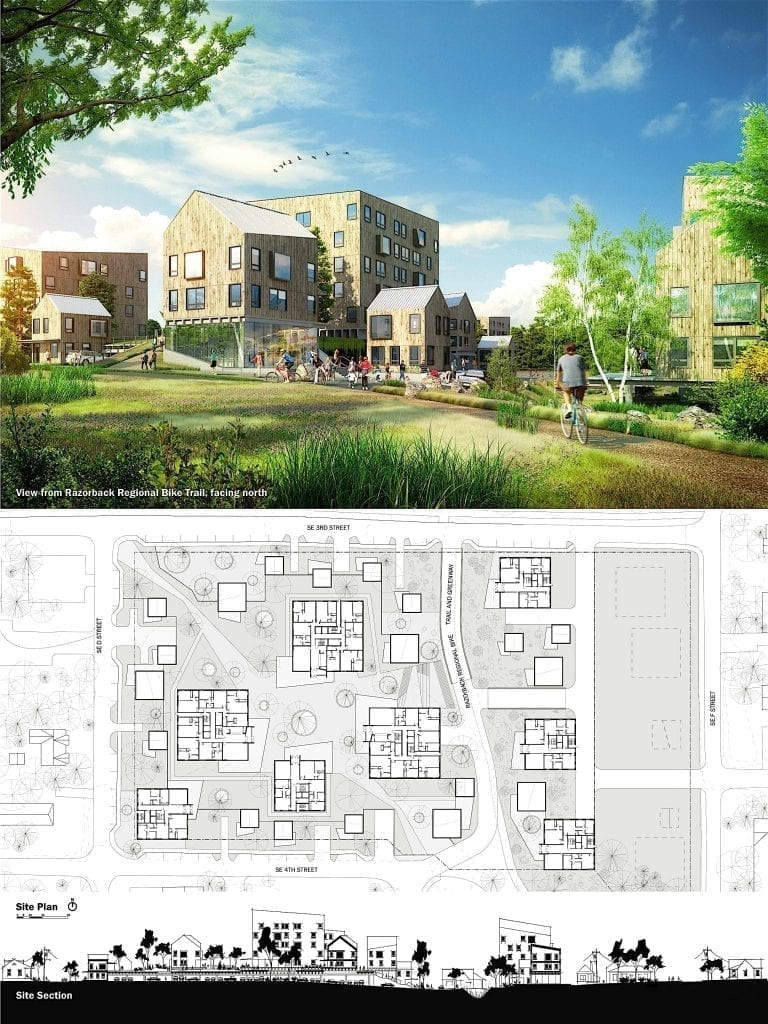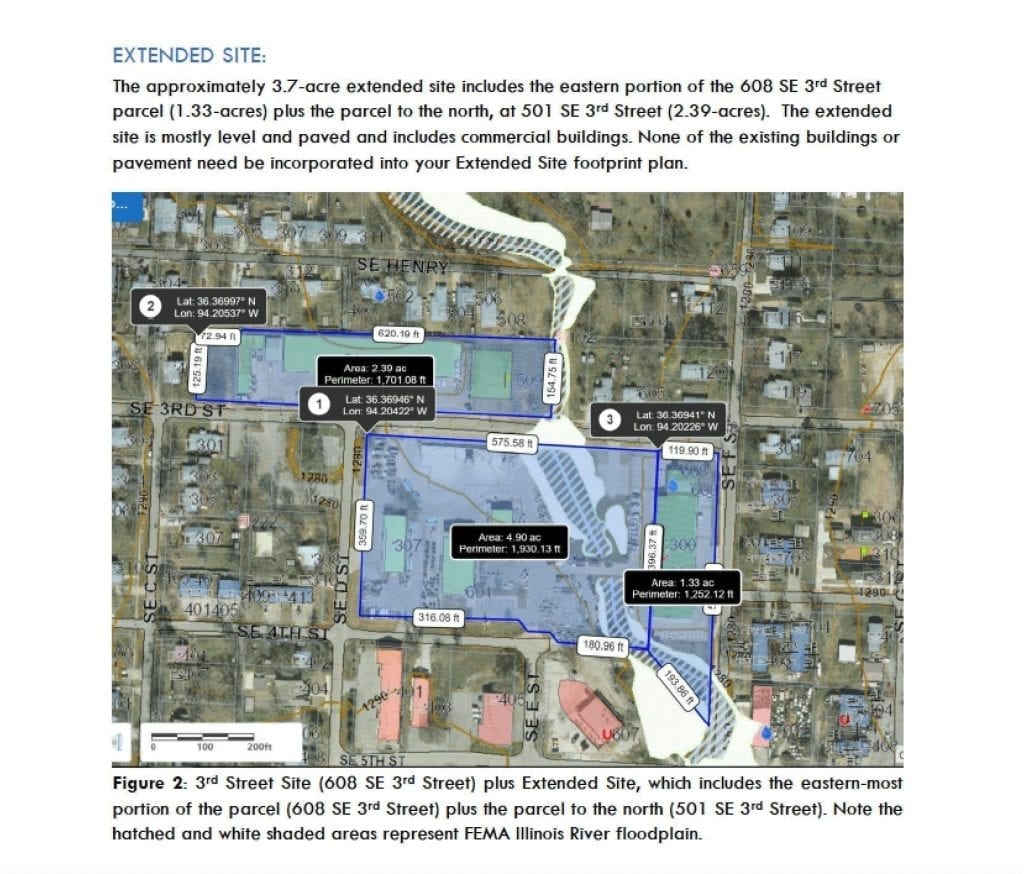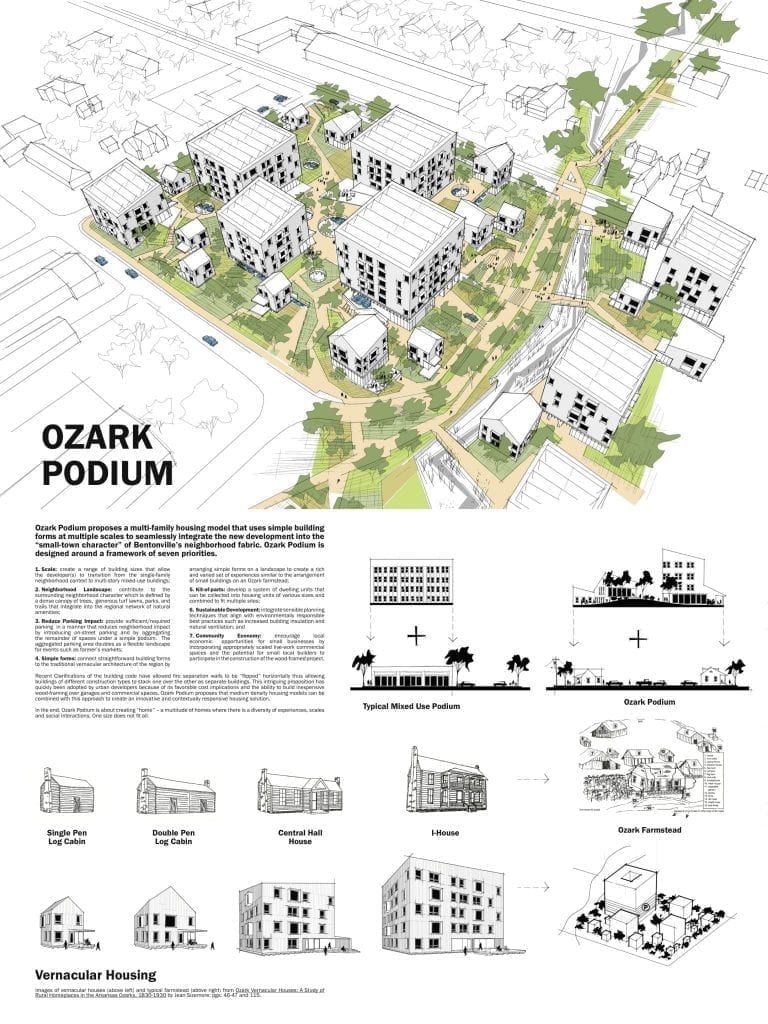 The Digsau entry could be a reference back to Berlin's Hansa Quarter housing project, where a site with higher-rise buildings was interspersed with detached, individual homes—although the smaller structures in Berlin were usually located at the edge. In contrast to the German model, the individual units had pitched roofs, which, at least in the renderings, appeared somewhat awkward from a pedestrian's perspective and would appear to minimize the impact of the highrise structures. The spatial organization of the buildings could have led one to believe that the smaller units were almost dropped into the site at random. On the other hand, the axonometric perspective of the site apparently managed to create enough of a satisfactory spatial composition for the jury to rule in their favor.  -Ed

Of the other four proposals in that group, the Norwegian entry by Janmund-Vigsnaes Arkitekter in its quiet way looked to be very Scandinavian, with its balconies and a centrally located bosque with pathways for strolling. el dorado's very linear structures, although obviously very functional, had that big-city, urban-housing look, probably not really that appropriate for a smaller city like Bentonville. -Ed
Site 2 Winner
Kevin Daly Architects, Los Angeles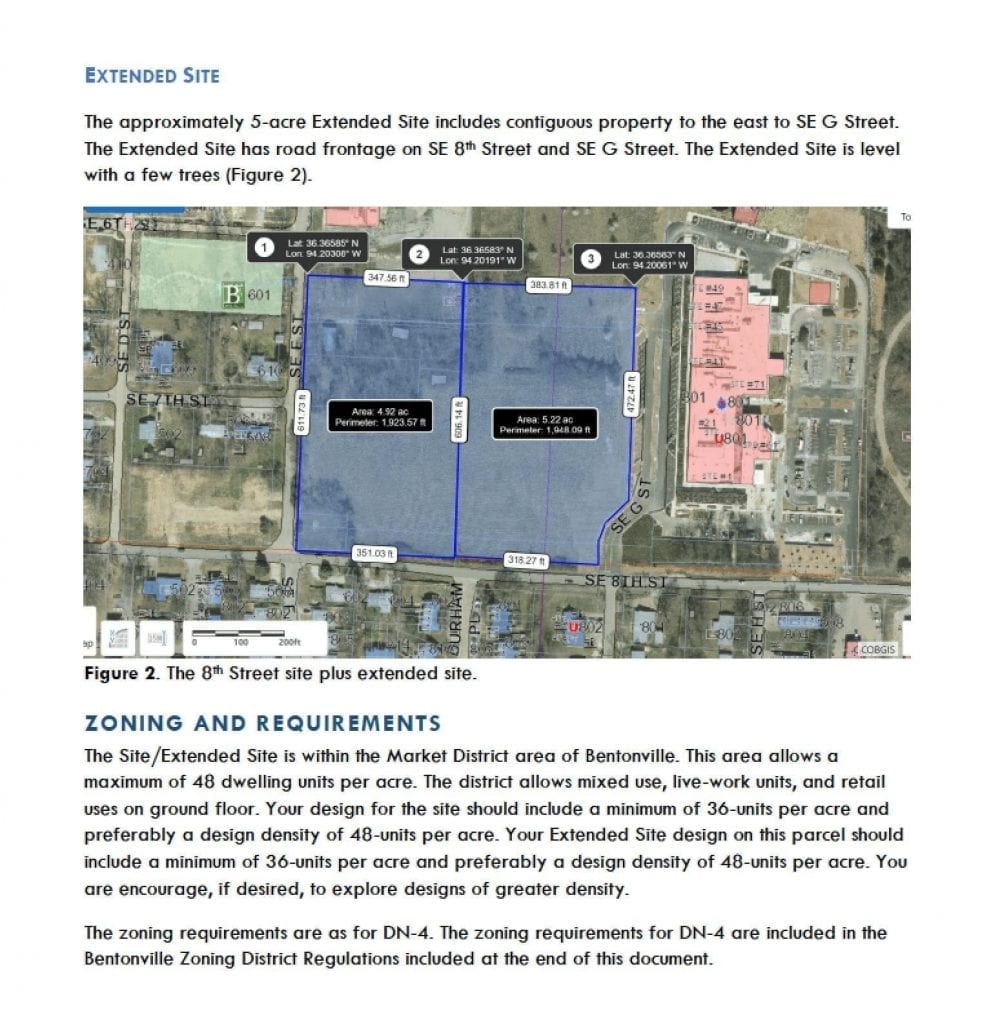 Images: ©Kevin Daly Architects
What, on the surface, may initially have appeared to be a very high density low-rise (three-story) plan was ameliorated by multiple penetrations from the streets and interior spacing which allowed for enough breathing space to make this one of the more formidable entries.
Although linear in character, multiple openings and occasional balconies provided this plan with enough design wrinkles to avoid that sense of monotony, a circumstance too often found in the design of public housing projects. Very outdoorsy looking, it had that California community feel about it. Finally, the parking situation was handled in a very comfortable, aesthetic and practical manner. -Ed

Site 3 Winner
5468796 Architecture, Winnipeg, Canada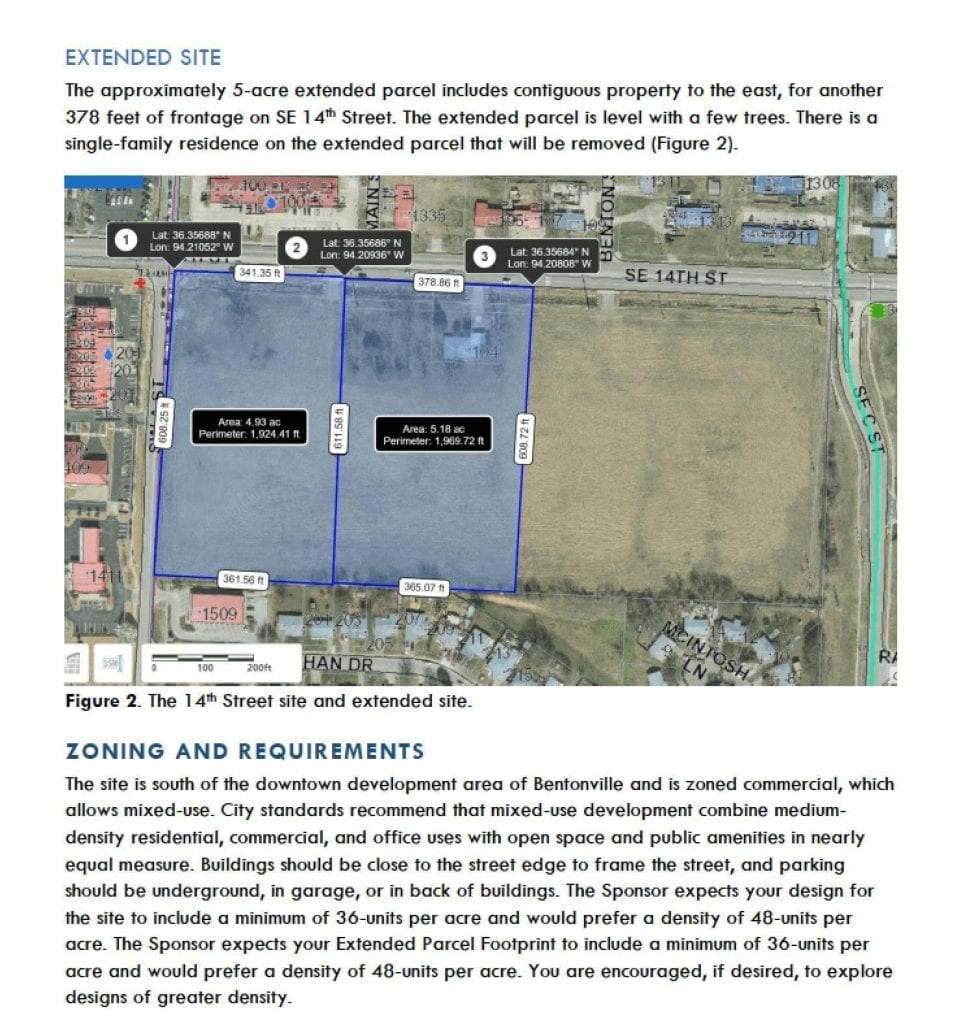 Images: ©5468796 Architecture
Spatially well conceived, this proposal seemed to address many of the issues one might anticipate on a site of this size. By adding balconies, it maintained a connection to nature and the community. It left enough space for a central plaza, while maintaining sight lines for a majority of the residents to the outside.
This entry was up against some formidable competition, at least in name: Michael Maltzan Architecture presented a plan not unlike what one would have expected for anyone familiar with his previous work in Los Angeles. Kennedy & Violich's criss-crossing plan certainly would have had any jury guessing as to the viability of the plan, other than to gain attention.
But neither one, including that by LOT-EK had an understanding of the site and the articulation of the program that was inherent to the winning design. Here it was not just a simple formula, but the development of an idea that fit the site like a glove. -Ed

Site 4 Commendation
PAU Studio, New York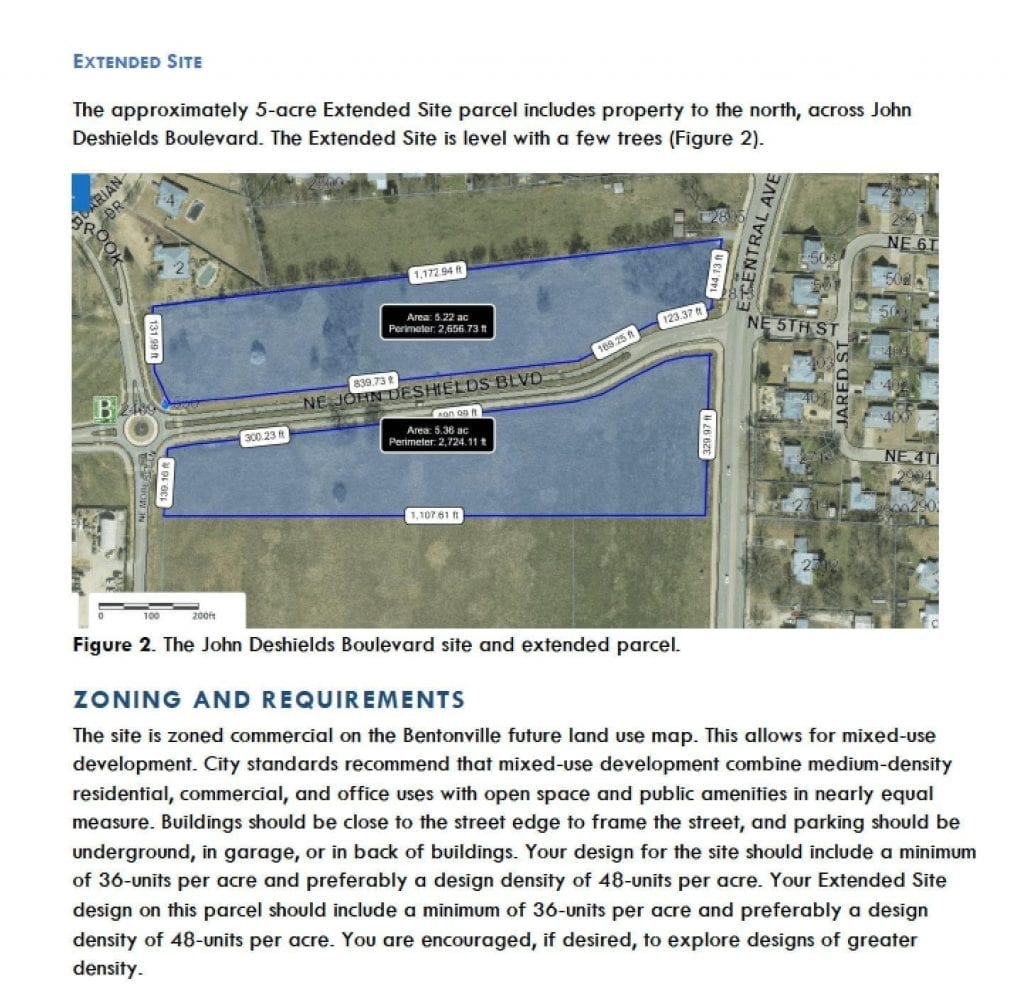 A long, winding, narrow street is hardly a dream site for affordable housing. But to satisfy a program that includes both sides of the street as building sites is the ultimate challenge. Stretching a site to include that much real estate could end up as a long strip mall. The five competitors who were given that site did the best they could, and PAU Studio probably found one of the best answers. Their undulating façade treatment did manage to soften the monotony of a continuous line bordering the road—somewhat reminiscent of Bruno Taut's 1923 project on Argentinische Allee in Berlin.  -Ed

Site 4 Commendation
Bucholz McEvoy Architects, Dublin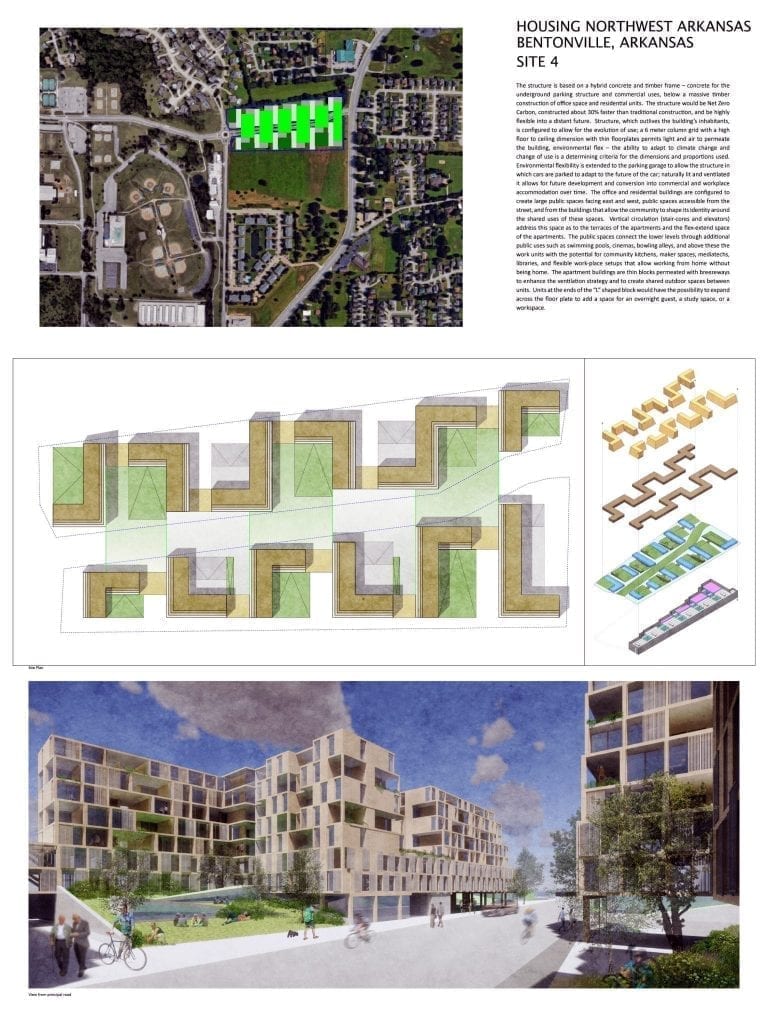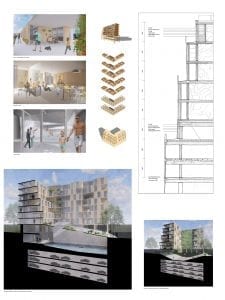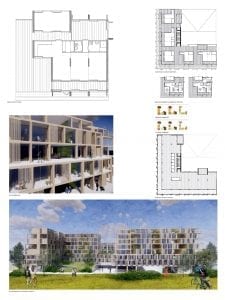 Images: ©Bucholz McEvoy Architects
Bucholz McEvoy Architects approached the same problem by breaking up the linear site with a continuous assortment of L-shaped buildings. -Ed

Site 5 Winner
Merge Architects, Boston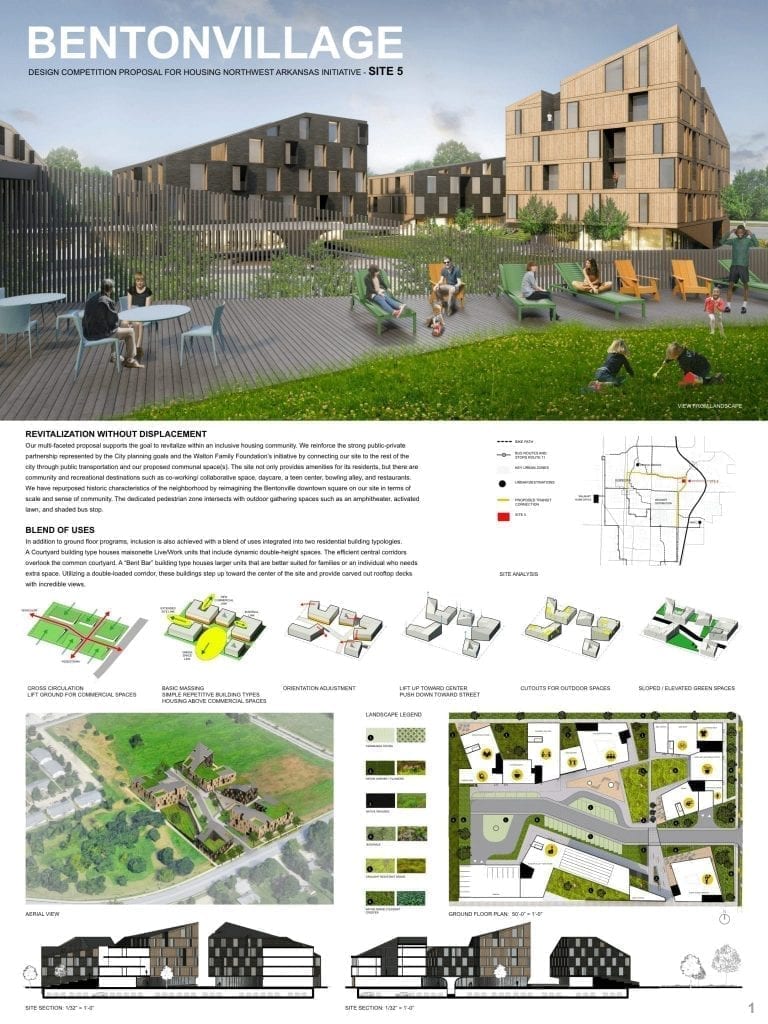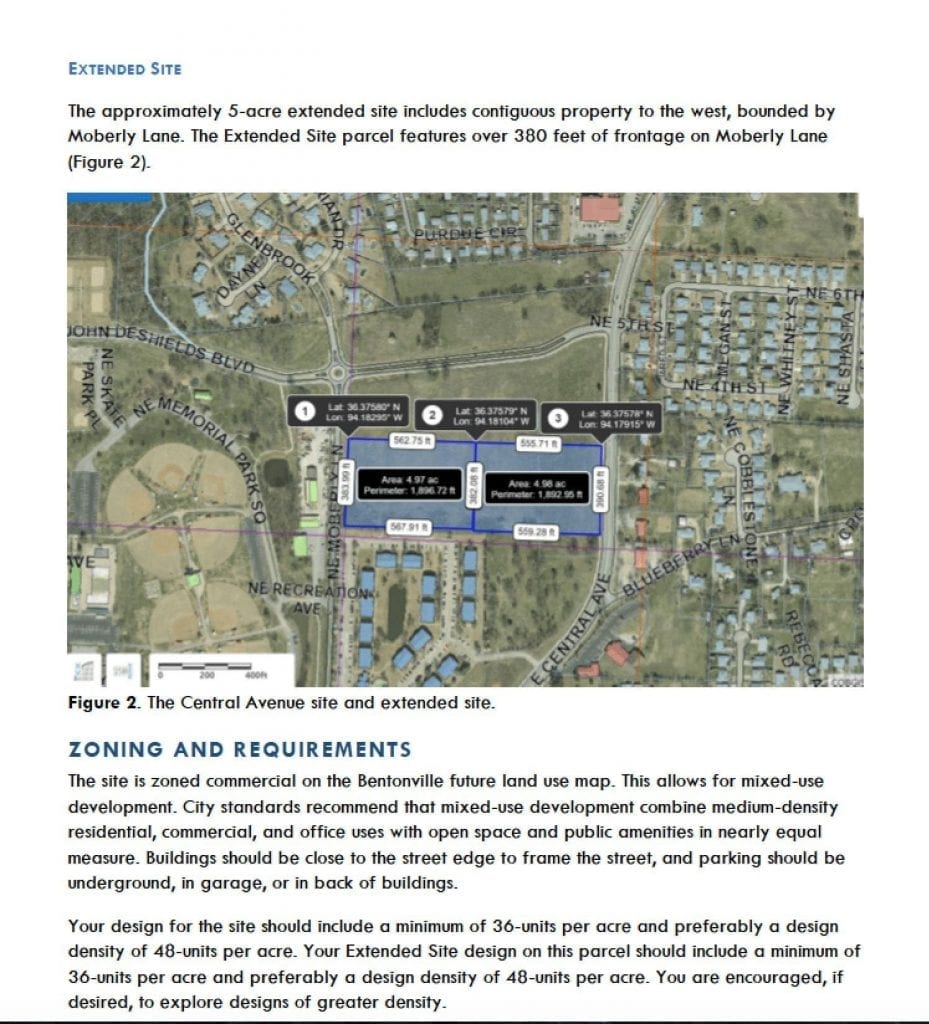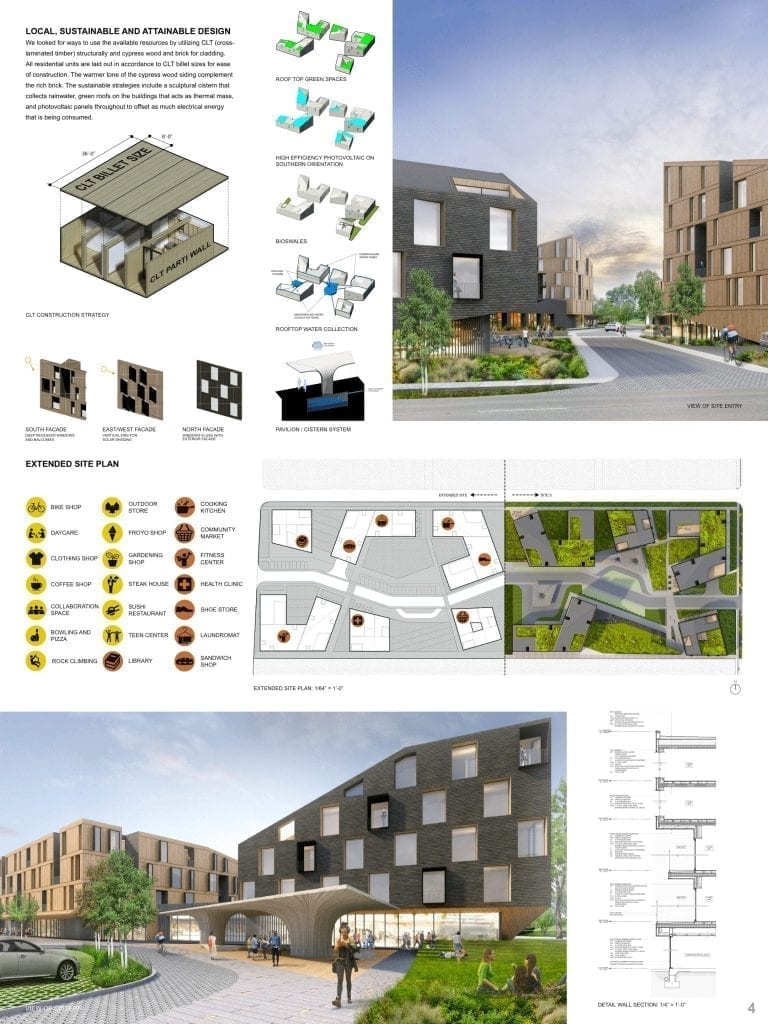 Images: ©Merge
Spatially and aesthetically, the Merge proposal was convincing. The varied composition of the three- to five-story buildings was convincing, as was the interior circulation. In this case, a road running through the parcel was low-key and almost unnoticed as a foreign object. Well designed, this looked quite buildable. -Ed

Site 5 Commendation
Works Progress Architecture, Portland, Oregon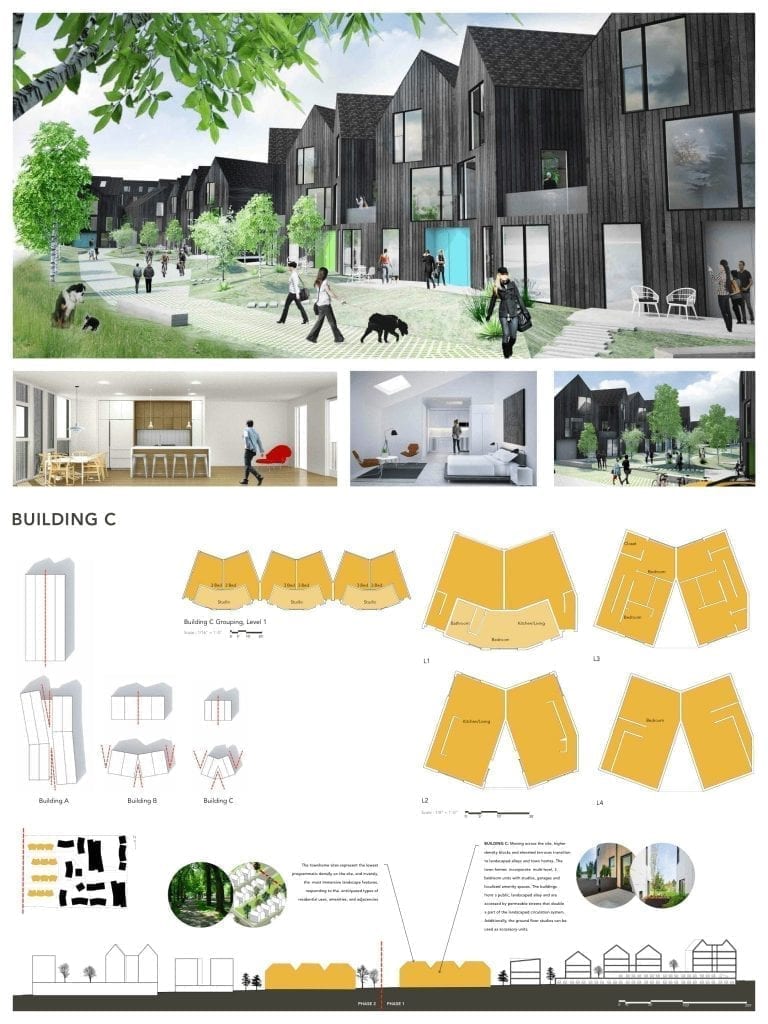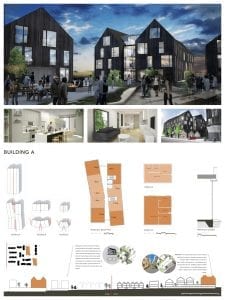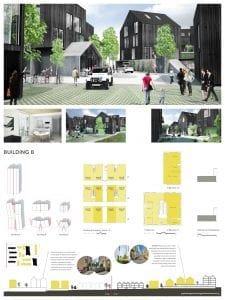 Images: ©Works Progress Architecture
This was a mixture of the larger with the smaller individual, detached homes, whereby the extended version of the site would see it flipped to mirror the composition on the opposite side. The site looked to be very walkable and pedestrian friendly. However the connection of the two large, shed-like structures (a major design element?) seemed overdone and was an otherwise unnecessary detraction from what was a quite logical composition. -Ed

The possibility of including the high number of images from all the participants is obviously impossible within the space limits here. But one can find all of them at;
https://www.housingnwa.org/competition/
COMPETITORS
5468796 Architecture, Winnipeg, Canada
Bernheimer Architecture, New York, New York
Brininstool + Lynch, Chicago, Illinois
Bucholz McEvoy Architects, Dublin, Ireland
David Baker Architects, San Francisco, California
Digsau, Philadelphia, Pennsylvania
el dorado, Kansas City, Missouri
Gray Organschi Architecture, New Haven, Connecticut
ISA – Interface Studio Architects, Philadelphia, Pennsylvania
Jarmund/Vigsnæs AS Arkitekter MNAL, Oslo, Norway
Javier Sanchez Architects & Robert Hutchison Architecture, Mexico City, Mexico & Seattle, Washington
Kennedy & Violich Architecture, Boston, Massachusetts
Kevin Daly Architects, Los Angeles, California
LOT-EK, New York, New York
Merge Architects, Boston, Massachusetts
Michael Maltzan Architecture, Los Angeles, California
MOS, New York, New York
NADAAA, Boston, Massachusetts
OJT (Office of Jonathan Tate), New Orleans, Louisiana
Onion Flats, Philadelphia, Pennsylvania
OOPEAA, Helsinki, Finland
PAU Studio, New York, New York
Stanley Saitowitz | Natoma Architects, San Francisco, California
Utile, Boston, Massachusetts
Works Progress Architecture, Portland, Oregon