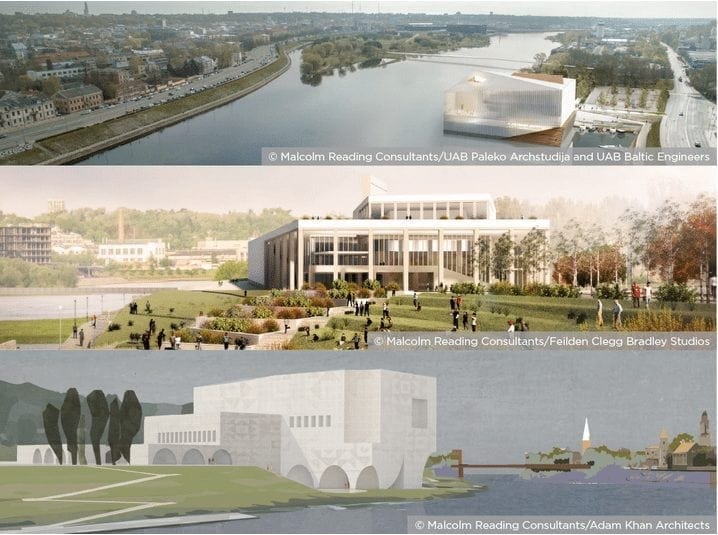 UAB Paleko Archstudija and UAB Baltic Engineers; Feilden Clegg Bradley Studios; and Adam Khan Architects announced as the finalists of the Kaunas M.K. Čiurlionis Concert Centre International Design Contest
• 117 teams entered the contest from 36 countries
• All concept designs for the Centre were judged anonymously
• New M.K. Čiurlionis Concert Centre to provide much-needed world-class performance venue for Lithuania
• Regenerative project for the European Capital of Culture 2022 will foreground the River Nemunas and revitalise a central area close to the historic Old Town
• Six honourable mentions awarded
Kaunas City Municipality and competition organisers Malcolm Reading Consultants today [28 September 2017] announced the three finalists in the open anonymous design contest for the new circa €30m Kaunas M.K. Čiurlionis Concert Centre.
The finalists were:
• UAB Paleko Archstudija and UAB Baltic Engineers (Lithuania)
• Feilden Clegg Bradley Studios (United Kingdom)
• Adam Khan Architects (United Kingdom)
The six practices given honourable mentions were:
• Mark Foster Gage Architects (US)
• Ja Architecture Studio (Canada)
• William Olmsted Antozzi Office of Architecture, TARI Architects and Derek Pirozzi Design Workshop (US)
• Ateliers O-S Architectes (France)
• RARE architecture (United Kingdom)
• Studija Heima, MB and Vaidas Saveikis (Lithuania)
Following the jury's selection of the three finalist schemes for this landmark building of circa 11,750 sq m, the architects' names – contained in sealed envelopes – were opened this morning by the Competition Director Malcolm Reading at a press conference in Kaunas. Mr Reading read out the names of the 117 practices in order of competition ranking.
Selected as European Capital of Culture 2022, Kaunas is becoming increasingly known as one of the Baltics' key knowledge and cultural hubs. However, despite a lively arts and music scene, Kaunas – and Lithuania – lacks a first-rank concert hall with the facilities and acoustic quality to host leading orchestras and ensembles.
As the brief to competitors explained, this new building on a riverside site with memorable panoramas to the Old and New Towns should also provide multi-functional spaces for conferences, congresses and symposia.
Given Kaunas' exceptional architectural heritage – the city is en route to becoming a UNESCO Site for Modernist Architecture – the architectural quality and contribution to the cityscape were the essential criteria used to judge the finalist designs.