Miami Performing Arts Center with Sears Tower in center; Competition (1995), Completion (2006)
COMPETITIONS: What was the first competition you participated in?
PELLI: I believe the first was during my third year in school as an undergraduate. It was a sketch competition for completed designs. It was run by Ernesto Rogers, an Italian architect (an uncle of Richard Rogers), who was teaching in Tucumán. I won it, and, as the first prize, he gave me Space, Time and Architecture, a book that I still have.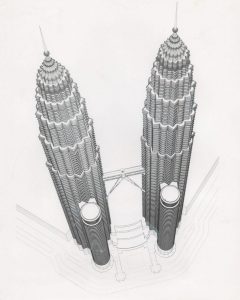 Petronis Towers (1992-1996) Photos and images courtesy Cesar Pelli Associates/Pelli Clarke Pelli
COMPETITIONS: There have recently been design competitions, which consist only of sketches. For instance, there was a sketch competition for the Getty, won by Machado and Silvetti. How do you feel about this kind of competition, which requires less work than a normal design competition?
PELLI: It depends how you look at it. In terms of effort and investment in time, money and energy, it's very fair. The problem with a sketch competition is that it tends to exaggerate the problems of architectural competitions, particularly when architects judge them. What is being chosen is an image. Buildings are much, much more than images. Buildings have to fit a place, have to fit a function, have to be built within a certain budget. The sketch may be wonderful and lovely, but one may end up with the wrong building. I would never advise a client that is trying to select an architect to organize a sketch competition.

San Francisco Transbay Terminal- aerial view (left); upper level park view (above) – Images courtesy Pelli Clarke Pelli


San Francisco Transbay Terminal- Images courtesy Pelli Clarke Pelli


San Francisco Transbay Terminal – Competition (2007) Completion, Phase I (2017)  Images courtesy Pelli Clarke Pelli

COMPETITIONS: Going back to your first competitions….
PELLI: The first competition I did after I came to the states was the Crane Competition…the firm that makes sinks for bathrooms, etc. I did not win first prize, but I won a second or third prize—$100. The subject was 'a bathroom.' Of course I have participated in many competitions since then. With some I have problems; but I enjoy the act of designing and competing.
COMPETITIONS: This 'bathroom competition' brings up the subject of how young architects gain access to the next level. Aren't smaller competitions like this possibly the way for young architects to advance their careers?
Login to see more

(login problems? E: scollyer@competitions.org or http://competitions.org/contact/)