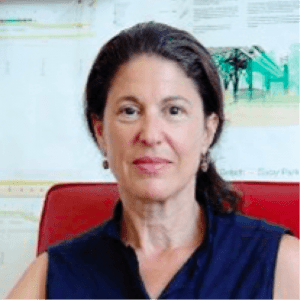 COMPETITIONS: What about the jury process for this competition? You were there twice.
Linda Pollak: It was organized beautifully. We received the brief and all the other materials ahead. It had to be very rigorous, as it was for a public work.
It appeared that there were always some public officials in the room; but we didn't know who they were. In other words, it was a really sunshine situation in terms of transparency for the government.
COMPETITIONS: How many days did the first session last?
LP: In both cases (both stages), the jury took place within two days. The first time included a visit to the site and also a visit to some recently constructed projects, where the architect was there to show us around. We were also able to see a museum and the library—to get a sense of what was in the city and how the results of this competition might bring something different.
We had extremely long days, because there were 234 entries the first time around. Some were two packages, others one, and we all reviewed all of them, selecting our own choices for discussion.
COMPETITIONS: Then you narrowed them down to five for the next stage? What happened during the second round jury?
LP: The second round also took two very full days. First, the presentations from the competitors took the entire first day. The design principals were there with their local joint venture firms, and responded to our questions. They differed from each other, but all were strong presentations. What I found to be significant is how the architects understood and considered the potential interrelations between the two programs with each other, as well as the spaces within each of the two and the interrelations of those programs with the park. Everybody took the park into account. The fact that it is a park, and that there is a lot there in this neighborhood—it's an evolving district now—could mean that the park could also be a strong source of identity for this museum and library, even though it is on the edge of the park.
And even though it's on the edge of the park, one of the things that are so compelling about SANAA's proposal is that it really felt like a building or buildings within a park. I think they know how to do that, having done the Serpentine Pavilion and other projects that are in natural settings—to exploit the natural social setting and to animate the interior. Their big volumes were scaled to the park; but they were singular volumes.
Taichung City Cultural Center, winning entry by SANAA
COMPETITIONS: In many countries, especially in the U.S., there seems to be the assumption that large projects can only be done by large firms with lots of experience in large projects. In some of these competitions in Taiwan, several smaller firms have done quite well. Some architects might even say they were 'nobodies.' How do you feel about open competitions for large projects of this type?
LP: I think it's wonderful that open competitions for large projects like this exist. It's a way to maximize potential for a great project. We were required to do a lot of due diligence around the estimating that everyone had done, and also around their arrangements for local collaboration. I'm not sure that everybody had Arup on his or her team. But from our own experience, a small firm has a kind of agility and can collaborate with Arup or other large engineering firms that have structural, mechanical, civil, acoustics, lighting, wayfinding, etc. They may also have local or semi-local branches; so you can have a tremendously strong team with a small firm at the lead.
All the firms were small except the Swiss firm (honorable mention Stucheli Architekten AG/ Mathis Tinner). But the two architects who did the project were partners who recently had come from smaller firms. The firm they represented is a quite large Swiss firm, which does a lot of corporate architecture. But these architects had recently joined the firm, and theirs was anything but a corporate approach to design.
COMPETITIONS: It could be that the firm brought them in to pursue a slightly different direction. That happens quite often.
LP: The interest generated by competitions for this site is tremendous. I didn't know that Stoss (Landscape Architecture) came in second in the competition for the park design. We came in second to Stoss in the Syracuse Main Street competition recently, where we had taken a different approach. They took a more containable approach, more like an installation within the site, rather than focusing on connectivity to the other neighborhoods. Cris Reed said, "It's nice to get one of these." He's done a lot of these competitions and has built his firm by doing well in them. I think almost all of his major projects have come as a result of competitions.
COMPETITIONS: As in most competitions, there are a number of criteria—aesthetics, sustainability, innovation and possibly budget considerations.
LP: All of those factored in, sustainability in particular. Architects all had to speak to it, as well as the earthquake-resistant factor. Budget was also addressed. The most meaningful presentations were the ones that integrated the discussion of sustainability into the architectural, conceptual basis of the work. Because it's a new district, and because there's very little is there, what is the sense of what could this iconic cultural center be, and how could it be iconic? Could it be a place people just want to go to a museum or library? Tourists aren't necessarily going to a library. To draw anyone from the city to this place, and at the same time have something with a 'wow' factor—something people visiting the city would want to come and see—because there is no collection yet. It's not clear yet what the museum is going to be—a culture shed or something, if it would affiliate with other museums, or just have temporary exhibitions.
   Budget was addressed, as well as methods of construction. There was a sense with the SANAA project that the conceptual approach of this individual glazed roof was a beautiful approach, but accessible from the ground, didn't have to be so tall in order to be able to manage the cost.
COMPETITIONS: I noticed that some of the jurors remarked that SANAA's proposal appeared to be somewhat underdeveloped. You are not looking for every nut and bolt; but as they have done some major projects, does that give you confidence that they could make changes which could still retain the essential features of the project?
LP: I think so. A firm's experience plays a role. In this case definitely—if you go to see the New Museum in lower Manhattan. And looking at that expanded metal screen, which shows up in the Taichung proposal, you might think, 'Isn't it going to get dirty?' But the level of simplicity in the final distilled architectural result in SANAA's project is pronounced. I think the jury saw potential for the relationship between the two skins—the glass skin and mesh skin—that the relationship between them and their roles could be developed. SANAA was one of two proposals focused exclusively on semi-outdoor spaces, which is really significant in the city of Taichung, because the climate allows you to be outside most of the year. We were in the middle of a typhoon during the second round; so there was a tremendous rain. So we were very conscious of how it would be for the covered spaces. Outside of that, shaded spaces were very important, since people are outside year around. But it can be almost painful outside when you don't have protection from the sun. The idea that the role of the mesh layer in the SANAA project could be significant in articulating and supporting the semi-outdoor spaces.
COMPETITIONS: Was the winning design for the tower at the other end of the park by Fujimoto in anyone's mind while you were discussing these projects?
LP: I think Fujimoto's tower was in people's mind. We also had the park by Rahm and Mossbach's design in mind. The tower is an architectural icon of sorts, and this project would also be one of sorts, at least certainly as an entrance to the park and the subject of an international competition. We didn't see the 'wave pool', since it is enclosed in separate building. As a separate venue, some did try to indicate a connection to it. As for the new convention center to the north, it is somewhat of an unknown as a northern mass, with no idea how the opening of that building would occur. Some might have said the SANAA project was a bit undeveloped in some ways. But the images of Fujimoto tower are expressive expressive. It's hard to really understand what it is. But the SANAA project is not conceptually underdeveloped. It has strong enough set of interrelated concepts. So one could understand how it could be developed, that how those concepts could allow for the distilling of all those huge number of factors and requirements to make something that would be memorable, welcoming, pleasurable and beautiful, and would also relate to the park.
I recall that SANAA and Catherine Mossbach collaborated on the project for the Louvre. So one positive happenstance is that Ricky Liu, collaborating on the Cultural Center with SANAA, is also the collaborator with Rahm/Mossbach on the park project.
Taiwan Tower by Sou Fujimoto