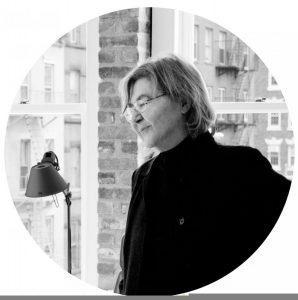 COMPETITIONS: What brought you to landscape architecture in the first place. And whom did you first look to as a model?

Diana Balmori: When I got my Ph.D. in history, it was the study of public open spaces in cities. The experiences of landscape had to do more with the amount of time I spent in back country in northwest Argentina, north of Chile and south of Bolivia. My father was a linguist and was studying American Indian languages there. We spent a lot of time going out on horseback in deserted landscapes where the Indians lived. Those experiences were very powerful,  just the feeling of space. That experience is not a direct one, but it's always been an active ingredient in thinking about space. The other one was just the issue of the space inside cities.
As for model, I got into landscape because I started writing about Beatrix Farrand, and I encountered a cache of documents at the New York Historical Society about her correspondence with the architect Lawrence White, the son of the famous architect. It concerned this place in Washington. Nobody had any idea about how she had designed it and how she was involved. So here was this incredibly long correspondence about this. I wrote about how in fact all the decisions were being made about the design. She had been forgotten, and there was very little written about her. So after that I some digging on her work on her work at Princeton and her work at Yale, and at Princeton I also discovered a book at Princeton of the actual design and caring for the landscape for about twenty years there. I found it an incredibly wonderful document from which to learn. It was the basis of my learning and getting interested in landscape. After that I decided I wanted to do landscape (design) and not write about it.
Bilbao Jardin, Bilboa, Spain (click to enlarge)

COMPETITIONS: When one sees your body of work, which are significant for the number of competitions you have participated in, one might assume that you are located in Europe, rather than in this country. It would appear that much of your work has come as the result of competitions. How did you get so deeply involved in that area?
DB: At one level, it's the only way for a person who comes in from the outside for getting jobs. You're starting an office, so where do you go to? I didn't have any connections to say, 'Give me a job.' So from the beginning I jumped into competitions from day one, and I have pursued them very actively. Now we get into invited competitions and more direct commissions.
COMPETITIONS: Along the way, you must have learned something from these competitions.


DB: Did we ever. There is both the negative and positive. It is a democratic process by which people who don't have a name and track record can enter. That's the good side. The other side is the cost of a competition, and that is very painful for a new office — or even for an established office like today. We really have to think very hard about entering a competition. Besides that, they (the jury/client) don't reach a decision; they decide totally in a different way than the competition program states. So you've been asked to do something, and they decided on the basis of something else. I have even a case of having won a competition, and then the commission was given to the firm that came in second. Then there are the political intricacies.

Campa de los Ingleses, Bilbao, Spain
COMPETITIONS: The Campa de los Ingleses competition site in Bilbao, Spain is adjacent to Frank Gehry's museum. With this in mind, and your stated intention that landscape and building cannot be seen as separate entities, how did you approach this challenge?


DB: The site, though it's contiguous, but has nothing to do with the museum itself. The museum itself has to do with what we master planned, which was a continuous path on the edge of the water. His museum is at the edge of the water. Still, you can ask, does it have something to do with it? Yes, it does in the sense that we were seeking to have it be a very fluid form, not essentially thinking of the Guggenheim as a fluid form, but the fact that we wanted the space to flow. We looked at the other competition entries, and everybody had terraced the thing, whereas we were flowing. But I don't think any connection with the museum was conscious.
The other thing we did for Frank is that the museum is fantastic in bringing light to the site. Bilbao is very grey and cloudy, it's raining all the time, except for the summer, and the titanium brought down the light in a wonderful way. We've used stainless steel on the walls on two sides of the Campa in order to bring the light down. It has a very important effect of bringing light in a place where it's forever overcast, forever raining and sort of starkly dark.

Campa de los Ingleses, Bilbao, Spain (click to enlarge)
COMPETITIONS: You have been in several competitions with teams. For somebody who hasn't done this very much, what kind of advice would you give them as to negotiations. Landscape architects, in particular, may be in a weak negotiating position vis-à-vis architects, as they may be perceived as a weak sister.
DB: Put it in writing what your agreement is before you go into the competition and what happens if you win. Even in cases where you even put it in writing,  there may be some problems after the competition has been won. First an agreement of understanding as to what each side wants, and seeing if you can work with that person and afterwards as to what the procedures are going to be and what you are each responsible for.
COMPETITIONS: Could it be that architects undervalue the work of landscape architects?
DB: Would I ever. The whole field of landscape over the 20th century has begun to develop skills and ways of working that have become enormously important, particularly for urban sites. Also, with all of the skills they have acquired through colleges, and because they have paid much more attention to aesthetic issues, landscape has begun to shift in its value and its importance. I personally think that landscape is better off now vis-à-vis architecture than ever before. I have worked closely with an architect where we are trying to see ways in which we create an interface between the architecture and the landscape to see what forms we are creating reciprocity between the two. So we address this intellectually and in the jobs we've done. So there is much greater interest by architects in landscape. They've begun to see that landscapers can do certain things they can't do. So the value of landscape has increased; but essentially it has been undervalued and not given a good role.

10 Li Ring Park, Sejong, Korea (Competition Finalist)

COMPETITIONS: You are involved in the design of the Sejong Administrative Town in Korea, conceived as a "zero-waste urban plan." What role can planning play in the design of these new towns to achieve such a goal?
DB: It can achieve it in two ways. I see all of the landscape as a critical tool of sustainability. So it sets up the mapping and the planning as a way of dealing with all of the elements. First, being able to deal with the water; secondly, dealing with heat; thirdly, dealing with means of communication in a certain way; and therefore a grid of systems is set up by which you create a basic structure for sustainability. In the particular case of Sejong, it was to keep the buildings low — we didn't go above six stories — and the main ground was on pilotis and was public, and the top was a park and was public and united all the buildings. So these two public layers, on top and on the bottom, served to communicate what are a series of government ministries. That also brought all the water down to a certain place where we cleaned it and made it part of a whole system of rice fields which already existed. The issues of sun and water were all bundled together, so that they were part of the design and planning, whereby the planning was based on landscape. We worked with a Berlin architect for the massing of the buildings; but the intent was to create these very accessible buildings all united by public space.
COMPETITIONS: In China we have seen a lot of new towns being designed. Has much thought been given there to the "zero-waste" goal?
DB: We tried to do this in a couple of competitions there. Specifically we did a project that I liked very much for the Bund in Shanghai, and out of the sixteen, one of the criticisms our team received was that it was too ecological.
COMPETITIONS: Different climates demand different design approaches. In the Museum of the Mammoth in Yakutsk, Russia, you must have encountered conditions like you had never seen before. How did you decide to approach that project?
DB: Those conditions were very interesting to work with. It depends on the permafrost, of course. It is the same as in a desert. You have a look, and you look at the very limited range of things there are on the surface. But when you get into it, it's really a very rich material world; it's just different from the norm. It's smaller, but very varied. It's really rich in its own way. But you have to work within a very very narrow range of temperatures.

Beale Street Landing, Memphis, TN
COMPETITIONS: An Argentinean firm won the Beale Street Landing competition in Memphis, Tennessee. You joined them later on this project. How did that happen, and how is the project progressing? Were many changes necessary?
DB: It was somebody on the jury that recommended us to the winner. I think it was Bill Morrisch. I had worked with him, and he felt that they really needed somebody that would be interested in the treatment of water and looked at the bigger picture of the Mississippi. The architecture firm that won conceived it all as building. So this was why Bill felt that it was really important that the issue of the water be brought into this. It is presently under construction.

Beale Street Landing, Memphis, TN
(click to enlarge)
COMPETITIONS: One of the questions these days has become, where does landscape end and art begin. A common complaint I hear from artists is that landscape architects often refuse to remain in the background in the case of public art projects.
DB: The issue of conflicts between the two is quite common. The question really has to be resolved on the basis of aesthetics, and not whether or not you want to see the artwork or trees. But how is the competition better. In the end, an aesthetic judgment has to win the day. But there are those constant issues, the most common one being between architecture and landscape.
COMPETITIONS: You are working on two foreign competitions at the moment. How do you organize the office when you are doing a competition?

DB: We assign a team to do the competition. The whole office is probably involved during the last days of the competition. You have to keep these competitions very tightly defined and give it a short period of time, but that you meet daily so that the ideas are continuously being worked on. There is a certain intensity of concentration and (discussion of) ideas. At the same time, you don't stretch it over an enormous amount of time, because it gets to be expensive. When it is on paper, we decide whether we want to keep it or discard it because it's not working. You have to be ruthless on that. The idea either has to stay or get kicked out. You don't have the time.
   You must remember that most of the jobs you get are by way of RfP process (Request for Proposals), where you are competing against several other firms after you are selected. So in a certain way, all you are doing most of the time is a competition. Recently, RfPs are becoming more and more like competitions.  Of course, the competitions that are not RfPs are more open and have a wider agenda.
COMPETITIONS: Maybe I shouldn't ask you about memorial competitions?
DB: The issue of memorials has an issue of time in it. It probably isn't a good time for memorials, because we are in the midst of a major cultural shift. There are times which work extremely well for memorials. The moments that kind of foster a good resolution are moments in which the problem hasn't been completely defined on the one hand, and at the same time there is a cultural assurance about what needs to be defined. The last moment for those was the Vietnam Veterans Memorial competition. I feel that as the closure of the whole period. So I wouldn't enter any more memorial competitions at the moment.
Amman Performing Arts Center, winning competition entry with Zaha Hadid Architects (click to enlarge)