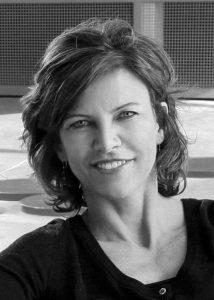 COMPETITIONS: When did you decide to become an architect? Was it something you saw early on, or a personal connection?
xxxxxxxxxxxxxxxxxxxxxxxxxxxxxxxxxxxxxxxxxxxxxx
JEANNE GANG: I always liked making things as a kid, rather than playing with pre-made toys. Not that as an architect you are actually building your own buildings, but it's a profession that is related about putting things together, thinking how things work, making models, etc. While growing up on family trips, we looked at a lot of architecture, landscape and bridges. My dad was an engineer; so he always would go out of the way to go across some long bridge. One of the things that made a big impression on me was seeing the Indian native-American cliff dwellings in Mesa Verde, where landscape and architecture was kind of blended and so connected to culture. Also, being good at math and art was a good combination which led me into that.


COMPETITIONS: Maybe you don't have to be good at math anymore to become an architect. Werner Sobek, Helmut Jahn's engineering expert for many years, said that the students he had at Harvard were mainly interested in designing something, not necessarily how it would be put together — they could give that to somebody else to figure it out.


JG: Then why couldn't just anyone be an architect? If you aren't going to be connected to how it's put together, then why go to school for so many years? Architecture is at its best when it is a synthesis of structure, materials, forms. If it's missing one of those things, it's dropping down a notch.


COMPETITIONS: After finishing your studies at the University of Illinois and Harvard, you worked in the office of OMA in the Netherlands. This wasn't your first stay in Europe. So I'm wondering what you took from those experiences?


JG: The first time going to Europe was an eye-opener, because you see how architecture represents the culture over all those years; whereas in my small town where I grew up, it was such a young city: we didn't have old buildings like the cathedrals, etc. My interest has been in the city and the urban environment. (In Europe) the city is treated as something traditional, but experimental at the same time. There is not as much fear doing new architecture in an older context. I liked that, because, at the time in the States, everybody wanted historic-looking architecture and postmodernism. It was difficult to do a modern building at the time. I liked that freshness and experimentation in the city. It seemed like they felt comfortable with new and old sitting next to each other — not trying to make a Disneyesque themed historic environment where everything looks the same.


Hoboken 9/11 Memorial, Hoboken, NJ, 2003 Competition Winner (unbuilt due to budget considerations)

q
COMPETITIONS: You started up your own firm shortly after returning to the States. What was the impetus for that? I mention this because architects returning to a big city often spend several years at big firms before going out on their own.
q
JG: I did work for a firm when I came back, completing my requirement of interning before I took the exam. So I was just waiting for that particular moment. I always wanted to have my own practice; there never was a doubt in my mind that I would want to be doing what I am doing now.
q
COMPETITIONS: You have participated in a number of competitions, have won a couple, and lately came in a close second in Taiwan. But early on, when one considers Calumet and Hoboken, you started off very successfully in those competitions which you did enter. Getting the projects built has been another question….as it is with any project. Did winning those competitions at least raise the firm's profile and give you an additional advantage later on?
q
JG: The Calumet competition was an important one for us to win, not only becoming known for winning the competition, it was more about the ideas embodied in that project. They were very powerful, and I think they resonated with people when they read what that building was about. It made so much sense and was compelling. Had we not won that competition, nobody would have seen those. Had we come in second, maybe nobody would have known about it. It definitely helped us.
q
q

SOS Community Center, Chicago, Illinois (Photos: Hedrich Blessing / Steve Hall)

q
COMPETITIONS: Chicago seems to be in the business of building community centers on the South Side. You did the SOS Children's Center. Concerns about security and being a graffiti target must have been a major concern. Were you presented with a finished program, or were you given a modicum of flexibility?
JG: We were given a pretty direct program. We tried to anticipate how the building would be used, especially knowing how they had a lot of after-school programs. We had one community space, which we kind of stretched and made the lobby double as another after-school space with steps where they can hang out on and also be used for films and education programs. Understanding how the clients were going to use the building, we stretched and modified it. The size and amount of daycare had all been figured out beforehand. In SOS, every time they do a village, they do some type of community building with it — based on the needs of the community. In some of their communities around the world, especially in rural areas, they might put a medical clinic there instead. As for being used for events, who would think that they would have weddings there, or a funeral service, and all of the human life rituals.
   Tomorrow is also the official opening for the Columbia College Media Production Center. They just started classes there last week. Although this wasn't a real competition with a final design, to pick an architect the client initially had a kickoff meeting with each of the architects. So it was almost like you were starting a project on day one; so it was more like a competition as to the way that you work. The building is for teaching students how to make film, videos, motion capture, directing, lighting, and all the things to do with media. We went and visited some other schools like that, but also really go into the vision of how they wanted the school to be, and we reconfigured the way that a building like that would be laid out and used. And it is really working well.
   One component of the program is checking out equipment — cameras, lights, etc. All the schools we visited put that back by the loading dock. Since this was really the heart of the whole program, it should be in the middle, and be the active center of it. So we configured it so that it was accessible to loading, but at the same time in the middle of the school. I've seen the kids come to check out lights, lay out all the pieces to make sure everything is there, which is happening right in the middle. We also designed a couple places for them to show their student work or videos of what is going on in the building, throughout the building.

Taipei Pop Music Center, Competition Finalist (2010)

COMPETITIONS: The Taiwan Music Center competition drew a lot of high profile architects. You managed to get shortlisted with the likes of Morphosis and Toyo Ito, both Pritzker Prize winners — it should be said here that you ended up ranked higher than either one. What do you feel was the major challenge you had to deal with in that competition?
JG: We treated it like a project we already had. So how did we start? We really had to talk to the music industry people and find out how they work. Understanding Taipei was our main goal, for when you do a project in another country, you need to get a feel for it. So we spent time researching and understanding it, getting the real shades of what the place was like, their desires and aspirations were. Most of the time were were working without the benefit of client input, so that gives you some freedom; but at the same time you want it to work. I thought out scheme really managed to capture the real texture of Taipei.
   One of the programmatic aspects of that project was that they wanted an outdoor performance venue for 15,000 people. The climate there is such that it is always raining. So what we suggested was a building protecting peopled from the rain, even if they were in an outdoor venue. That was one of the main features of our design.
COMPETITIONS: In that Taipei Music Center competition, every firm received some measure of compensation for the final stage. Did you feel it was adequate?
JG: We didn't staff it based on what the fee was; we just staffed it based on what needed to be done. It doesn't make sense to penny-pinch it. You want to win. When you invest so much in a first stage, then you are in the final three, you are not going to pull out at that point.
COMPETITIONS: This wasn't the first competition on foreign soil you have done. Hamburg was certainly one.
JG: We also did a competition in Shanghai for Shong Bang Village — which we won, but they didn't build our scheme. We've been working on a project in India, in Hyderabad. We have other projects getting started all over the place, in different countries. We're geographically spread out now.

Brick-Weave House, Chicago Illinois (Photos: Hedrich Blessing / Steve Hall)
COMPETITIONS What I found interesting about the "Weave House" you did here in Chicago was the green space between the wall with perforations at the front property line and the house itself. I was wondering what examples you might have considered before going forward with that design. One effective example which comes to mind is Jean Nouvel's Cartier Foundation building in Paris. But there must be others.
JG: Of course the building was already there, and it was sitting where the wall is now — very ugly, I might add, like an old 100-year-old stable. It was basically the oldest building on the street. So in a way it was more authentic than some of the newer developer buildings. I was interested in the idea of subtracting, the notion of making the walls lighter, and bringing light in. So it was about pulling out mass out of the wall and taking the roof off, bringing light in through the top. Since it's a south-facing wall, the light really comes through in the winter — almost horizontally. The existing building didn't have any outdoor space at all; so it just gave it a little bit of space in the front. We also did a garden in the back.

Left: Aqua, Chicago, Illinois (Photo: Hedrich Blessing / Steve Hall)
Right: Solstice on the Park, Chicago, Illinois (rendering)
COMPETITIONS Aqua, your high-rise project in downtown Chicago, would seem to build on a Chicago architectural tradition of Bertram Goldberg, with some variations. How did you settle on the wave effect for the facade?
JG: The thing I like about Bertram Goldberg's building is that it always shows that there is a lot of light to it. You can see how the people living there use the balconies — it's got light to it and the people even decorate the balconies with lights. It (Marina Towers) is like a structure to inhabit, and that's the way I thought about Aqua, not about creating a formalized composition on the facade, but more like making habitable spaces for people to extend their living space outside. The other thing which we knew from the wind tunnel testing is the wind effect. When you go out on the balcony, the wind is really diminished. You are not being whipped around, because the difference in the slabs starts to confuse the wind on the building. So you actually feel rather protected. So it expands the time you can spend outside. It's not so much about spending time outside, it's more about being able to step outside, since being so high up in a building can be very isolating. Your only connection to the ground is through this tube, the elevator.
University of Chicago North Campus Residence Hall Competition – Winner (2014); Completion (2018) Images: courtesy Studio Gang
.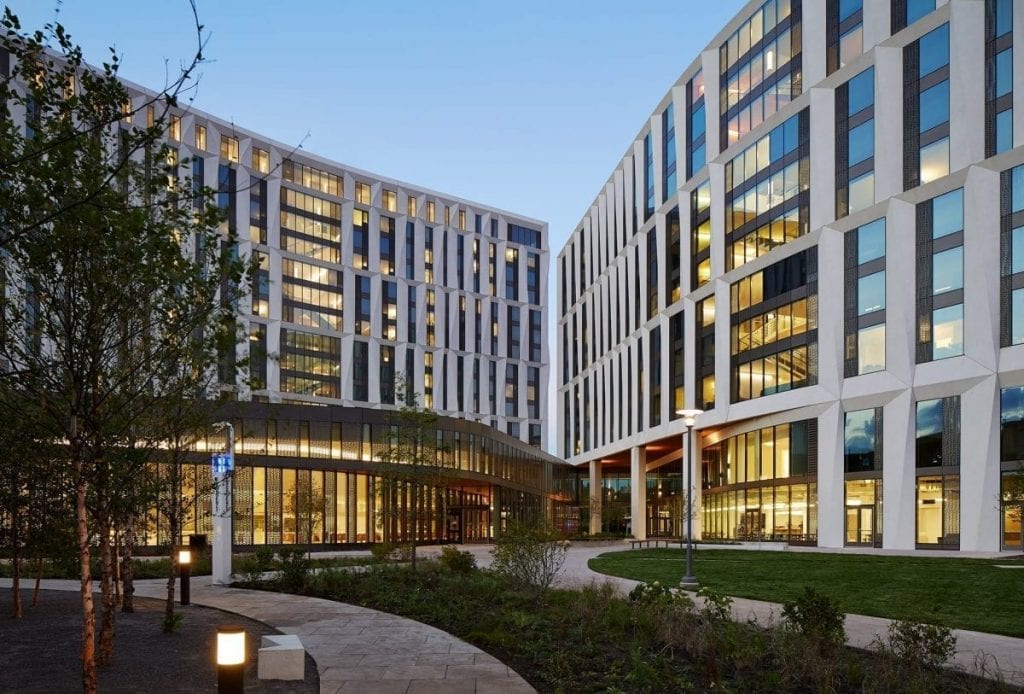 University of Chicago North Campus Residence Hall Competition, completed project
Photos Steve Hall © Hedrich Blessing; courtesy Studio Gang

COMPETITIONS: A lot of young architects are probably wondering, 'How in the world did you ever get that job —meaning Aqua, of course?
JG: I was going to one of the alumni dinners from Harvard, and thank god I did. I happened to sit next to Jim Loewenberg, who called me several months later and asked if we wanted to get involved. A lot of it is luck, and a lot randomness. He was a good client because he is also an architect and understood the concept, knew that it was buildable, and supported it throughout.


Columbia College Media Production Center, Chicago, IL (2008-2010)

q
COMPETITIONS: Did the design allow for prefabrication of the balcony components?
q
JG: No, for each had to be designed individually. Every one is designed to work differently. Each one has its own individual handrail. We had to make sure that each habitable balcony was acceptable for the radius of a wheelchair and door clearances. There was a lot of design work that came from having that variation. Each floor is a different design. At some point, for instance, you can no longer have the sliding doors at this location on that balcony. Everything was unique. We couldn't do the usual repetitive floor plan while having the balconies change. We tried using parametrics software to handle all of the variables; but the parametrics just wasn't quite there yet.
q
COMPETITIONS: These are difficult times for the architecture profession. What strategy would you advise other firms to pursue to survive under the present circumstances. Back in the early 90s, for example, Roche Dinkeloo went to a four-day week. Nowadays that might even not be enough to stem layoffs.
q
JG: We were well-diversified in building types, so we were invested entirely in one type. So when the housing economy crunch happened, that was only one aspect of our load. Also, we were diversified geographically; so that helped. We did have some attrition — some people going back to grad school that we didn't replace right away. Also, doing a competition was a nice thing to rally around, and it was energizing. A competition is a little bit like a barn-raising. It happens very fast without all the administrative meetings that a normal project entails.
q

Starlight Theater, Rock Valley College, Rockford, Illinois (Photos: Greg Murphey)