• 2020
Annual now available in PDF format

Look inside.
•

Half price on 2011, 2012,    2013,  2014, and 2015

Annuals.
An Ideas Competition in Berlin Seeks Answers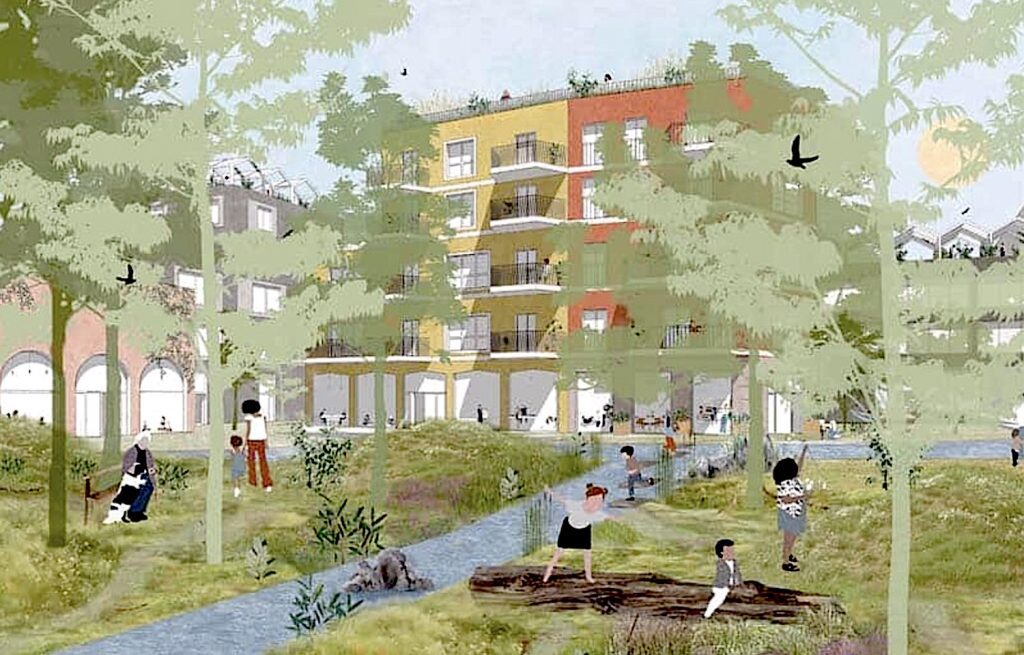 Winning entry perspective Image: ©AllesWirdGut Architekten

Berlin developer HOWOGE recently staged what was regarded as a "planning Laboratory" competition for a model satellite in northwest Berlin. The brief for this invited competition noted that the urban sprawl, which had accompanied the reunification of Germany(and Berlin) in 1989, was low density in character, occupying wide swaths of suburban areas around the city. With previous high density, and now controversial Berlin projects in mind—the problems with Berlin's high-density Gropius-Stadt as a warning signal—the sponsor here suggested that lessons learned from past mistakes could be avoided with a high-quality design strategy…
Winner Announced for New Preston Mosque Competition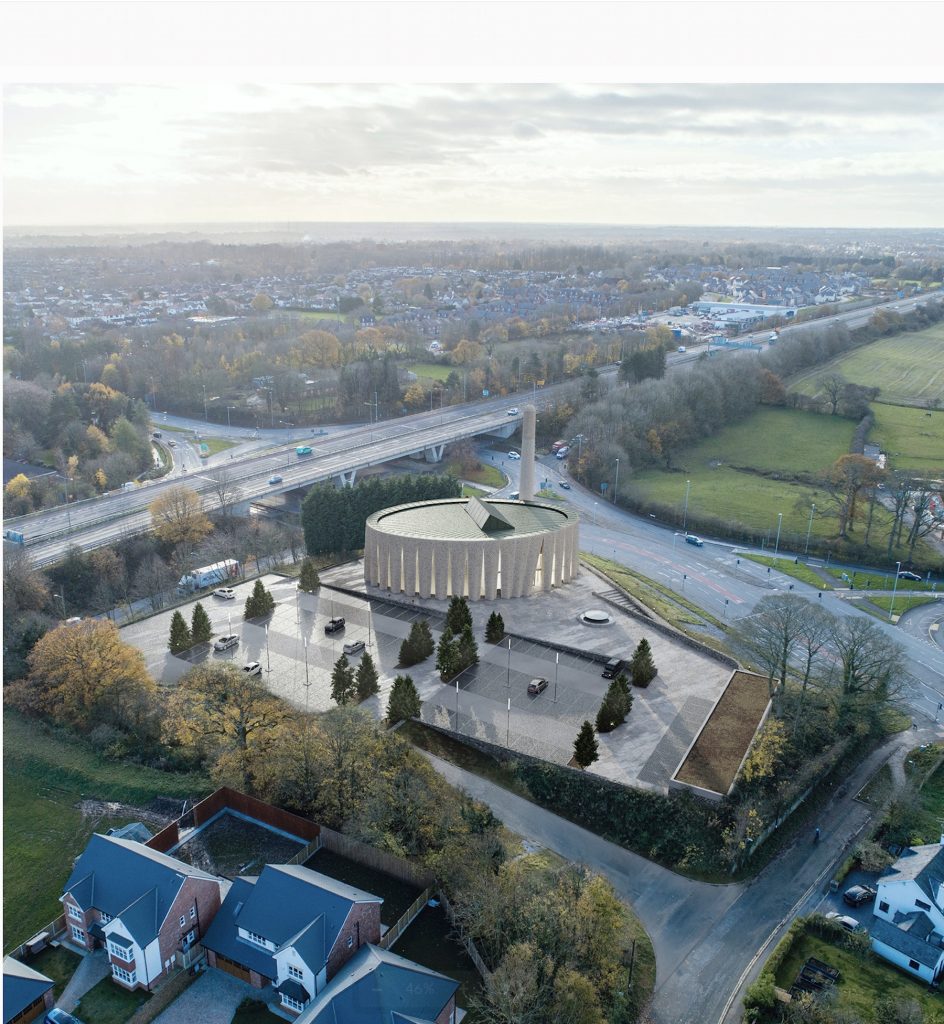 LUCA POIAN FORMS  Image courtesy RIBA
Facilitator: RIBA
Location: Preston, U.K.
Type: International, open
The competition attracted over 200 entries from 40 different countries.
Five finalists were chosen to participate in a second phase:
Winner
• LUCA POIAN FORMS, London, UK
Finalists
BLANKPAGE Architects, Lebanon 
Borough Architects + buchhandler-nelli + elca, Cambridge, UK
Mcheileh Studio, New York (Highly Commended by the Evaluation Panel)
TABE SHOURI, New York
RIBA competition website:
www.architecture.com/competitions
Young Architects in Competitions
When Competitions and a New Generation of Ideas Elevate Architectural Quality
by Jean-Pierre Chupin and G. Stanley Collyer
published by Potential Architecture Books, Montreal, Canada 2020
271 illustrations in color and black & white
Available in PDF and eBook formats 
ISBN 9781988962047


What do the Vietnam Memorial, the St. Louis Arch, and the Sydney Opera House have in common?  These world renowned landmarks were all designed by architects under the age of 40, and in each case they were selected through open competitions. At their best, design competitions can provide a singular opportunity for young and unknown architects to make their mark on the built environment and launch productive, fruitful careers. But what happens when design competitions are engineered to favor the established and experienced practitioners from the very outset?  
This comprehensive new book written by Jean-Pierre Chupin (Canadian Competitions Catalogue) and Stanley Collyer (COMPETITIONS) highlights for the crucial role competitions have played in fostering the careers of young architects, and makes an argument against the trend of invited competitions and RFQs.  The authors take an in-depth look at past competitions won by young architects and planners, and survey the state of competitions through the world on a region by region basis. The end result is a compelling argument for an inclusive approach to conducting international design competitions.  
Download Young Architects in Competitions for free at the following link: 
Astrakhan Looks to Raise Its Quality of Life Index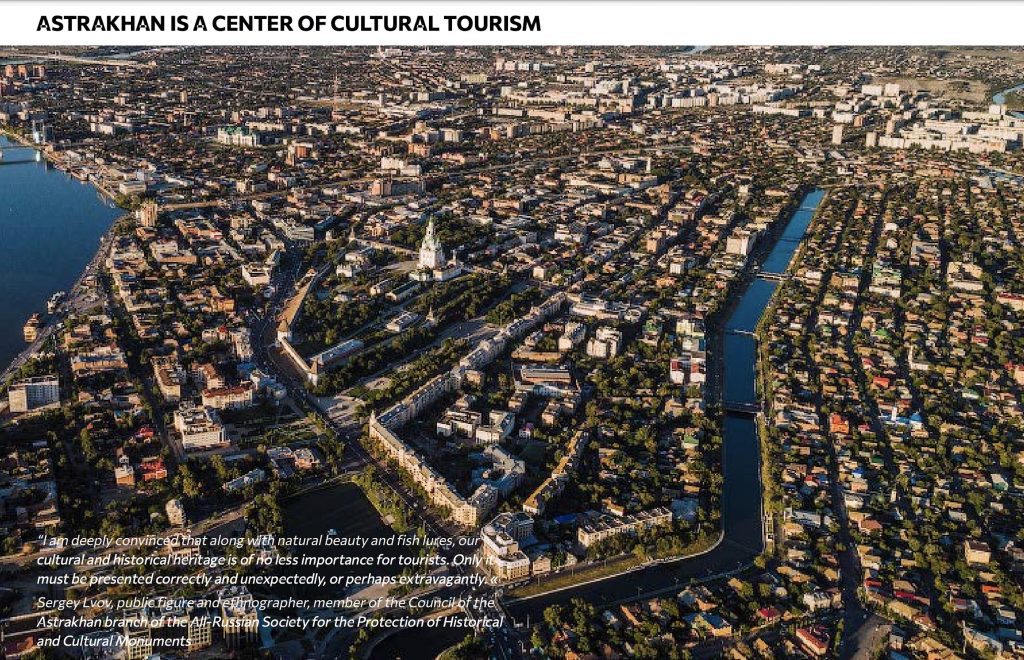 Aerial view of downtown Astrakhan
Planning competitions with a strong landscape component take many forms, including some for plazas and gateways to major town centers, city neighborhood sites with multi-story housing units, university campus plans and finally, comprehensive city plans—the latter either being for new towns, as in China, or strategies for the improvement of existing cities—as was here the case with Astrakhan, a major city on the Volga delta, and the Caspian Sea.
Earlier this year, an article in the Architects' Journal described what almost sounded like a death knell for wHY Architecture's winning competition design for Edinburgh's Ross Pavilion site. When the competition took place, some observers may have regarded wHY as a wild card, in the company of such high-profile firms as BIG and David Adjaye,* There can be no question that they understood the site and program better than their rivals, and it would have appeared that innovation had won the day. Their design could have served to rethink the way in which this site, with its replacement of an outdated bandstand by a contemporary structure, would serve as a destination for Scotland's public—much as has been the case for Frank Gehry's pavilion in Chicago's Millennium Park.
SWA/Balsley Wins Paveletskaya Plaza Landscape Competition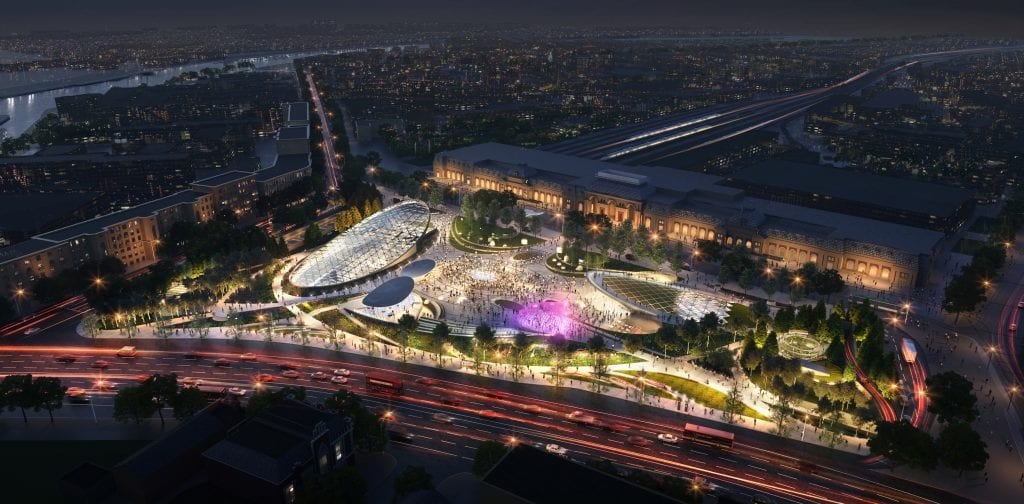 Aerial view at night – courtesy SWA/Balsley 5+ Design
Of the nine railway stations in Moscow, Paveletskaya is the largest and one of the last of those that opened around the turn of the century. Compared to other Moscow stations, Paveletskaya, designed by Alexander Krasovsky and opened in 1900, represented a lower-key presence in its sprawling configuration, similar to palaces such as a Sans Souci without the ornamentation.
   The original site for the recent competition included a small park facing the station, bordered on one side by the Ring Road. Post WWII, the site was bifurcated by a road, thus separating the front entrance of the station from the grassy area facing it.