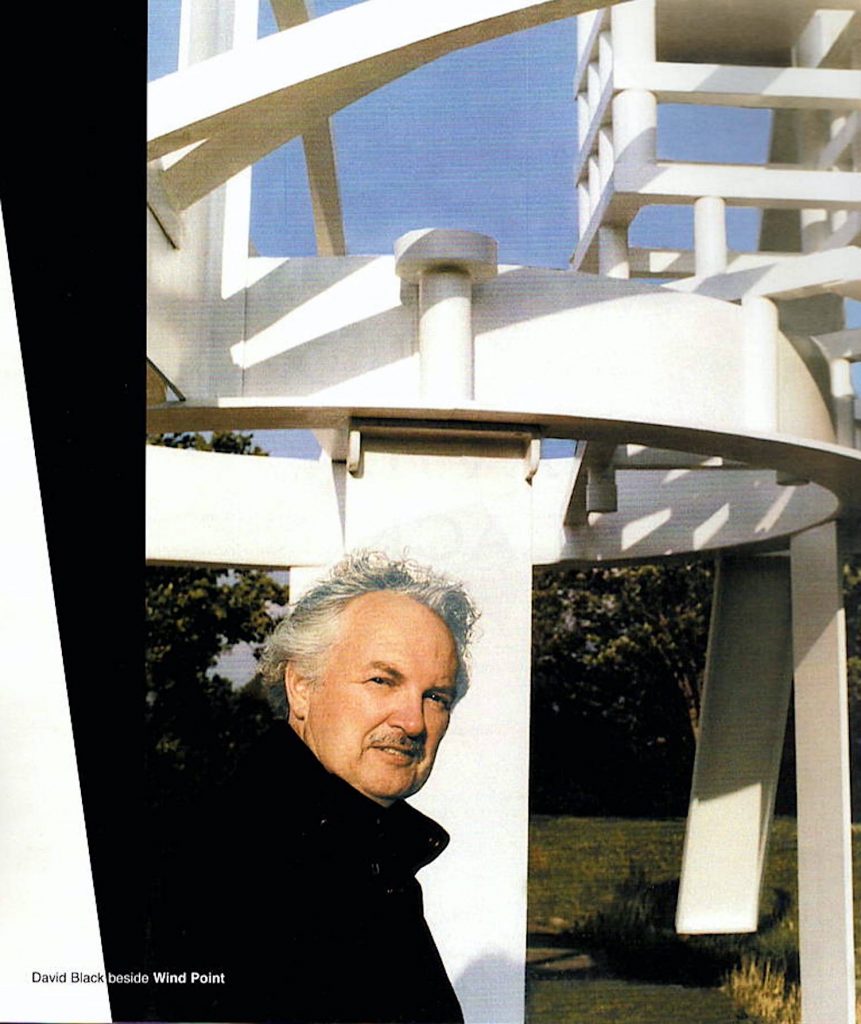 During a visit to Columbus, Ohio in 1970, I was invited to the home of a friend, Professor Michael Curran, who told me there was someone I should meet. The person he was referring to was Prof. David Black, a professor in the university's art department, who was about to travel to Berlin as a result of a D.A.A.D artist-in- residence grant. This turned out to be a long friendship, as I was often a guest at David's villa in Berlin-Dahlem, and followed his progress as an artist while in Berlin, as well as in the rest of the world after he returned home. 
Growing up in Gloucester, Massachusetts, David was the valedictorian of his high school class, and began his studies to become a physicist at Wesleyan University. After his freshman year, he changed his major to art, which determined his life vocation into the future. During the Korean War, his military service saw him posted to a cultural unit as a photographer where the head of his unit was another upcoming artist, Jasper Johns. Completing his time in the military, the next step was enrolling in the visual arts program at Indiana University in Bloomington, Indiana. There he became an assistant under one of his teachers, George Rickey. This also turned out to be a longtime friendship, as Rickey, known for his kinetic sculpture, also had a studio in Berlin. Upon graduation, his first and only job in academia took him to Ohio State University.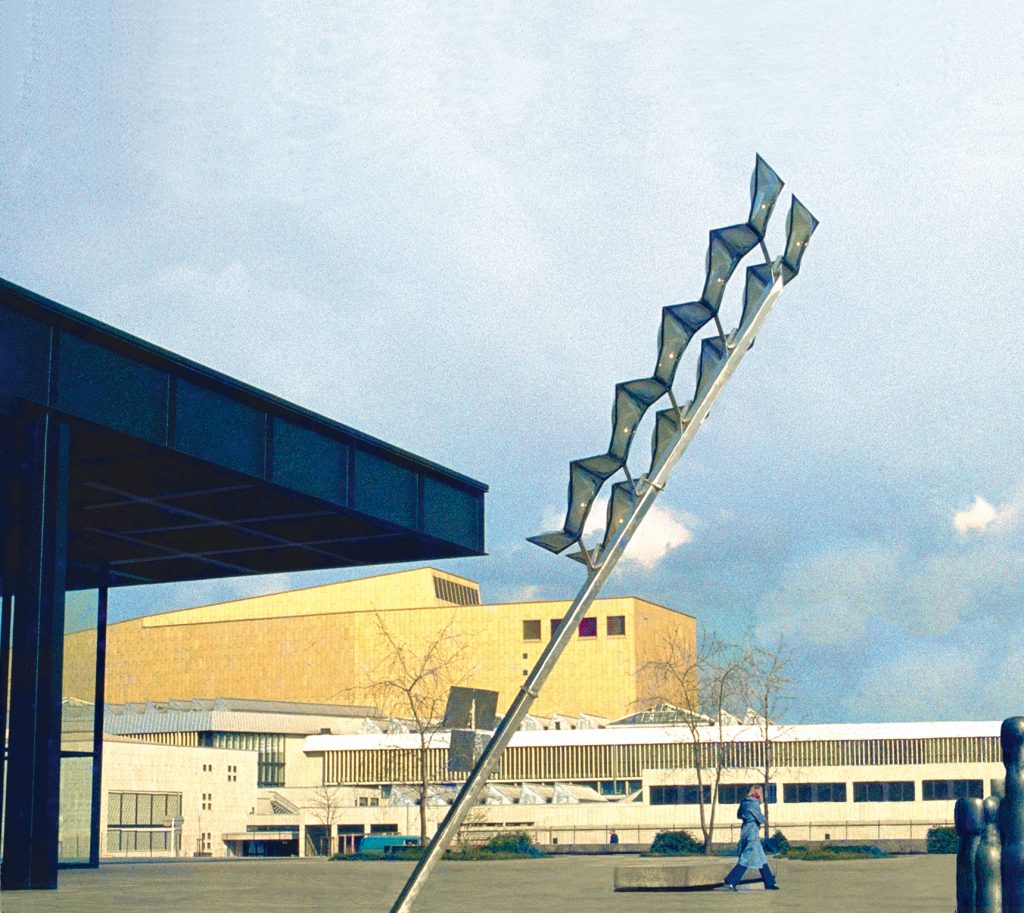 "Falls" David Black Sculpture Exhibit at the Galerie des 20 Jahrhunderts, Berlin (1975) Photo: David Black
During his early years at Ohio State, David was primarily known as a ceramicist, winning several notable prizes, where his work gained not only national, but international recognition—primarily in Japan. In Berlin, he turned to plastics, primarily Lexan polycarbonate, one of the most durable and indestructible materials for outside sculpture. His work in Berlin caught the eye of Werner Haftmann, Director of Die Neue Nationalgalerie, and resulted in the commission of a major sculpture for the museum's sculpture court, "Skypiece" (1973). Over four decades later, Skypiece was rediscovered in storage by the new Curator, refurbished, and again reinstalled in the sculpture court in the same pool, celebrating the museum's reopening after a five-year renovation.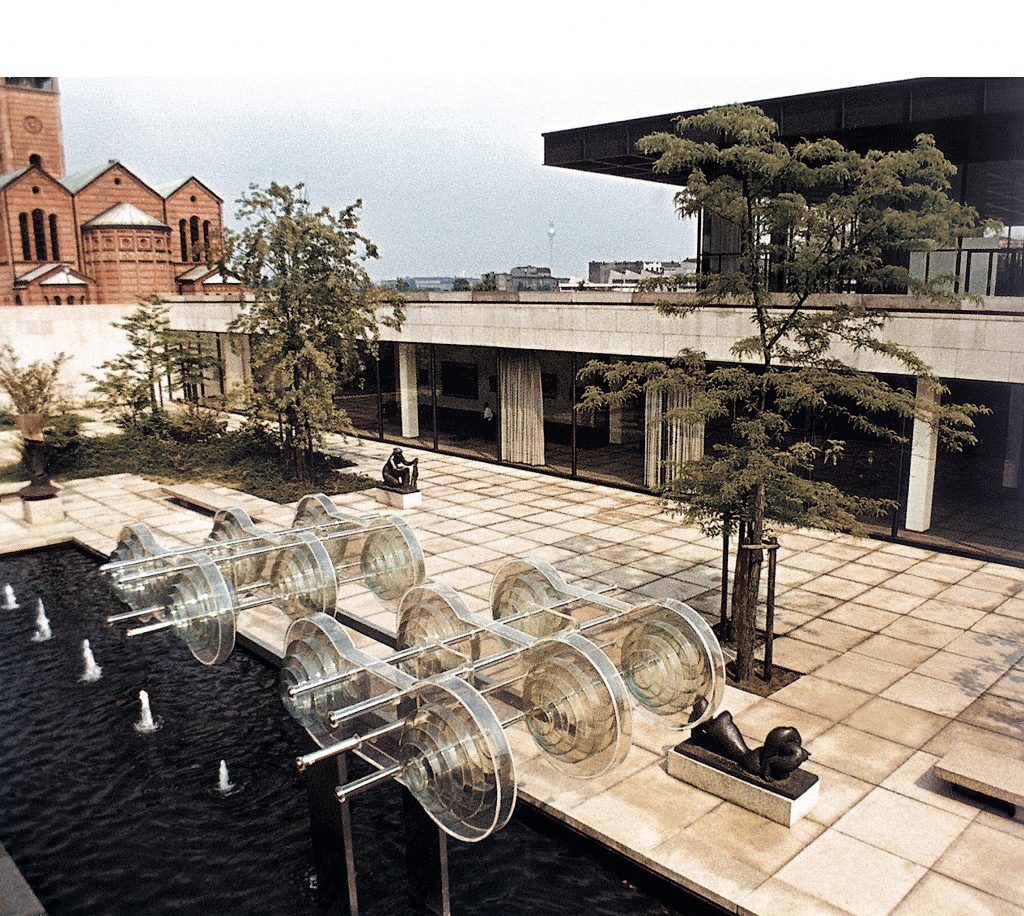 "Skypiece" Neue Nationalgalerie, Berlin (1975).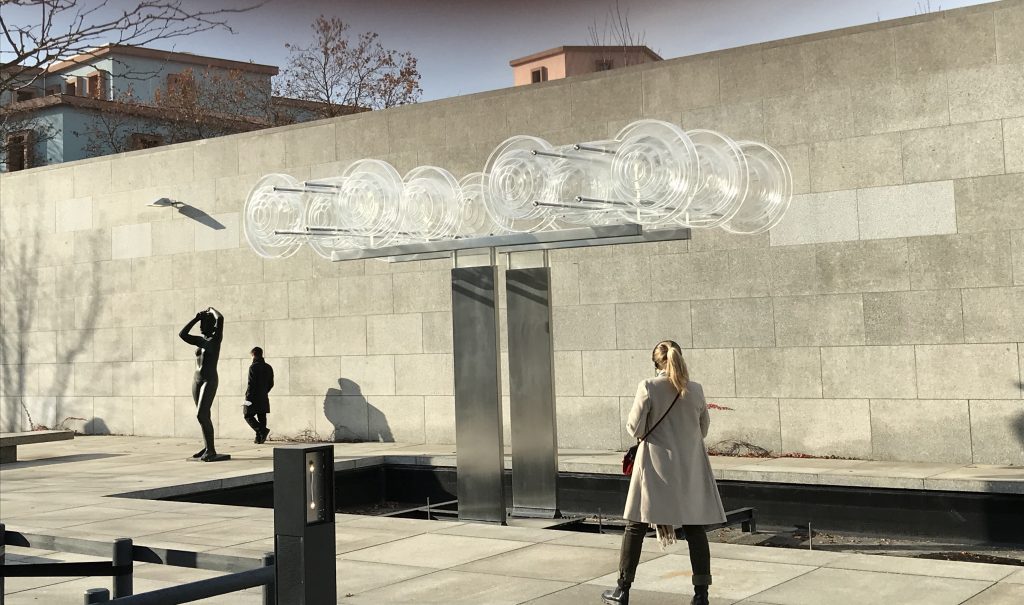 .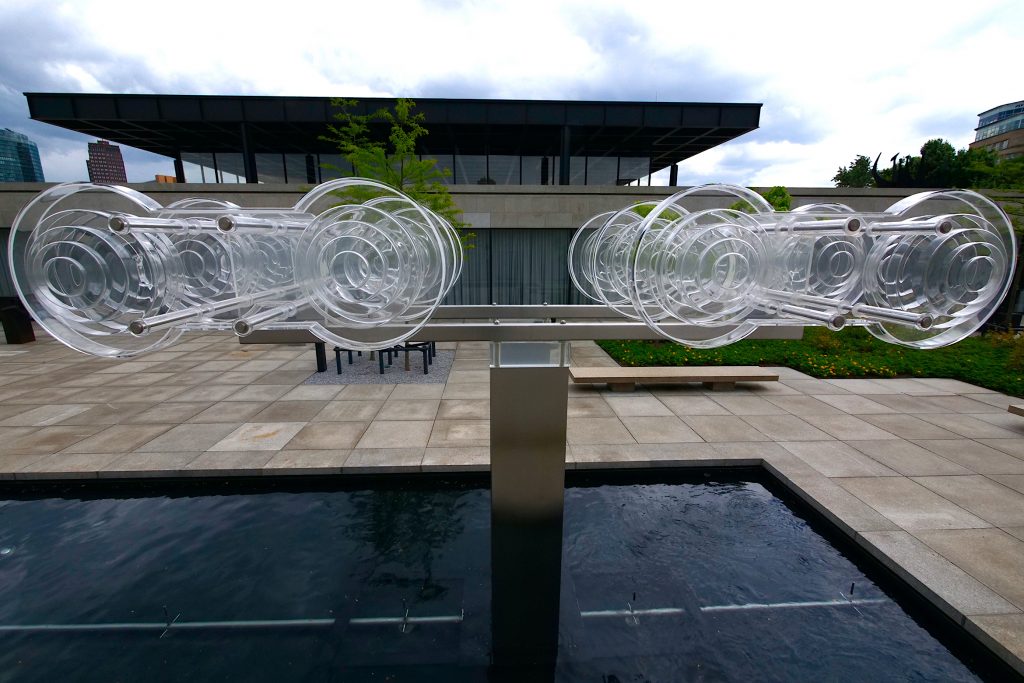 Reinstallation (2021) Photo: ©Stanley Collyer (left) ©Eric Black (right)
After several exhibits of his plastics in Germany, including a major show at the Neue Nationalgalerie, Black's return home led to a change in his use of materials—to metal, and two commissions in Columbus: "Airfold" (1981) at Columbus International Airport, and Breaker (1982) located on the Commons of Ohio State University. He started to enter competitions for outside sites requiring major artworks. An early large sculpture that won him recognition was "Wind Point," a winning entry in a major Japanese sculpture competition, the Shikanai Prize, 4th Henry Moore International Competition (1985). He went on from there to win a number of important competitions in the U.S., one of the high-profile ones being "Flyover," a Wright Brothers memorial on Main Street in Dayton, Ohio.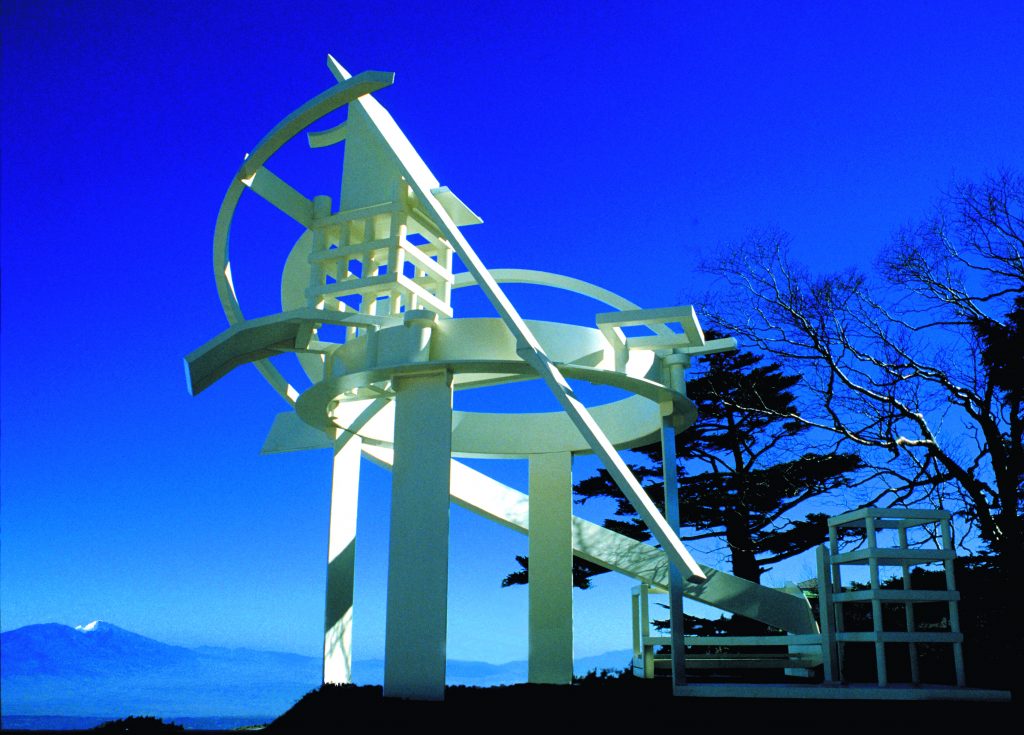 "Wind Point" (1985) Shikanai Prize, 4th Henry Moore International Competition, Japan
In all, David's works included 29 public sculptures, many of which were competitions. All of his public artworks were conceived with either the buildingi(s) or landscape in mind. Over his career, he didn't stick with a single style or design element that would have made him easily recognizable. Always open to experimentation, whether with materials or objects, his works undoubtedly placed him in the company of architects and artists who design for a given site.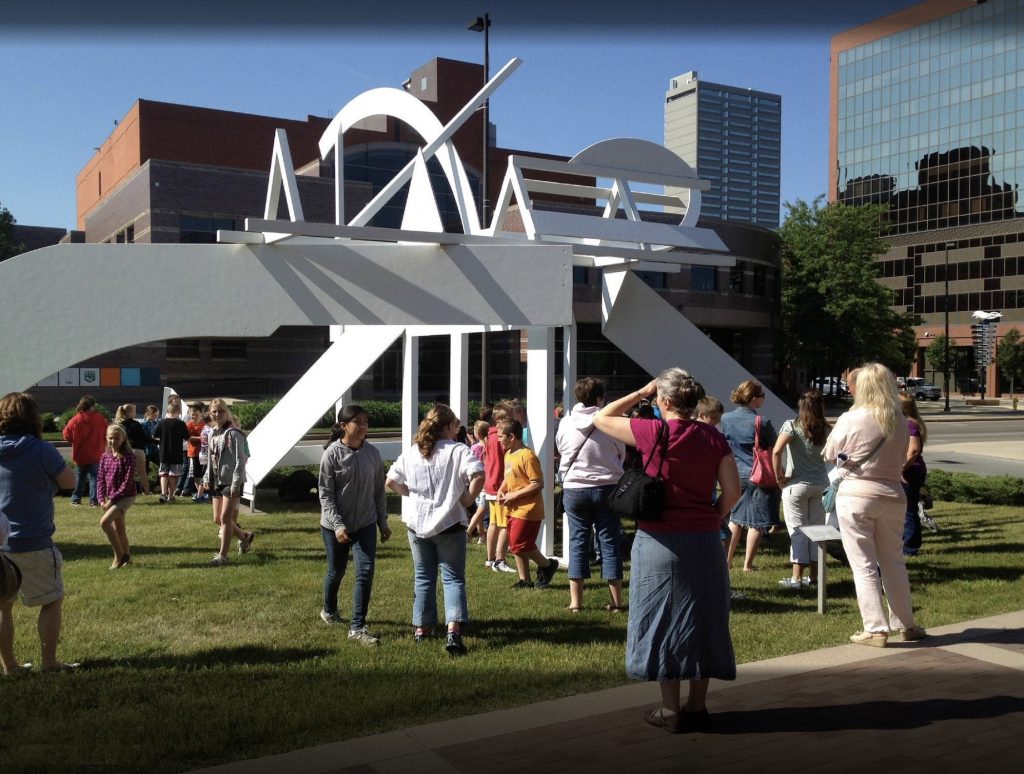 "Crossings" courtesy Fort Wayne Museum of Art (1984), Fort Wayne, Indiana
David retired early as an emeritus from his tenured position as professor in Ohio State's Art Department for good reason. The volume of his successful projects grew exponentially in the 1980s, a situation that demanded his undivided attention. In this sense, David was an outlier: few university art professors, let alone artists, can attest to such a career.
Although David is known primarily for his work as a sculptor, his interests did not stop there. Architecture and planning issues were also issues at the top of his agenda. As a member of OSU's Wexner Center for the Arts competition jury that settled on Peter Eisenman's design, David was the only juror that expressed reservations about some aspects of the design: the top level of the auditorium served to block the sightline from of the Commons from High Street, and the addition of design elements of the old armory building that was demolished to make room for the new building was illogical, as "it was nobody's favorite." Eisenman unfortunately ignored those suggestions.
Finally, when it came to preserving the essence of the Commons, David was one of the most outspoken opponents of Robert Irwin's plan, which would certainly have had a disruptive effect on the Commons as a unifying campus plan.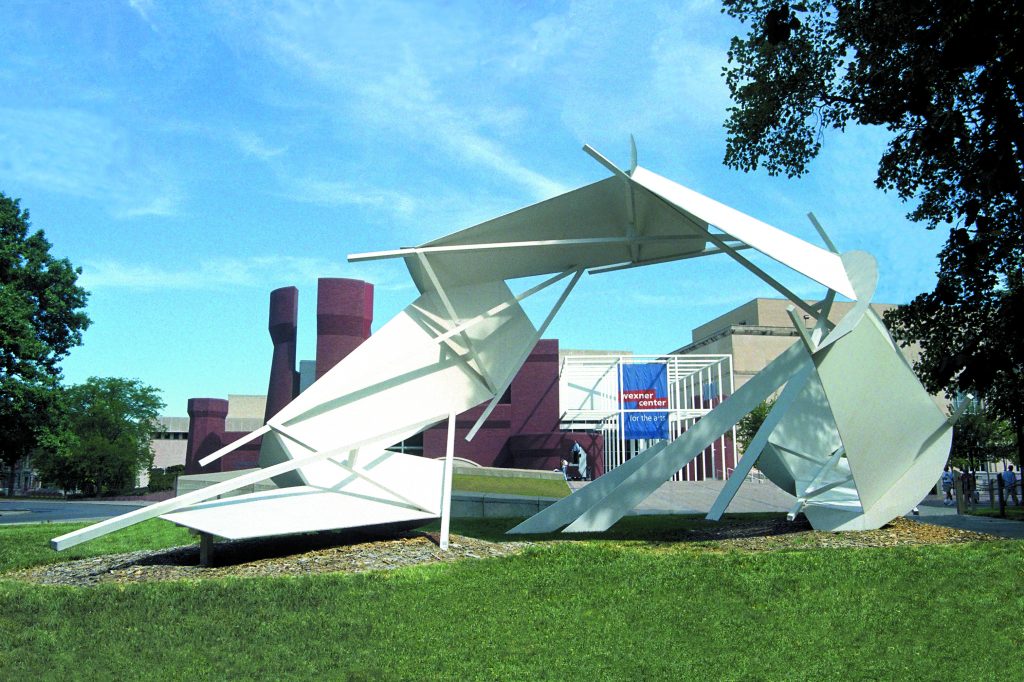 "Breaker" (1982) Ohio State University Commons 
The presence of one of David's first metal sculptures, Breaker, on Ohio State's Commons, will serve as a constant tribute to the institution that got him started on his long road to success. And it will also serve as a reminder that his success was not just that of a local artist, nor one whose works will be regarded as yesterday's fashion, but one whose art will survive the ravages of time. The reinstallation of Skypiece in Berlin after 40+ years in storage is testimony to the intrinsic value of his art.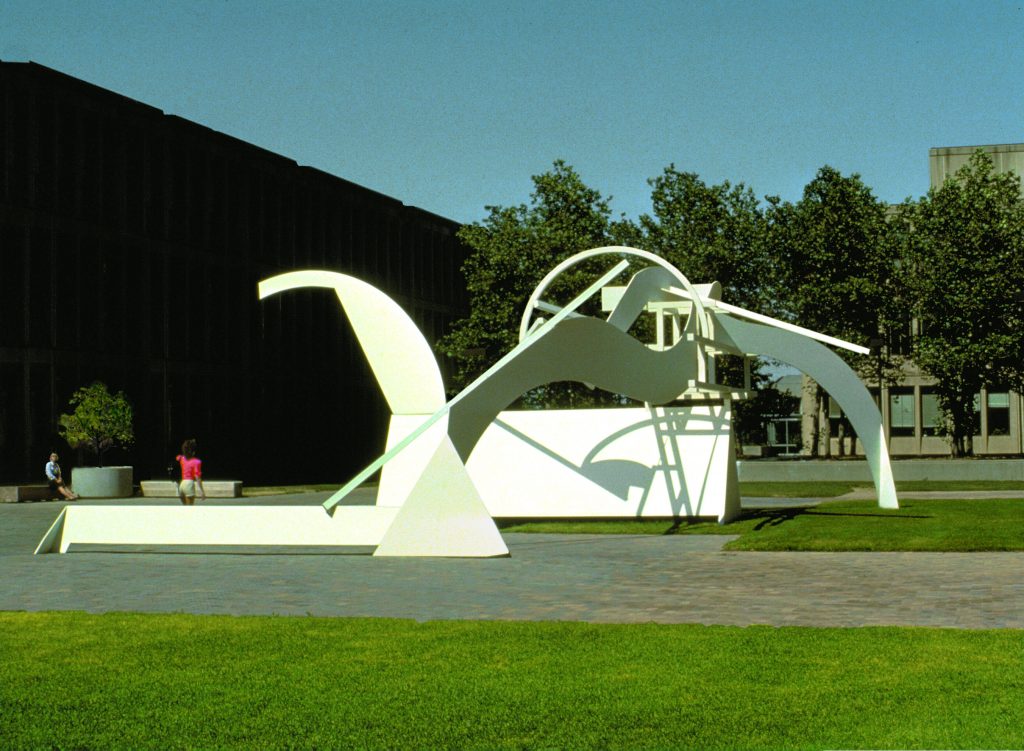 "Coastlines" (1983), Case Western Reserve University, Cleveland, Ohio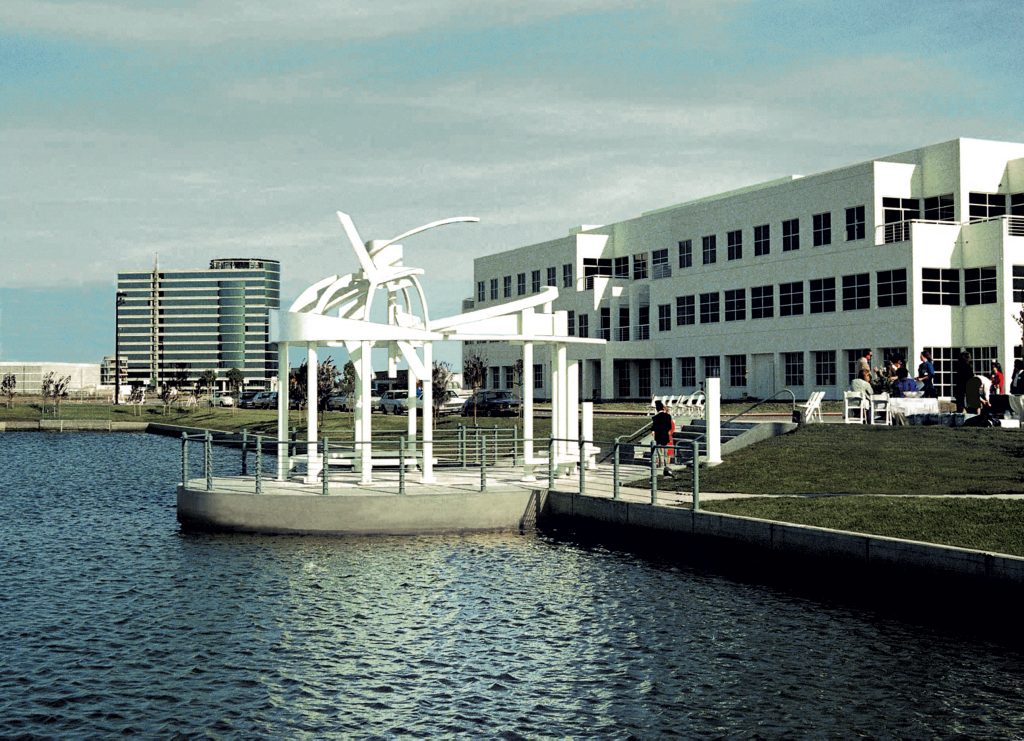 "Jetty" Competition (1990), Belmont Park, California, San Francisco Bay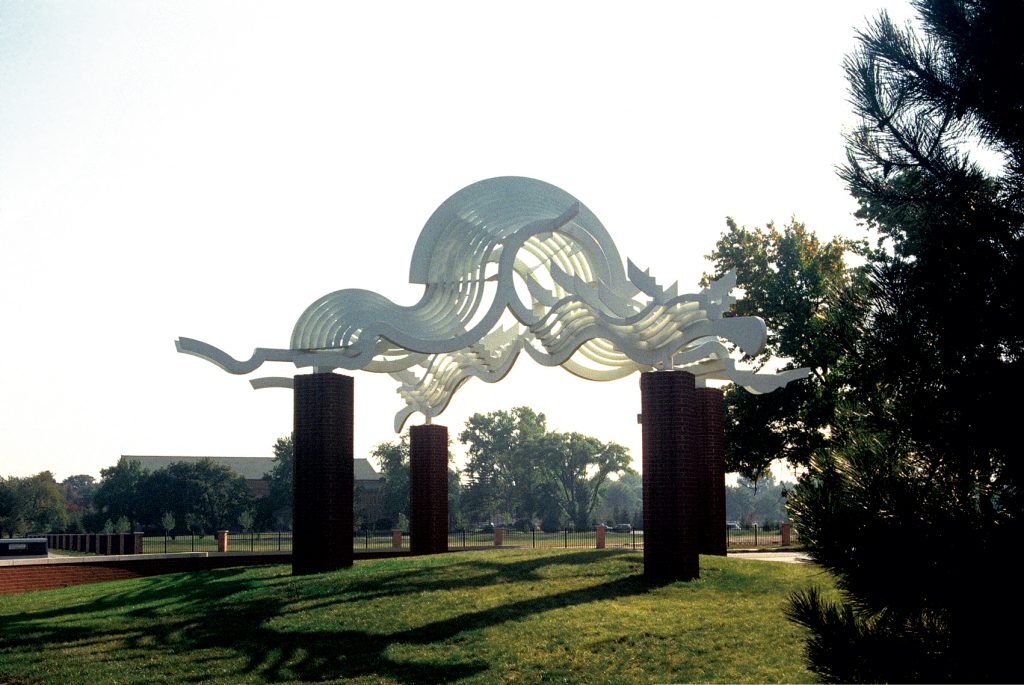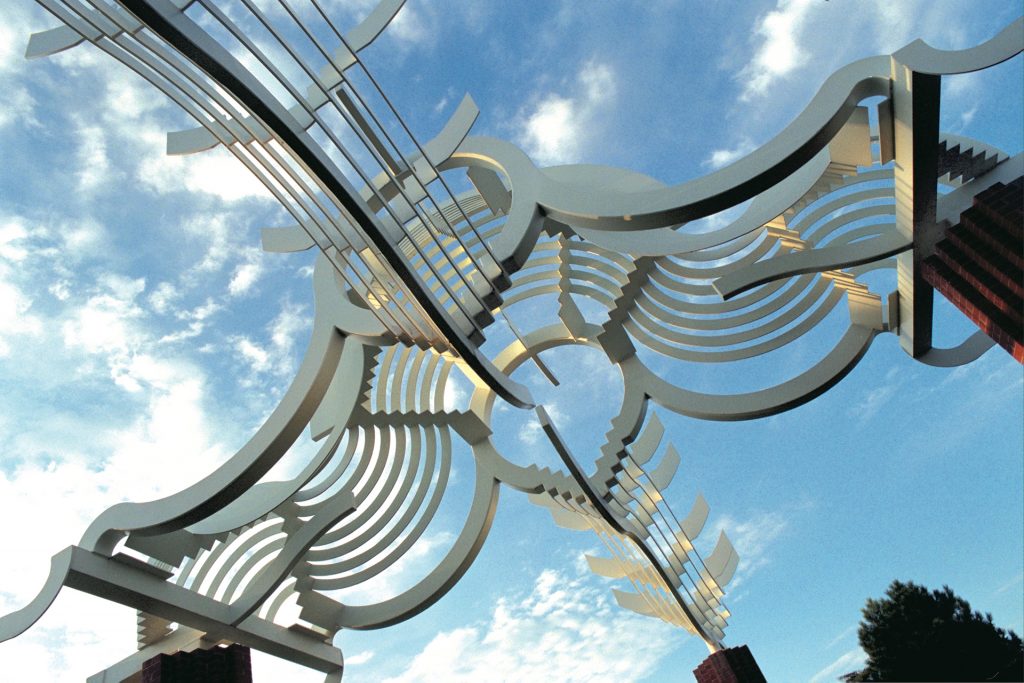 "Ottawa Gate" Competition (1994), Toledo, Ohio; Perspective (left) and detail (right)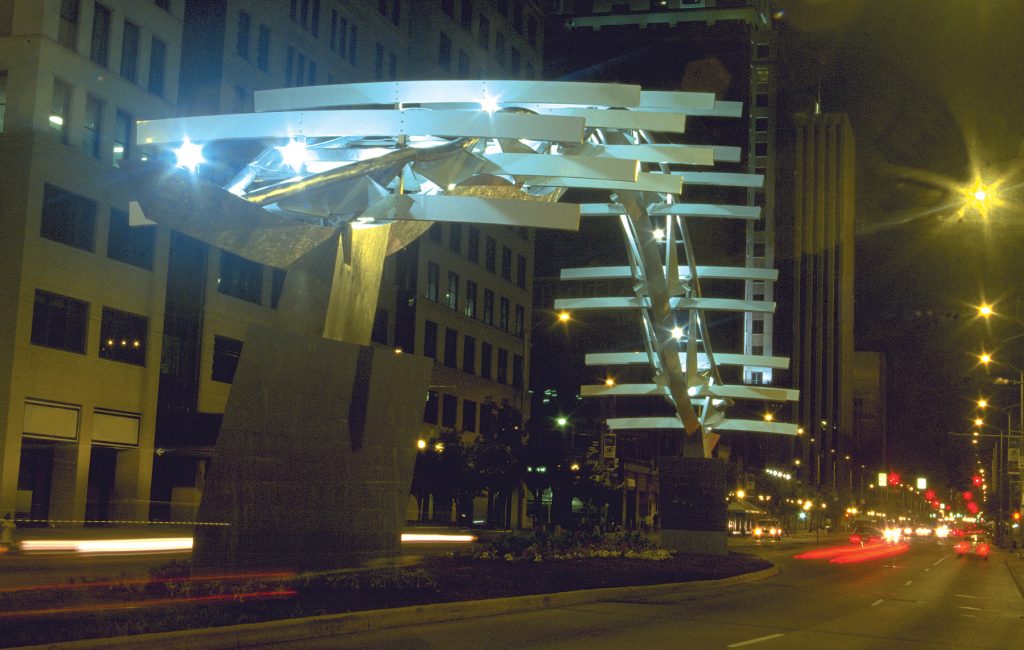 c
"Flyover" Wright Brothers Memorial Competition (1996), Dayton, Ohio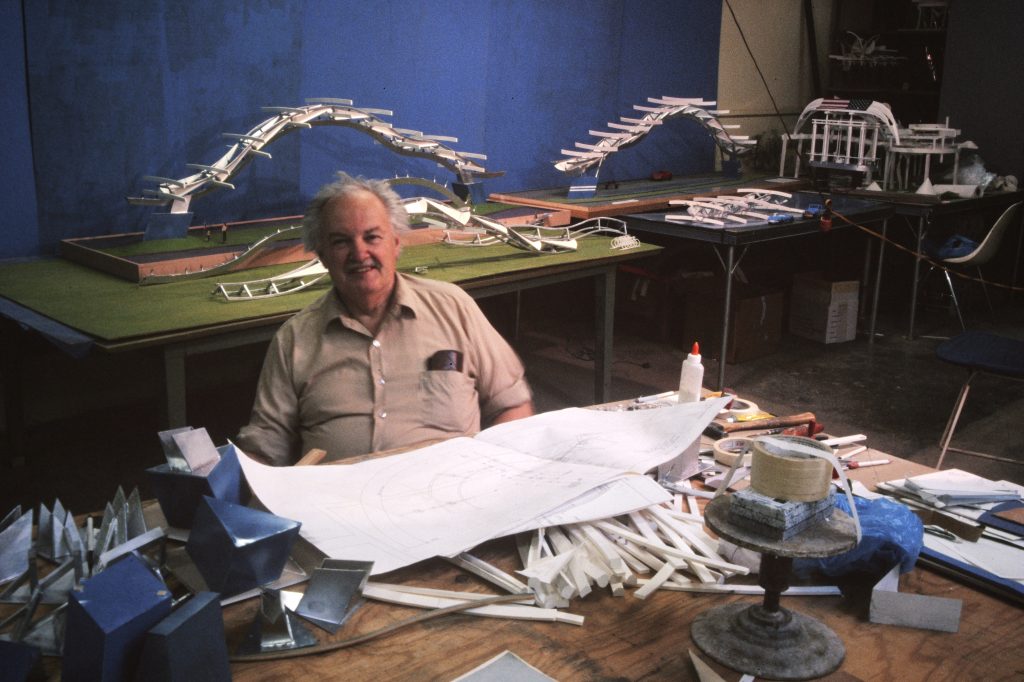 David Black in studio with "Flyover" models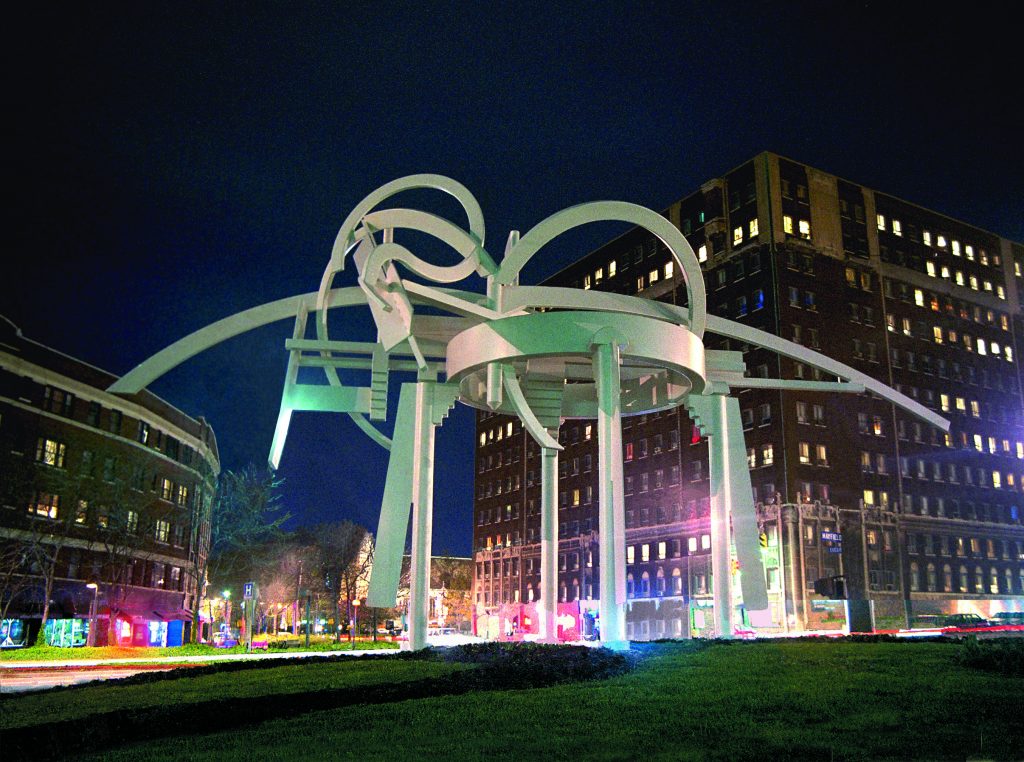 "Euclid Circle" (1995) night view, Cleveland, Ohio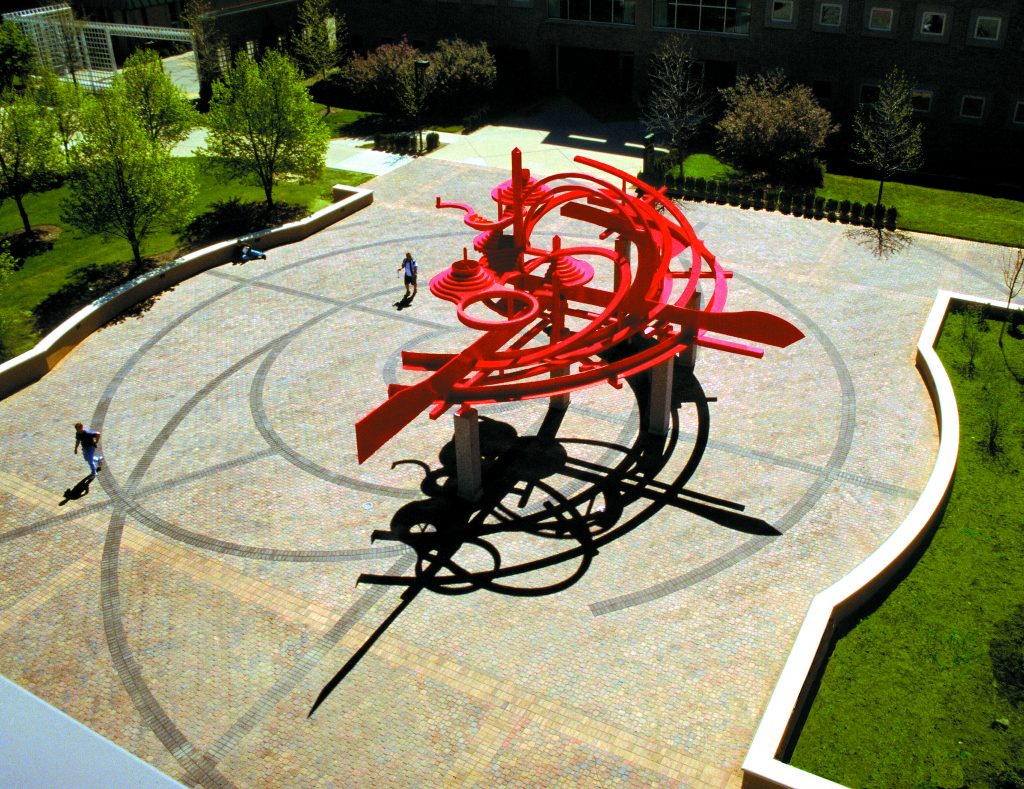 "Turning Point" O.A.C. Competition (1998), Wright State University, Dayton, Ohio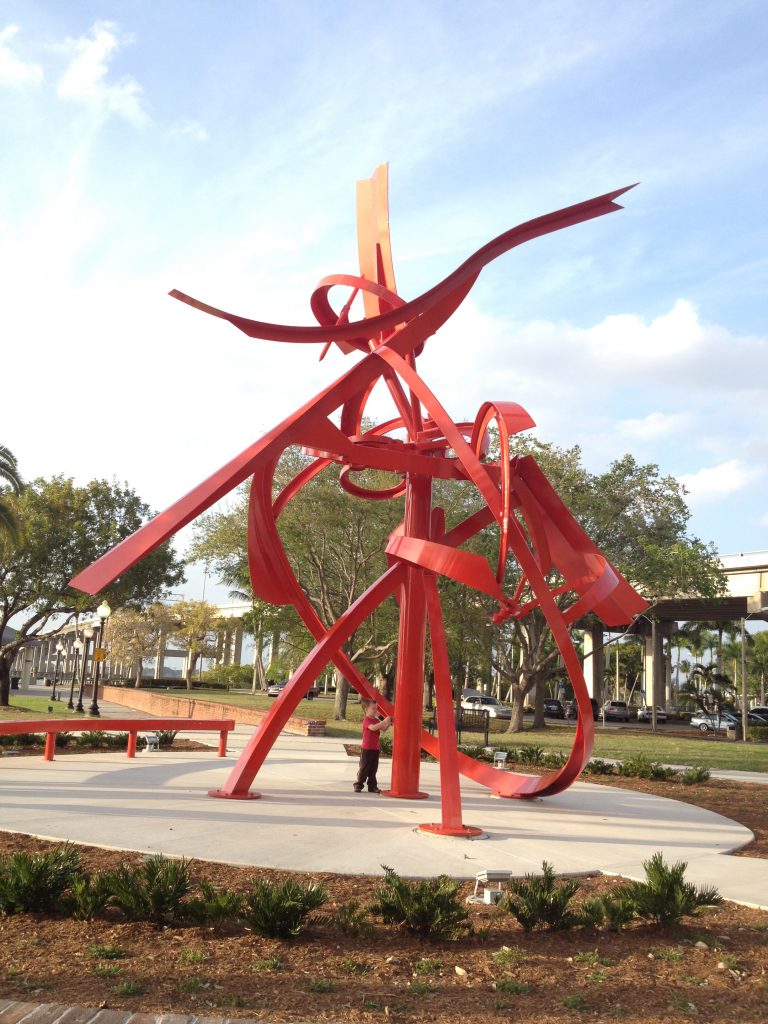 "Fire Dance" Competition (2010), Fort Myers, Florida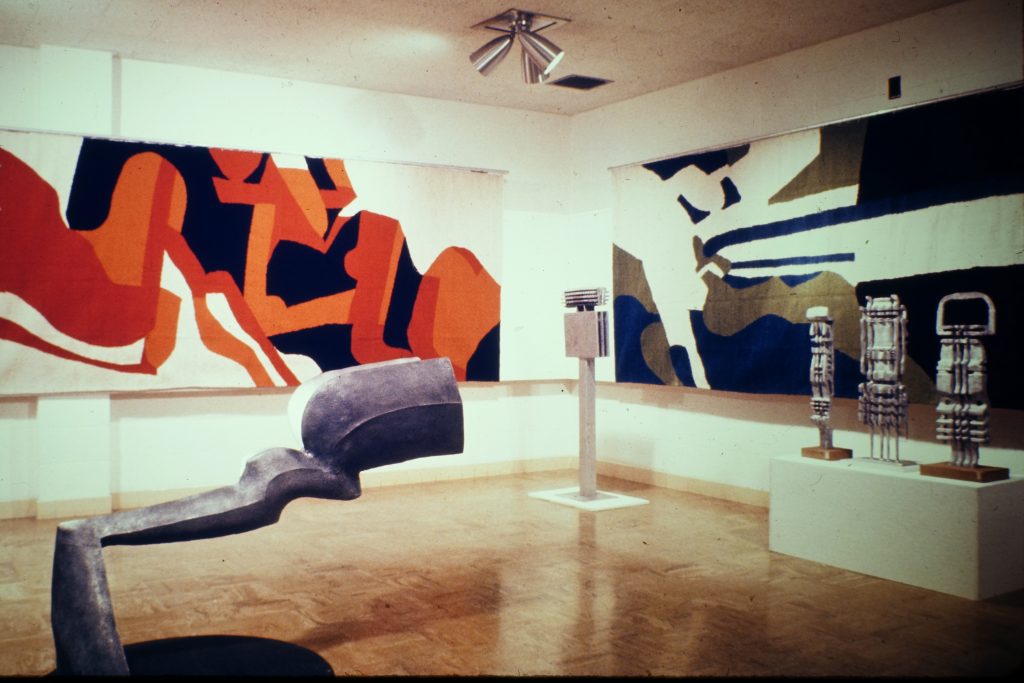 Early exhibit of the artist's works at Ohio State University, including his textile designed
wall hangings fabricated by Mexican weavers
On a sad note: a large number of David Black's artworks in storage in Columbus recently fell victim in a masive fire that destroyed a large number of important pieces, including many from his acrylic period.
Unless otherwise note, above photos were by the artist.
.