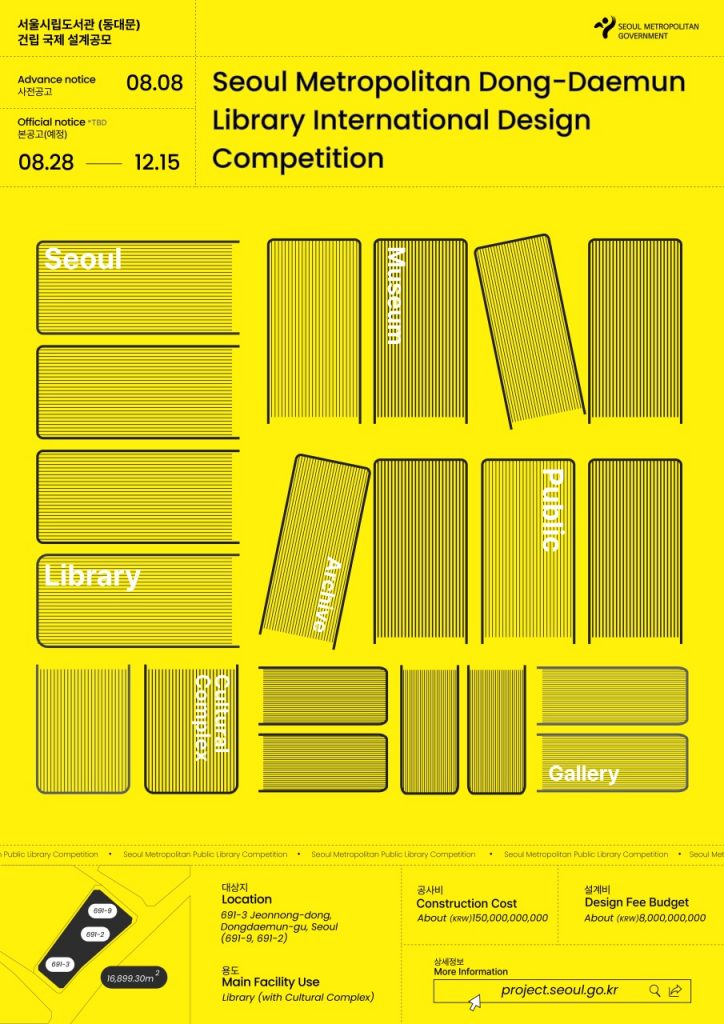 Competition facilitator: Seoul Metropolitan Government Future Space Planning Division Urban Space Planning Officer
Type: International, open, two-stage
Languages: English, Korean
Eligibility: Team should have licensed architect
Fee: None
Timetable:
28 August 2023 – Competition launch
14 September 2023 – Registration deadline
5 September 2023 – Q&A deadline
26 September 2023 – Deadline for submissions

Process:
The design competition will consist of two phases. Phase 1 will evaluate the basic concept plan and spatial organization based on the aforementioned key requirements, and with a submission fee and additional time for winners selected in Phase 1, Phase 2 will select more advanced plans to implement the concepts. With a two-phase process, we hope to reduce the volume and cost of submissions in Phase 1, but still get original concepts, and concrete blueprints that can be realized in Phase 2

Design goals:
• A public library that aims to be the biggest and the best
• The site is a cultural facility site created as part of the development of the Jeonnong-Dapsimni Redevelopment Area, where large-scale apartment complexes are concentrated, and Cheongnyangni Station (Line 1, Gyeongui-Jungang, Bundang Line), Sindap Station (Line 2), Dapsimni Station (Line 5), Seoul National University, Cheonggyecheon Stream, and Dapsimni Park are located within a 1km radius. To meet the demand for cultural and green spaces in the area and to provide specialized and diversified library services befitting the status of Seoul as an international city, the new public library will be the largest in the country (site area: 16,899.30m2, gross floor area: 25,000m2) and aim to provide spaces and services of the highest quality.
• A community hub where people meet and knowledge is created
• The Seoul Public Library (Dongdaemun) (Tentative) aims to be a space where people encounter not only information but people, and where information is not only collected and preserved but knowledge, skills, and stories are produced and shared among people. Connecting information, people, and places across internal and external boundaries, the library of the future will function as an activity-oriented, boundaryless space open for anyone to use and interact with regardless of gender, generation, region, or disability, and function as an open community hub that creates programs with citizens.
• GLAM(Gallery, Library, Archive, Museum)
• The new library will be built as a gallery-library-archive-museum complex (GLAM) that offers a variety of program activities and services, such as exhibitions, performances, experiences, and education, centered on the functions of the Seoul Studies Archive and library, and will function as a smart center for integrated management of books and knowledge information across the city based on advanced technologies, including automated preservation libraries and book browsing robots.
• Sustainability for future generations
• A noteworthy requirement of the competition was the specification to use wooden structures in the main part of the building, and requiring flexibility of space to accommodate various activities as well as a plan to proactively utilize the external space. Through these requirements, the hope is that creative and challenging designs that do not just follow the manual, as well as innovative architecture that can reveal Seoul's eco-friendly future vision will be realized, setting new precedents for future generations.
Expectations for the new competition method
With a two-phase process, we hope to reduce the volume and cost of submissions in Phase 1, but still get original concepts, and concrete blueprints that can be realized in Phase 2. With the excessive costs and irregularities of overheated design competitions, we hope that the competition will serve as a forward-thinking and sustainable way to drive a better design environment.
Shin Seung-soo, Head of Operation
For more information, go to: