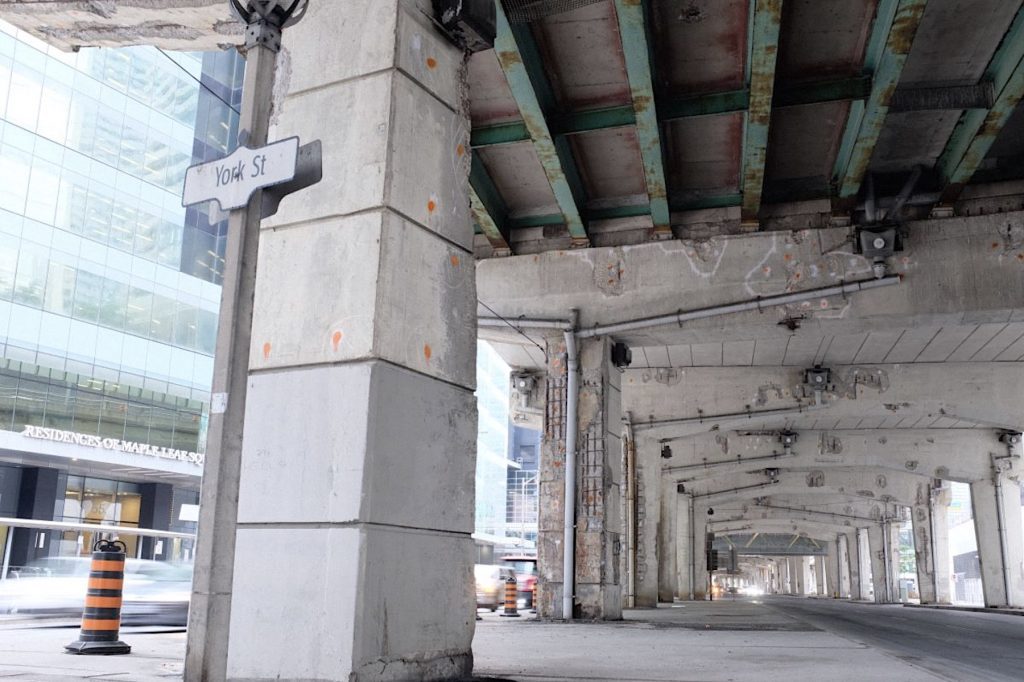 Image courtesy of thebentway.ca
The Bentway has announced the six shortlisted teams for the Waterfront ReConnect design competition, a collaboration with the City of Toronto, the Waterfront Business Improvement Area, and the Toronto Downtown West Business Improvement Area.
"Toronto's Gardiner Expressway cuts across the full length of the city, acting as both a physical and psychological barrier between the city's core and its blossoming waterfront. The Waterfront ReConnect design competition explores the potential for this obstacle to be reimagined as a vital point of connection," says The Bentway.
The goal of the competition is to develop creative interventions that result in a more welcoming and accessible experience of the York and Simcoe under-Gardiner intersections for pedestrians and cyclists. 
Launched by the Waterfront BIA in 2019, the first ReConnect project at Rees St., incorporates design elements such as bright reflective paint, enhanced pedestrian markings, and improved wayfinding.
The six shortlisted teams include:
York Street Intersection
• Sans Façon + Zeidler (Calgary/Toronto)
• LeuWebb Projects + DIALOG + Mulvey & Banani Lighting (Toronto)
• 5468796 Architecture Inc. (Winnipeg)
Simcoe Street Intersection
• O2 Planning & Design Inc. + Mulvey & Banani Lighting + ENTUITIVE (Calgary/Toronto)
•  Daily Tous Les Jours + SvN Architects + Planners + Latéral (Montreal/Toronto)
• SOCA + Tiffany Shaw-Collinge + SHEEEP (Toronto/Edmonton)
These teams will embark on a nine-week design exercise to develop concepts for the individual sites. The final design proposals will be made available online for public viewing and input and will be evaluated by a jury of design and arts professionals. One winning proposal for each intersection will be selected to be constructed in 2022. 
-From Canadian Architect (10/27/2021)