Redefining the Garden Village Concept:
Designing the Greenway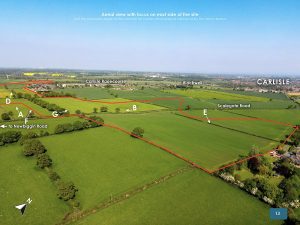 Aerial view of Greenway site
Sponsor: City of Carlisle, U.K.
Competition facilitator: Landscape Institute
Type: Open, professional and student
Process: For professionals participating, the competition is in two (2) stages with the winner having a possibility to be involved in the realization of the project. For students, it is a one-stage ideas competition.
Fee: none
Language: English
Timetable:
10 September 2021 – deadline for stage 1 professional submissions
10 September 2021 – deadline for student submissions
4 October 2021 – Stage 2 brief issued to shortlisted professional entrants (3)
26 November 2021 – Deadline for Stage 2 professional submissions
Funding:
In March 2021, the Government announced the successful award of £19.7m Towns Deal funding for Carlisle. The funding will enable the delivery of a range of projects to assist the regeneration of Carlisle City Centre and importantly includes an element to deliver a project focused on 'Start with the Park'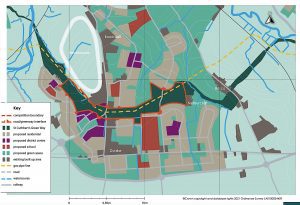 St Cuthbert's Greenway plan
Awards:
Professional
Each shortlisted professional team will receive £5,000 to submit a proposal. The winner will receive an additional £10,000.
Student
There will be two winners selected, one from each category set out below. Each will be awarded a prize of £1,500 each. There will also be two runners up for each category selected with a prize of £500. The student entries will be divided into:
students of landscape, architecture, design or other related undergraduate/ post graduate studies;

other undergraduate/post graduate courses.
Jury Panel:

• Sophie Tucker – Sustainable Drainage Lead, United Utilities
• Niamh Keddy – Sustainable Development Lead Advisor, Natural England
• Graeme Innes –Lead Officer – Development Management Cumbria County Council
• Martin King – Landscape Architect, Managing Director, Urban Green
• Cllr Paul Nedved – Portfolio Holder, Economy, Enterprise and Housing, Carlisle City Council
• Jane Meek, Corporate Director of Economic Development, Carlisle City Council
Design Challenge:
'Start with the Park' is an opportunity to create a resource that could be a visitor destination attraction in its own right and will benefit the residents of all of the Carlisle district. Establishing the 'Greenway' at the outset of St Cuthbert's Garden Village will create a greenspace at the heart of the community and will be a unique selling point. It will also connect the proposed new communities with each other, with the city, and with the surrounding countryside.
The Greenway also provides an opportunity to look at new ways of delivering cycling and walking
infrastructure in Carlisle district to encourage recreational and active travel. A key element of this will be ensuring that this connectivity is both within and beyond the garden village – in particular ensuring active/sustainable
transport connectivity to the city centre and the transformational regeneration projects within the southern gateway area of Carlisle such as the railway station improvements, new university campus and business space at the Citadels and Caldew Riverside."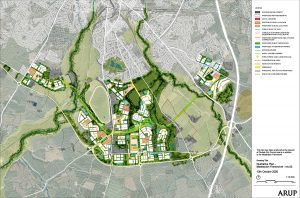 St Cuthbert Master Plan
For more information and to enter:
https://competitions.landscapeinstitute.org/st-cuthberts/
To access the competition brief:
https://landscapewpstorage01.blob.core.windows.net/competitions-landscapeinstitute-org/sites/4/2021/07/Start-With-The-Park-Competition-Brief.pdf