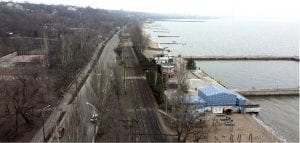 Sponsor: City of Mariupol, Ukraine
Type: Open, international, RfQ
Project:
With the importance of revitalizing Mariupol's seafront in mind, the municipality is investing in an ambitious reconstruction and regeneration project planned for 2024-2025
Eligibility: architects, planners, etc.
(Must include a local Ukrainian architect, planner or landscape architect on team)
Languages: English, Ukrainian and Russian
Fees: none
Timetable:
30 July 2021 – Expressions of Interest deadline
(In Stage I a shortlist of three (3) teams will be invited to proceed to the design phase.)
26 September 2021 – Stage two design submissions
Jury: TbD
Compensation:
– Each of the three finalists will receive USD2,000 for the completion of their design proposals.
– First prize winner will receive USD5,000 and the right to negotiate for the design implementation process.
Design challenge:
Through the International Ideas Competition for Reconstruction of the Central Shore, Mariupol municipality is seeking a proposal that will enhance the city's coastal identity and values and take into consideration the needs of locals and visitors alike. The open call is structured around five conceptual pillars, detailed in the competition guidelines below: Vision, Integration, Identity, Continuity, and Regeneration.
The new design for the Central Shore will need to demonstrate a longitudinal, adaptive Vision embedded within the local culture and urban fabric. Applicants will be expected to incorporate participatory practices in their proposals.
The Competition Brief calls for Integration of preexisting programs — ranging from recreational infrastructure to popular fishing spots and resting places — and developing new ones. The diverse spatial designs will need to accommodate different activities throughout the seasons, allowing for spontaneity and flexibility when needed.
Mariupol Central Shore has a long and fascinating history, marked by its ascendance as a pivotal Eastern Ukrainian seaport, an important locus of industrial steel production, and a regionally significant resort town. Through sensitivity to existing structures and artifacts, as well as innovative new design elements, participants will be expected to spotlight this unique identity.
The competition calls for ease of movement ensured by continuous pedestrian and bicycle infrastructure along the seafront. Proposals must also provide beach access and suitable crossing points that account for the city's historic railroad, which spans the full length of the shore and runs in parallel to it.
The Competition participants will have to take into account beach restoration projects that are already underway and address them through ecologically sensitive and innovative landscape design solutions.
For questions:
info@mariupolseashores.com.ua
For more information and to enter:
https://mariupolseashores.com.ua/central