Frederic Schwartz FAIA (Spring 2006)
Young Architects in Competitions
When Competitions and a New Generation of Ideas Elevate Architectural Quality
by Jean-Pierre Chupin and G. Stanley Collyer
published by Potential Architecture Books, Montreal, Canada 2020
271 illustrations in color and black & white
Available in PDF and eBook formats 
ISBN 9781988962047


What do the Vietnam Memorial, the St. Louis Arch, and the Sydney Opera House have in common?  These world renowned landmarks were all designed by architects under the age of 40, and in each case they were selected through open competitions. At their best, design competitions can provide a singular opportunity for young and unknown architects to make their mark on the built environment and launch productive, fruitful careers. But what happens when design competitions are engineered to favor the established and experienced practitioners from the very outset?  
This comprehensive new book written by Jean-Pierre Chupin (Canadian Competitions Catalogue) and Stanley Collyer (COMPETITIONS) highlights for the crucial role competitions have played in fostering the careers of young architects, and makes an argument against the trend of invited competitions and RFQs.  The authors take an in-depth look at past competitions won by young architects and planners, and survey the state of competitions through the world on a region by region basis. The end result is a compelling argument for an inclusive approach to conducting international design competitions.  
Download Young Architects in Competitions for free at the following link: 
Hangang District Urban Design International Master Competition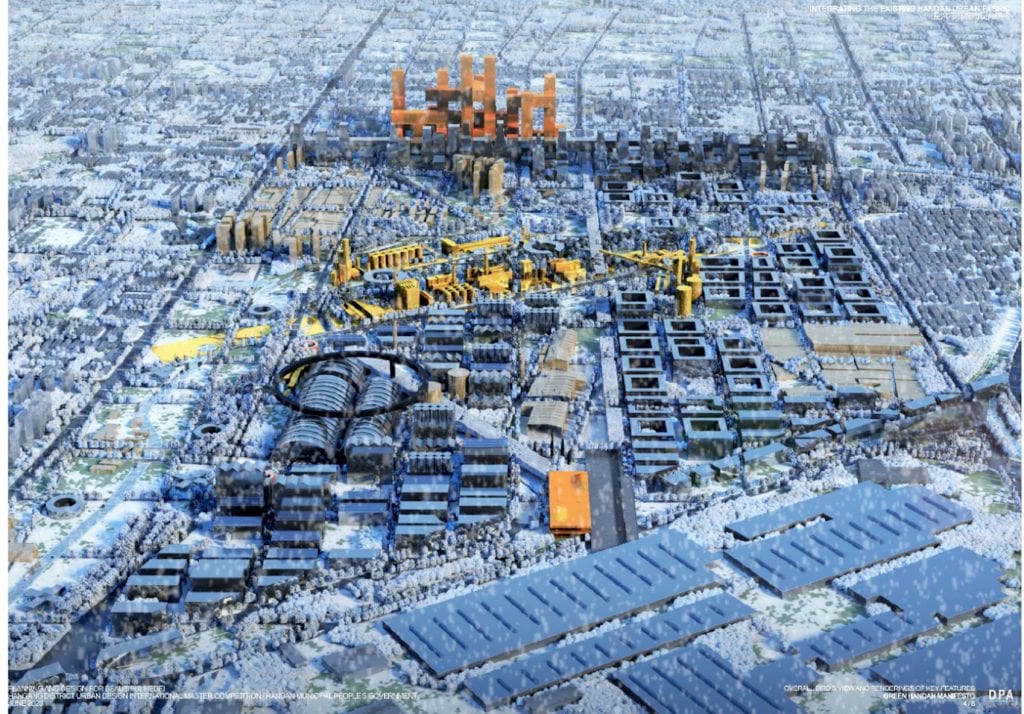 1st place entry by Dominique Perrault Architecture (image ©Dominique Perrault Architect)

China's planning priorities for their urban areas experienced a sharp turn after the post-Mao reforms took place. During the early post-WWII period, when Soviet influence in the early urbanization of China dominated, industrial development took precedence over all other issues, with heritage, conservation, residential planning, and the amenities associated with it, being almost entirely neglected.
Although one might normally assume that local firms participating in a competition might have a clear advantage over foreign competitors, this has seldom been the case: just see Sydney's Opera House, won by a Danish architect, and Toronto's City Hall, won by a Finn—as evidence that well devised competition briefs as adequate documentation can create a level playing field for potential competitors, regardless of their location.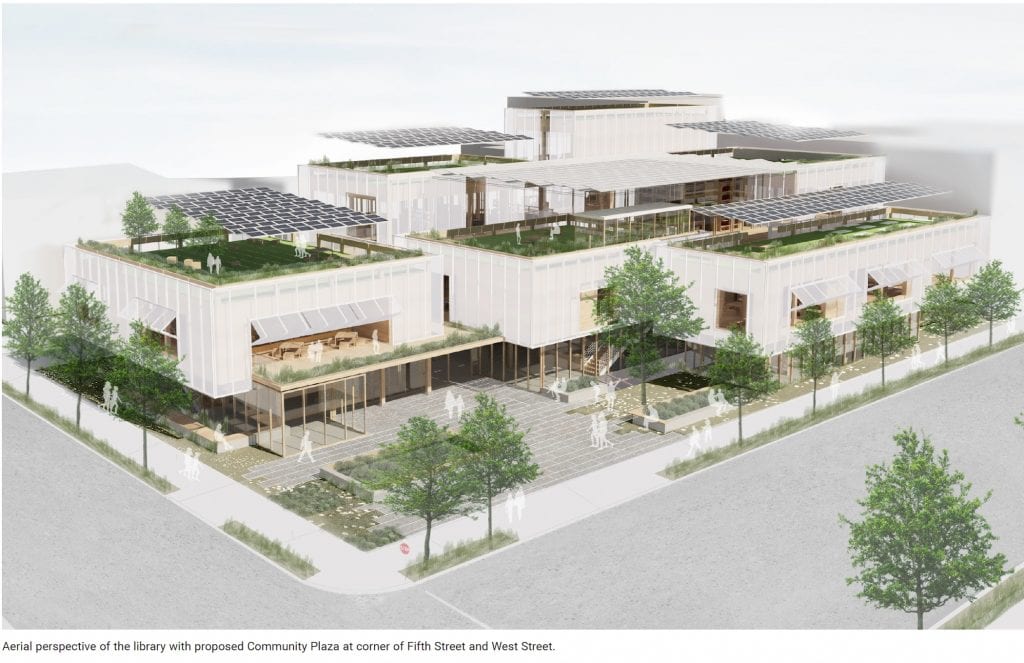 Jensen Architects – Winning entry (Honor Award)
Beginning in 2011, Architecture at Zero, a collaboration between the Pacific Gas and Electric Company (PG&E) and the California chapter of the American Institute of Architects (AIACA), was established to investigate the role architecture might play in reducing energy consumption in the built environment. Since then, every year has seen a new site and building type selected as a design challenge in what has become one of the world's most interesting international competitions.
 As a sign of its mounting popularity, the competition received 237 registrations from 49 countries and, according to the professional adviser, about 150 entries— all this during the Covid-19 virus pandemic, when all were compelled to work from home.
An Ideas Competition in Opposition to a Concrete Design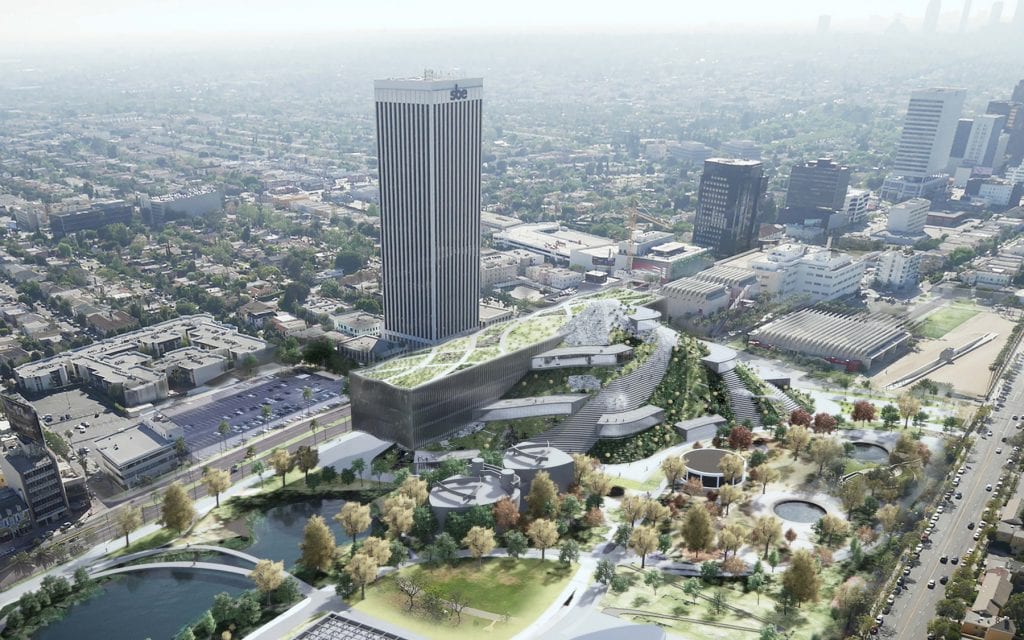 Entry by TheeAe (Image © TheeAe)
In early 2020, a group advocating a new approach to the design of the Los Angeles Museum of Art (LACMA)—The Citizens' Brigade to Save LACMA—organized a competition to counter an existing design by the Swiss Architect Peter Zumthor. Already commissioned by the LACMA administration, the project is slated to begin almost immediately with the demolition of  four LACMA buildings—three existing and one new. Moreover, the existing plan to incorporate all of the existing collections under one roof isn't covered by the Zumthor plan. This obvious lack of exhibit space was the focus of a query by the Ahmanson Foundation, a major donor of artworks to LACMA in the past. Upon not receiving assurances from LACMA that those donated works would be exhibited, but possibly held in storage and hidden from public view, the Foundation cut all ties with LACMA.  Finally, the plan by Zumthor foresees the new structure not only occupying much of the new space created by demolition, but extends part of the new building over Wiltshire Boulevard. As one might anticipate from Zumthor, the construction of the structure is also primarily of concrete, thereby raising the cost per SF. So no matter how highly finished this material turns out to be, it does in essence represent a brutalist structure replacing an eclectic ensemble.
National Railway Museum Central Hall (U.K.)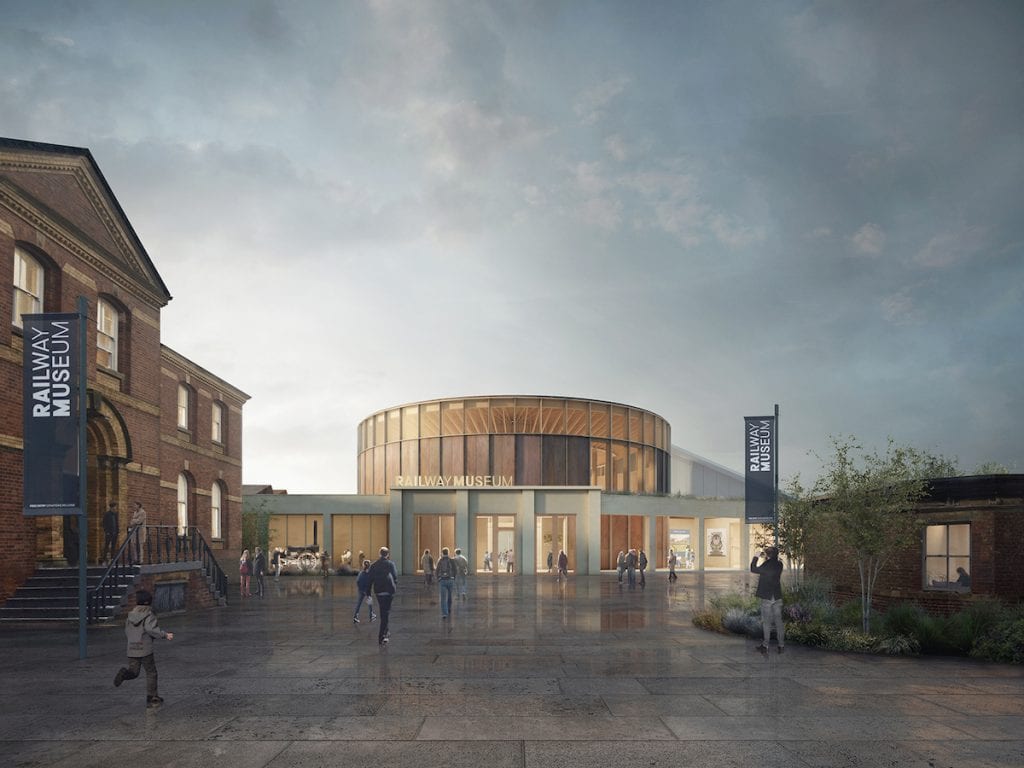 Winning entry by Feilden Fowles (image © Fielden Fowles)
If one were to search for a railway museum in the U.K., London would seem to be an obvious choice. But, as it happens, its location is in the northeastern city of York, far from the major cultural and economic centers of the country. But despite its distance from the major metropolitan areas to the south and west, York has managed to become the focal point of research into the history of rail in the U.K., supplemented by a major museum. Here we are not just talking about some posters, but sheds replete with a large collection of vintage trains.