Competing Modernisms: Toronto's New City Hall and Square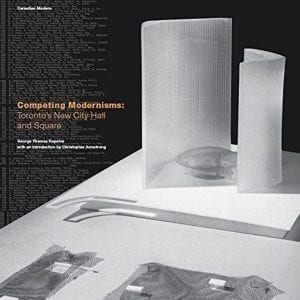 George Thomas Kapelos (author)
Christopher Armstrong (Introduction)
Dalhousie Architectural Press (2015)
Halifax, Nova Scotia
Toronto's 1958 competition for its New City Hall and Square was anything but regional in nature. When the City Hall project was in a gestation stage, there was certainly enough pressure from locals to limit the competition to Canadian architects—or even Ontario. By expanding the scope of the competition internationally, the event became global, and the result was to bear this out. Not only was the winner, Viljo Revell, from Europe, but two of the high profile jurors, Eero Saarinen and Ernesto Rogers, were non-Canadians.
Of the 509 entries in the competition, not only are images from the eight finalists included (one was from Ontario); 23 illustrations from 82 other Canadian entries are also documented as well as a number of other international entries. Five U.S. finalists made it to the final round: Perkins and Will, I.M Pei, John Andrews, Frank Mikutowski, and William Beckley Hayward.
A lot of painstaking research went into this book, relating not only the events leading up to the momentous decision to stage this international competition, but the influence it had on municipal Canadian architecture in its aftermath. It is a credit to the author that the narrative doesn't stop with the architect selection and completion of the building. Also well documented are a number of subsequent Canadian municipal projects, which would seem to validate the value of the competition process based on the Toronto model. After all, if there is one well-recognized building of iconic status in Canada that is universally recognized, it is the Toronto City Hall.