with Stanley Collyer

Bundeskanzleramt Berlin Competition (1996); Completion (2000) Photo: courtesy Schultes Frank Architekten
COMPETITIONS: In our last conversation, we talked about the whole issue of Berlin's identity and what approach one should use in reconstructing the urban fabric between East and West—where the wall used to be.
Axel Schultes: Maybe I learned something during a recent lecture I gave in Palermo (Italy). Afterwards, some German specialists in philosophy and German thinking—brilliant people, I must say—came up to me and said, 'What you said about Berlin and what you are doing there with the Federal Chancellery (Bundeskanzleiamt), for us is what Ernst Bloch and Walter Benjamin talked about, especially when they looked at Italy and the cities in Italy. We noticed immediately in your work that (same) issue of porosity.' Both used this term: Benjamin wrote a small article on Naples, and Bloch wrote about Italy as a whole.
We always had a tendency to avoid the term, 'transparency.' Transparency is usually the use of glass to make buildings less alienating to someone outside. But for us, glass is no material to create spaces; so transparency as we see it is depths of spaces or layering. Porosity is something much more precise—what we strive for. We wanted the same effect in Friedrichstrasse (Interior Mall): it should not be this close-up thing of the Galeries Lafayette (Jean Nouvel) or Ungers, where you only have some holes in it. Porosity for us is like a sponge—to enable a building to fill up with life, to turn a private space into a public one by penetrating it with a public space. The old buildings in Berlin are examples of this, with two, three, sometimes even four interior public spaces.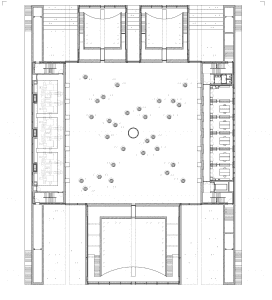 Berlin Baumschulenweg Crematory (1993)
COMPETITIONS: You are referring to the interior courtyards (Hinterhöfe)?
AS: Yes. Nothing of this sort exists anymore in Berlin. Most buildings (at the street) are flat, sometimes elegant, sometime ugly. The Galeries Lafayette, with all its glass, is as closed (to the outside) as one of Unger's sandstone buildings. It's the same issue in the construction of every building. Take, for instance, the Berlin Schloss (the palace in the center of Berlin), which was completely demolished after WWII, and which some people think should be resurrected. This has been on our mind constantly.*
It would be such a contrast to urbanism—needing to punch holes in it to get inside—open to all the people and all walks of life. I can give many examples of this, for me very northern, very restrained, very alien to everything which infuses a culture with life. All the people here like Kohlhof, Ungers, Kleihues, etc.; all have that tendency of closing. Even Libeskind—and maybe he doesn't think about it or want to have it appear in such a manner—does it with the Jewish Museum where there is no penetration. There is always this hiding, this animosity to the urban fabric. They are not interested in breaking it up.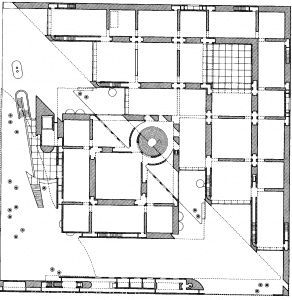 Bonn Art Museum – Competition (1985) Completion (1992)