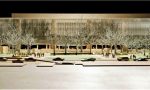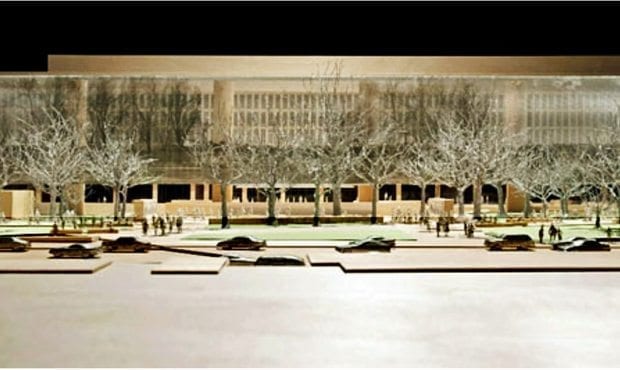 The Eisenhower Memorial: Sending Mixed Messages? by Stanley Collyer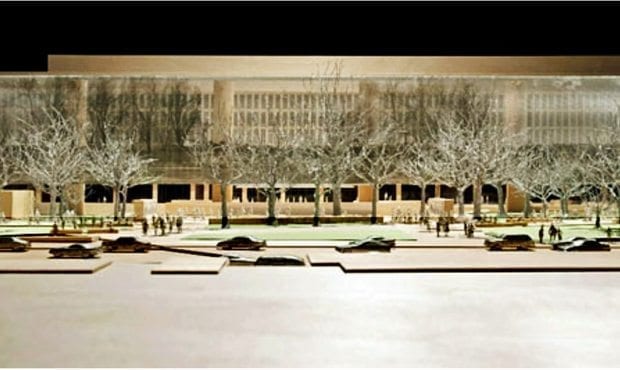 Preface
Since this article was written, several events have occurred which have changed our perception of the final design process. Frank Gehry went back to the drawing board and has modified his memorial design, eliminating some of the columns which we objected to at the edge of the site (January 2011, see above). One may only hope that the tapastry design element, which the Arts Commission still has some reservations about, can be resolved successfully.
More recently, a group called the National Civic Art Society in Washington has issued a call for another Eisenhower Memorial competition for the same site. Apparently stuck on the idea that everything in Washington near the Mall should be in the Beaux Arts traditional style, they take offense that the Gehry design does not meet their standards of what a memorial to Ike should look like. Although probably well-meaning, this group evidently would like to turn back the clock on progress in this field. They would like to erase from memory all the advancements in new materials and ideas which have surfaced and been implemented over the past century. Is it then surprising that not one architect on their board is a national name (Most of their members are laypersons). Although their competition will undoubtedly draw some entries, it should hardly be taken seriously, much less receive any attention from the press. What they are doing is adding nothing to a positive dialogue about architecture in this country—only attempting to set it back by decades. -Ed
Frank Gehry's preferred idea for the Eisenhower Memorial was one of three proposals which the firm presented in March 2010 to the Eisenhower Memorial Commission after prevailing in the earlier selection process. Although not touted as a pure competition by the Memorial Commission, the original selection process in 2009 was typical of the General Services Administration's Excellence in Architecture program, often used to adjudicate the design process for government projects such as federal courthouses.