Countryside Dilemmas – New Rural Planning


1st Place – ©Tianjin University Team
Planning used to be at the bottom of Chinese students' lists of design priorities. One western architect, whose firm was at the forefront in the design and implementation of numerous planning projects in China, surmised that planning was an area that received little attention in the university curricula. So when planning for a major metropolitan area has occurred, the Chinese have almost always turned to outside international firms for ideas and implementation.
There have been planning projects for rural projects, most notably SOM's Nanhu Village (2012), an agricultural settlement the result of the government's new reform policy for the country's agricultural sector. Led by SOM architect, Ellen Lou, Urban Design + Planning Group for SOM's San Franciscooffice, this project can be characterized as a satellite city in the sense that it has easy access to a major metropolitan area. In this case, placing agriculture in the forefront was relatively new.
But change has been in the air. Chinese publications such as Urban Environmental Design magazine are notable for staging ideas competitions dealing with some of the country's most pressing urgent issues in the area of urban expansion. In the case of the UIA-HYP Cup 2021 student competition, here the focus was more on those areas more remote from urban centers, villages where depopulation is the norm, in the absence of business and cultural institutions.Thus, the theme of this competition, "Countryside Dilemmas – New Rural Planning," changes the focus from satellite cities to rural planning.
The competition brief asked for the following:
"The countryside fundamentally challenges the paradigm of the architectural profession by requiring a more deeply ingrained role compared to being a city's service provider. There might be no such thing as architecture-related information to fall back on. The rural context requires a skills set where economy, infrastructure, new and old technology, and culture have to work in unison in order to generate new experiences. Solely mastering old arts and crafts will not result in the components needed to facilitate progress. 
Work in the countryside also challenges the notion of fixed construction plans. As many of the issues in the countryside are not exclusively solvable by construction alone, it must build more on an effective combination and spatial translation of new ideas, desires, methods and reference points rather than the orthodoxies of traditional planning. Within this context, the burning of Wongding, and all its cousins around the globe, should lead to a broader rejuvenation of the village in a new and striking 21st century way of rethinking planning, heritage, beauty, value, economy, development, and purpose."
The competition jury was made up of 13 members, four of which were international:
• Koolhaas, Rem, Founder of OMA/AMO (Jury Chairman)
• CUI, Kai, Academician of the Chinese Academy of Engineering
• ZHANG, Li , Dean of School of Architecture, Tsinghaa University
• Li, Zhenyu, Dean, College of Architecture and Urban Planning, Tongji University
• ZHANG, Tong, Dean, School of Architecture, Southeast University
• KONG, Yuhang, Dean, School of Architecture, Tianjin University
• SUN, Yimin, Dean, School of Architecture, South China University of Technology
• LV, Pinjing, Director of the Architectural Art Committee, China Artists Association
• PENG, Lixiao, Chief Editor, Urban Environment Design
• GONG, Jun, Chairman of the Board and General Manager of HYP-ARCH
• RUSSELL, Peter, Former Dean of Faculty of Architecture, Delft University of Technology
• CAMPBELL-LANGE, Barbara, Deputy Director, Professor at Bartlett School of Architecture, London
• GUALLART, Vincente, Founder, Institute of Advanced Architecture in Catalunya (IAAC), Former Chief Architect, City of Barcelona
Note: Since this competition had the support of the UIA, it was logical that outside, international architects be included on the jury panel.
The jury considered the entries by Zoom and finally onsite in China. Their final adjudication of the designs was as follows:
1st Prize – Zhao Chenchen, Ma Qirui and Zheng Qi with instructors Xin Shanchan and WangDi, Tianjin University
2nd Prizes (3)
–Team from Guangdong University of Technology; Shenyang Jianzhu University, and Nanjing Institute of Technology;
– Team from Tianjin University and South China University of Technology;
– Team from Central South University; Beijing University of Technology; College of Science & Technology Ningbo University: and Nanjing University of Technology
3rd Prizes (8 teams)
Two of the eight teams were international, one from Japan, the other from the U.K.
Note: For team members, please refer to the list below.
July 2022

1 July 2022 – Submission deadline

June 2022

1 June 2022 – Entries submission deadline

April 2022

13 April 2022 – Registration deadline

March 2022

March 2022 – Design Submission deadline

February 2022

28 February 2022 – Digital submissions due

15 February 2022 – Submission deadline

January 2022

24 January 2022 – Submission deadline

20 January 2022 – Submission deadline

11 January 2022 – Registration/Submission deadline

1 Jan 2022 – 2nd registration deadline (USD75)

December 2021

19 December 2021 – Deadline for standard registration

18 December 2021 – Phase I Submission deadline

15 December 2021 – Submission deadline for entries

10 December, 2021 – 1st stage submission deadline
Exhibitions and Conferences
No events
Helmut Jahn: A Life as Innovator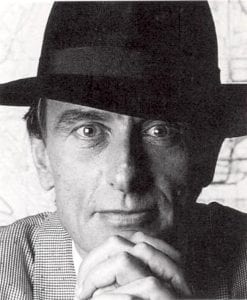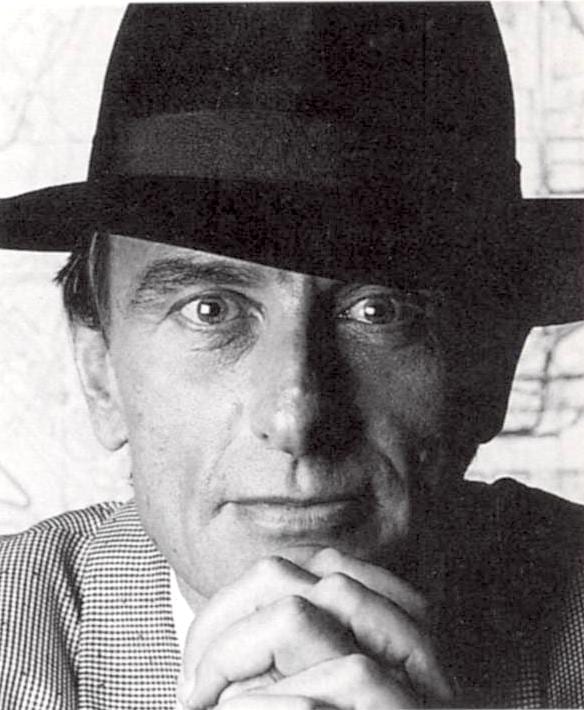 Blending Technology with Aesthetics
On May 8th of this year, the world lost one of its foremost architects in Helmut Jahn, 81, who died in St. Charles, a suburb of Chicago, his adopted home in America. Born and educated in Germany, Helmut arrived in America two years after receiving his degree in architecture from the Technical University in Munich. Arriving in the U.S. in 1966, he chose to pursue graduate studies at Mies van der Rohe's architecture program at the Illinois Institute of Technology (hereafter IIT), mentored there by Myron Goldsmith and Fazlur Kahn. Though certainly influenced during his time at IIT with their modernist attitude toward architecture, one cannot discount his years of study in Munich, which saw a run-up to the design of Munich's Olympic Games site, resulting in a novel tent-like design from a competition won by Günther Behnisch, with a subsequent assist from later Pritzker Prize winner, Frei Otto.
   After IIT, Jahn immediately went to work at C.F. Murphy & Associates in Chicago, which had just completed the Richard J. Daley Center in downtown Chicago, a structure notable for its Cor-Ten steel façade. In 1976, Jahn, together with C.F. Murphy collegue, Jim Goetsch, won the Minnesota II design competition for the Minnesota Capital Government and History Center. Although never built, as an important competition it brought national recognition to both architects. With his stature as a lead designer in the firm, Jahn became Principal, President, and CEO of C.F. Murphy in 1981.
   During his interview with COMPETITIONS in February 1994, Helmut spoke about numerous competitions he had participated in. Aside from the firms many successes in competitions, especially in Germany, there were disappointments along the way. Commenting on the Harold Washington Library competition, he stated, "The client asked for a forward-looking building and got just the opposite." Still, he suggested that had he won, "I would be spending most of my time in court."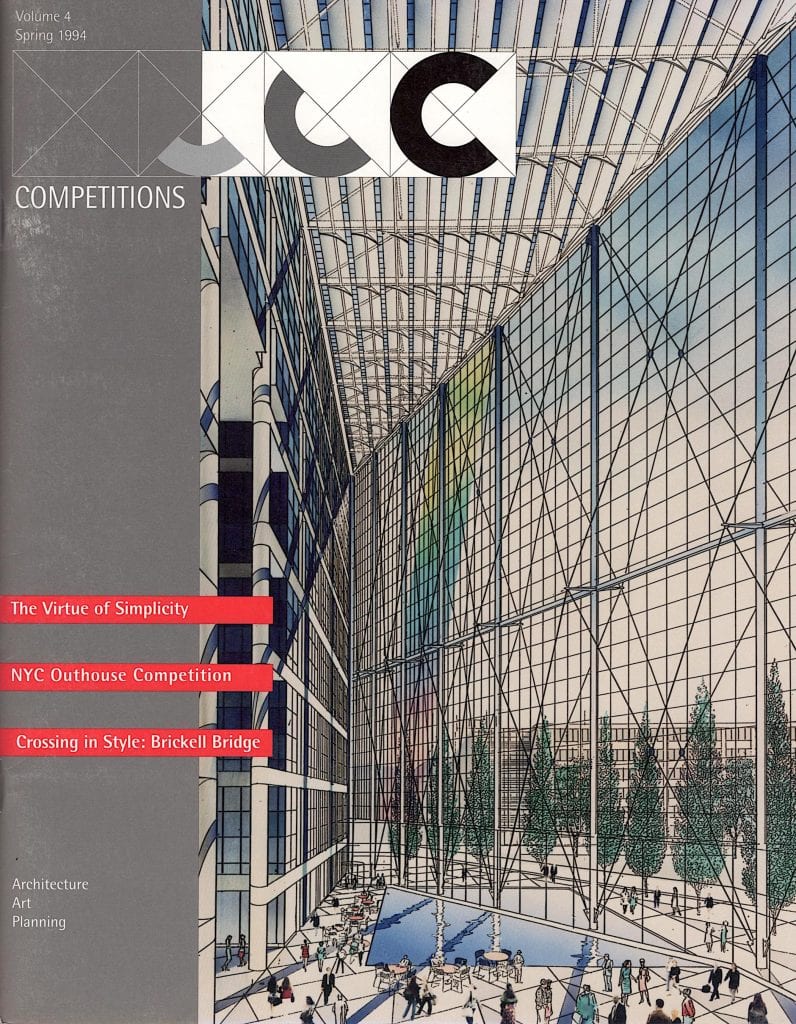 Strahlauer Platz (Berlin) winning competition entry (1993)
   Many have experienced Jahn's projects firsthand, whether it was in an airport terminal in Chicago or Thailand, passing through Chicago's James R. Thompson Center in Chicago to catch a ride on the L, or passing the time in a restaurant in Berlin's Sony Center. The latter, the result of a competition where he prevailed over five other high-profile architects, has always been one of my favorite destinations when on a visit to Berlin. There one can enjoy not only the ambience created by the giant open atrium, but admire how he solved the pedestrian-access issue to the interior with its multiple openings which served as an invitation to those curious pedestrians on the perimeter.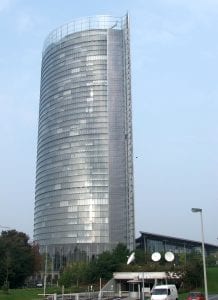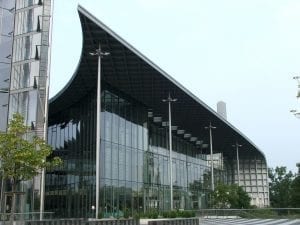 Deutsche Post Tower, Bonn, Germany  Photos: Stanley Collyer
   Another favorite has been his Post Tower in Bonn, Germany. Certainly an exception to the rule in this low-rise city, and anchoring one end of the city's downtown thoroughfare, it makes a friendly statement, for it does not present a sole, lonely object to the naked eye, but an attraction to view at close range. What makes all this possible is the addition of a Corbu-like building nestled at its side, containing a cafeteria and meeting rooms. Here Jahn has managed to capture the essence of place, both in scale and the aesthetic.
Helmut Jahn's success was also due to his choice of many of those talented experts who collaborated with him. One of the most important was Werner Sobek, possibly Germany's premier structural engineer, and one who was there to guide those advances in technology, so important in the realization of several of Jahn's most challenging projects.
We can only hope for more Helmut Jahns in the future, not only to explore the limits of what technology can do for us; but at the same time lend their designs a sense of the spiritual.
Sony Center, Berlin
Winning competition entry (1992)
Completion (2000)

Sony Center Competition model (1992)