Vltava Philharmonic Hall Design Competition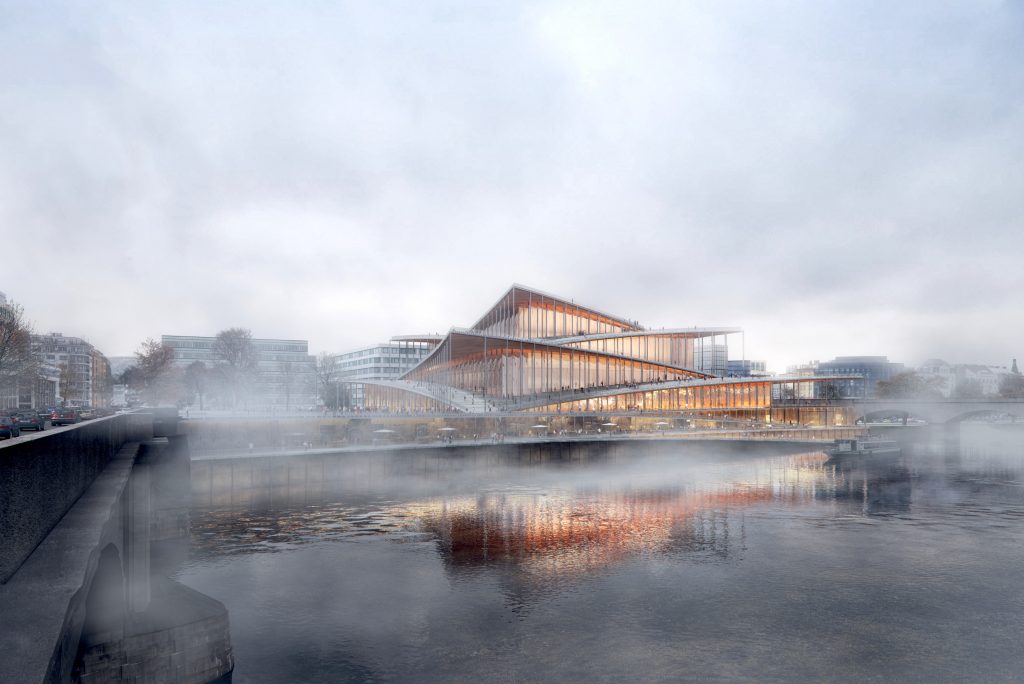 View to Concert Hall from bridge ©BIG
Classical music is still part of a vibrant musical scene in Prague, with at least four principal venues hosting concerts, ballet and opera. As a modern European city, the only missing venue from these choices is a state of the art concert hall. Other European neighbors have also recently staged competitions for such projects: Munich, won by Cukrowicz Nachbaur Architekten of Bregenz, Austria; Belgrade, won by AL_A of London; and Vilnius, Lithuania, won by Arquivio Architects of Spain. It should be noted, however, that one of the most important competitions for a concert hall, not only in Europe, but the world, was the 1961 Berlin Philharmonic hall competition, won by Hans Scharoun (below). It was the interior of that building, in particular, that served as a model for many others that followed, one of the first being Los Angeles' Disney Hall by Frank Gehry.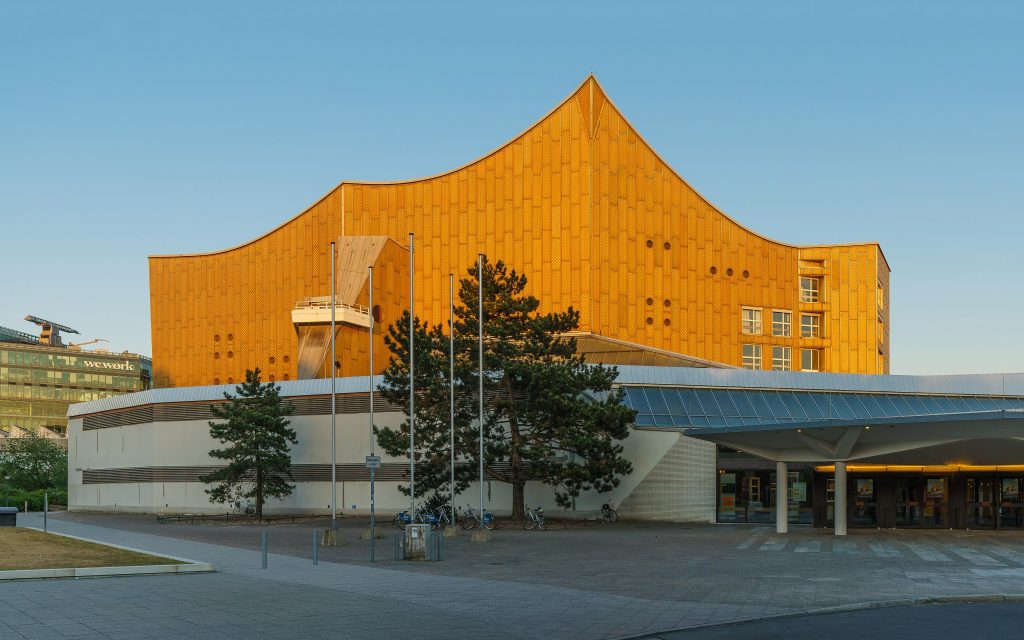 Berlin Philharmonie Photo: © Alexander Savin, WikiCommons
The Site
As was the case for the site of the recent Munich concert hall competition, the Vltava Philharmonic Hall building is to be located in the Bubny-Zátory brownfield area on Vltavská Street, near the city center. Intended to serve as an anchor in the transformation of the area, it is seen not just as a cultural destination, but also a site for recreational activities. According to Jan Čižinský, Mayor of Prague 7 and member of the City Council, ""Vltavská Street is a dismal area that will undergo a major transformation in the coming years, and the construction of the Philharmonic Hall will be the crowning glory of this transformation."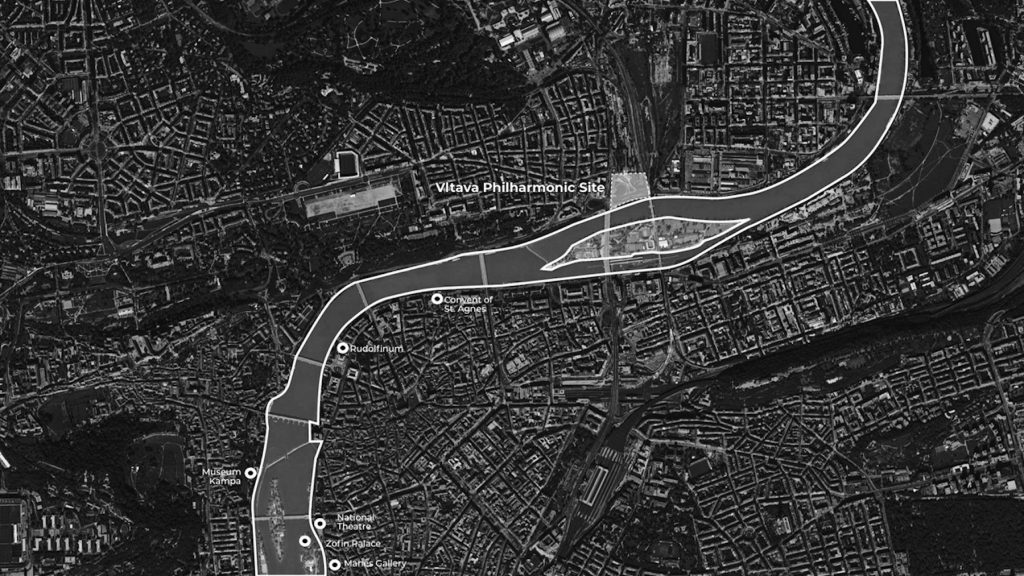 Aerial view of site  courtesy BIG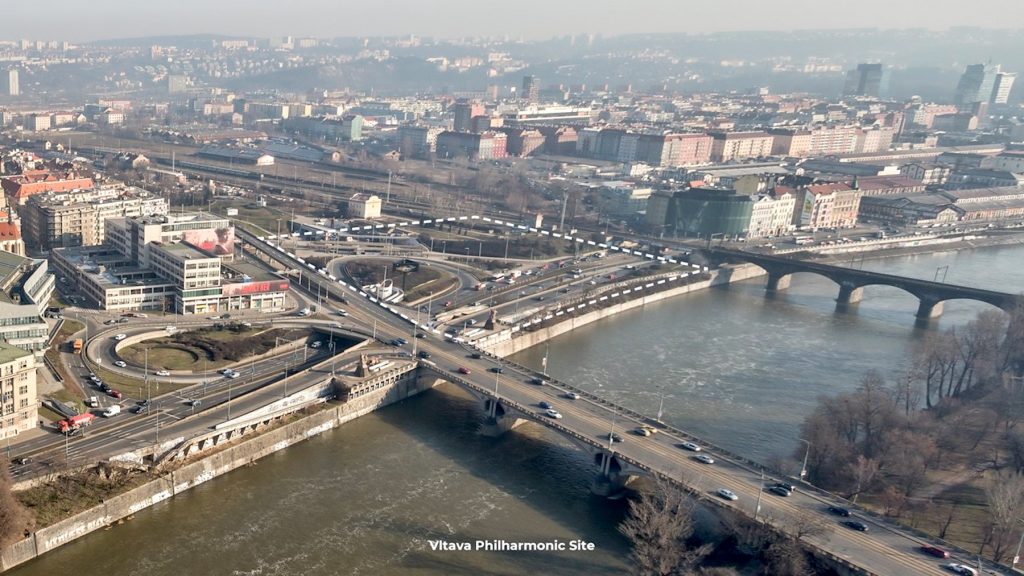 Site area designation
According to the competition announcement, "The building, with an estimated construction cost of approximately CZK 6 billion (USD 243M), will have several halls with top-quality acoustics and a perfect spatial design that meets 21st century standards. It will house both major Prague orchestras — the Prague Symphony Orchestra FOK and the Czech Philharmonic Orchestra, as well as the music department of the Municipal Library and other creative spaces, rehearsal rooms, music classrooms, etc."
Aside from being near the city center with a nearby Metro station, the site does have one great advantage: it is on the river. With broad exposure to those crossing the bridge, as well as pedestrian strollers on the riverbank, the location can provide the building with an unmatched visual presence. As it turned out, all of the finalists took this unique opportunity to heart, resulting in the display of various interesting approaches to this challenge.
The Process
It could come as no surprise that the organizers of the competition turned to an expression of Interest (EOI) format to examine the qualifications of potential firms and teams that would be shortlisted for the competition phase. To their credit, they identified a large number of firms (15) for the competition phase, these from the 115 teams that submitted their qualifications. The fifteen who survived the EOI stage were:
• ALA + OV-A, Helsinki/Prague
• MVRDV, Rotterdam
• OFFICE KGDVS + Christ & Gantenbein, Bussels/Basel
• Mecanoo + CHYBIK+KRISTOF, Delft, The Netherlands/Prague
• Barozzi Veiga + Atelier M1, Barcelona
• Sou Fujimoto Architects, Tokyo
• Cobe + Lundgaard & Tranberg Architects, Copenhagen
• ŠÉPKA ARCHITEKTI + MANGADO Y ASOCIADOS, Prague/ Pamplona, Spain
• Foster + Partners, London
• Bjarke Ingels Group (BIG), Copenhagen
• Henning Larsen Architects, Copenhagen
• Carrilho da Graça Arquitectos, Portalegre, Portugal
• JAJA Architects, Copenhagen
• Bevk Perovic Arhitekti, Ljubljana, Slovenia
• Petr Hájek Architekti, Prague
In addition to the 15 shortlisted firms, five high-profile international firms were initially selected to participate in the competition:
• Diller Scofidio + Renfro, New York
• Snøhetta, Oslo/Innsbruck
• Ateliers Jean Nouvel, Paris
• David Chippefield Architects, London/Berlin
• SANAA, Tokyo
Jury:
The expert jury consisted of 11 members. In addition to the jury's chairman Michal Sedláček, its regular members included Andreas Cukrowicz, Bregenz, Austria, and Tina Saaby, former city architect of Copenhagen. Among the Czech representatives were Josef Pleskot, internationally acclaimed Czech architect, Martin Krupauer, architect and head of the design team of the Vltava Philharmonic Hall, Lubomír Zaorálek, current Minister of Culture, Zdeněk Hřib, Mayor of the City of Prague, and Jan Čižinský, Mayor of Prague's District 7, where the new Concert Hall is to be located.
[eme_events order=DESC limit=100 scope=future showperiod=monthly category=1]
Exhibitions and Conferences
[eme_events showperiod=monthly category=2]
Edward A. Feiner, FAIA (1947-2022)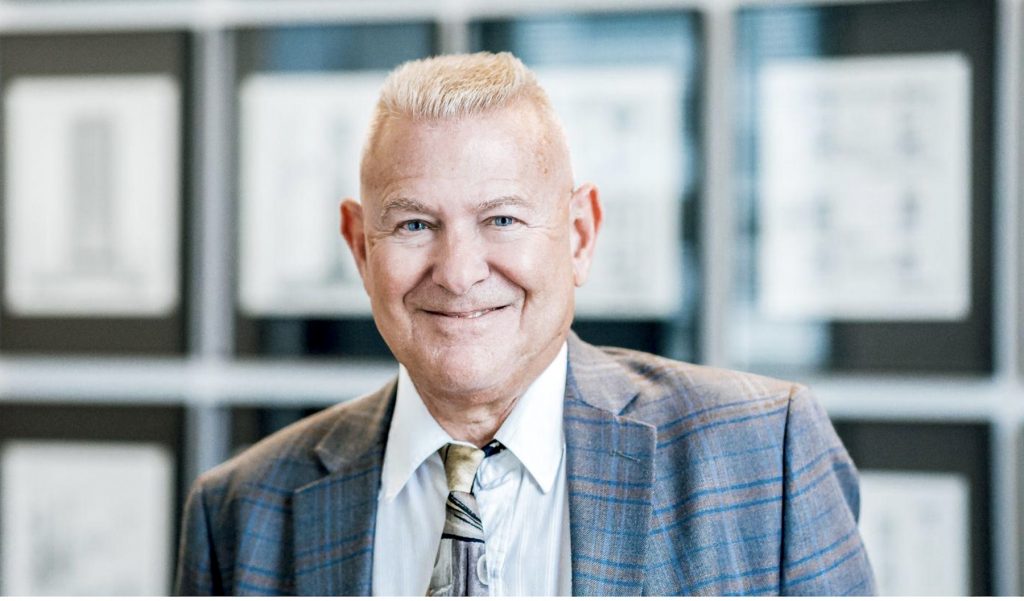 Nothing is a boon to architecture more than a knowledgeable patron. And one of the foremost "patrons" of architecture in modern societies is government—at its various levels. Our federal government's role in this is carried out mainly by the General Services Administration (GSA), which oversees the design and construction of most large federal projects: courthouses, federal office buildings, etc. So those holding positions in the GSA administration that establish policy can wield considerable power when design issues are at stake.
Enter Edward Feiner, previously at another government agency, the Naval Facilities Engineering Command, where he had been for 11 years, rising to a position in charge in master planning. From 1985 until 2005, Ed Feiner personally reviewed and approved all projects under the aegis of the GSA. It was during this period that he instituted the Design Excellence Program at the GSA. In recognition of Feiner's principal role, Robert Peck, GSA's Public Buildings Service commissioner at the time, named him the GSA's Chief Architect, a position that had been abolished in the 1930s.
One pivotal moment in courthouse design came in 1999, when a modern design by Morphosis won the competition for the Wayne Lyman Morse United States Courthouse in Eugene, Oregon. What some called a deconstructivist design drew attention to the fact that traditional design was no longer a hallmark in federal courthouse design. On the heels of that decision, competitions for numerous federal courthouses took place—El Paso, Texas; Las Cruces, New Mexico; Rockford, Illinois; and Mobile, Alabama. Possible just as important, a new level of transparency was apparent: booklets with detailed plans of the finalists plus names of the jurors were open to public scrutiny.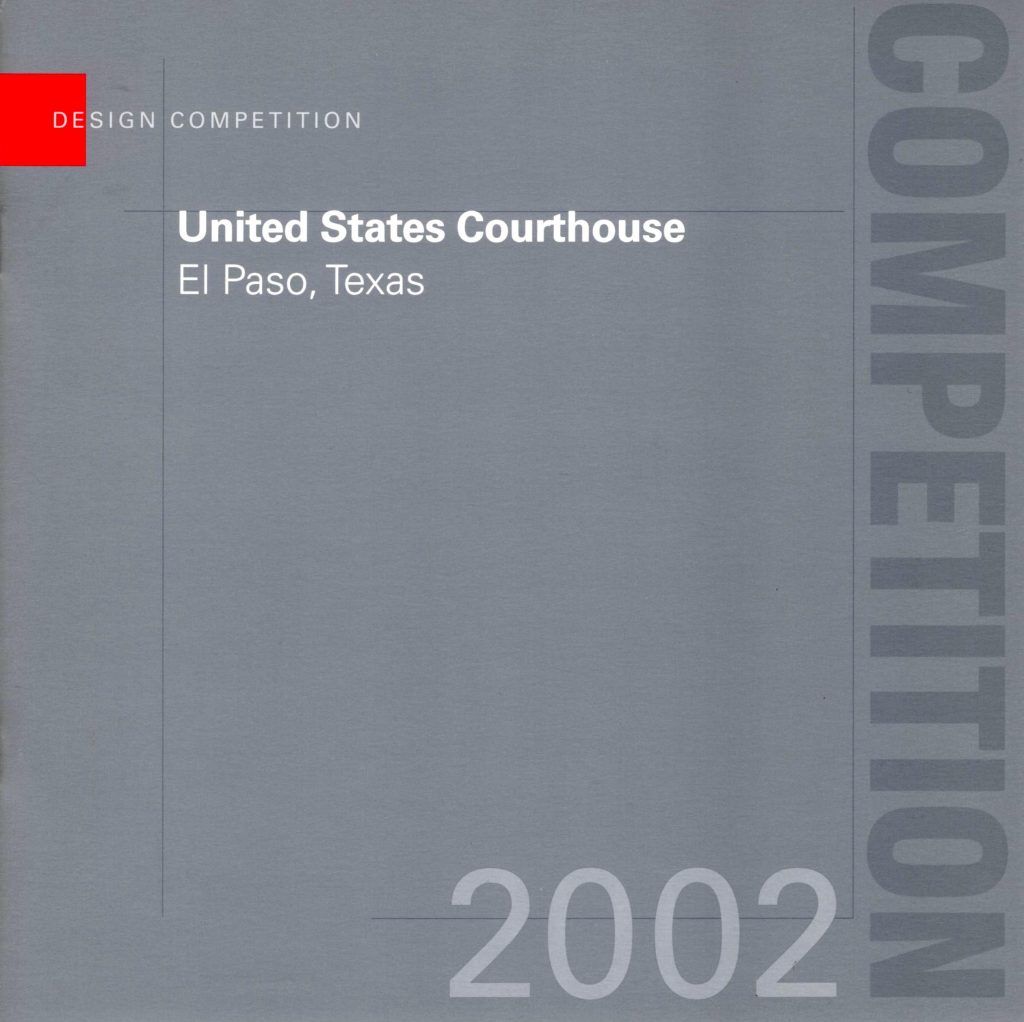 One of several courthouse competition booklets
During this period, we were in regular touch with Feiner and the GSA, documenting this new trend toward modern design and open transparency at the agency.
After leaving the GSA at 58, Feiner eventually landed at the Chicago office of Perkins and Will, where he was instrumental in starting the Design Leadership Council. We ran across Ed at one of Perkins and Wills annual design review meetings in Toronto. Part of that even was an in-house architecture competition, open to P&W architects from all of their offices. During that review, I was invited together with Larry Richards and Ian Chodikoff to adjudicate the offerings. The topic was "Reimaginig Ontario Place," the results of which we covered in COMPETITIONS, Vol. 20, #4. I'm sure Ed was happy with the response to the challenge and the results.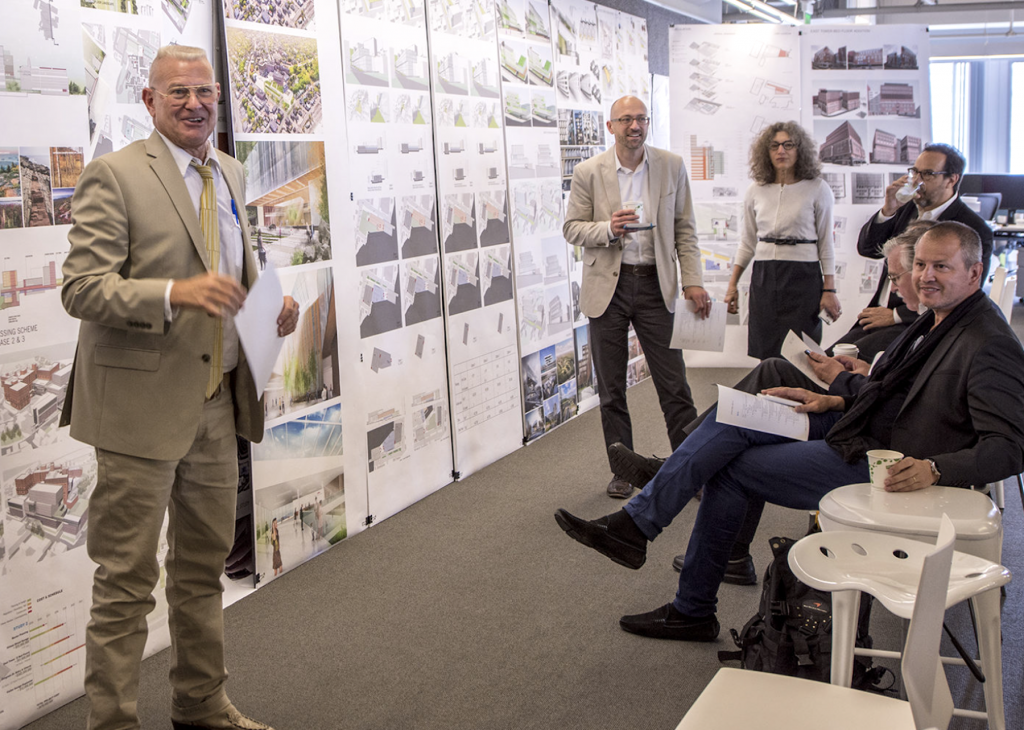 Feiner presenting at Perkins and Will
Before closing, it seemed only fitting to include these remarks about Ed from a longtime collaborator and dean at the University of New Mexico's School of Architecture, as competition adviser for several of Ed's GSA projects:
For the benefit of public architecture and our profession, Ed proved to be the right person, in the right place, at the right time. In the face of not infrequent adversity, Ed's passion for design excellence – combined with a steadfast commitment and unyielding optimism – served the GSA extremely well. His legacy endures. As one of the appointed Peer Reviewers with the Design Excellence Program, dating back to the early '90s, it was a privilege for me to have known and worked with Ed during the many years of his inspired leadership.  –Roger Schluntz, FAIA