The Cold War Veterans Memorial Competition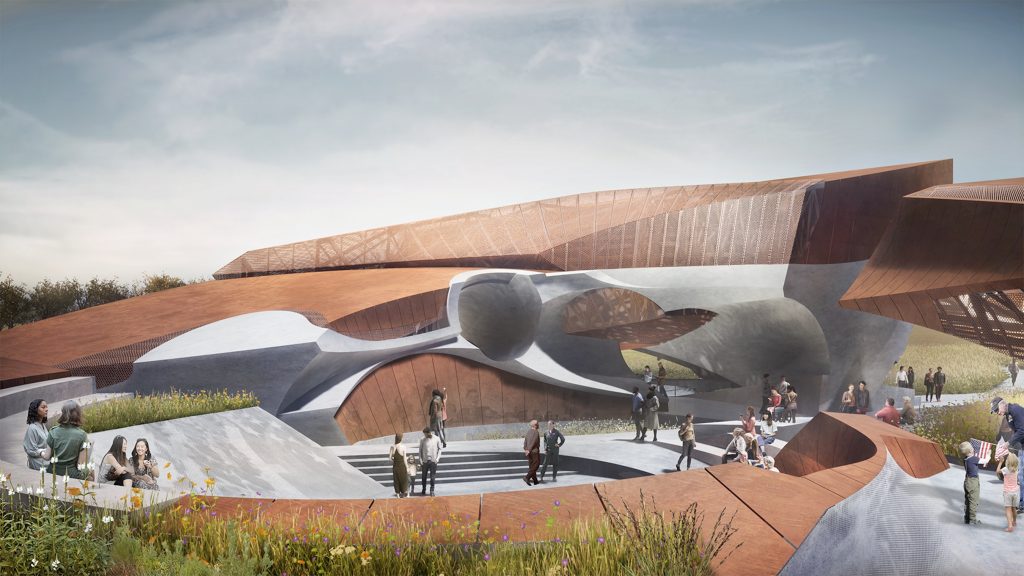 Rendering: Oyler Wu Collaborative/Courtesy Pritzker Military Museum & Library
The Pritzker family is no stranger to good architecture; so it should come as no surprise that a project launched by the Pritzker Military Archives, including a competition for a Cold War Veterans Memorial in Wisconsin, would embrace this approach. Other major projects focusing on war veterans have also identified architecture as a significant element in the choice of a design—most notably the choice of SHoP architects for the design of Syracuse University's National Veterans Resource Center (https://competitions.org/2017/03/syracuse-national-veterans-resource-center/).
Pritzker Archives and Memorial Park Center
Founded in 2003 by Jennifer Pritzker, a retired U.S. Army lieutenant colonel, the Chicago Military Museum and Library began with Pritzker's personal and family holdings, a collection that has grown to about 100,000 books, artifacts and other items. Because of the increasing number of documents and artifacts added over time to the collection, the current facility's capacity in Chicago has been stretched to the limit and is no longer capable of meeting current needs. Thus, the plan to build a new building to accommodate current and future additions to the collection.
For this new project, the client settled on a 288-acre site in Somers, Wisconsin a short distance west from Kenosha and easily visible from the I-94 Interstate connecting Chicago and Milwaukee. Within the larger site, 17 acres was identified as the location for the new Pritzker Military Archive and Cold War Memorial buildings. From aerial photos of the site, one might come away with the notion that this is in the middle of nowhere. To the contrary, it is actually quite accessible from both Chicago and Milwaukee (O'Hare Airport is only a 45-minute drive away), and, because of the new architecture, it is hardly a stretch to assume that it will not only attract a U.S. audience; but the very nature of the architecture will serve as an attraction to foreign tourists as well.
For the design of the first structure to be built on the site, the Pritzker Military Archive, the choice of architect went to Helmut Jahn, not only one of the most acclaimed members of the Chicago architectural community, but one with an impressive portfolio of completed projects both in North America and abroad. Strangely, Jahn never became a recipient of the Pritzker Prize in Architecture; so it would seem as if this imprimatur by a Pritzker, as client, could be regarded as having symbolic meaning. As it happened, this was Jahn's last major project before his untimely death—a Pritzker project. (Jahn obit: https://competitions.org/2021/06/helmut-jahn-a-life-as-innovator/)
   Along with his most notable projects—The Sony Center (Berlin), the Deutsch Post (Bonn), University of Chicago Library, just to name a few—this structure should take its rightful place as one of his best. Now under construction, completion is targeted for 2023.
The Cold War Veterans Memorial
Stretching over a period of roughly 45 years, the "Cold War, finding the U.S., Western Europe and Japan on one side, and the USSR and later China as the main opposition on the other, was viewed as an ideological struggle: communism versus democracies (or in the words of the East (capitalism). Those who served in the military during those years were made acutely aware of the differences, if not already in a highschool civics class. During the 1974 presidential campaign, Gerald Ford famously stated, "There is no Soviet domination of Eastern Europe." In today's society, such a faux pas would hardly raise an eyebrow coming from some candidates. Back then, a relatively well-informed electorate believed that this had lost him that election. This is a sure indicator of the importance of the Cold War in the minds of American voters at the time. And the exploration of that theme here comes at a timely moment in history—with the rising tensions again mounting between east and west.
Enter Jennifer Pritzker, who served in the U.S. military during the Cold War. Jennifer no doubt realized that a major work of architecture focusing on a specific historical theme could not only serve as a tribute to those veterans, but also serve as an important educational tool. By first staging an international competition to identify a design that could lead toward the fulfillment of this purpose, the second of two key elements needed to round out this program would be in place: the memorial as well as the archive, the latter providing the venue for exhibits and resources for research.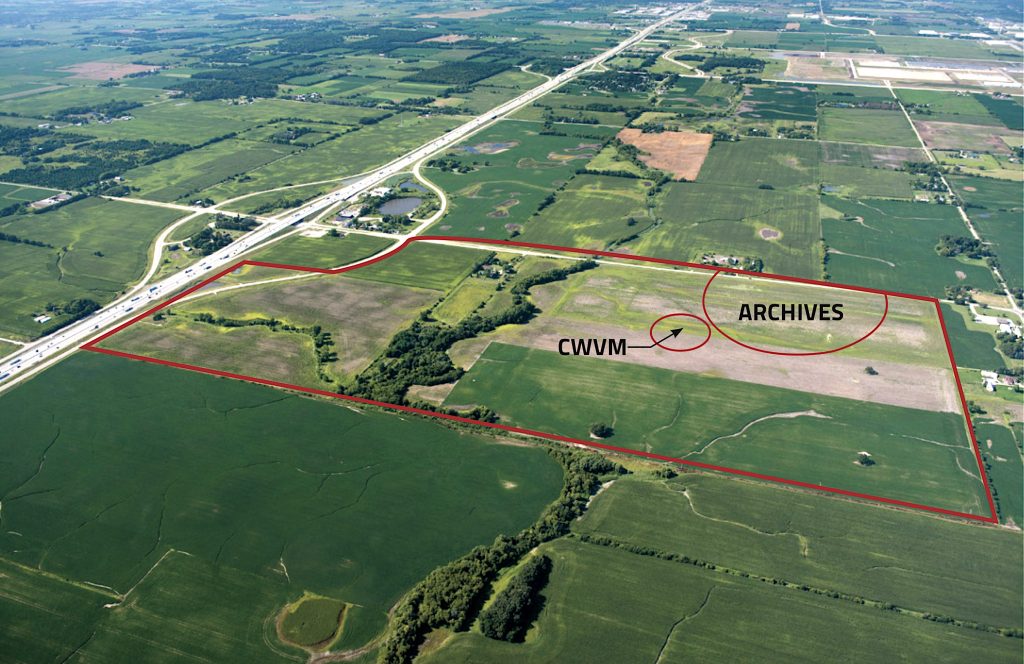 Wisconsin site for the Archive and Memorial bordering I-94
The Process
The memorial competition itself was to be held in two stages, the first open and international, with both professionals and students invited; the second stage narrowing down the number to four finalists in a shortlisting process. Donald Stastny FAIA, who was engaged to administer the competition, was a logical choice based on his long history of successful competition outcomes. The jury was made up of members of the design community, as well as experts in various fields that deal with issues pertinent to this theme and region.
Jury

Brigadier General Clara L. Adams-Ender, U.S. Army (Retired)
Edwin Fountain, General Counsel, American Battle Monuments Commission
Jean. A. Mansavage, PhD, Senior Historian, U.S. Air Force Historical Studies Division
Thomas R. Oslund, FASLA. FAAR, Founder 02 Design
Harvey Pratt & Gina Pratt, Artists, Pratt Studio
Moshe Safdie, FAIA,FRAIC, OAA, SIA, Safdie Architects
Christopher Sturdevant, Author and Librarian, Milwaukee
According to the design brief, the following goals were put forth as orientation themes for the designer:
– Create an ICONIC IMAGE for the CWVM that is RECOGNIZABLE AND MEMORABLE to visitors to the Pritzker Archives & Memorial Park Center (PAMPC).
– Provide a LANDMARK that, combined with the buildings of the PAMPC, will be a visual attraction to potential visitors traveling Interstate 94.
– Recognize the role of the CWVM as a CONTRIBUTING AND COMPLIMENTARY ELEMENT of the PAMPC complex.
– Integrate any structures with interpretive landscape, choreographing a profound VISITOR EXPERIENCE offering choice in immersion and involvement.
– Interpret the Design Themes to incorporate CONTENT AND SYMBOLOGY recognizing the complexity of the Cold War and the diversity of citizens that served in the U.S. Armed Forces, Intelligence Operations, Government and as Civilians.
January 2023

19 January 2023 – Submission deadline

October 2022

28 October 2022 – Stage ll submissions due

September 2022

30 September 2022 – Deadline for submissions

20 September 2022 – Deadline for EOI submissions

19 September 2022 – Registration deadline

14 September 2022 – Submission deadline

4 September 2022 – Deadline for Submissions

August 2022

30th August 2022 – Deadline for Stage 1

26 Aug 2022  – Registration deadline

24 August 2022 – End of advanced registration (€100)

15 August 2022 – Deadline for inquiries
Exhibitions and Conferences
No events
Edward A. Feiner, FAIA (1947-2022)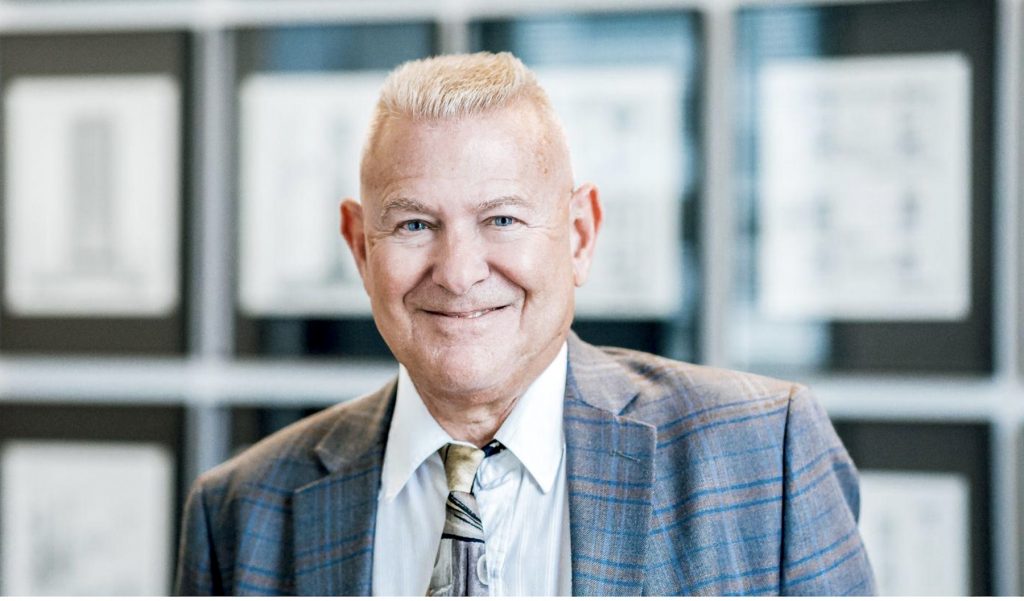 Nothing is a boon to architecture more than a knowledgeable patron. And one of the foremost "patrons" of architecture in modern societies is government—at its various levels. Our federal government's role in this is carried out mainly by the General Services Administration (GSA), which oversees the design and construction of most large federal projects: courthouses, federal office buildings, etc. So those holding positions in the GSA administration that establish policy can wield considerable power when design issues are at stake.
Enter Edward Feiner, previously at another government agency, the Naval Facilities Engineering Command, where he had been for 11 years, rising to a position in charge in master planning. From 1985 until 2005, Ed Feiner personally reviewed and approved all projects under the aegis of the GSA. It was during this period that he instituted the Design Excellence Program at the GSA. In recognition of Feiner's principal role, Robert Peck, GSA's Public Buildings Service commissioner at the time, named him the GSA's Chief Architect, a position that had been abolished in the 1930s.
One pivotal moment in courthouse design came in 1999, when a modern design by Morphosis won the competition for the Wayne Lyman Morse United States Courthouse in Eugene, Oregon. What some called a deconstructivist design drew attention to the fact that traditional design was no longer a hallmark in federal courthouse design. On the heels of that decision, competitions for numerous federal courthouses took place—El Paso, Texas; Las Cruces, New Mexico; Rockford, Illinois; and Mobile, Alabama. Possible just as important, a new level of transparency was apparent: booklets with detailed plans of the finalists plus names of the jurors were open to public scrutiny.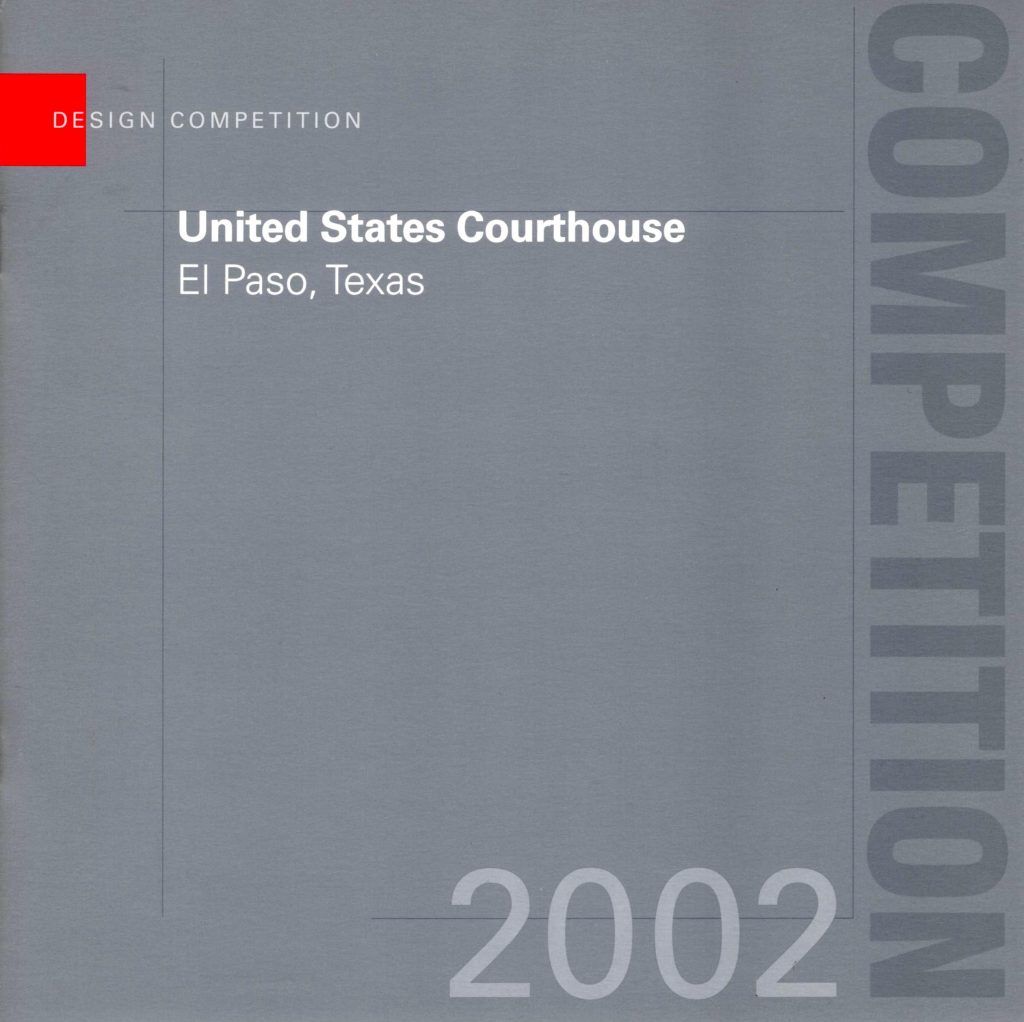 One of several courthouse competition booklets
During this period, we were in regular touch with Feiner and the GSA, documenting this new trend toward modern design and open transparency at the agency.
After leaving the GSA at 58, Feiner eventually landed at the Chicago office of Perkins and Will, where he was instrumental in starting the Design Leadership Council. We ran across Ed at one of Perkins and Wills annual design review meetings in Toronto. Part of that even was an in-house architecture competition, open to P&W architects from all of their offices. During that review, I was invited together with Larry Richards and Ian Chodikoff to adjudicate the offerings. The topic was "Reimaginig Ontario Place," the results of which we covered in COMPETITIONS, Vol. 20, #4. I'm sure Ed was happy with the response to the challenge and the results.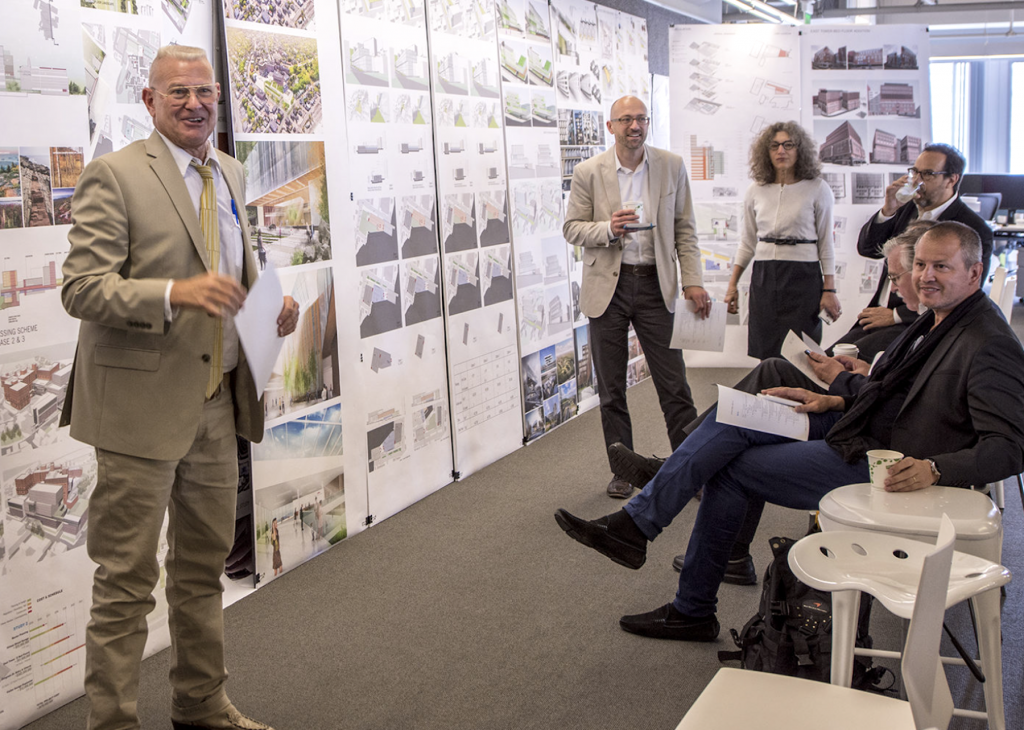 Feiner presenting at Perkins and Will
Before closing, it seemed only fitting to include these remarks about Ed from a longtime collaborator and dean at the University of New Mexico's School of Architecture, as competition adviser for several of Ed's GSA projects:
For the benefit of public architecture and our profession, Ed proved to be the right person, in the right place, at the right time. In the face of not infrequent adversity, Ed's passion for design excellence – combined with a steadfast commitment and unyielding optimism – served the GSA extremely well. His legacy endures. As one of the appointed Peer Reviewers with the Design Excellence Program, dating back to the early '90s, it was a privilege for me to have known and worked with Ed during the many years of his inspired leadership.  –Roger Schluntz, FAIA