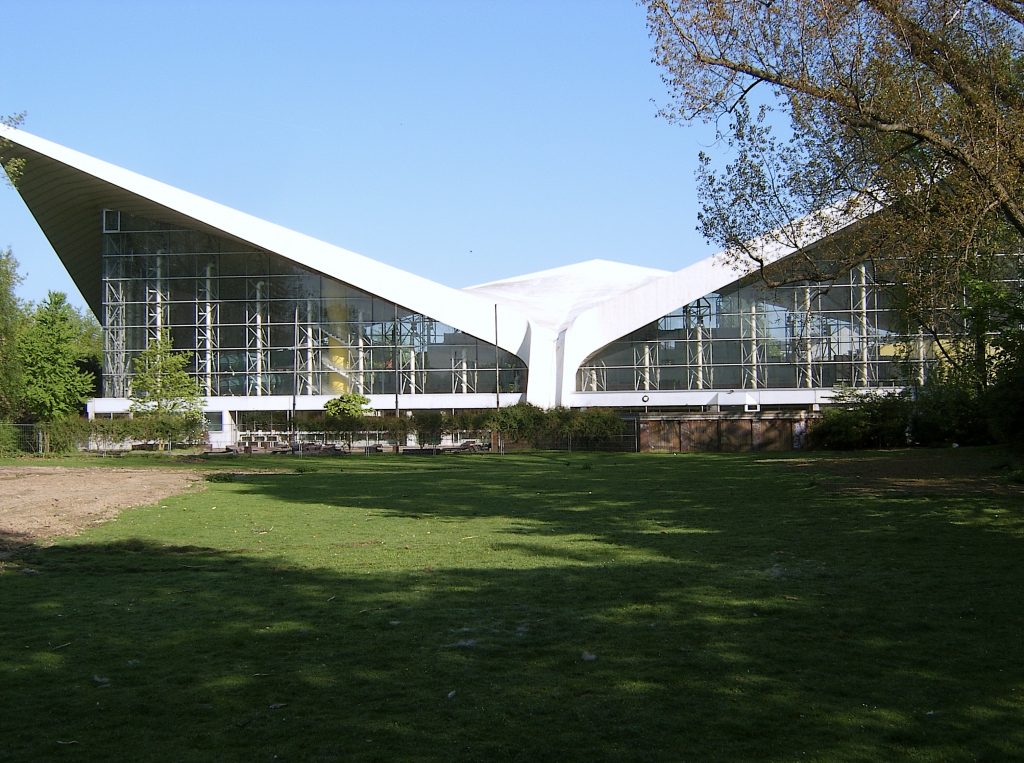 Alster Swimming Pool after restoration (2023)
Linking Two Competitions with Three Modernist Projects
Hardly a week goes by without the news of another architectural icon being threatened with demolition. A modernist swimming pool in Hamburg, Germany belonged in this category, even though the concrete shell roof had been placed under landmark status. When the possibility of being replaced by a high-rise building, it came to the notice of architects at von Gerkan Marg Partners (gmp), who in collaboration with schlaich bergermann partner (sbp), developed a feasibility study that became the basis for the decision to retain and refurbish the building.
Originally the result of a 1961 competition won by architects Horst Niessen, Rolf Störmer, Walter Neuhäusser, and engineer Jörg Schlaich, it was an outstanding example of Hamburg's postwar architecture. At the time, the concrete shell roof, which consists of two hyperbolic paraboloid shells carried by three supports, reminded Hamburg's citizens of the Sydney Opera House – and since then, has been lovingly nicknamed "Schwimmoper" ("Swimming Opera"). Here it should be noted that the actual date of the final completion of the Sydney Opera House was 1973, sixteen years after Jørn Utzon won the 1957 competition and at least a decade after the Hamburg project was completed.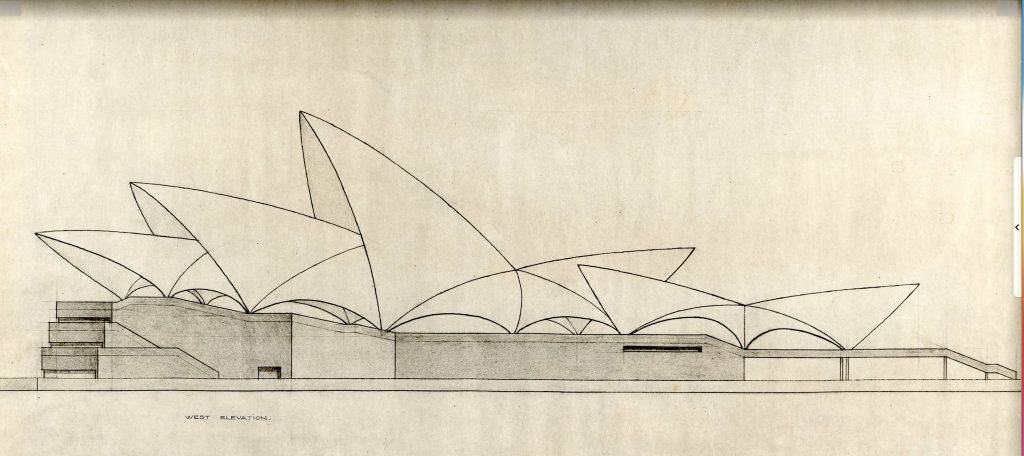 Original Sydney Opera competition entry by Jørn Utzon (1957)
But here we should mention another important milestone in the run-up to the design of Hamburg's Swimming pool—Eero Saarinen's TWA Terminal at the JFK Airport in New York City. It's a well-known story that Saarinen, as a juror on the panel which chose the Utzon entry as winner, was a strong advocate for that design. He was already engrossed in the TWA Terminal project, which was completed in 1961, the year the competition for the Alster competition in Hamburg took place. The winners of the Hamburg competition must have been aware of both Sydney and the Saarinen project. Whether or not they visited the latter in 1961, we don't know. But similarities between the TWA and Hamburg project are hard to ignore.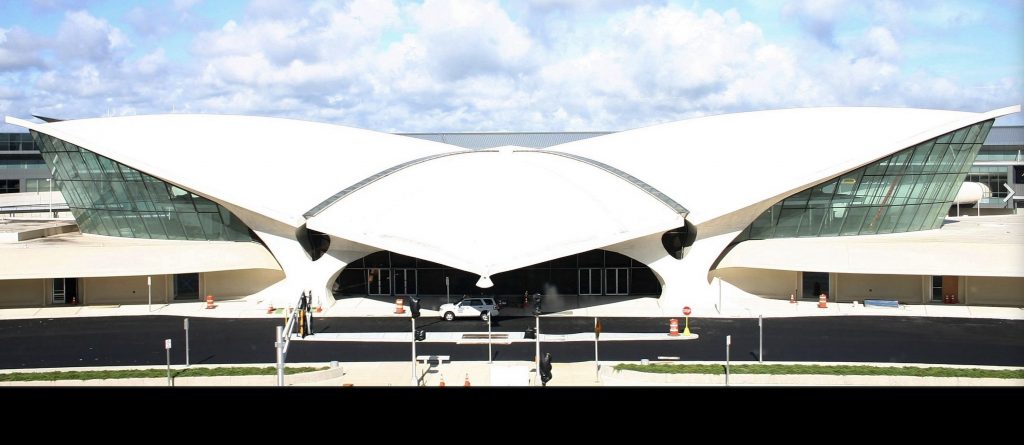 Eero Saarinen's JFK Airport TWA Terminal building after restoration (Wikipedia Commons)
According to gmp, a description of the material elements that went into the construction of the Hamburg project and the problems it presented in the renovation process are especially noteworthy:
"As one of Europe's largest shell buildings, the indoor swimming pool, designed by architects Horst Niessen, Rolf Störmer, Walter Neuhäusser, and the engineer Jörg Schlaich, is an outstanding example of Hamburg's post-war architecture. At the time, the concrete shell roof, which consists of two hyperbolic paraboloid shells carried by three supports, were what reminded Hamburg's citizens of the Sydney Opera House. The spectacular shell roof, the enormous interior with the 50-meter pool, and the facade construction were retained. At the same time, the sports facilities were comprehensively redesigned for the first time and supplemented with contemporary additions.
Originally, the Alsterschwimmhalle was constructed as a swimming competition venue, but over time it became a leisure pool for the general public. Covering a floor area of 4,500 square meters, the roof – which is only 8 centimeters thick and held up by three diagonal support struts – soars to a height of 24 meters at its tips. Two of the three support points are linked via a tie beam beneath the swimming pool. With spans of up to 96 meters, the roof is still one of the largest of its kind in the world.
According to today's regulations, the shell roof could never have been built. However, as long as it isn't altered, it is protected and has now also been listed as a historic monument. Prior to the refurbishment, sbp and gmp developed a concept that made it possible to preserve the roof shell and modernize the swimming pool at the same time.
It should be noted that concrete shell construction was becoming more popular with architects at the time. According to Volkwin Marg, founding partner of gmp, "We all made shells in the 1960s. Shell construction in concrete was the most modern technique."
[eme_events order=DESC limit=100 scope=future showperiod=monthly category=1]
Exhibitions and Conferences
[eme_events showperiod=monthly category=2]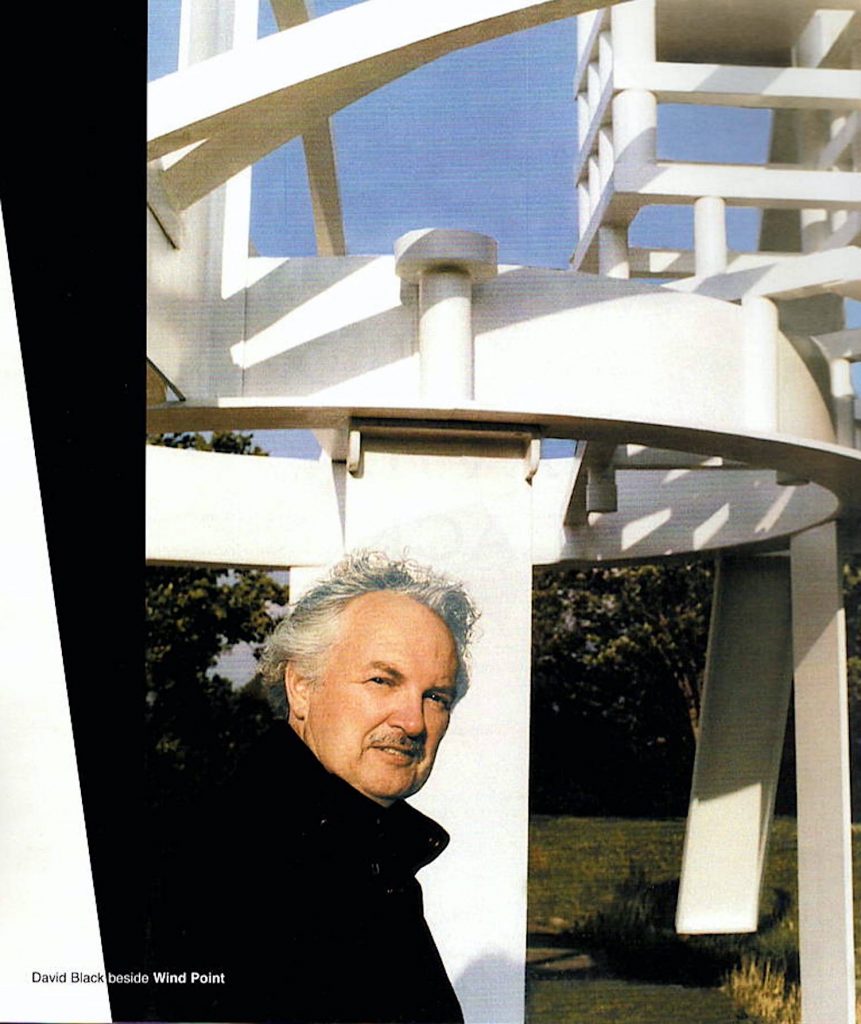 During a visit to Columbus, Ohio in 1970, I was invited to the home of a friend, Professor Michael Curran, who told me there was someone I should meet. The person he was referring to was Prof. David Black, a professor in the university's art department, who was about to travel to Berlin as a result of a D.A.A.D artist-in- residence grant. This turned out to be a long friendship, as I was often a guest at David's villa in Berlin-Dahlem, and followed his progress as an artist while in Berlin, as well as in the rest of the world after he returned home.
Growing up in Gloucester, Massachusetts, David was the valedictorian of his high school class, and began his studies to become a physicist at Wesleyan University. After his freshman year, he changed his major to art, which determined his life vocation into the future. During the Korean War, his military service saw him posted to a cultural unit as a photographer where the head of his unit was another upcoming artist, Jasper Johns. Completing his time in the military, the next step was enrolling in the visual arts program at Indiana University in Bloomington, Indiana. There he became an assistant under one of his teachers, George Rickey. This also turned out to be a longtime friendship, as Rickey, known for his kinetic sculpture, also had a studio in Berlin. Upon graduation, his first and only job in academia took him to Ohio State University.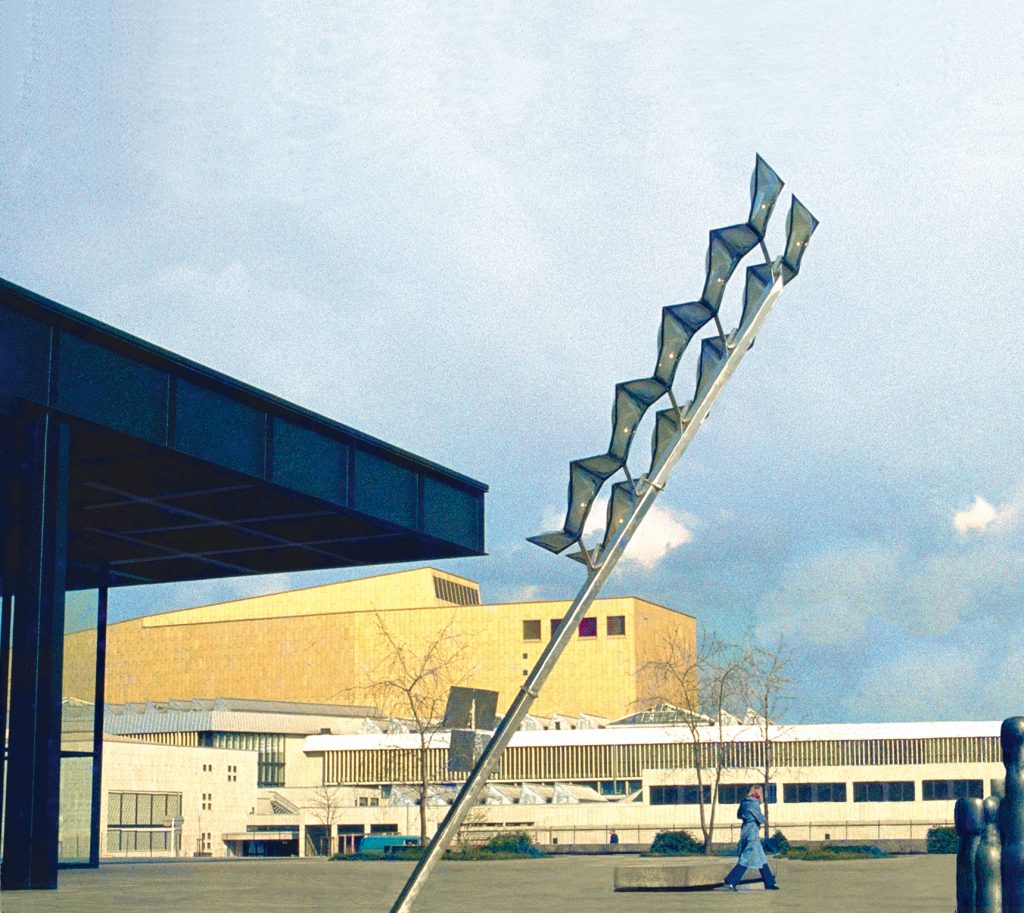 "Falls" David Black Sculpture Exhibit at the Galerie des 20 Jahrhunderts, Berlin (1975) Photo: David Black
During his early years at Ohio State, David was primarily known as a ceramicist, winning several notable prizes, where his work gained not only national, but international recognition—primarily in Japan. In Berlin, he turned to plastics, primarily Lexan polycarbonate, one of the most durable and indestructible materials for outside sculpture. His work in Berlin caught the eye of Werner Haftmann, Director of Die Neue Nationalgalerie, and resulted in the commission of a major sculpture for the museum's sculpture court, "Skypiece" (1973). Over four decades later, Skypiece was rediscovered in storage by the new Curator, refurbished, and again reinstalled in the sculpture court in the same pool, celebrating the museum's reopening after a five-year renovation.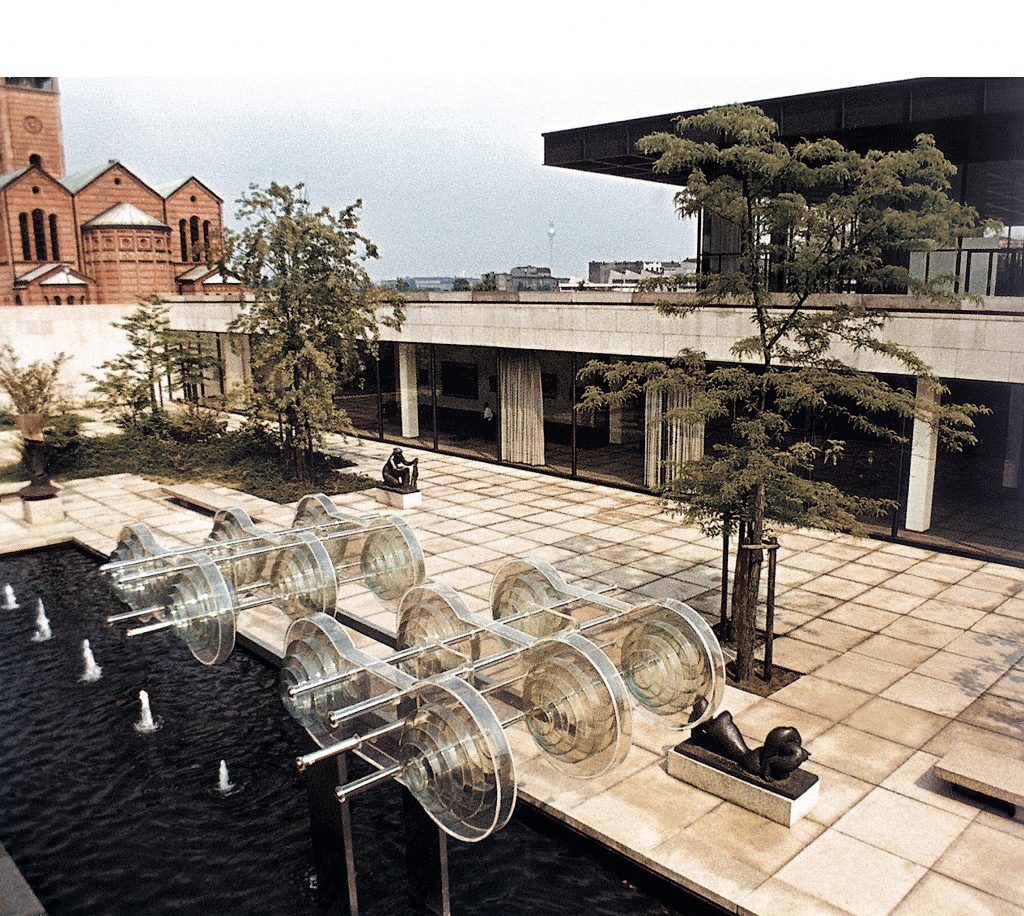 "Skypiece" Neue Nationalgalerie, Berlin (1975).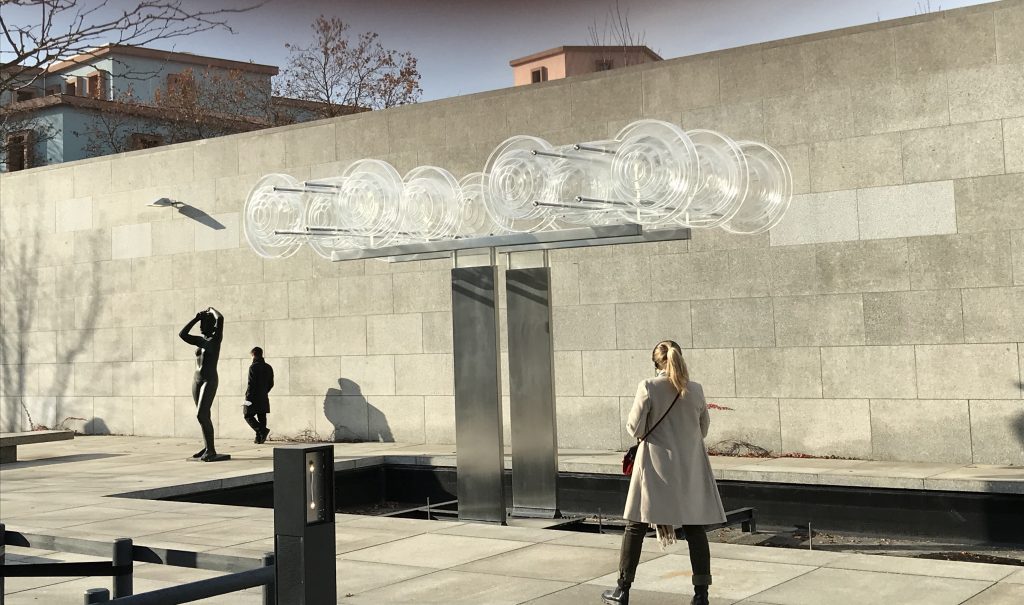 .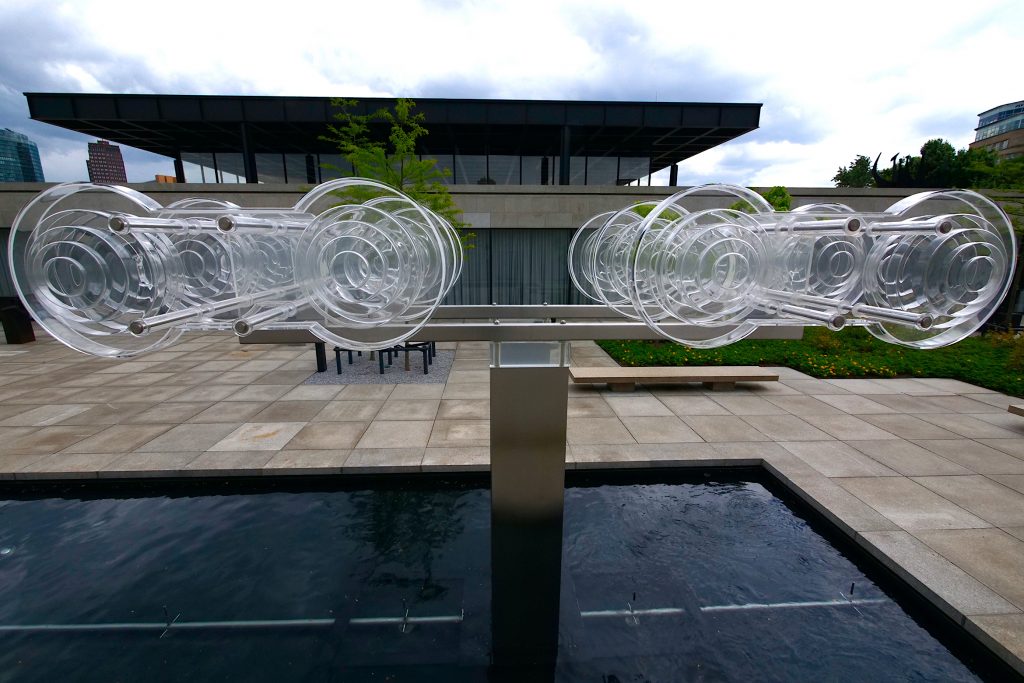 Reinstallation (2021) Photo: ©Stanley Collyer (left) ©Eric Black (right)
After several exhibits of his plastics in Germany, including a major show at the Neue Nationalgalerie, Black's return home led to a change in his use of materials—to metal, and two commissions in Columbus: "Airfold" (1981) at Columbus International Airport, and Breaker (1982) located on the Commons of Ohio State University. He started to enter competitions for outside sites requiring major artworks. An early large sculpture that won him recognition was "Wind Point," a winning entry in a major Japanese sculpture competition, the Shikanai Prize, 4th Henry Moore International Competition (1985). He went on from there to win a number of important competitions in the U.S., one of the high-profile ones being "Flyover," a Wright Brothers memorial on Main Street in Dayton, Ohio.