Belfast Looks Toward an Equitable and Sustainable Housing Model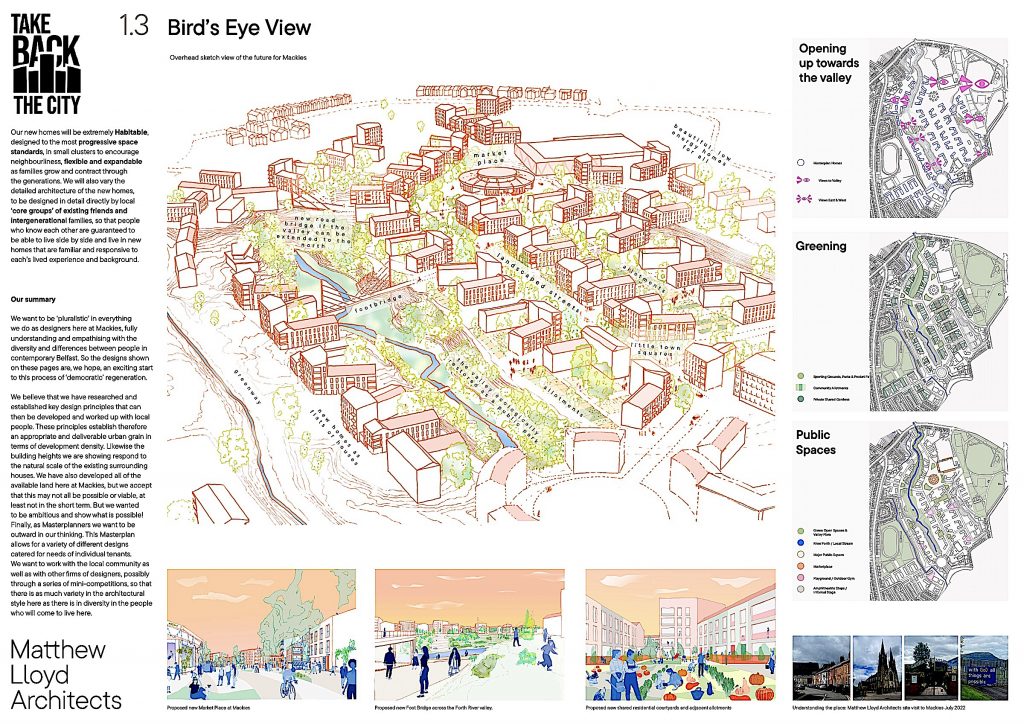 Birdseye view of Mackie site ©Matthew Lloyd Architects
If one were to look for a theme that is common to most affordable housing models, public access has been based primarily on income, or to be more precise, the very lack of it. Here it is no different, with Belfast's homeless problem posing a major concern. But the competition also hopes to address another of Belfast's decades-long issues—its religious divide. There is an underlying assumption here that religion will play no part in a selection process. The competition's local sponsor was "Take Back the City," its membership consisting mainly of social advocates. In setting priorities for the housing model, the group interviewed potential future dwellers as well as stakeholders to determine the nature of this model. Among those actions taken was the "photo- mapping of available land in Belfast, which could be used to tackle the housing crisis. Since 2020, (the group) hosted seminars that brought together international experts and homeless people with the goal of finding solutions. Surveys and workshops involving local people, housing associations and council duty-bearers have explored the potential of the Mackie's site." This research was the basis for the competition launched in 2022.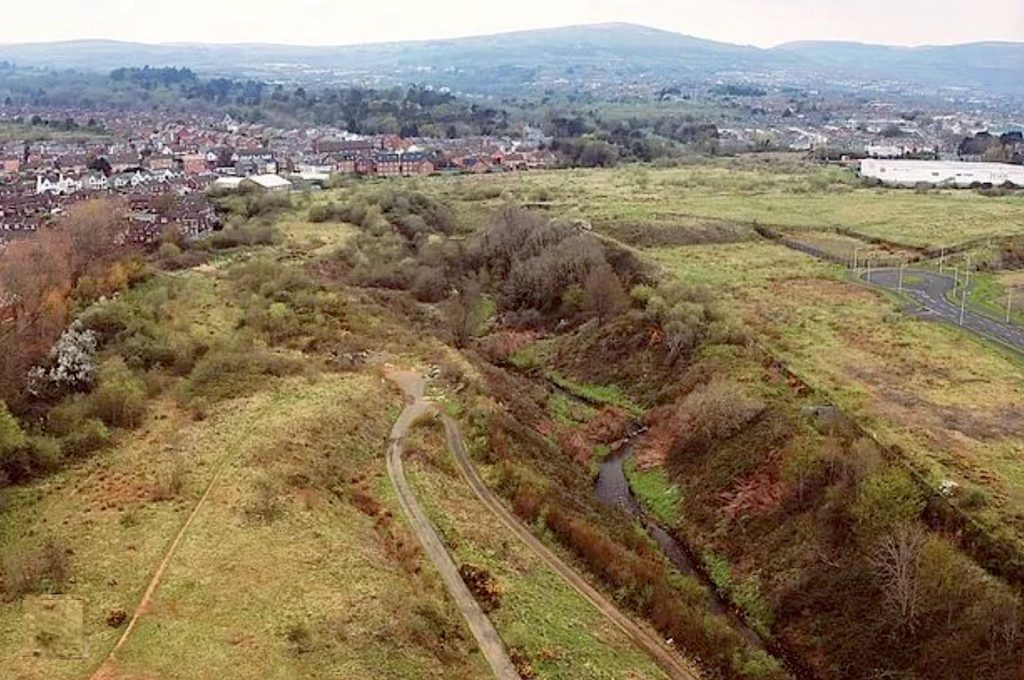 Aerial view of Mackie site
The selection of a location was logical: the ""Mackie" site, which was city-owned would have solved the issue of purchasing land for the project. "At 13 hectares, the site is the largest expanse of publicly owned land in the city, and was quickly identified as offering a huge amount of untapped potential for addressing the housing crisis.(More on that later). "Some might have seen a creek running smack down the middle of the site as a topographic impediment. In fact, it only turned out to be an interesting challenge for the designers in the area of connectivity.
The stated goals of the competition were as follows:
– Creating inclusive homes for everyone
– Building sustainability into the design
– Exploring alternative housing models
– Ending homelessness by building homes -Creating public good from dormant spaces.
Jury
• Martin Dunn, Developer, New York
• Kelvin MacDonald, Planner, London
• Wadah Elamin, Engineer, Belfast
• Agustina Martire, Urbanist and Author, Belfast Urjwan AlKamil, Architect, Sudan
• Seán Kane, Homeless advocate, Belfast
• Hugh Ellis, Town and Country Planning Assoc., U.K.
• Dessie Donnelly, rabble.coop, Human Rights advocate
• Pauline O'Flynn, Community Organizer, Belfast
The Competition
From over 50 entries, fifteen were shortlisted for further consideration and eleven were chosen for further display. They were:
• Adjaye Associates, London
• Brown and Storey, Toronto
• Earth Shilpkar Studio, Indore, India
• Empathy Urban Planning, Ukraine
• Judy Sanchez, New York
• Karakusevic Carson with Einszueins Architektur, London/Vienna
• Mahmoud Farouk Gaber Gaber Serif, Cairo
• Matthew Lloyd Architects, London
• QARQ, Mexico City
• Studio DuB, Edinburgh, U.K.
• bStudio idir, Belfast
From these, the jury chose Matthew Lloyd Architects of London as the winner. Here it should be noted that the Matthew Lloyd firm's impressive housing portfolio was not an outlier by any means. A number of the others also had recently specialized in this area. For example, one of the finalists, Karakusevic Carson (London) with Einszueins Architektur (Vienna) could both point to successful housing projects in their own countries that have drawn national and international acclaim—a sure sign that high- profile firms in this sector took this competition seriously.
Conclusion
Take Back the City was certainly a well conceived and important contribution in the sphere of affordable housing—more specifically satellite cities. An unusual component of this brief was to ask the participants to describe a day in the life of the intended inhabitants. The Winning Matthew Lloyd Architects entry cleverly split the site, locating the housing on the eastern side of the creek and the green space on the opposite bank, thus addressing a potential connectivity issue in a very logical and creative move. Although the entry's renderings might suggest otherwise, the monolithic look presented by the plan had the appearance of being taken from a non-too-interesting developer's playbook. Consisting of a monolithic building style throughout, there can be no doubt that the focus here also answered the issue of cost, whereby aesthetics became a lower priority.
As for the rules governing the adjudication of the entries, we noticed that each page of every entry revealed the name of its source. Which leads us to the conclusion that the process was not anonymous by any means and may have unduly provided an advantage to one or another of the entrants. Finally, in the absence of jury comments about the shortlisted finalists, and without ranking beyond the winner, it was difficult to ascertain how the jury might have regarded the value of certain design elements of the various entries.
All that said, the goals of the competition were stated in general terms, giving the various participants lots of flexibility in producing some quite interesting solutions. Take Back the City is certainly to be commended for its research and efforts to involve the Belfast community and potential residents in the process. Based on all those efforts, one would think it might bode well for a positive outcome. Unfortunately, in 2022 the Belfast City Council voted to turn the Mackie site into a greenway, in spite of strong opposition from the housing advocates. Unless the City revisits its position, another great effort on the part of competition organizers will not see the light of day. 
https://www.belfastlive.co.uk/news/belfast-news/mackies-housing-campaigners-fail-third-24793975
Winner
Matthew Lloyd Architects
London, U.K.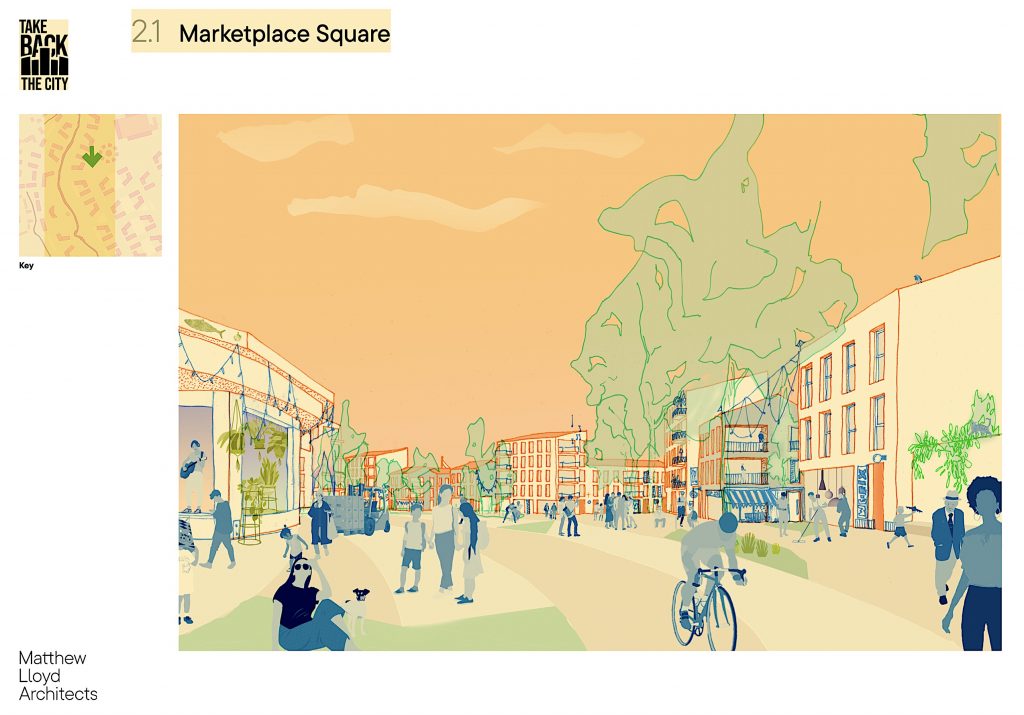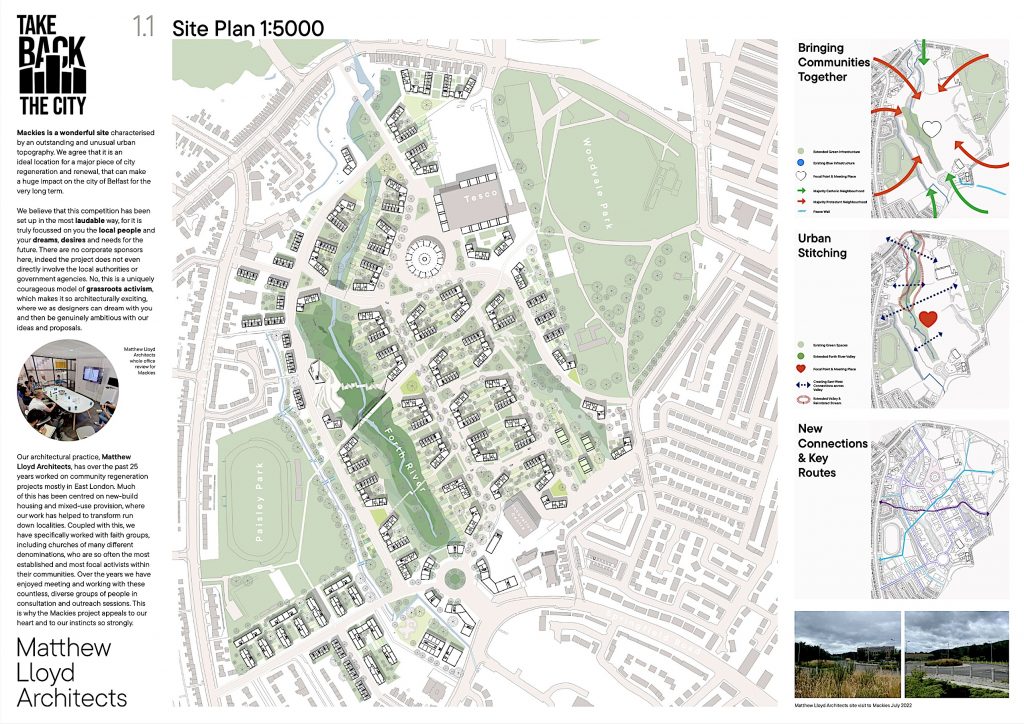 [eme_events order=DESC limit=100 scope=future showperiod=monthly category=1]
Exhibitions and Conferences
[eme_events showperiod=monthly category=2]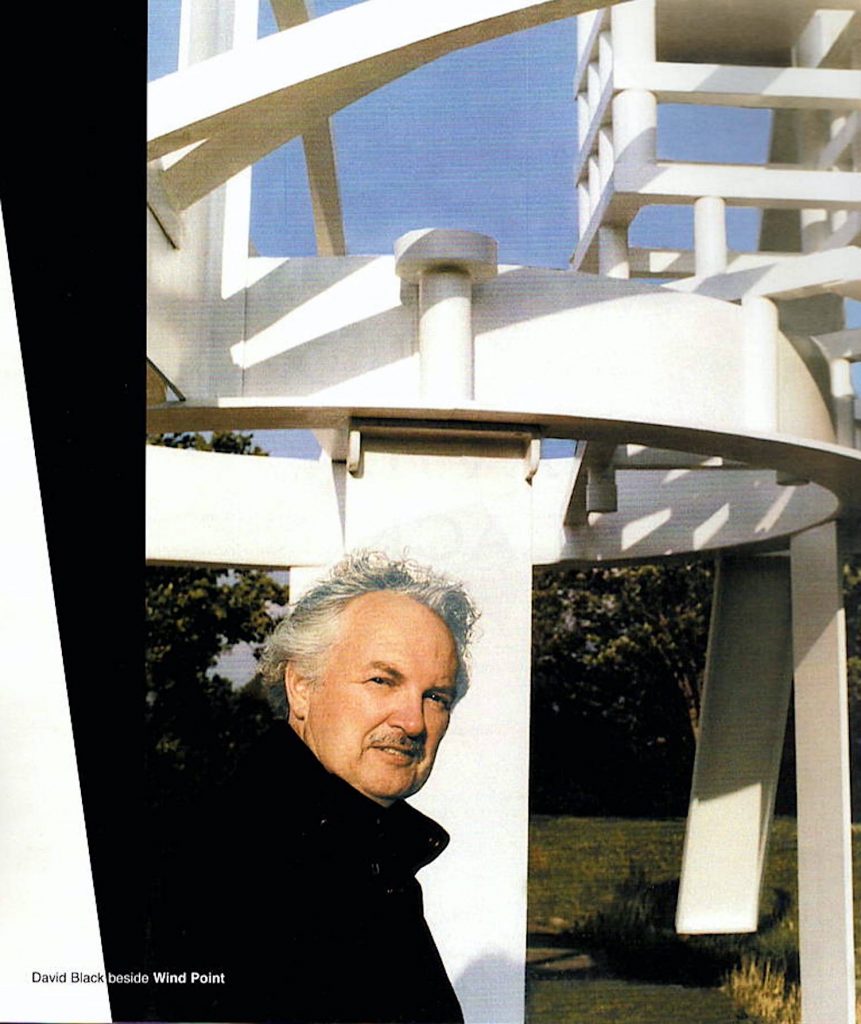 During a visit to Columbus, Ohio in 1970, I was invited to the home of a friend, Professor Michael Curran, who told me there was someone I should meet. The person he was referring to was Prof. David Black, a professor in the university's art department, who was about to travel to Berlin as a result of a D.A.A.D artist-in- residence grant. This turned out to be a long friendship, as I was often a guest at David's villa in Berlin-Dahlem, and followed his progress as an artist while in Berlin, as well as in the rest of the world after he returned home.
Growing up in Gloucester, Massachusetts, David was the valedictorian of his high school class, and began his studies to become a physicist at Wesleyan University. After his freshman year, he changed his major to art, which determined his life vocation into the future. During the Korean War, his military service saw him posted to a cultural unit as a photographer where the head of his unit was another upcoming artist, Jasper Johns. Completing his time in the military, the next step was enrolling in the visual arts program at Indiana University in Bloomington, Indiana. There he became an assistant under one of his teachers, George Rickey. This also turned out to be a longtime friendship, as Rickey, known for his kinetic sculpture, also had a studio in Berlin. Upon graduation, his first and only job in academia took him to Ohio State University.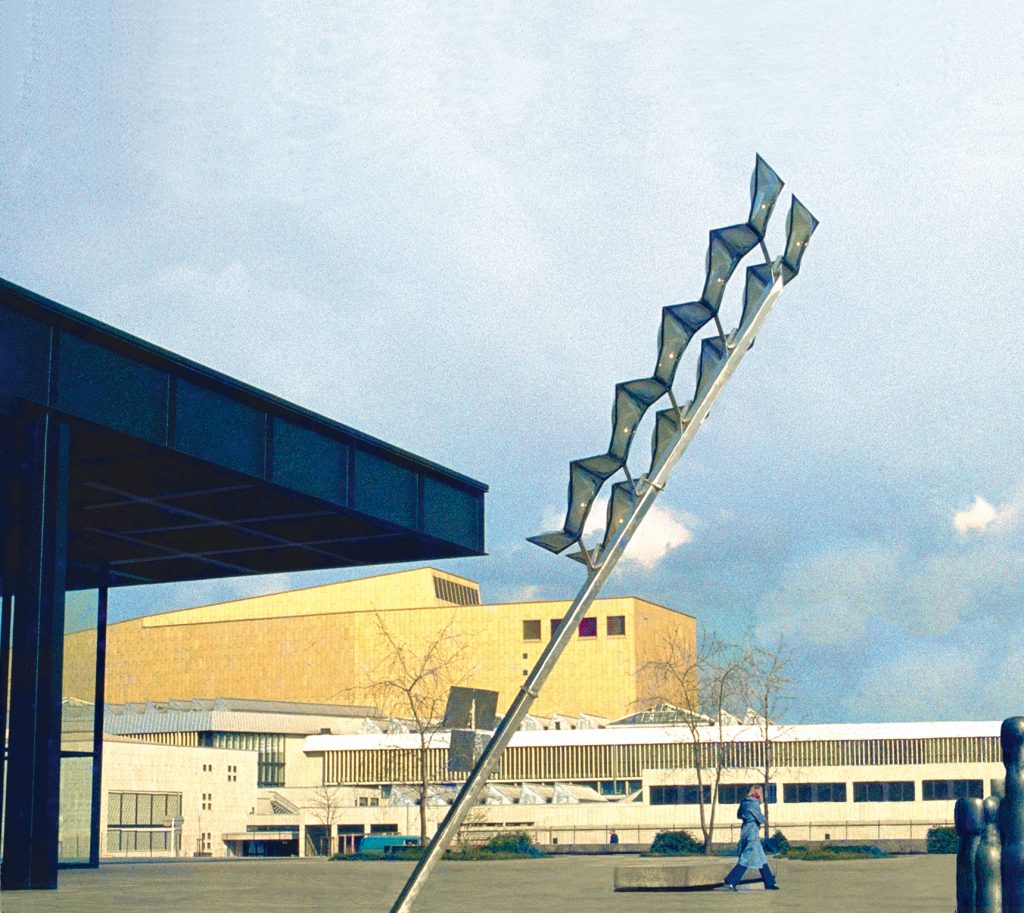 "Falls" David Black Sculpture Exhibit at the Galerie des 20 Jahrhunderts, Berlin (1975) Photo: David Black
During his early years at Ohio State, David was primarily known as a ceramicist, winning several notable prizes, where his work gained not only national, but international recognition—primarily in Japan. In Berlin, he turned to plastics, primarily Lexan polycarbonate, one of the most durable and indestructible materials for outside sculpture. His work in Berlin caught the eye of Werner Haftmann, Director of Die Neue Nationalgalerie, and resulted in the commission of a major sculpture for the museum's sculpture court, "Skypiece" (1973). Over four decades later, Skypiece was rediscovered in storage by the new Curator, refurbished, and again reinstalled in the sculpture court in the same pool, celebrating the museum's reopening after a five-year renovation.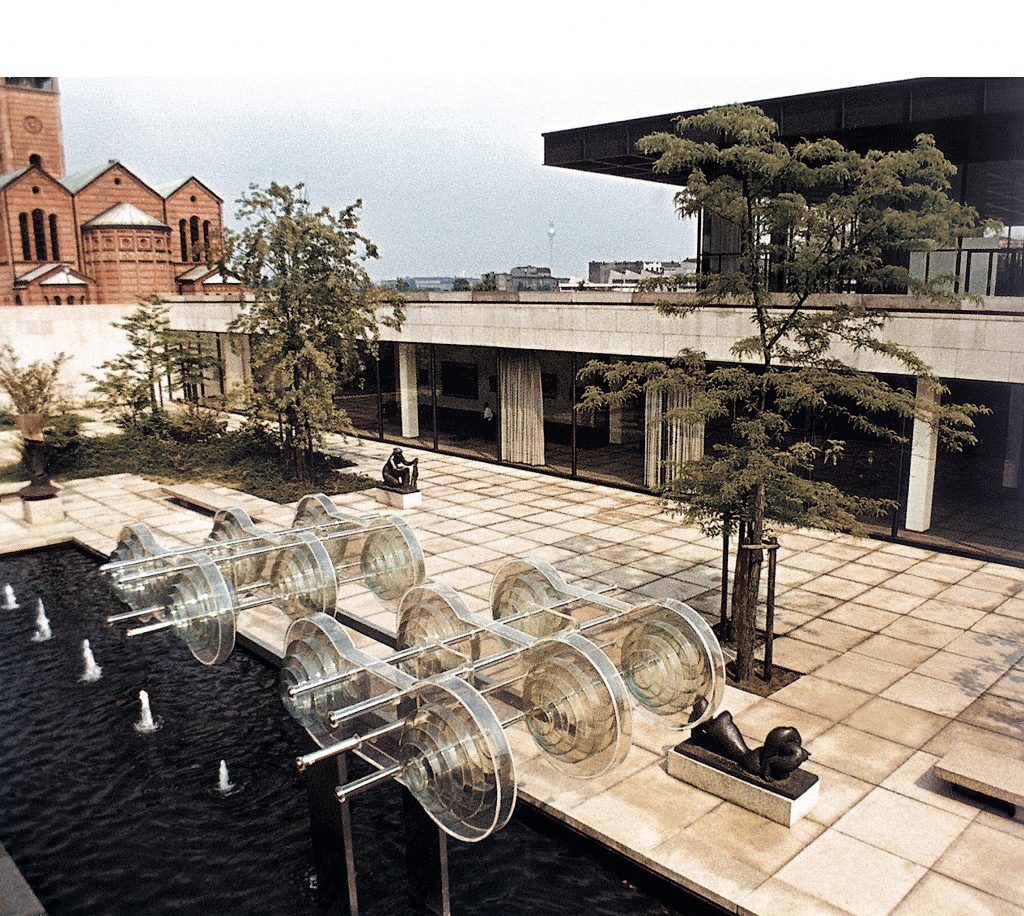 "Skypiece" Neue Nationalgalerie, Berlin (1975).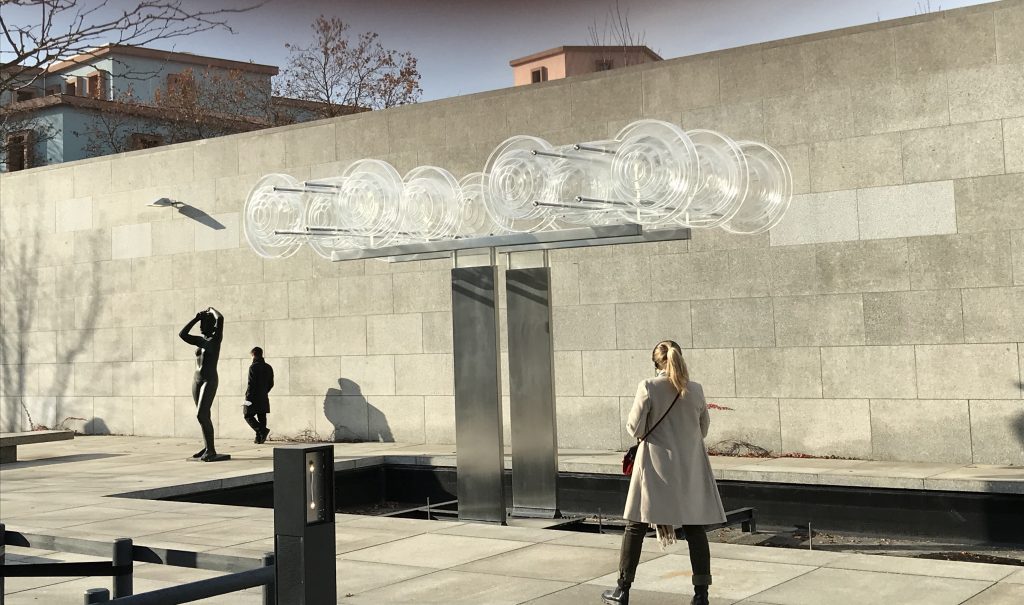 .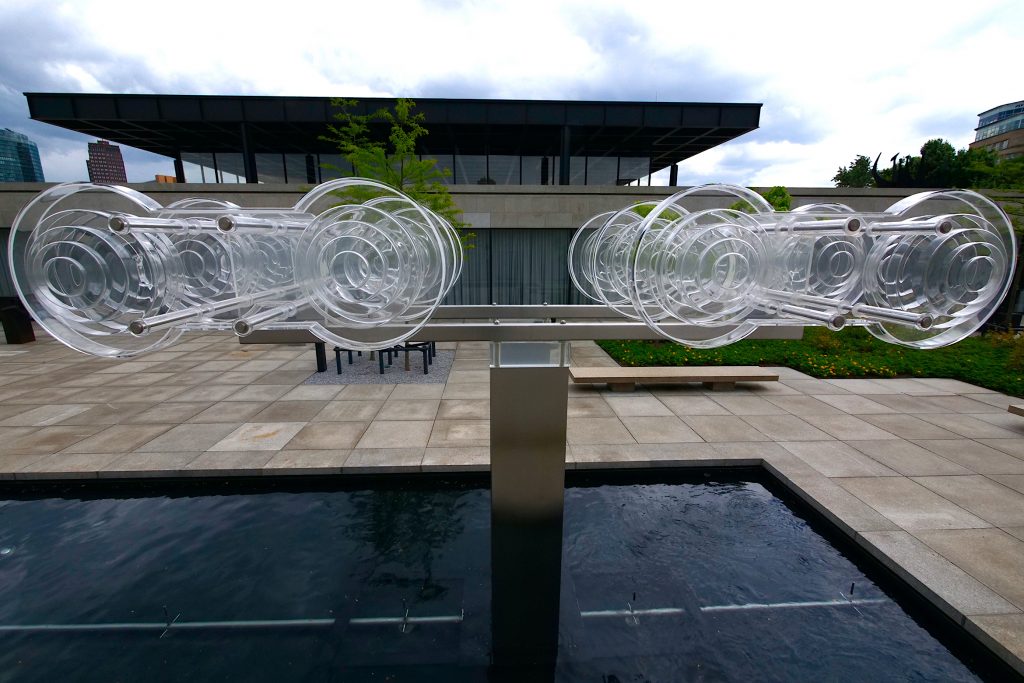 Reinstallation (2021) Photo: ©Stanley Collyer (left) ©Eric Black (right)
After several exhibits of his plastics in Germany, including a major show at the Neue Nationalgalerie, Black's return home led to a change in his use of materials—to metal, and two commissions in Columbus: "Airfold" (1981) at Columbus International Airport, and Breaker (1982) located on the Commons of Ohio State University. He started to enter competitions for outside sites requiring major artworks. An early large sculpture that won him recognition was "Wind Point," a winning entry in a major Japanese sculpture competition, the Shikanai Prize, 4th Henry Moore International Competition (1985). He went on from there to win a number of important competitions in the U.S., one of the high-profile ones being "Flyover," a Wright Brothers memorial on Main Street in Dayton, Ohio.